Although jewelry designer Lynn Ban often prefers to keep her personal life separate from her public standing, she has never once paused in making it clear that her family means everything to her. That's why it came as no surprise when the Singaporean's husband of 27 years, Jett Kain, ended up having a significant feature right alongside her in Netflix's 'Bling Empire: New York' as well. So now, if you just wish to learn more about their relationship — with a focus on their past experiences, their familial dynamic, as well as their current situation — we've got the details for you.
Lynn and Jett's Bling Empire Journey
It was reportedly at a New Year's Eve party back in 1994 when college student Lynn came across mainstream MTV reporter/producer Jett for the first time, only for the latter to feel an instant spark. He still remembers the fact she was dancing on a speaker in high heels and a very short skirt before he approached to ask for her number, blissfully unaware that she'd hand him the wrong one. However, as fate would have it, they met again at a dinner gathering hosted by mutual friends a few months later, and the fashionista was quite open to his unsubtle advances this time around.
Lynn and Jett thus officially began a relationship, which evidently left them so incredibly happy despite their innate cultural differences that they ended up tying the knot a couple of years later. It was then they got into business together as well, starting with establishing her father's Genki Sushi franchise in the United States to expand the market from merely Singapore and Hong Kong, China. So the success they garnered here is what eventually drove them to start dabbling in other facets too, just for it to culminate in the launch of Lynn Ban Jewelry in the early 2010s.
While Lynn has always focused on the creative aspect of this brand, her husband has essentially managed everything else behind the scenes to ensure exposure, especially press and marketing. She has hence made it clear she believes the father of her child — they welcomed a son named Sebastian in the late 2000s — to be her partner in every sense of the term, her best friend, and her soulmate. Yes, they've had their fair share of issues, especially considering how blunt they both are, yet the fact remains they've been utterly devoted to one another every step of the way.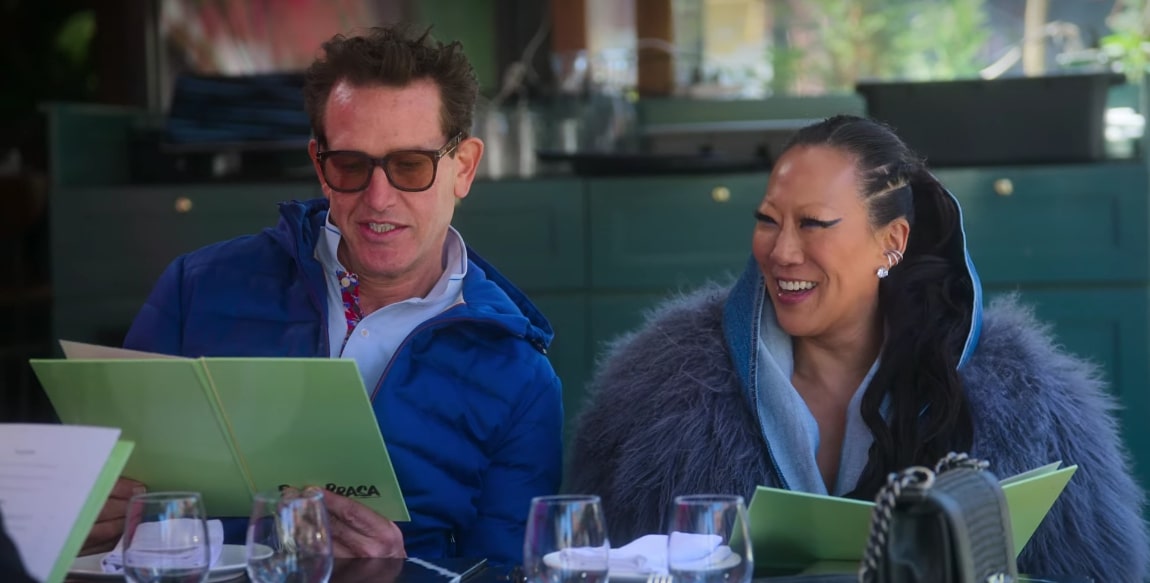 In other words, no matter the topic at hand, the distance between them, or the outside influences, Lynn and Jett always give one another the respect of listening in the hopes of working things out. The prime example of this is in the last episode of the Netflix original series when the latter finally revealed he's not only thinking of doing something on his own but has already landed a job in LA. His wife did get upset, yet it was solely over his assumption that she'd leave New York behind; otherwise, she was completely and utterly supportive. In fact, she was even happy their long-distance commute would go directly from New York-London to New York-California.
Are Lynn and Jett Still Together?
Of course, from what we can tell through Lynn's social media profiles as of writing (Jett is not on any such platform), the couple is still blissfully married and eager for many more years together. The truth is he's not explicitly present on her feed, but her images do make it clear that almost all of them have been taken by none other than her husband, her biggest paparazzi. As for the secret to their long-lasting union, 'Bling Empire' indicated, its open communication, an understanding of one another moods/skills/humor, and simply putting in the effort to make each other happy no matter what.
Read More: Are Nam and Kristoff From Bling Empire: New York Together?