Netflix's 'Sexy Beast' is a dating series wherein each episode tells the tale of young individuals who wish to establish romantic connections based on personality alone. As they focus on inner beauty, the protagonist and their three potential partners don elaborate prosthetic makeup to disguise their appearance and facial features entirely. These covers only come off when the chosen single has picked their suitor, which leads to surprising reveals and steamy results. Thus, now, if you're curious to know about the current bond between Nina and Mick from episode 5, we've got you covered.
Nina and Mick's Sexy Beasts Journey
As soon as Nina first came to our screens, she confessed that she's ready to find love and build a real relationship, hoping that it will stick and end in the farm life she has always dreamed of with a potential cowboy. She also stated that she is not a hopeless romantic but a hopeful one, looking for a guy who'll match her spiritual level. Nina's soft yet out-going nature shone through her Dolphin Mask, making it evident that her three dates – Dustin, Mick, and Dominic – needed to bring their A-game. Fun, goofy, and epic is what Nina desired, but Dustin (an actual cowboy) failed to deliver.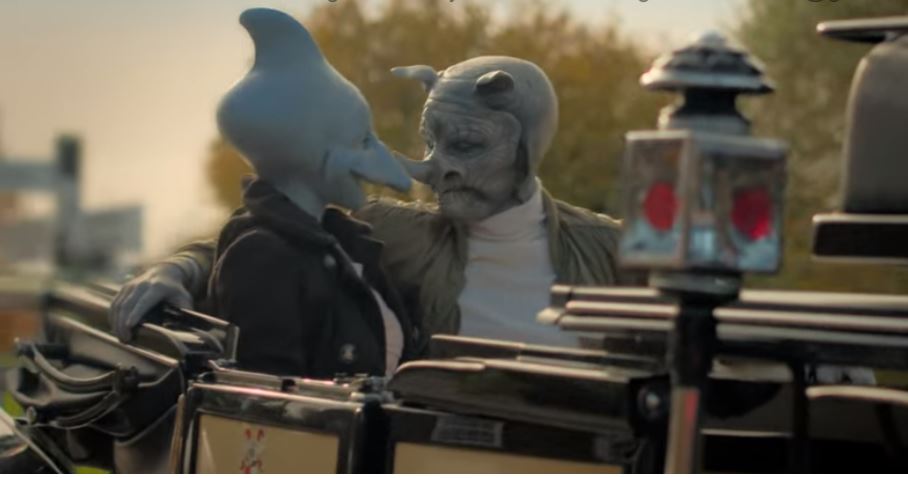 During the speed dating round, Mick paid a lot of sincere attention to Nina and equaled her in spiritual conversations, including talk of "Sex Kung Fu," which wasn't a surprise considering how he is a holistic health practitioner. However, Dominic was also comparable as he truly pleased Nina's energetic side, leading her to chose them for second dates. While she and Dominic went bowling, Mick pulled out all the stops by taking Nina on a horse carriage ride in a quaint town. They cuddled, meditated, had beer, and even shared an air kiss. Nina was actually glowing by the end.
Are Nina and Mick Still Together?
Although Nina found two marvelous guys, both of whom she described as the male versions of her, it was Mick who ended up winning her heart with his genuine chivalry, charm, and poetry. "I already fell in love with Mick's personality," Nina revealed. "He just makes me laugh a lot, and that's what matters…Okay, maybe I said 'love' too soon. I think I meant a lot of like. I am in like with him." Luckily, Mick felt the same about his "Dolphin Queen," which was evident when they met in the flesh and shared a long embrace and kiss.
For Nina, it was like a first date again, but it worked out. Nina stated, "I guess I did get my cowboy in the end," referring to the fact that Mick calls himself a curly-haired "spiritual cowboy." As for where they are today, neither has talked about their connection publicly as of yet, but since they follow one another on Instagram, it looks like Nina and Mick could still be friends.
Even if not in a romantic relationship, Nina and Mick are, at least, on good terms. However, we're going to stay optimistic until they reveal otherwise. Nina recently decided to move to Coronado to continue pursuing a career in the entertainment industry as an actress. So, she's still close to Mick, an Australian-born Los Angeles-based established actor and artist.
Read More: Are Kelechi and Martha From Sexy Beasts Still Together?