Embarking on a journey to find love, 'Love Island' features several singles who enter a tropical island with the goal of finding a partner. The reality television show features individuals on a secluded island marooned from the outside world in a feat to discover romance. As the contestants let go of their inhibitions and find the possibility of a genuine connection with others, different challenges prove to be a major hindrance for the couples.
Moreover, the presence of other singles on the show also adds to the drama and heartbreak. Season 10 of 'Love Island UK' also features an equally tense premise. Kady McDermott and Ouzy See are one of the couples on the show whose tight-knit relationship has made several fans curious. So, if you're also wondering if the couple is still together or not, look no further because we've got all the answers right here!
Kady and Ouzy's Love Island Journey
After striking out on season 2, the 27-year-old makeup artist once again decided to appear on season 10 of the series in a feat to find love. Incidentally, Kady found herself attracted to 28-year-old Ouzy See, a model whose varied interests and specialties include football and trading. While the couple did find romance soon, their relationship was also fraught with challenges and issues.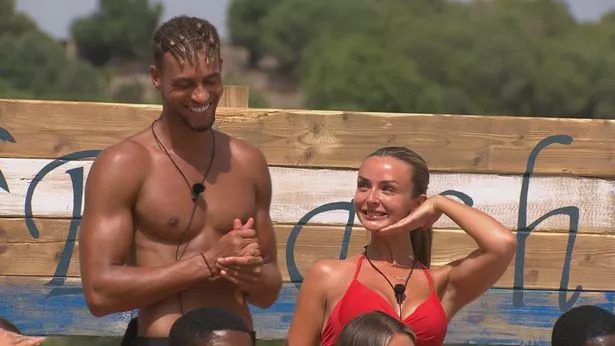 The couple's relationship was tested time and again. After Molly Marsh walked out from the island, Zach decided to pursue Kady. Not just this, Zach also hoped to share a kiss with Kady. While Kady rejected Zach's suggestion and stayed true to Ouzy, things changed when Zach and Kady ended up locking lips during a challenge. Naturally, the kiss created tension between Kady and her castmate Molly Marsh. The same followed suit for Kady and Ouzy as well.
Kady and Ouzy's connection was put to the test once again during the Casa Amor segment. Instead of staying true to Kady, Ouzy decided to discover a connection with Ella Thomas and ultimately returned with her. While the choices of the couple created a lot of rifts, Kady and Ouzy still tried to overcome said challenges. Ultimately, the couple got ousted from the island. Naturally, fans wonder if Kady and Ouzy's relationship also succumbed to the 'Love Island' curse.
Are Kady and Ouzy Still Together?
No, Kady and Ouzy are no longer together. Defying several roadblocks that threatened to blow over their relationship on the show, Kady and Ouzy managed to survive throughout the challenge. However, this striving for a long-lasting relationship did not follow suit outside the show. As soon as they left the island, Kady and Ouzy's calendar became full of interviews and podcasts before they could even have a proper date. Moreover, when their schedule finally cleared up, Kady felt under the weather.
From the get-go, Kady and Ouzy's relationship outside the show faced several issues. Naturally, their appearance on the reunion episode was also marred by an unrevealed distance. Ultimately, Kady took to her Instagram Stories to divulge the reason for their seemingly-distanced demeanor. The reality star confessed that she became aware of some facts that have impeded their relationship to start off on the right foot.
The star wrote in the since-deleted story, "Sadly late last night Ouzy's behavior and actions from the 30th of July were brought to my attention. Ouzy is one of the loveliest people I have met, and I know he is remorseful, but unfortunately, actions have consequences, and although we are not 'official' in our relationship status I am definitely not prepared to start a relationship off on this foot." As such, even though the duo wishes each other well, it is confirmed that romance is no longer on the table for Kady and Ouzy.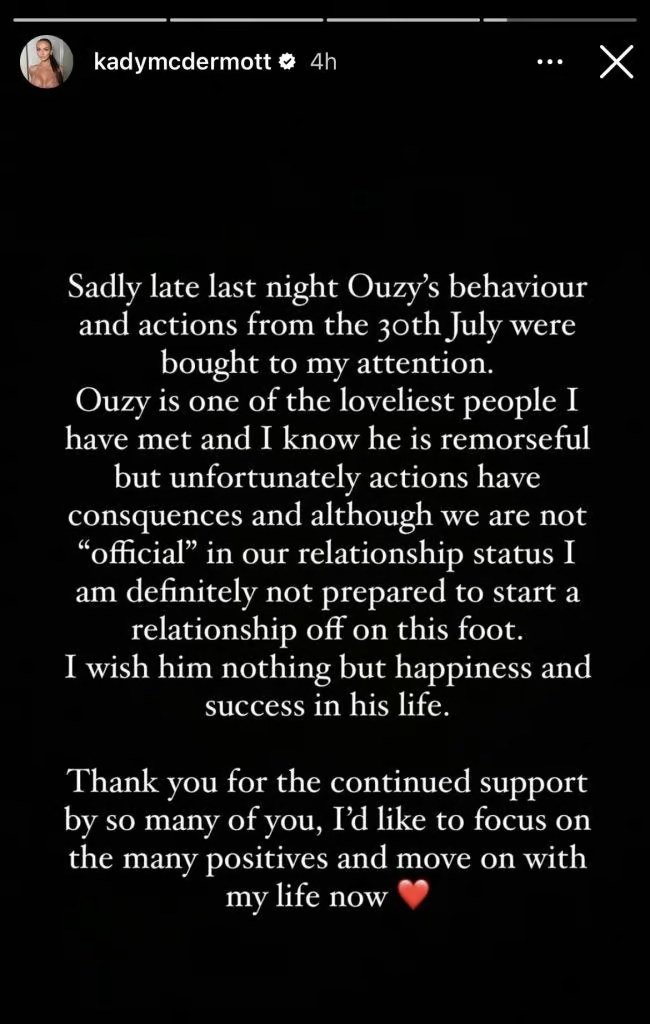 While their relationship has garnered attention, Kady's engagement with her fellow castmates outside the show has also become the center of attention. Kady also branded her co-stars Lochan and Whitney to be the next Amber and Grey. She compared the duo to the winner of the 2019 series, who broke up days after leaving the show. So even though Kady and Ouzy eventually decided to part ways, it seems that the duo is far from done. As such, we continuously look forward to all the professional and personal milestones that Kady and Ouzy will achieve in the future!
Read More: Are Lochan and Whitney From Love Island UK Still Together?