Netflix's 'Sex/Life' is a sensual show that explores a love triangle and the tragedy of two people with insane chemistry but unrequited love. Inspired by the novel '44 Chapters About 4 Men' by BB Easton, the series features Sarah Shahi, who essays Billie Connelly, while Adam Demos portrays Brad Simon. Much to everyone's surprise, the duo's partnership turned into an offscreen romance, and it reflected in the show. But fans are curious to know whether it was a short-lived affair or something far more serious.
Sarah and Adam's Sex/Life Journey
Sarah is a 43-year-old actress from Euless, Texas, whereas Adam is 37 and he hails from Wollongong, Australia. The two have multiple successful projects under their belts, but their paths collided on the sets of 'Sex/Life,' where they fell in love. Let's have a brief look at the dynamics of their onscreen characters and everything that happened between them in the series.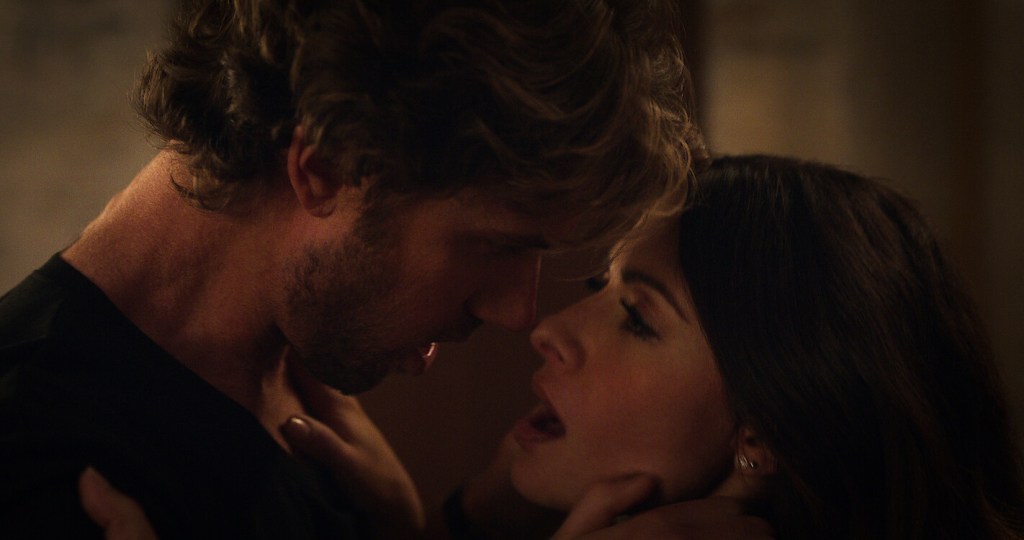 After a night out, Billie walks home late and alone after meeting up with her friends. Street harassers try to exploit this opportunity and trouble her, but that's when Brad steps in and saves the day. The two share an instant connection, full of passion. They seduce each other and make out in elevators, on rooftop pools, and in nightclub corners.
Brad's abandonment issues due to his absent father poison their relationship. A harrowing incident occurs in their relationship, and Brad knows no better way to cope. He blames himself, self-destructs, and puts their relationship on the line. Billie goes on to have a stable relationship with Cooper. However, she still has Brad on her mind, and their paths cross again at a friend's apartment. The season ends with a cliffhanger of whether the two will rekindle their passion or not.
In the next season, the viewers learn that things might not go according to Billie's will. She starts anew and embarks on a journey of self-discovery. The focus shifts from a love triangle to other themes of sacrifice, self-discovery, and more. Needless to say, Sarah and Adam's chemistry was evident when they played their fictional counterparts. But has it prevailed offscreen, or did it fizzle away into nothing?
Are Sarah and Adam Still Together?
Yes, Sarah and Adam are undoubtedly still together. They met on the sets of 'Sex/Life,' and their romance bloomed. It is likely that the two got comfortable on the sets, and they had to break the ice to film such seductive scenes. One thing led to another, and the couple became the audience's favorite onscreen and offscreen pair.
Their first picture together on Instagram, where Sarah and Adam could be seen cozying up to each other, was posted on new years Eve on January 1, 2021. Even though the caption did not imply anything in particular, it was their sweet way of making their relationship official.
Since then, the two have shared pictures together on every occasion, from their birthdays to Valentine's Day. Adam shared their most recent picture, where the couple was photographed while arriving for 'Sex/Life' season 2 premiere. He wrote, "Season 2 premiere date night @sexlife." So, it's safe to infer that our most adored couple is still together. As per reports, Sarah was previously married to actor Steve Howey from 2009 to 2015, and the ex-couple have three children together. However, this did not pose a problem in Sarah and Adam's relationship.
Between April and August 2022, the couple sparked engagement and wedding rumors. First, Sarah was reportedly seen wearing a ring on her engagement finger, which sent the fans into a frenzy. Shortly after that, Adam was also wearing a band on his ring finger, and everyone jumped to the conclusion of a purported secret marriage. However, the gossip was never substantiated, and the duo made no public comments about the same.
The couple is also extremely supportive of each other. After Sarah bagged a role in the 'Black Adam' movie, Adam took to Instagram and wrote a heartfelt yet humorous caption for her. The two are incredibly drawn to each other, and in an interview, Sarah revealed the first time they met. She said, "When I first met Adam, I was really blown away by him. We met in the makeup trailer, and we just got on instantly. We had the exact same taste in music. We had the same taste in whiskey and tequilas, and I was really blown away by him just as a person, and all I knew was that I wanted more."
She expressed her gratitude about being able to share the screen with him and praised her partner even more, giving him all the credit he deserved. Adam also described the things which he loved the most about her, i.e., her heart, her kindness, and being exceptional in everything she does.
So, we can agree that their relationship is far better and calmer than Billie and Brad's. The couple seems oh-so in love, and we can't have enough of the two. All the fans of 'Sex/Life' are rooting for Sarah and Adam because they truly look like an ideal couple, emanating positive vibes. We'd love to see them sharing the screen again, possibly for another season or a completely different project.
Read More: Sex/Life Season 3: Possibilities Explored