The perfect amalgamation of drama, tears, and love, the Peacock reality TV dating show, 'Queens Court,' features three famous female celebrities and their journey to find the "one." The show follows Evelyn Lozada, Tamar Braxton, and Nivea and their journey to finding the right one. Hosted by Holly Robinson Peete and Rodney Peete, it creates the setting for hearts to be broken and worlds to unite as couples are made to go through different scenarios that would test their compatibility and set the stage for a relationship to prosper or hearts to break. Unique in its concept from the number of dating reality shows, 'Queens Court' features women and men who've already been married once or have children.
While the former 'Basketball Wives' star Evelyn Lozada and recording artist Nivea evoked several viewers' curiosity, the blooming romance between Tamar Braxton and Jeremy "JR" Robinson had people stuck to their screens. The romance that blossomed between the 'Braxton Family Values' star and attorney Robinson had viewers swooning. However, the issues that erupted and made Jeremy hide his intentions and true self from Tamar have left many wondering whether the pair's engagement on the show still continues or whether the two have broken up. Luckily, we've got all the answers you are looking for.
Tamar and Jeremy's Queens Court Journey
Among the 21 suitors vying for a shot with the three ladies, Jeremy JR Robinson caught Queen Tamar's eyes. Hailing from Atlanta, Jeremy Robinson is the founder of the Jr. Law Group and was born and brought up in New Orleans. Jeremy Robinson, the father of five children with four different women, came to 'Queens Court' hoping to settle down. On the other hand, the 'Braxton Family Values' and R&B singer Tamar Braxton voiced her wishes to find love that keeps her grounded.
However, what really connected Braxton and Robinson was their loss and how they coped with the same. Braxton had lost her older sister Traci Braxton to cancer a few months prior to the show. Even Robinson had lost his mother to cancer. As Braxton and Robinson connected over their past experiences, their role as parents, and the insurmountable pain of their loss, it wasn't long before the two gave way to a blossoming friendship. As a tradition in 'Queens Court,' it was Braxton that prompted a date, and the two connected furthermore.
The finale of the Peacock dating show set the stage for Robinson's proposal, who was one of the finalists of the dating show. The emotional proposal showcased that despite their past, flaws, and personal shortcomings, the two can manage to overcome anything. It wasn't surprising when Tamar said yes in a heartbeat. While the two gave way to a riveting love story, the issues erupting from their pasts have left viewers wondering whether the two are still together or have parted ways.
Are Tamar and Jeremy Still Together?
Yes, Tamar Braxton and Jeremy Robinson are still together. The Atlanta-based attorney and the father of five children has been the recipient of trolls and online bashing for his past relationships. While he fathers five children with four different women, he didn't feel that he should be ashamed or be anything but transparent about his past. While his honesty impressed some, others believed that his past dating experiences suggested a flaky and callous attitude. Not just this, one of the mothers of Jeremy's children even took to the internet to voice her disdain for the newly engaged couple.
While both Jeremy and Tamar have showcased appreciation for one another and their attitude towards each other's babies, the story that Jeremy's child's mother tells is quite different. In a post shared by Anaston Jeni on Instagram, she said that R&B singer Braxton has brought "nothing but chaos and unnecessary drama."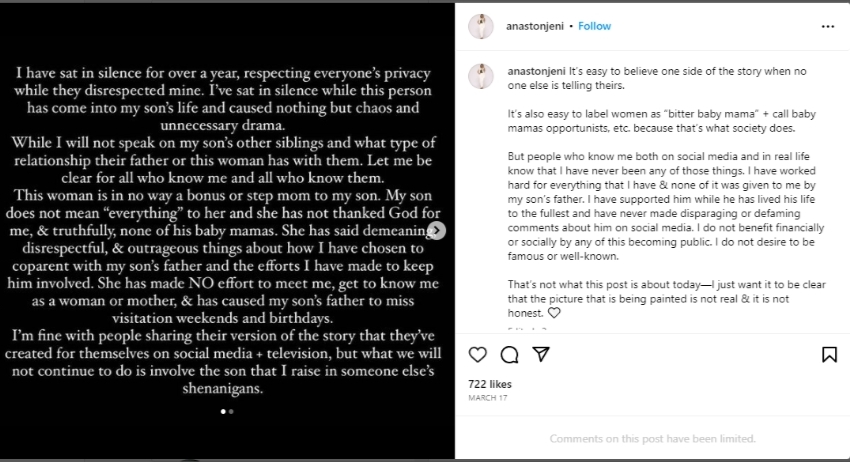 The newly engaged couple shares six children between them and have often showcased appreciation for each other's role in their child's life. However, Anaston Jeni has stated the contrary. Naturally, fans wonder whether public disdain and drawing the balance between their past relationships and present has left the couple separated.
However, that is far from the case. The couple is still going strong and achieving new strides in their personal and professional lives. While Braxton is promoting her new single 'Changed', Robinson is enjoying his work as an attorney. The two often take to Instagram to show their gratitude for each other and keep fans waiting for more. As such, despite allegations of their past and personal struggles, the two continue to grow strong.
Read More: Where is Queens Court Filmed?