Is it possible for a cross-border couple to settle down within 90 days? How difficult is it to navigate a relationship where cultures and habits constantly clash? TLC's '90 Day Fiancé' tries to answer such questions as it takes the audience into the lives of US citizens who are engaged to foreign nationals. The foreign partners then come to the US on a K-1 visa which allows them a total of 90 days to marry. With a strict schedule in place, these cross-border couples then try their best to make things work.
Tiffany Franco and Ronald Smith appeared on season 1 of the spinoff show, titled '90 Day Fiancé: The Other Way,' which follows US citizens visiting the country of their significant others. Tiffany, A single mother from Maryland, fell for South African native Ronald, and the couple became quite popular on the show. With the pair having navigated a challenging relationship from the very beginning, let's see if they are still together at present, shall we?
Tiffany and Ronald's 90 Day Fiancé: The Other Way Journey
Tiffany Franco was spending a vacation in South Africa when she came across Ronald for the first time. The two soon hit it off and began dating. Although there were initial hitches when Ronald's gambling addiction got revealed, the pair managed to reach an understanding and got engaged pretty quickly. Once Tiffany was back in the US, they began trying for Ronald's visa. Unfortunately, with Roland's criminal record, he found it difficult to get a US visa. That is when Tiffany decided to take the initiative and visited South Africa along with her son, Daniel.
Once in South Africa, it did not take long for the couple to set up a date and marry in October 2018 in a beautiful ceremony. After the marriage, the pair settled down happily and had fantastic news for fans when they announced their pregnancy. However, Tiffany did not feel safe in the foreign country. She worried about giving birth outside the US and was anxious about her young son's safety. Unfortunately, Ronald had still not gotten his visa, and even while dreading long-distance relationships, Tiffany was forced to leave her husband and come back to the states with Daniel.
Are Tiffany and Ronald Still Together?
Recent developments do suggest that Tiffany and Ronald are not together anymore. The couple initially found it extremely challenging to maintain their long-distance marriage, leading to numerous cracks in their relationship. However, once their daughter, Carley Rose, came into this world in July 2019, Ronald and Tiffany buried the hatchet, and things seemed to go well until early 2020. In January 2020, in a now-deleted post, Tiffany suddenly announced their split and did nothing to squash unfounded rumors about Ronald going back to his gambling addiction.
The mother-of-two even mentioned that she never got financial or emotional support from Ronald. Subsequently, Ronald, too, took to Instagram, and in a now-deleted post, accused Tiffany of cheating. Fans were stunned at what might have led the couple to such drastic steps, and divorce seemed imminent. Surprisingly, just two months after this fiasco, Tiffany took to social media and announced that they were not splitting up. Tiffany and Ronald vowed to remain together and work on their relationship while being loving parents to Daniel and Carley Rose.
It seemed like their dedication and love were working wonders as even while quarantining separately during the COVID-19 pandemic, the couple seemed to make it out of the challenging times. They even ended up visiting South Africa, where Ronald met baby Carley Rose for the first time. All seemed well in Tiffany and Ronald's paradise, and fans hoped the two would make it to the very end. However, in May 2021, the couple got embroiled in divorce speculations when they unfollowed each other on Instagram.
Amidst the still unconfirmed speculation, Ronald put his views out in public and claimed that he was tired of Tiffany playing the victim and blaming him. On the other hand, Tiffany refuted her husband's claims and spoke against him. The altercation reached a severe stage, and fans were worried about divorce being on the cards for the pair. However, by June 2021, the couple seemed to have made up, and Tiffany even put out a now-deleted heartfelt post for Ronald on the occasion of Father's Day.
Unfortunately, things could never go back to normal. According to InTouch Weekly, on their daughter's birthday on July 3, 2021, the couple got into one of their biggest fights ever. It arguably stemmed from having to endure a long-distance relationship for a long time. Tiffany publicly exposed her husband for his allegedly abusive behavior, shared screenshots of him saying he is done, and even blamed Tiffany for lying about the visa application.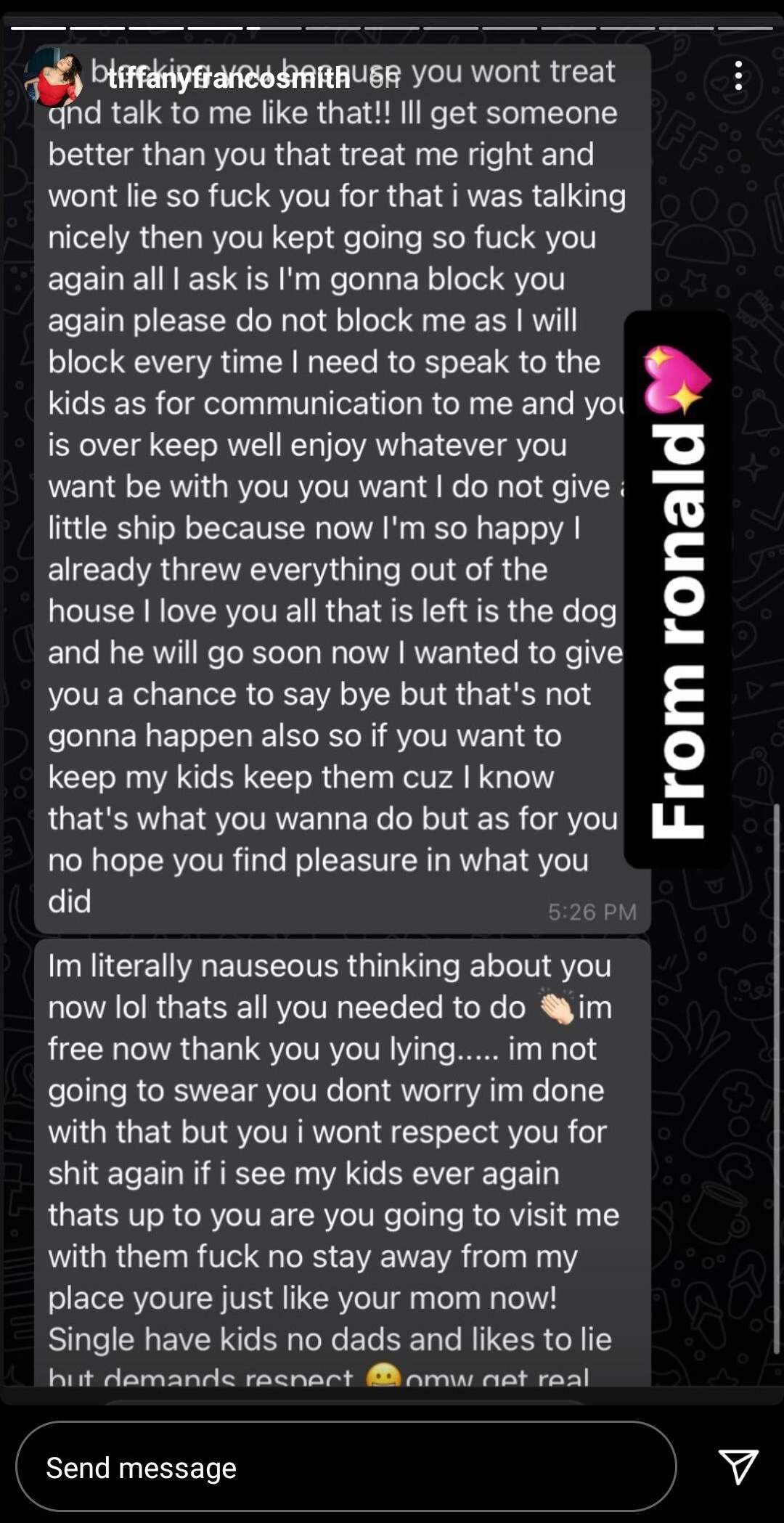 Ronald did not stay silent for long and also went public with their breakup. He claimed that the abuse went both ways before announcing that he would be taking a break from social media. Tiffany, too, reached a compromise with Ronald and decided to keep their personal matters off the public sphere and away from the kids. At present, Tiffany seems like she is in the United States while Ronald is stuck in South Africa. Although Tiffany still has Ronald's last name on her Instagram profile, the couple has stopped following each other. Yet, their profiles stand as a testimony to their love for their children.
Furthermore, while Tiffany has talked to a divorce lawyer, a separation is not confirmed. Additionally, numerous speculations accused Tiffany of wanting revenge and even claimed that the pair are staging their fight. However, all of these rumors are unsubstantiated and must be treated so. With the couple having broken up currently, their future as a married pair is still in question. We wish them the very best for the coming days and hope they find happiness in whatever they do in their respective lives.
Read More: Are Ed Brown and Rosemarie Vega From 90 Day Fiancé Still Together?