'Love Island USA' is a dating reality TV show, the epitome of drama and extravaganza. In season 4, Timmy Pandolfi and Zeta Morrison were the fan-favorite couples who battled it out till the very end. They were crowned as the winner and shared a cash prize of $100,000. Their chemistry was unparalleled, and everyone believed the couple was cut out for the long haul. Except for one small hiccup, their journey was smooth sailing, and the two seemed genuinely in love. So, was our hunch about the couple spot on, or did we miss the mark?
Zeta and Timmy's Love Island USA Journey
Zeta joined the show while she was a babysitter and a model, while Timmy worked as a personal trainer and real estate agent. During the finale, the two confessed their love for each other and had a slow romantic dance. On the fourth week, the couple went on their first date, where they rode a tandem bike and planted saplings in a greenhouse to remark the foundation of their indestructible relationship.
Timmy confessed, "I see you in my life outside the villa 100%, I feel like you're my person, so I would like to be very exclusive with you outside of this."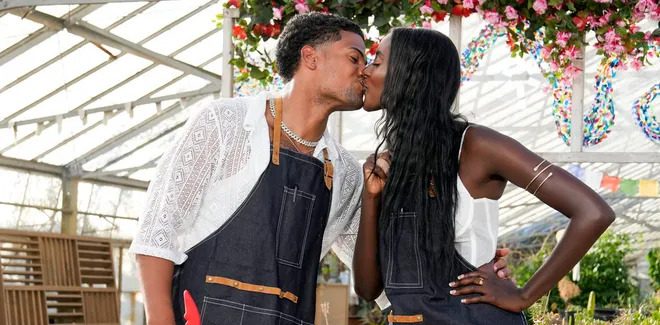 Zeta echoed his feelings because she also saw their partnership blossom into love. The two paired up during the season premiere while everyone else struggled to build connections as strong as theirs. However, they had a minor issue when Bria and Chazz (two bombshell siblings) entered the villa, and Timmy was paired with Bria. To most viewers, this seemed like a dead-end for the couple. Zeta tried to get back at her former partner by coupling up with Jeff Christian, the new bombshell.
The fiasco ended in time when Timmy was upfront about not feeling the same with Bria, and the duo emerged stronger than ever after the drama. Since then, neither of them got involved with another bombshell on the show, but most of the other contestants couldn't resist themselves. Their commitment to stick with each other till the end was the standout element for the audience, leading to their victory.
Are Zeta And Timmy Still Together?
To most fans' surprise, Zeta and Timmy are no longer together. She appeared on a podcast interview and publicly announced their breakup. She said, "Timmy and I are no longer together, so there's no more 'Zimmy.'" Zeta wanted to clarify their relationship status for her fans because they are indeed her biggest supporters, and updating them with the news is the least she could do.
She spilled too many beans on the hour-long podcast, and people were shocked! For starters, Timmy did not drop her back to Los Angeles after the show ended, he would often ghost her, and while boarding the train, her co-contestants would talk to their partners via text while she did not receive any from him. She also shared a few instances of Timmy turning her down for a trip and her awkward encounter with his sister. But most importantly, she believed the reason behind their distance was the popularity they garnered from the show.
Zeta wanted him to be more uplifting like everyone else around her, but according to him, she had already received all the support and love she needed. Moreover, the communication wasn't up to the mark, which caused even more strain on their relationship. She also spoke about him giving inconsistent and invalid excuses to delay family meetups. In response to her video, Timmy posted a reel on January 22, 2023, shortly after that and said, "I'm not trying to invalidate her point of view or her perspective."
He added, "It was a conscious effort to state multiple allegations and arguments against me while I'm present, which is fine. That is the route she chose." According to him, there is a ton of "missing information" and "many missing pieces to the puzzle" that weren't presented. He intends to talk about this in-depth, but it's not a Zeta vs. Timmy thing. In another reel posted around late January 2023, he said the romance after the show ran thin, and he takes accountability for it. The two agreed to move forward in a business manner which was tough on her and might have eventually led to the split.
The two no longer follow each other on Instagram but seem to be doing well for themselves. Timmy has continued being a Personal Trainer and is now a fashion brand ambassador. On the other hand, Zeta has launched a blog to share her experiences while also doing some paid partnerships. It is upsetting to see such a lovely relationship come to a halt, but hopefully, this is only a stepping stone for the two, and they'll be destined for much greater bonds and victories.
Read More: Is Love Island Real Or Scripted?