In CBS' 'Survivor' season 32, AKA 'Survivor: Kaôh Rōng,' 18 participants were divided into three tribal groups of six based on their respective attributes — Brains, Brawn, and Beauty. Among the contestants, Cambridge, Massachusetts native Aubry Bracco's unique and bubbly personality won fans' hearts. Her admirers soon realized that she was much more than simply having a "nerd" personality.
Aubry's dedication, brilliant mind, and effective gameplay helped her to bag the title of runners-up in 'Survivor: Kaôh Rōng.' It has been quite some time since filming stopped on the beautiful beach in Koh Rong, Cambodia. Let's find out what social media marketing specialist Aubry Bracco has been up to now.
Aubry Bracco's Survivor: Kaôh Rōng Journey
Aubry, who was assigned to the Chan Loh "Brains" tribe, was at first daunted by the experience and contemplated abandoning the game when the heat became too much for her to handle, coming from the cold region of Boston. However, she proved to be a powerful force after receiving some support from her tribe, triumphing in the first Immunity Challenge for her tribe. On Day 9, after Chan Loh almost lost the third Immunity Challenge, she finally made it to Tribal Council. Aubry made the smart choice to team together with her new allies, Neal Gottlieb, Debbie Wanner, and Joe del Campo, at Tribal Council.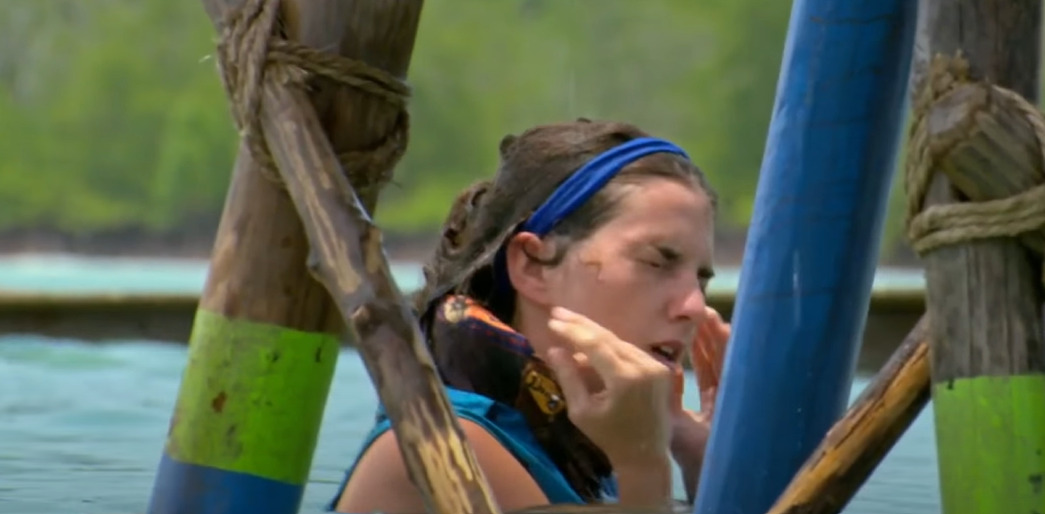 Debbie, Joe, and Neal managed to save her despite Liz and Peter's votes being against her by blindsiding Liz and placing Peter at the bottom of the tribe. Chan Loh prevailed in the following Immunity Challenge and remained with the original five players up to the switch. The tribes switched on Day 12. With Joe and Peter, who were not affiliated, Aubry was assigned to the new Gondol (Beauty) tribe after being split off from the majority of her supporters.
In order to surprise Anna Khait at Gondol's first Tribal Council and prevent the Beauties from obtaining an edge in numbers as a result of Julia joining the tribe that would lose the following challenge, the three Brains resolved to put their old disagreement behind them. Due to Peter's poor stacking tactics, Gondol lost the Immunity Challenge but won the subsequent Reward Challenge. After winning the Reward Challenge in the top four, Aubry decided to go with Cydney.
However, they had to turn against one another once Michele was granted immunity. Both Michele and Cydney agreed that Aubry posed a greater threat than Tai. However, Aubry was able to obtain Tai's backing and force a draw. In a fire-making tiebreaker, Aubry and Cydney competed, and the winner, Aubry, successfully eliminated Cydney.
Aubry entered Final Tribal Council as one of the season's top strategists. However, compared to Michele, the jury felt that Aubry had far fewer social relationships with them. Scot vocally supported Michele, arguing that Michele finished strongly, whereas Aubry's performance dwindled at the end. Although Aubry received votes from Joe and Nick on the jury, Michele ultimately won 5-2-0.
Where is Aubry Bracco Now?
After leaving the show as the runners-up, Aubry Bracco appeared on two other spin-offs of the show, 'Survivor: Game Changers,' and 'Survivor: Edge of Extinction,' where she secured the fifth position and was the fifth to be voted out, respectively. Currently, Aubry has gone back to her normal life, away from the limelight, and is residing in Greater Boston. She works in a highly prestigious job at CEO Coaching International as a Marketing Consultant. 36-year-old Aubry has also found the love of her life, Tyler Morrow, and they are very happy in each other's presence, and we wish the pair all the luck.
Read More: Tai Trang: Where is Survivor 32 2nd Runner-Up Now?