Essayed by Dwayne Johnson, Spencer Strasmore is the main lead character in the HBO sports drama series 'Ballers.' He is a former NFL player, also known as the "Golden Boy" back in his prime, who works as a financial manager and makes the most of his connections and affiliations with the current players to pick up clients in Miami. Facing some serious financial problems and health issues himself, he preaches financial security and intelligence to his clients as he knows what NFL stardom can do to a player, thanks to his own past as one of them. By the show's end, he drives the movement to get veteran athletes lifetime health insurance by meeting and convincing the NFL Players Association. If you are wondering if Spencer Strasmore is a real NFL Player, here is what you need to know!
Is Spencer Strasmore Based on a Real NFL Player?
No, Spencer Strasmore is not based on a real NFL player. However, quite a few former NFL players have used their experience and platform to raise awareness regarding the financial and decision-making aspects among the players. For instance, the similarities between the traits of Spencer and Chafie Fields are almost uncanny. Fields, much like the character of Spencer, is a former NFL player who turned into an agent to help the current players make good decisions.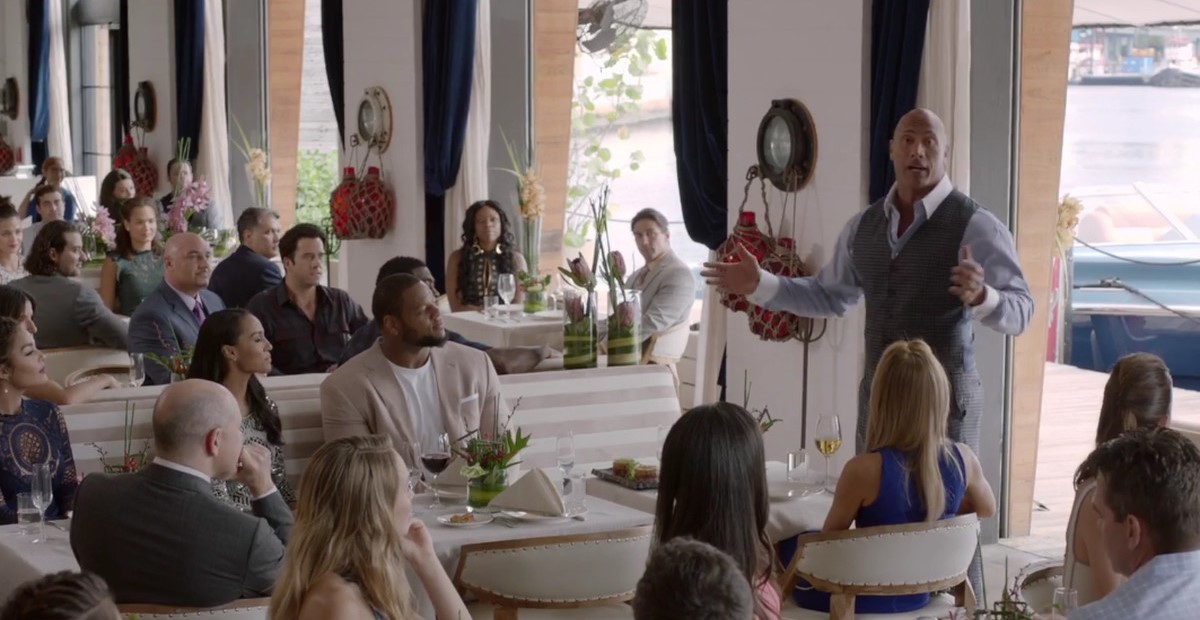 Thanks to his connections, Fields has represented several NFL talents over the years, including Chris Johnson, LaRon Landry, and Amari Cooper. Another NFL icon who shares a similar career path as Spencer is Patrick Kerney, a former NFL player who retired from football in 2010 and began working as a financial advisor for the players and coaches. To help understand the character of Spencer in detail, the showrunner Evan Reilly had quite a few things to say about Dwayne Johnson's character in 'Ballers' during a conversation with The Hollywood Reporter in June 2015.
Reilly said, "…he's the guy who's going to step in and help them understand what's going on in their lives and what's going with their finances. It goes further beyond just their money. It's really about trying to help mentor the guys and give them a better understanding of the things that they're going through because Spencer has gone through it himself." In the same interview, she was asked about Spencer's character development over the first season. She said that apart from the affairs of the business world, Spencer was also wrestling with several personal demons as he wanted to redeem himself for his past transgressions.
Reilly further expanded, "The guy went through his entire football career playing a sport and maybe not having an opportunity to really grow up and mature. He's growing up a little bit now that he's outside of the game. He still likes to have fun; he still likes to get out there on the town. He's maturing in a way that maybe he wasn't able to when he was actually in the game and living the life." Given Dwayne Johnson's football past, he reveled in playing Spencer Strasmore as the character was everything he dreamed of.
Before reaching the heights of stardom, the actor was just a regular kid who loved playing football at the University of Miami, dreaming of making it professionally. Although missing out on going big with the NFL, he signed with the Canadian Football League's Calgary Stampeders but got cut from the team after a couple of months. As you can see, there are several differences in the careers of Dwayne and Spencer wherein the former became one of the most popular and successful wrestlers of all time while Spencer has a successful NFL career, something that Dwayne had always dreamt of since childhood.
Through the fictional character of Spencer Strasmore, Dwayne Johnson could live his dream as he considered it a wish fulfillment role for himself. After all, he dreamt of becoming a professional football player when he was 15, and the life that Spencer leads is reportedly the one that he wanted for himself in real life. In a late June 2015 interview with Esquire, Dwayne stated, "…The guy, Spencer Strasmore, is everything I dreamed of being. I dreamed of being an NFL player, All-Pro, making money, buying my parents a house, the whole thing like he has done."
Read More: Shows Like Ballers