'Moonlight's triumph in 2016 and 'Get Out's massive success in 2017 paved the way for 'BlacKkKlansman' in 2018. Spike Lee's formidable return to the screen has brought a unique and timely film that will definitely make some noise at the Oscars. This year has by far been the best year for African-American dominated casts in some time. In fact, the list for the best movies of the year features more than a few entrants. This meteoric rise has come after years of almost non-existent movies about the community. A success here, a success there defined the standard of such movies. Anyway, let us get straight to the list. Here's the list of top 10 black movies of 2018.
10. Traffik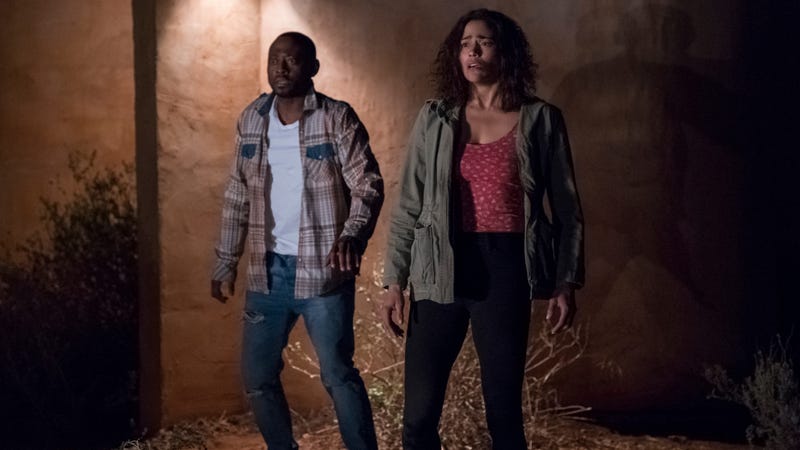 A couple goes to a romantic getaway at a lavish penthouse in a small town. They briefly stop at a gas station where they accidentally get hold of a phone. Their dreamy visit is cut short by a trafficking gang who confront them at their isolated abode to retrieve their valuable phone. Brea, a dedicated reporter, must escape her dreaded fate and the corrupt police force to bring the story into the public domain. Based on a real-life incident, 'Traffik' isn't conventionally an African-American film. It boasts of a predominantly black cast, except for the bad guys who are all white (how the tables turn). Paula Patton, the star of 'Ghost Protocol', carries the film on her able shoulders but even her best isn't enough to fill the gaping holes the film leaves with its sub-standard production values.
10. Uncle Drew
After draining his entire savings to enter a team in the" Rucker Classic Streetball Tournament" in Harlem, Dax is dealt a series of unfortunate setbacks, including losing his team to his longtime rival (Nick Kroll). Desperate to win the tournament and the cash prize, Dax stumbles upon the man, the myth, the legend UNCLE DREW, and convinces him to return to the court one more time. The two men embark on a road trip to round up Drew's old basketball squad (Shaquille O'Neal, Chris Webber, Reggie Miller, Nate Robinson, and Lisa Leslie) and prove that a group of septuagenarians can still win the big one. 'Uncle Drew' is guilty fun for arthouse aficionados. Just the way a person on a diet has cheat days, you serious and sophisticated cinephiles can let loose and enjoy this delightfully absurd and hilarious comedy lit alive by one of the coolest cast one can ever assemble.
9. First March
The divides between the two biological gender are mainly physical. Men are naturally built more powerful than females and that is an irrefutable fact. But mentally, females surely can match their counterparts toe-to-toe, even outclassing them on many occasions. A hardened foster girl grows up to wrestle with boys on the same team, hoping to use her strong-will and determination to pull her through. The largely unheralded film released on Netflix and impressed critics alike. The universal praise was directed towards Newman's uncompromising affinity to his storytelling and Elvire Emmanuelle's spirited lead performance that is the very life of the film. 'First March' is an impressive debut from director Olive Newman, and carries itself well with an admirable pace that keeps you hooked.
8. Proud Mary
Taraji Henson has had a pretty good couple of years. Right from going to the Oscars with the charming 'Hidden Figures', to starring in a Tyler Perry film, she's done it all. 'Proud Mary' sees her play the titular character, a hardened assassin with a soft heart who forms an emotional bond with the son of a target she murders. As her underworld peers start suspecting her of betraying them and lying to make them fight in themselves, she hatches a plan to escape with Danny, the now grown-up son of Marcus, the target, and keep him safe. Mary's decisiveness is her biggest professional asset, which assists her in unflinchingly killing anything and everything that comes to harm her and Danny. Personally, though, her human ethos is the shining beacon that compels her to protect an innocent orphan and lookout for him. 'Proud Mary' is lifted by the impressive performance of its slick protagonist, but is bogged down by a stubborn adherence to generic filmmaking standards.
7. Roxanne Roxanne
'Roxanne Roxanne' fashions its highly erratic and lively cinematic world around its electrifying and fearsome star, Roxanne. The dramatized version of emcee Roxanne Shante's life is equally boisterous and daring in its ambitions. A proponent of the much documented Queens Project, Roxanne's life is a live embodiment of the spirit of the life in those dreaded conditions. The film heavily draws on its socio-economic fabric and creates a platform for its troubled, shining star to seize. Despite the expressive portrait offered by the film, director Michael Larnell misses the mark by allowing his subjective analysis of Roxanne's life to creep in, thus rendering the otherwise brilliant movie a blow in its path to greatness. Despite this drawback, 'Roxanne Roxanne' is a must-watch and one of the top African-American movies of the year.
6. Acrimony
The negative reviews aren't quite understandable. Tyler Perry's 'Acrimony' is one of the most poorly rated films of the year, and yet, feels like a great effort. The psychological thriller stars Taraji P Henson as a betrayed wife who decides to avenge her husband's infidelity. The revenge flick has a tense buildup to the third act, which isn't vengeful enough and doesn't really match the tone set by the first two acts. Despite the lackluster ending, 'Acrimony' is solid for most parts, cleverly making the most of Henson's brilliance and the narrative's dark backdrop. Although Perry's essence of the story could have done wonders with a little more polishing, it certainly had the legs to endure the movie for almost whole of the movie/ That being said, an insipid climax blots the good work done by the middle and the start in Perry's enjoyable thriller flick.
5. Black Panther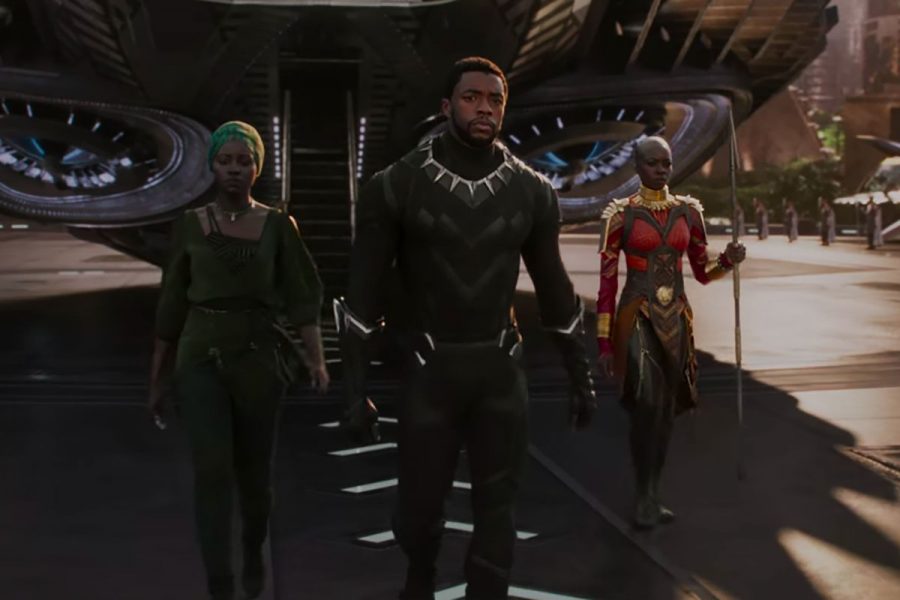 'Black Panther', as of now, sits atop the MCU pantheon. Featuring for the first time a black actor as a comic-book hero, 'Black Panther' broke records and won hearts during its run. T'Challa flies into Wakanda for his coronation after his father is killed in a terrorist attack. Despite facing stiff challenge from M'Baku, T'Challa is eventually successful and assumes the throne. Ulysses, a rogue terrorist who stole Wakandan vibranium, plans an attack on Wakanda to take revenge. Erik Killmonger, an accomplice of Ulysses, kills him, and delivers him to W'Kabi, the head of the tribe border, thus losing his faith in T'Challa. When the king is overthrown and apparently killed, he must come back and save his homeland. Gripping, thrilling, and replete with intelligent pieces of humor, 'Black Panther' is one of the year's best movie and stands out as the most refined representation of Afrofuturism and its implications as a global force.
4. Sorry To Bother You
'Sorry To Bother You' marks the directorial debut of singer/rapper Boots Riley. And it seems that we'll definitely see so much more of Riley in the upcoming future. Boots Riley's 'Sorry to Bother You' is a satirical film that takes no prisoners and shows absolutely no mercy. From the opening moments, the filmmaker has every intention of distorting our knowledge of what we think is coming and dos so from scene to scene in exciting and original ways. His screenplay flips, loops, head-buts you, and destroys the screen in a cinematic explosion of wildly original ideas.
The great rising star Lakeith Stanfield owns the role of Cassius Green, who finds a job as a telemarketer but who is on a fast track to nowhere until he's told by a colleague (Danny Glover) to use his "white voice". (David Cross wonderfully provides the vocal "mayo" for Cassius). The sudden power and status rise drowns him in the glittery allures of capitalism, separating him from his old life. He has to destroy his original self, crush his identity with the corporate capitalism of the world he so desperately wants to be a part of and construct a new identity that conforms and thrives in the land of opportunity. The world and life that he so crazily chases comes at a great cost; the love of his life, his caring brethren, and the uniqueness that introduces him to the world. But when he becomes a horse, he has a change of heart.
'Sorry to Bother You' is a great film from a filmmaker who has his own original voice and isn't afraid to tell it like it is and how it will be. A film such as this one is daring to finance in today's climate and risky to release in the crowded and brain-dead summer box office season. A damning portrait of things as they in the States, despite the director admitting the movie was made before trump assumed power, 'Sorry To Bother You' is accurate and a wild version of the present moment in Brechtian-alienated, sardonic and disreputable.
3. Blindspotting
'Blindspotting' offers a deep insight into the Afro-American psyche through its carefully constructed social fabric of the community. Convicted felon Colin needs three more days to end his old life and embrace a new one. When his probation gets over, he dreams of settling in an idyllic neighborhood and lead a life of impact and dignity. He is pulled out of his reverie when he becomes a witness to a police shooting in the streets. His volatile buddy, Miles, has a different opinion on the shooting and the two stand at a conflict that threatens their friendship.
'Blindspotting"s heavy multilayered narrative hinges on the success of its two protagonist's chemistry. And the two don't disappoint. The real-life childhood friends, who grew up in the same neighborhood as the two characters in the film, wrote the screenplay together and instill palatable life in the film. The beautiful and brutal picturization of the neighborhood engrossed in drugs, violence, and crime is a timely reminder of how we are taking human life for granted. Rest assured, 'Blindspotting' remains sparsely funny and engaging through its colorful aesthetic and genuine moments of life.
2. The Hate U Give
Unwarranted police shootings involving the members of Afro-American have marred modern American history. Despite numerous civil rights movements and other social uprisings aimed towards equality and justice, racism still creeps in the suburban mind. 'The Hate U Give' provides an inside look into the story of Starr, a 16-year old teenager who has seen both poverty and hatred. Starr sees her best friend shot down and is caught between the two worlds that she is now a part of. Her attempts to speak the truth and demand justice for her friend are filled with obstacles. The rich emotional detail that marks the characters is impressive, despite frequenting in glossy over-worked themes. 'The Hate U Give' might not be the most original and magical in terms of filmmaking, but remains endearing and urgently important in today's socio-political context.
Read More: Best War Movies of 2018
1. BlacKkKlansman
How often is the title of the movie such an apt representation of its plot and still possesses a surprise that greatly enthralls? Pretty rarely. Spike Lee's glorious achievement of the 21st century is easily one of the year's best films. 'BlacKkKlansman', as the title suggests, is a story about Ron, a black police officer, the first on his district's force, who infiltrates the Ku Klux Klan with the help of his colleague Philipp Zimmerman, to monitor the radical group's activities and ascertain any planned attacks. The premise evolves from Ron's innocent mistake of revealing his real identity on the phone to the 'Organization' and its subsequent use by a different person who is white. Spike Lee's heavily political and social film is boosted by its timely themes and beautiful structure. Almost all the performances, especially Driver and Washington, are earnest and fit their roles.
I couldn't help but spot glaring similarities to Daniel Ragussis' 'Imperium' starring Daniel Radcliffe. Both films espouse an undercover agent infiltrating a racist, neatly structured organization. While 'Imperium' was sophisticated and serious without political undertones, Lee's 'BlacKkKlansman' thrives on its polarized message and revels in playing with the concept. 'BlacKkKlansman' is a technical coup. The narrative is perfectly paced, neatly organized, and executes the three-act paradigm with aplomb. While it is no 'Get Out', 'BlacKkKlansman' is a remarkable triumph and glorious retelling of a hair-raising tale, brought to life with irresistible style and passion by Spike Lee.
Read More: Best Gay Movies of 2018