It probably won't be an overstatement when I say that viewers of Bollywood movies are probably the only group of 'movie-consumers' in the world who are offered such choice and variety when it comes to deciding which movie to catch at the cinemas. It is our staple, agreed. But a lot of movie-goers remain unsatiated on a lot of fronts, which is an irony if you ask me, given the volume and variety of films we churn out every week. Most of these, I am afraid, pertain to the quality of cinema we are fed. Here's the thing about it. For every 'Newton' that we get, there's always going to be a 'Judwaa 2' lurking right around the corner, looking for a big holiday release, raking in more money on the opening weekend itself than what the former would in a lifetime. That is not only a dichotomy at its very core, but also puts forth a sad state of affairs, that I can't write enough to stress upon.
We, at The Cinemaholic, have thereby decided to run a series of listicles that target the best Bollywood releases from certain years to let our readers delve into how well Bollywood has fared over the years. While truly good and well made Bollywood films are few and far in between, we attempt to narrow it down for you, year-wise. These include commercial successes that you may have caught in the cinemas that year and underrated titles that may have slipped your attention. Either way, these are films that should be on your watch list, the one beacon of hope in an industry otherwise marred in banalities and run of the mill stories. So, without further ado, here goes the list of best Hindi movies of 2004.
11. Chameli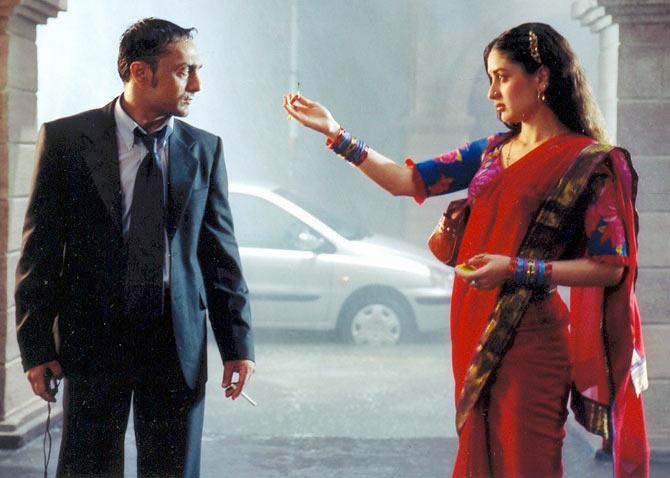 I will be honest about it, 'Chameli' wasn't a breezy watch, neither is it Sudhir Mishra's best work. But there exists a performance so effervescent and eccentric at its heart, it propels the film into a whole new territory. Kareena's prowess as an actor is so often glanced over by the nonetheless superb Geet, that we tend to forget she is capable of so much more, as is reflected in bits and parts of her act as the oft foul-mouthed prostitute. Rahul Bose is the perfect foil to her character, and happily lets her take centrestage, even though the conversations between the two, and how they gradually open up before each other form the better, endearing bits of this unmistakably small film replete with indie vibes.
10. Meenaxi: A Tale of Three Cities
If you wish to watch a Bollywood film purely as a piece of art in the most literal sense, look no further. Directed by M.F. Husain, the artistry in the film was a given. The film aces all technical aspects including cinematography and production design, and its rather elaborate use of colors. However, what took me by surprise was the story, and it's almost abstract treatment at the artist's hand, so much so that I have rarely found two people agreeing on a single interpretation of the film, of the already limited people who happen to have seen it. It is probably for these reasons that it remains the most dubious entry on this list. But the dubiousness aside, the film is mostly a win-win, with A.R. Rehman once again proving what a maestro he is when it comes to scoring.
9. Hum Tum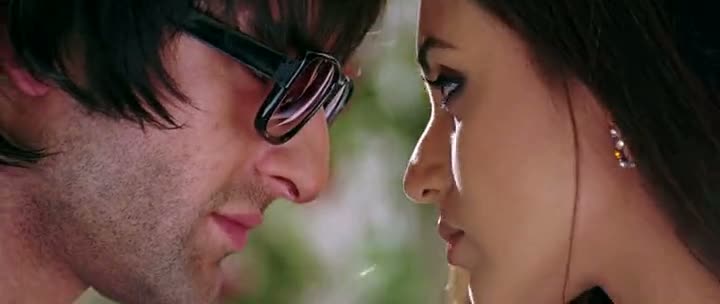 'Hum Tum' belongs to a time when the rom-com formula was relatively new in the Indian circuit, and marks the beginning of a string of films with Saif Ali Khan playing the irreverent man-child who eventually falls in love. It is a quintessential YRF romcom, and back then the name of the banner attached to the film meant you were bound to have a good time with the family at the movies. Saif and Rani's chemistry in the film was a revelation, and the animated bits were affable. The narrative of the film is part contrived, part funny, but mostly just breezy. It is staple fodder for Bollywood fans of the genre, and a good one-time watch for others.
8. Yuva
Let's call 2004 the year of quality political dramas, shall we? Mani Ratnam has been successful in carving a niche for himself even in Bollywood, apart from his sizeable and impressive Tamil filmography, and 'Yuva' would surely rank among the better ones. His films, in my opinion, marry both critical and somewhat commercial aspects of cinema, in a way that it becomes hard to put his work under the art house umbrella, but there reflects a certain indie quality that is unmissable, and in a lot of ways signature too, especially in the technical departments.
'Yuva' at its core is a political drama that involves the initially unrelated lives of three youths with political aspirations, that later fatefully (and in ways, tragically) intertwine in Kolkata. All leads, especially Abhishek Bachchan are well cast and do justice to their respective roles. A.R. Rehman, who is a frequent collaborator with the director, composes integral and energetic tunes for the film that I revisit to this day.
7. Ek Hasina Thi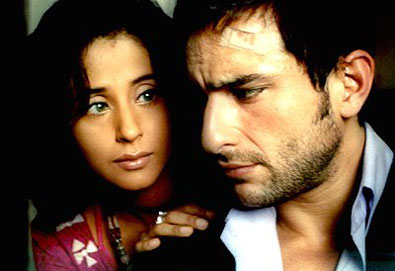 'Ek Hasina Thi' reinstated my faith that Bollywood could do flavourful, stylish revenge dramas too, and do them well. Sriram Raghavan's debut feature produced by Ram Gopal Varma is rightfully termed a neo-noir thriller, with a taut and gripping screenplay, a stellar central performance from its female lead, Urmila Matondkar and an underrated performance from its male lead, Saif Ali Khan. Dark, often stylistically violent, 'Ek Hasina Thi' is a well told revenge tale, where the screenplay emerges the real winner. There are traces of the yesteryear Ram Gopal Varma present in this production, but even in his debut feature, Sriram Raghaven displays complete control of his craft, mastering elements that complete the thriller checklist, even visible in his somewhat superior follow up 'Johnny Gaddaar'.
6. Lakshya
After 'Koi Mil Gaya', this film can be credited with establishing Hrithik's credibility as a serious actor. 'Lakshya' is a stunning directorial by Farhan Akhtar, and is in many ways a coming of age tale, as it is a well told drama and an enthralling war film. It sadly underperformed at the Indian box office, but like most well made films, gained a cult following and was a hit among the TV viewing circuit. Preity Zinta and Amitabh Bachchan are fantastic in their respective roles, but it is truly Hrithik's show backed by some strong writing, highlighting his journey from an aimless lad to an army officer. To add to it, there's the groovy 'Main Aisa Kyun Hoon' sequence choreographed brilliantly by Prabhudeva!
Read More: Best Hindi Movies of 2017
5. Veer-Zaara
You would be sitting on a throne of lies if you claim to be a 'filmy' kid hailing from a 'filmy' family and not being a hopeless romantic beneath the surface, and 'Veer-Zaara' exploits exactly that. It's a romance that feels like the days of yore, helmed by the legendary Yash Chopra who knew his audience's nerve. This epic cross border romantic drama may seem a little farfetched in its approach, but it is Bollywood at its unabashed best with all the song, dance, melodrama, tragedy, and dialogue one can think of. However, it all works and as I said earlier, appeals to the hopeless romantic in you. The songs and locales are an absolute treat and you could literally swoon over the innocent chemistry between Khan and Zinta. Quite simply put, there was a time when romantic movies had an effervescent charm to them, free of corny jokes and the adultery plaguing them now, and sadly, I feel 'Veer-Zaara' was the last of the batch. They just don't make 'em like that anymore!
4. Khakee
One of the finest Hindi language political thrillers to have come out in recent times, 'Khakee' remains an underappreciated film to date. No cheesy dialogues, no forced nationalism, it's a straight up adrenaline shot spiked with strong performances from a cast assembly nothing short of stellar. Amitabh Bachchan does what he does best as the solid central presence in the film. Akshay Kumar is his usual goofy self in the comic bits, and the conniving street smart cop in others. Ajay Devgan makes a formidable villain, and rest of the cast including Aishwarya Rai. Tusshar Kapoor and Atul Kulkarni have their moments to shine. The storyline is engaging to say the least, and the writing taut. The occasional song, dance and distraction aside, 'Khakee' will keep you glued for its close to three hours runtime, owing to its grounded, often hard hitting writing and rock solid portrayals of flesh and blood characters. It's mainstream cinema at its smart best.
3. Raincoat
Even in terms of simplistic storytelling that I often tend to mention in a lot of reviews, 'Raincoat' is as simple as it gets. However, the treatment it receives at the hands of the late Rituparno Ghosh, a maverick filmmaker in his own right, is both eloquent and poignant. Set almost entirely in a single location, and centred for most of its runtime on its two leads (beautifully underplayed by Aishwarya Rai and Ajay Devgan), 'Raincoat' tugs at your heartstrings in a way that will make the film stay with you for long, even if one chooses to view the film casually and not marvel at its nuances and treatment. Special mention to the minimal background scoring that just effortlessly adds to the unmissable sense of melancholy hanging over the film. It is hailed by many critics as one of the most original and best romantic Hindi films of all time, and I wouldn't disagree even if I tried hard to do so, it's that effective.
2. Maqbool
'Maqbool' is the first entry in Vishal Bhardwaj's celebrated trilogy of films where he adopts three Shakespearean tragedies in the Indian hinterland. Macbeth serves as the source material here, with the Mumbai underworld as the backdrop. And to say this film is brilliant would be an understatement. The way the characters and situations from the original play are presented with an Indian twist in this hard-hitting drama is inventive, to say the least. Add to it a cast of some of the best actors working (even today) and what you get is an eclectic tale of powerplay, ambition and political desire. Irrfan is in top form here, while Tabu and Pankaj Kapur do some of their best work. Vishal Bhardwaj insists on scoring and composing for his films himself, and it is completely justified in 'Maqbool' too, as it is in his other works.
1. Swades
'Swades' is one of two Shahrukh Khan films on this list, from back when he put more thought in his scripts, and he was more 'actor' than, well, a man of commerce. It's a shame 'Swades' failed to do too well at the box office when it released, but the kind of acclaim it received then and the kind of cult following it has now is only testament to what a great film it is. Simple in its approach, and utilizing Shahrukh Khan in perhaps a career best performance, 'Swades' is experimental, at times cerebral, and grounded in realism throughout. A.R.Rahman's music is nectar for the ears. Writing this list, one misses the days when nationalism and a sense of being was instilled and not forced down our throats. This was Ashutosh Gowariker's second straight shot after 'Lagaan' and this time too, safe to say, he hit it out of the park.
Read More: Best Hindi Movies of 2016