Cary Grant is quite simply one of the greatest stars of the Golden age of Hollywood. An actor with both the rugged looks and the comic and acting talent, Grant quickly rose to the top of the Hollywood industry. Often considered as one of the funniest actors, Grant was a man with impeccable comic timing and someone who did not take himself too seriously. A classic leading man, a suave gentleman and a heart-throb amongst the ladies, here is the list of top 12 Cary Grant movies.
12. Arsenic and Old Lace (1944)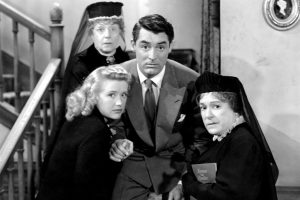 Directed by Frank Capra, this film is based on Joseph Kesselring's movie of the same name. The plot follows Mortimer Brewster, played by Grant, who despite his frequent ridiculing of the institution of marriage falls in love with his childhood neighbor Elaine and marries her. When he goes to revisit his family, he discovers that his aunts are serial killers who kill elderly bachelors with poison. His brother Teddy, is insane and believes himself to be Theodore Roosevelt and another brother Jonathan, who looks like Frankenstein's monster and is also a killer. The comic plot plays out as Mortimer tries to stay on top of the situation and save his insane brother Teddy while alerting the cops to Jonathan's presence. The comic element comes from the absurdity of the situation and from the bumbling cops who are of no use. Grant delivers an excellent performance and establishes himself as a comic actor of a fine caliber in the movie.
11. Monkey Business (1952)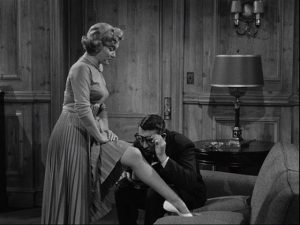 Directed by Howard Hawks, this film has a stellar cast starring Cary Grant, Ginger Rogers, and Marilyn Monroe. Grant and Rogers' on-screen chemistry is beautiful and Marilyn and Grant look like a picture-perfect couple when they are out on a date. The comic element in the movie comes from everyone reverting back to their old childhood phases and one of the funniest moments in the movie is when Grant plays make-believe Indians with a group of kids. For a man who rarely took himself seriously, this role was a perfect fit for Grant and he did a fantastic job as Dr. Barnaby, a serious scientist, but a young kid at heart.
10. His Girl Friday (1940)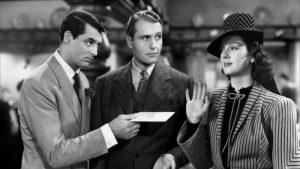 This is another collaboration of Cary Grant and Howard Hawks. The film which is based on the play The Front Page by Ben Hecht and Charles MacArthur sees Grant's character Walter Burns as a hard-boiled editor working in The Morning Post. The plot follows Burns as he tries to sabotage his ex-wife's plans to remarry by hiring her to do one last scoop on a convicted kidnapper about to be hanged. Burns really is petty and keeps framing his Hildy Johnson(his ex-wife's) fiance on trumped-up charges. However, things work out in the end and Burns and Hildy agree to remarry and go to Niagara. However, Burns, ever the editor first and husband later, true to his character discovers that there is a strike in Albany and decides to cover it as it is en route to Niagara. Grant delivers a powerful performance, the comic element arising from his pettiness and his obvious wish to remarry Hildy. A finely made film, it emphasizes Grant's comic prowess.
9. Charade (1963)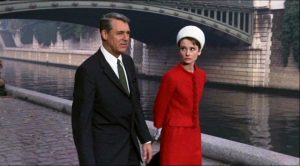 This film is a mixture of both a comedy and a thriller, something straight up Cary Grant's lane. The film marks another collaboration between Grant and Audrey Hepburn. Grant plays the role of a government agent who dons various identities and teams up with Hepburn's character, Regina, whose husband was a CIA operative and stole gold intended for the French resistance. Grant's character helps Regina survive the onslaught of greedy parties all bent on recovering the gold for themselves and in the process of the movie Grant establishes that he is a diverse actor who can carry the gravitas of a moment and do screwball comedies at the same time. One of the finest films in Grant's career, this movie is a pleasure to watch.
8. Houseboat (1958)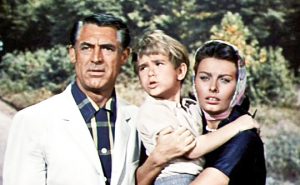 The film stars Cary Grant as Tom Winters and Sophia Loren as Cinzia Zaccardi. The film is basically a love triangle between Winters, Cinzia and Winter's estranged wife Carolyn. A wonderfully wholesome movie where the couple initially is not sure of their feelings for each other and through a series of comic mishaps, Tom and Cinzia eventually marry and the children he had with his first wife, Carolyn eventually accept Cinzia as a mother figure. Sophia Lauren, ever beautiful, is a wonderful partner for the handsome Grant and their on-screen chemistry makes the film a success.
7. Holiday (1938)
Directed by George Cukor this film stars Cary Grant as Johnny Case, a man who falls in love with Juli Seton, a woman who he later discovers to be the daughter of a wealthy banker. The film follows a topsy-turvy emotional roller coaster as Linda Seton, Julia's sister also falls in love with Johnny. The film progresses to a climax where Linda frees herself from her father's influence and declares her love for Johnny. A well made romantic comedy Grant appears as his usual charming self, brightening the movie with his presence and his acting.
Read More: Best Alfred Hitchcock Movies
6. The Awful Truth (1937)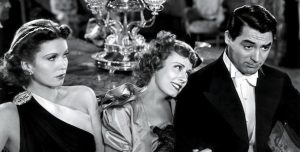 Directed by Leo McCarey, and winning the Academy Award for best director, this screwball comedy stars Cary Grant as Jerry Warriner and Irene Dunne as his wife Lucy. The plot follows a married couple who divorce each other as suspicions about each one's honesty take its toll. However, the couple still loves each other both go out of their way to sabotage each others' subsequent relationships. This game of mutual sabotage forms the comic element of the movie and eventually realizing their love for each other and managing to find common ground for reconciliation, they get back together. One of Grant's finest performances, this film truly shows Grant at his comic best.
5. The Philadelphia Story (1940)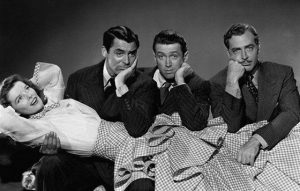 Another collaboration which sees George Cukor work with Cary Grant. The film also sees another on-screen chemistry between Grant and Katharine Hepburn after Holiday. The plot follows wealthy socialite Tracy Lord (Hepburn) who divorces Grant's character Dexter because he does not meet up to her standards of perfection on grounds that he drinks too much. However, on verge of her wedding, Dexter reenters her life and complicates matters. Her family welcomes Dexter back and one of Dexter's friends Mike begins to gain Tracy's fancy. The comedy comes from Tracy's dilemma as she is torn between three men – Dexter, Mike and her fiance George. However, when George questions her integrity, seeing her with Mike after she got intoxicated and took a swim, she breaks it with George. Realizing her own imperfection and former harsh judgment of Dexter she agrees to remarry him. Grant outdoes himself as a man who puts his own character above all else and delivers a fantastic performance in a movie that is bound to leave the audience enthralled.
4. Only Angels Have Wings (1939)
Another collaboration between Howard Hawks and Cary Grant, this film is generally considered to be one of Hawks' finest films. The plot follows a group of pilots in Barranca a fictional town as they deliver mail. Geoff Carter is Grant's character and he is a fearless professional with a fatalistic attitude towards this dangerous job. Jean Arthur plays Bonnie Lee, a woman who forms a sort of affection for Geoff but cannot get past his macho exterior. Geoff shuns Bonnie's advances throughout the film to the very climax where he tosses a coin with two heads and conditions that she stays if it is 'heads'. The film ends with Bonnie's realization of Geoff's acceptance. Grant portrays the professionalism and emotions of a pilot in a high-risk job beautifully and really brings the role and in fact the movie to life.
3. Bringing Up Baby (1938)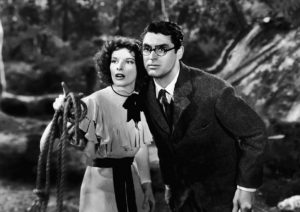 Another film by Howard Hawks, this is another collaboration of Grant and Katharine Hepburn. Grant plays David Huxley, a paleontologist under considerable pressure since he cannot find one bone of a Brontosaurus he is reconstructing and is about to married to a dour woman and also must secure a donation for the museum. All these changes when he meets Susan Vance (Katherine) on a golf course. Vance is free-spirited and mistakes him for a zoologist and asks him to help her manage her leopard Baby. In the course of the film they fall for each other, but the recovered bone goes missing thanks to Susan's dog and the leopard gets out and there is a confusion with a circus leopard. The series of mishaps makes this an excellent screwball comedy which reaches its climax with David and Susan professing their love for each other.
2. Notorious (1946)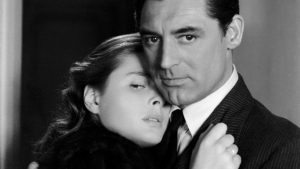 Grant's collaboration with Alfred Hitchcock, the master of the thrillers and mysteries, yielded some fantastic results. This espionage thriller was one of them. The star cast includes Ingrid Bergman, Cary Grant, and Claude Rains. Grant plays T.R. Devlin a spy. Although Grant never plays an out-and-out antagonist, this is the most dubious and morally grey character he has played. He appears cold and forsakes his love for Bergman's character, Alicia. Furthermore, he refuses to help a man in need and leaves him to face punishment from the Nazis. If Grant's comic mettle has been proven in the list of movies here, this movie alone is a testament to the fact that he can play serious roles to a fault and Grant delivers a performance of a lifetime in this Hitchcock movie.
1. North by Northwest (1959)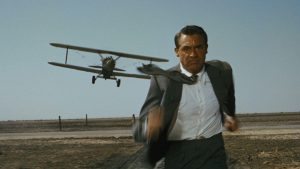 One of the finest collaborations between Hitchcock and Grant is in this film. The plot follows Grant, as Roger Thornhill and advertisement executive who gets mistaken for George Kaplan. Kaplan is a wanted man by a mysterious organization and there is a microfilm involved. Thornhill survives on his wits and ultimately manages to bring to task this mysterious organization with some help from law enforcement. Grant's character in the film could be him in real life, smart, suave, a man who doesn't take things too seriously, a macho exterior and a trove of one-liners, Grant was meant for this role and he does a fantastic job in this Hitchcock movie to make it the finest in his career.
Read More: Best Thriller Movies of All Time