Sacha Baron Cohen is an unheralded genius. He is perhaps one of the most creative professional in the industry, in terms of incorporating social issues in his comedic routines. The quality of the content certainly augmented it in magnitude, and the spectrum of success has since transcended the four walls of television and our houses to 70mm celluloid and air-conditioned theaters. This unique blend of societal issues and sarcasm has landed him in the top bracket of writers and actors around. Apart from being witty and impressive with his writing, Sacha has also proved himself a true protean, jumping from contours of one character to the other with the adaptability of a chameleon. He is most prominently known for his wide-ranging accents and nationalities that he chooses for his roles.
His brazen and abrasive approach hasn't gone under the radar and has time and again attracted unwanted attention. He has had to face the ire of buearocrats and indignant diplomats due to the exploitive nature of his acts. That, nonetheless, has failed to recede his success and confidence, something for which we cinephiles are much thankful for. Here's the list of top Sacha Baron Cohen film characters, selected from his impressive filmography. You can watch some of these best Sacha Baron Cohen movies on Netflix, Hulu, or Amazon Prime.
10. Carl Allen "Nobby" Butcher ('Grimsby')
The first on the list appeared in the 2016 film 'Grimsby', which was co-written by Sacha. The movie saw him take up the proclivities of an alcoholic, who has been separated from his estranged brother since 28 long years. One day, fate has its say and the brothers re-unite, albeit in preposterous conditions, when Nobby accidentally, in his innocuous affection for his brother, spoils a clear shot his Mi6 brother had on a camera-disguised gun and its beholder. An escapade ensues, as now the brothers have to work in unison to lose their trail and subjugate the diabolic and revengeful plans of their inhibitors. Even though the film tanked at the box office, and didn't find itself among the best of reviews, Sacha's sly writing and character traits were highly praised and lauded.
9. Inspector Gustav ('Hugo')
'Hugo' was a visual delight. The aesthetic splendor of Paris, the nightlife of a city that is the fashion stop for all ages, conquered the hearts of the audiences. The Scorcese-helmed feature didn't have Sacha as the lead actor, but rather entwined him in the background, providing some gut-wrenching and funny instances. Even though he didn't conjure up the character himself, the mercurial auteur allowed him to improvise and develop his character. The metallic leg, the limp, the dog, and the unrequited attention for a lady of comeliness were all the brainchild of his genius. Oh, and he nailed the French accent too. Figuratively though.
8. King Julien XIII ('Madagascar')
Sacha again had to be content with a supportive role in the movie. But if not for him, the role would have been a two-line part. It was the improvisational acme of the Brit-brat that prompted the producers to carve out a whole role for him in the movie. The auditioning actor ad-libbed eight minutes of uninterrupted dialogue in an Indian accent, which eventually won over the executives. Subsequently, the film was a big success and has developed into a mega-franchise, with Sacha reprising his role in all the three installments.
7. The Man with No Mouth ('Past Forward')
This is perhaps his most obscure of roles, which came forth in a short film. Helmed by none other than David O'Russell, the feature boasted of names like John Krasinski, Freida Pinto, Allison Williams, and Sacha Baron Cohen. The beautifully shot black and white Prada film was described as "a surreal dreamscape with an eclectic cast replaying scenes in shifting combinations," and Cohen came in for universal praise for his portrayal. Though featuring in a minimalistic role, he still managed to get our attention and pass off with flying colors.
6. M Thenardier ('Les Miserbales')
Cohen displayed his singing prowess with the role in the movie. The years of rigorous training at the theatre paid off for him, as the musical became one of the biggest hits of the year. Again, the character wasn't his to write, but was his to play. Adapted from Victor Hugo's 1862 novel of the same name, it featured Sacha and Helena Bonham Carter, whom I regard as the female equivalent of Cohen, as a pair of swindling innkeepers, who apparently strike gold when they discover a five-year old girl, who they believe has an affluent provenance. The opulent hierarchy and capital greed saw the two negotiate with the little girl's mysterious savior, in a series of funny routines. The chemistry between the two was outstanding, and Cohen made his character one to remember for the audiences, and a benchmark for aspiring auteurs to emulate and admire. Oh, and he ditched 'Django Unchained' for the role.
Read More: Helena Bonham Carter Movies
5. Jean Girard ('Talladega Nights: The Ballad of Ricky Bobby')
When two kings of improvisation come together from different kingdom, they make a new kingdom that rules your hearts for the years to come. Now, the story behind his character's development is funny, and a testament to his comic genius. When Ferrel approached him with the role, within minutes of reading the script, Cohen had announced how the character will look, how will he speak, how will he walk, talk, you get the gest. Jean Girard, an openly gay French Formula One driver and Bobby's archrival. Girard's dream is to move to Stockholm and design a currency for use by dogs and cats. He is described as talented, eccentric and dominating in the Formula One circuit in a SPEED broadcast segment. While challenging Bobby, Girard drives the No. 55 Perrier car. And that was it.
4. General Aladdin ('The Dictator')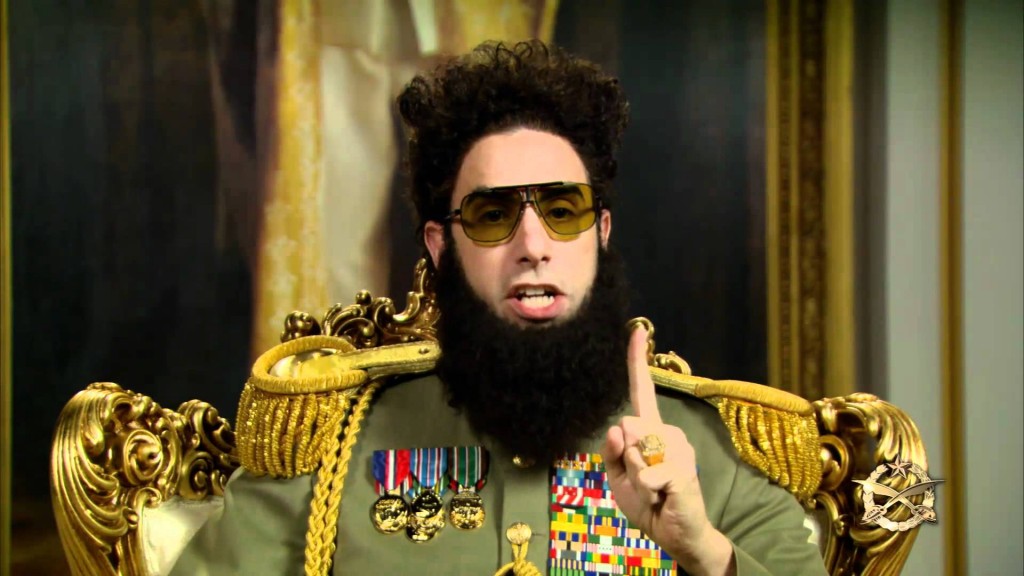 There's not much to be said here except that this character is not only my personal favorite, but of many people reading the article as well, whose countenances have lit up with a wide grin. I'll just say one thing. "Make it more pointy!"
3. Bruno Gehard ('Bruno')
Now, from here starts his genius. One of the four characters, which is his alter ego, he is, as described by Sacha in his own words, " a flamboyantly gay, Austrian fashion show presenter who often lures his unwitting subjects into making provocative statements and engaging in embarrassing behaviour, as well as leading them to contradict themselves, often in the same interview. Brüno asks the subjects to answer "yes or no" questions with either "Vassup" (what's up) or "Ich don't think so" (No); these are occasionally substituted with "Ach, ja!" (Ah yes!) or "Nicht, nicht" ("Nicht" means "not" in German). " And in one of his other alter egos' show, he substituted the yes/no with 'Keep them in the ghetto' and 'Train to Auschwitz'. Brüno's main comedic satire pertains to the vacuity and inanity of the fashion and clubbing world. Finally in 2009, he got his own film and made over a $100 mil. Well, what more to say.
2. Ali G ('Ali G Indahouse')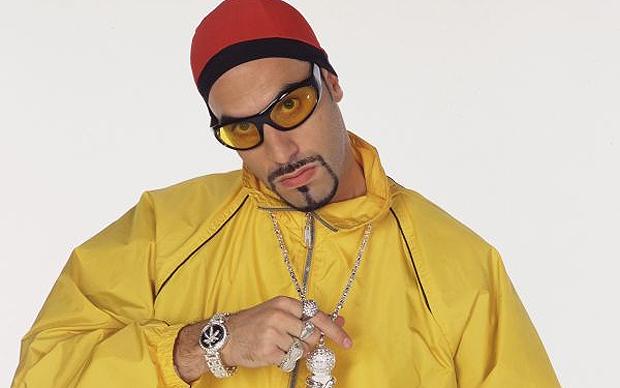 Ali G Indahouse! Ali G, an uneducated, boorish junglist, hailing from Staines (a suburban town in Surrey, to the west of London), was the reason for Sacha's meteoric rise in the industry. Brief sketches on renowned late night shows earned him his own show, 'Da Ali G Show', which quickly became the talk of the town, and fetched a BAFTA for its eccentric star in the following year. Ali G's interviews with celebrities (often politicians) gained notoriety partly because the subjects were not privy to the joke that Ali G, rather than being a real interviewer, was a comic character played by Baron Cohen. According to Rolling Stone magazine, Baron Cohen would always enter the interview area in character as Ali G, carrying equipment and appearing to be an unsuspecting crew member. He would arrive with a suited man, whom the interviewee naturally thought was the interviewer. Baron Cohen, as Ali G, would sit down to begin conducting the interview by asking the interviewee some preliminary questions. The interviewee, however, would remain under the impression that the smartly-dressed director would be conducting the interview until short notice prior to cameras rolling: this would grant an advantage of surprise, whereby the interviewee would be less likely to opt out of the Ali interview prior to its start.
1. Borat Sagdiyev ('Borat')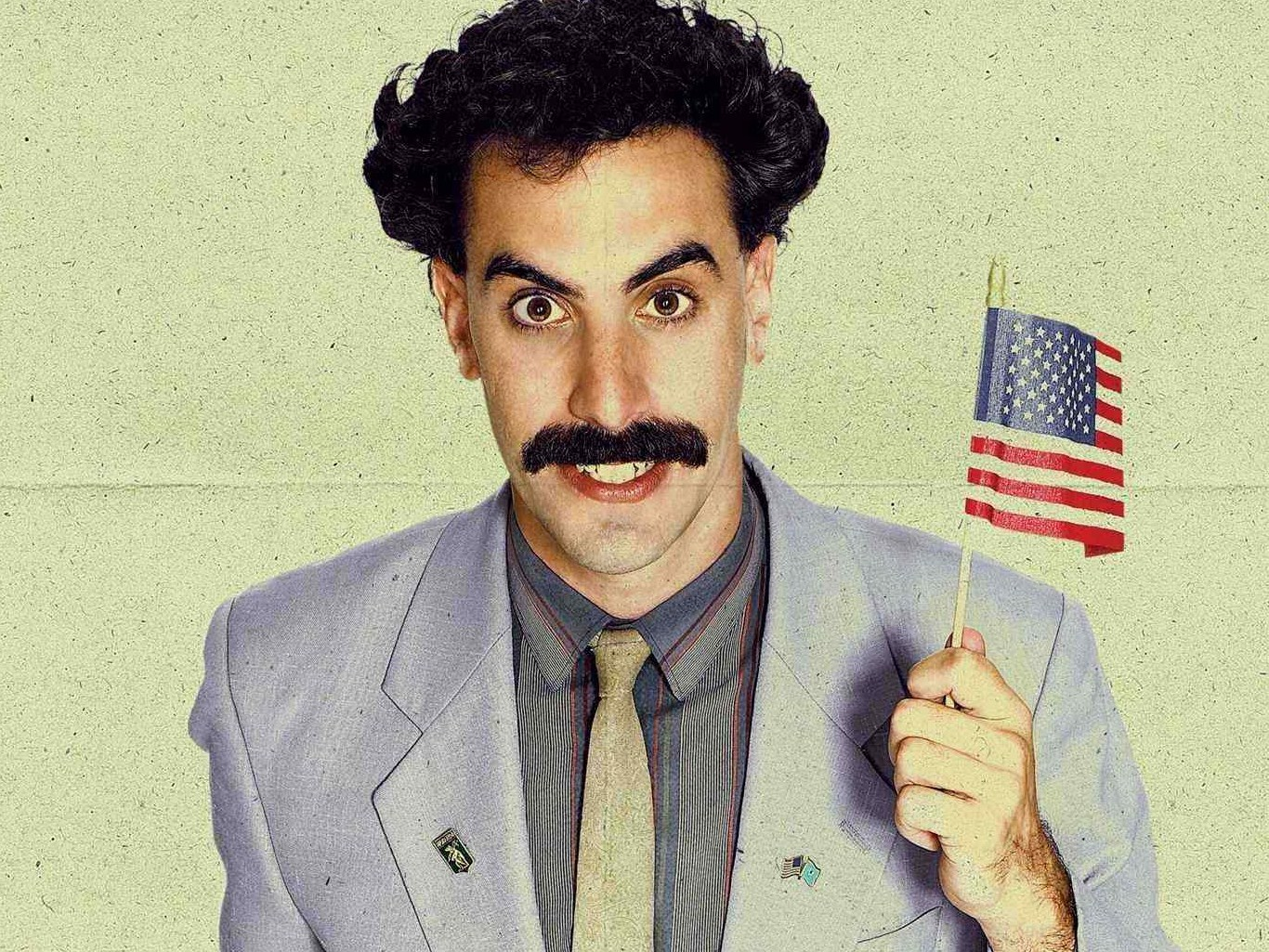 This is perhaps the character which will one day get Sacha assassinated. Don't be surprised if it happens. The racist, sexist, homo-phobic, and anti-Semist journalist was the brainchild of Cohen. Making himself known to the wider audiences, 'Borat' released in 2006, and averaged a staggering $31,600 per theater in 837 theatres. The film follows his journey across the US in an ice cream truck, in which the main character is obsessed with the idea of marrying Pamela Anderson. What a lady to sweat over! This is his most critically acclaimed character, which earned him a Golden Globe for Best Actor, and even an Academy nomination for his screenplay.
Read More: Best Pamela Anderson Movies