While we wonder why genres like buddy comedy only apply to male friendship, its female counterpart, chick flick, is a traditional genre in film classification. Traditionally, the genre refers to films that cater to a predominantly teen and particularly female demography, and many movies high in romance and sentiments fall under the umbrella category. While a genre is just a tag, we have a few films you should note if you are heading to a girls' night-in on HBO Max.
10. Bride Wars (2009)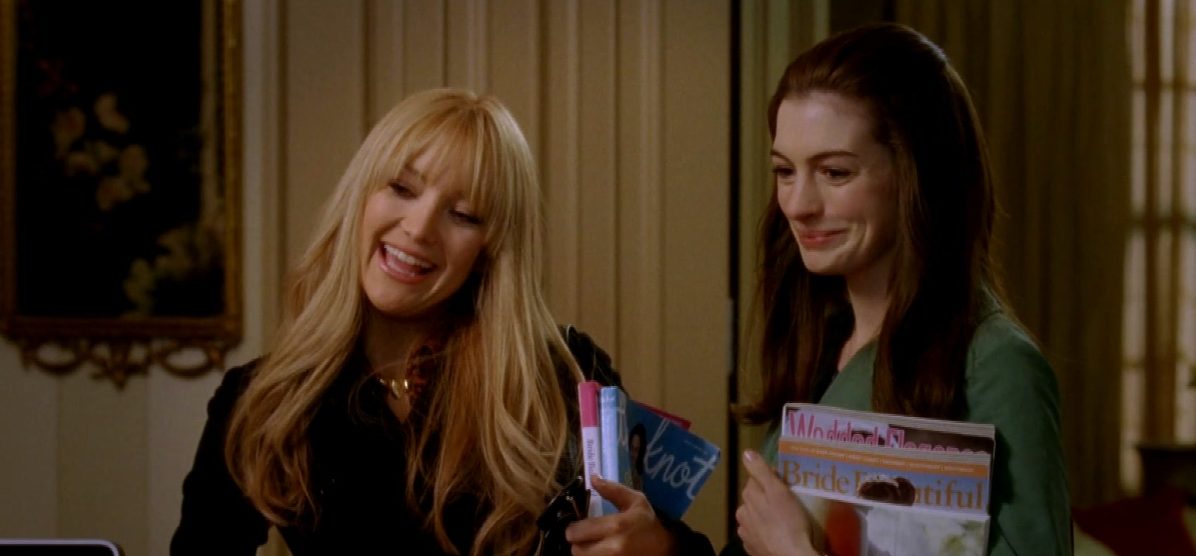 Planning your wedding with your best friend is one of the most exciting things ever, isn't it? The same is the case for Liv (Kate Hudson) and Emma (Anne Hathaway), who have been planning their weddings together since they were kids, and that too at New York's famous Plaza Hotel. But fate has different plans for them. After finding out that only one date is available for both of them, they realize that one of them has to either postpone her wedding or look for a different venue. But neither of them is willing to do it. Thus begin the 'bride wars' where the two ladies try to sabotage each other preparations for the special day since both want to get married on that very day at the Plaza Hotel. Are the ladies really willing to compromise their lifelong friendship for a wedding venue? This Gary Winick directorial answers this question. To find out what the answer is, you may watch the film here.
9. Blended (2014)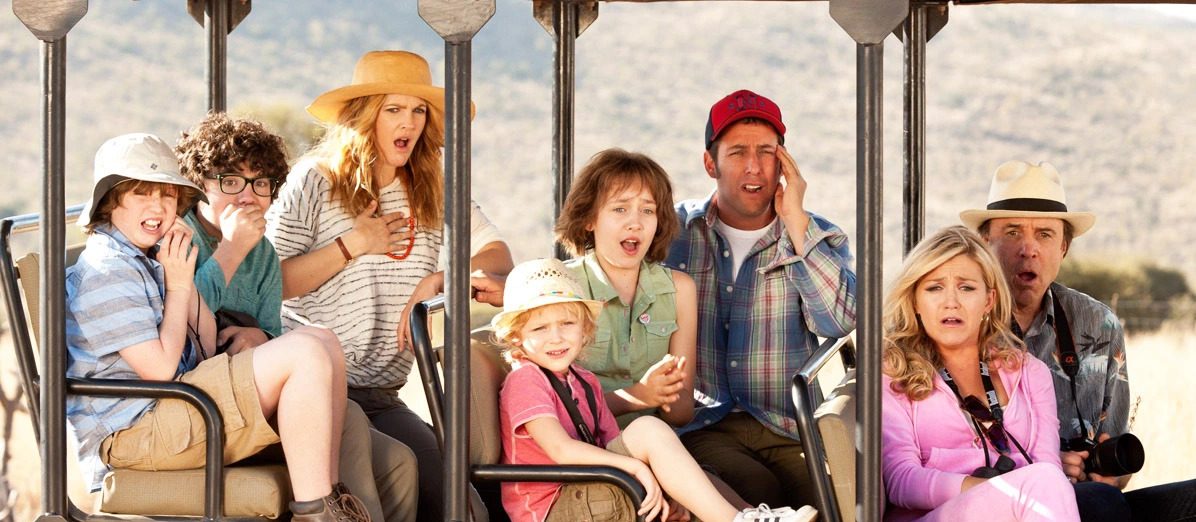 Drew Barrymore and Adam Sandler are on a trip to Africa. How much more fun can we want as cinephiles, right? In Frank Coraci's 'Blended,' they are Lauren and Jim, two single parents who get a chance trip to Africa with their respective kids. But this comes after a blind date on which they meet, and it goes horribly wrong. So naturally, when each of them finds out that the other is in the same African resort, they aren't happy at all. But then Africa happens. Want to know what that is like? Well, you will have to get 'blended' for that. The cast of the movie also includes Bella Thorne, Jessica Lowe, Emma Fuhrmann, and Terry Crews. Feel free to check it out here.
8. My Big Fat Greek Wedding (2002)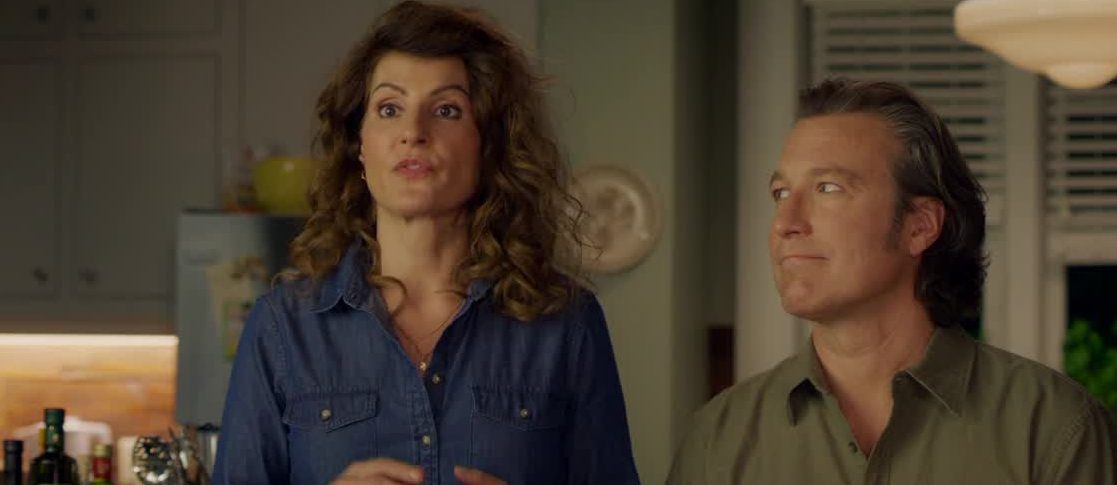 Directed by Joel Zwick, 'My Big Fat Greek Wedding' centers on Toula (Nia Vardalos), a Greek, 30 and unmarried, who finally falls for Ian Miller (John Corbett), who is a non-Greek. While she is ready to marry him, her parents, who want her to get married to a nice Greek boy, are furious. Now, Ian and Toula have to find a way to make Toula's grand family accept him, and Toula's mother and father also have to learn to accept Ian as a non-Greek son-in-law. How these struggles turn into a giant romantic comedy is what 'My Big Fat Greek Wedding' chronicles. If you are up for a wedding movie, this one promises a great watch that you can experience right here.
7. The Age of Adaline (2015)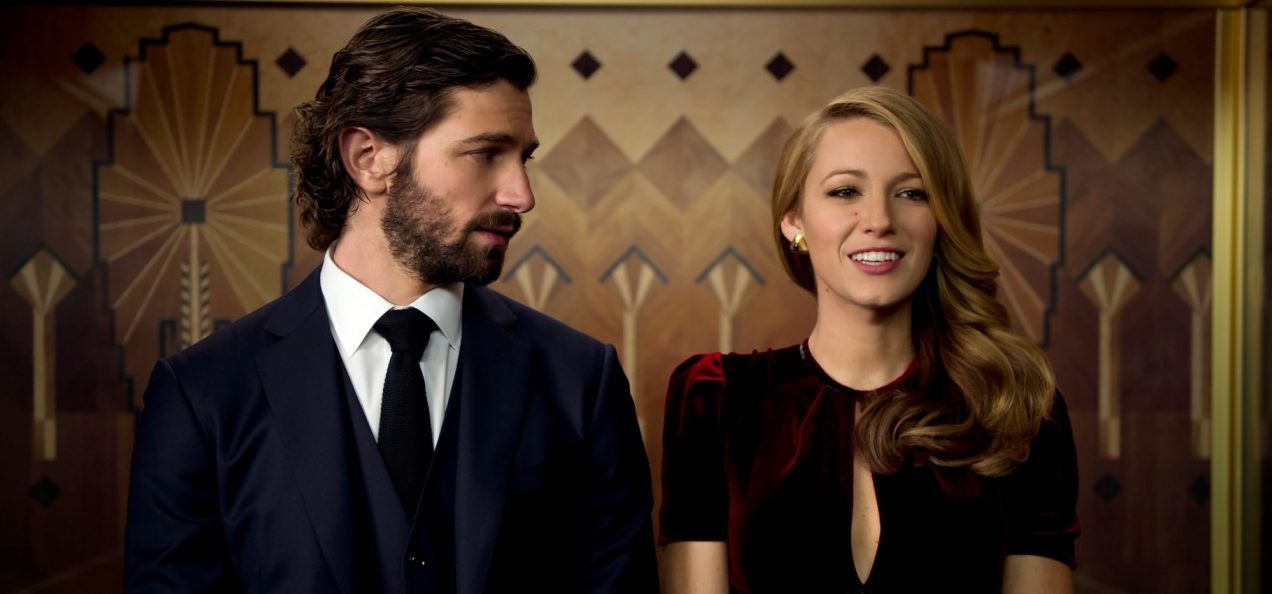 Directed by Lee Toland, 'The Age of Adaline' centers on Blake Lively's Adaline, a woman who was rendered immortal after an accident and has remained a 29-year-old for the last 80 years. To avoid people from finding out about this secret of hers, she regularly changes her identity until she meets Ellis Jones (Michiel Huisman), who makes her want to be with him and explore love. But is that even possible for her? A time will come when Jones will realize that truth about her. And worse, he will age and die, leaving her alone all over again. What's the point of loving each other when you cannot grow old together? This movie is bound to tear up your eyes. Our suggestion? Keep a pack of tissues nearby. You can watch 'The Age of Adaline' here.
6. Legally Blonde (2001)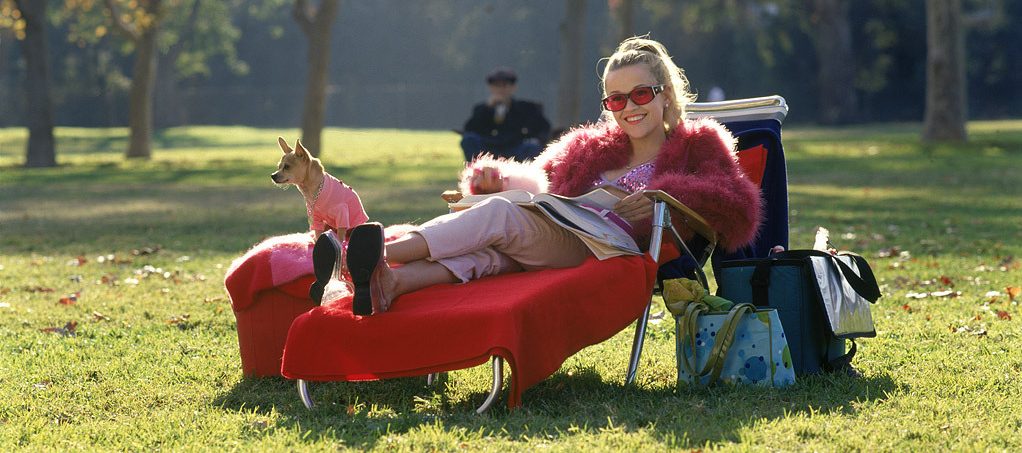 Directed by Robert Luketic, 'Legally Blonde' is a classic chick flick that deserves to be seen by everyone. Featuring Reese Witherspoon, Jennifer Coolidge, and Luke Wilson, it tells the story of Elle (Witherspoon), who is dumped by her boyfriend, who leaves for Harvard Law School, where his former flame is. Elle thus decides to win him back by doing whatever it takes, through the right means, to get into the School and prove that there is more to her than being blonde. She is going to be "legally blonde." More than 20 years have passed since this movie dropped, and it is still as fresh as it was and is an all-time favorite among cinephiles. You can stream 'Legally Blonde' here.
5. Grease (1978)
Speaking of cult classics, we bring you a musical about high school teens exploring love and friendship. Starring John Travolta and Olivia Newton-John as Danny Zuko and Sandy Olsson, respectively, 'Grease' shows how they fall in love but part ways because Sandy has to return home to Australia. But that doesn't happen, and she ends up attending Rydell High, the same high school that Danny attends. Danny leads the T-Birds, a bunch of leather-clad greasers, while Sandy becomes a part of The Pink Ladies, who dress in pink and are led by Rizzo (Stockard Channing).
How Danny and Sandy come together again is what we get to find out in the coolest manner. Directed by debutant Randal Kleiser, the movie is based on the stage musical 'Grease' by Jim Jacobs and Warren Casey and became the highest-grossing musical film of the time. The album was the second-best-selling album of 1978, the first one being the previous year's 'Saturday Night Live,' which also featured Travolta. If you want to experience the thrill of falling in love while shaking a leg, you can get yourself some 'Grease' available here right away.
4. Knocked Up (2007)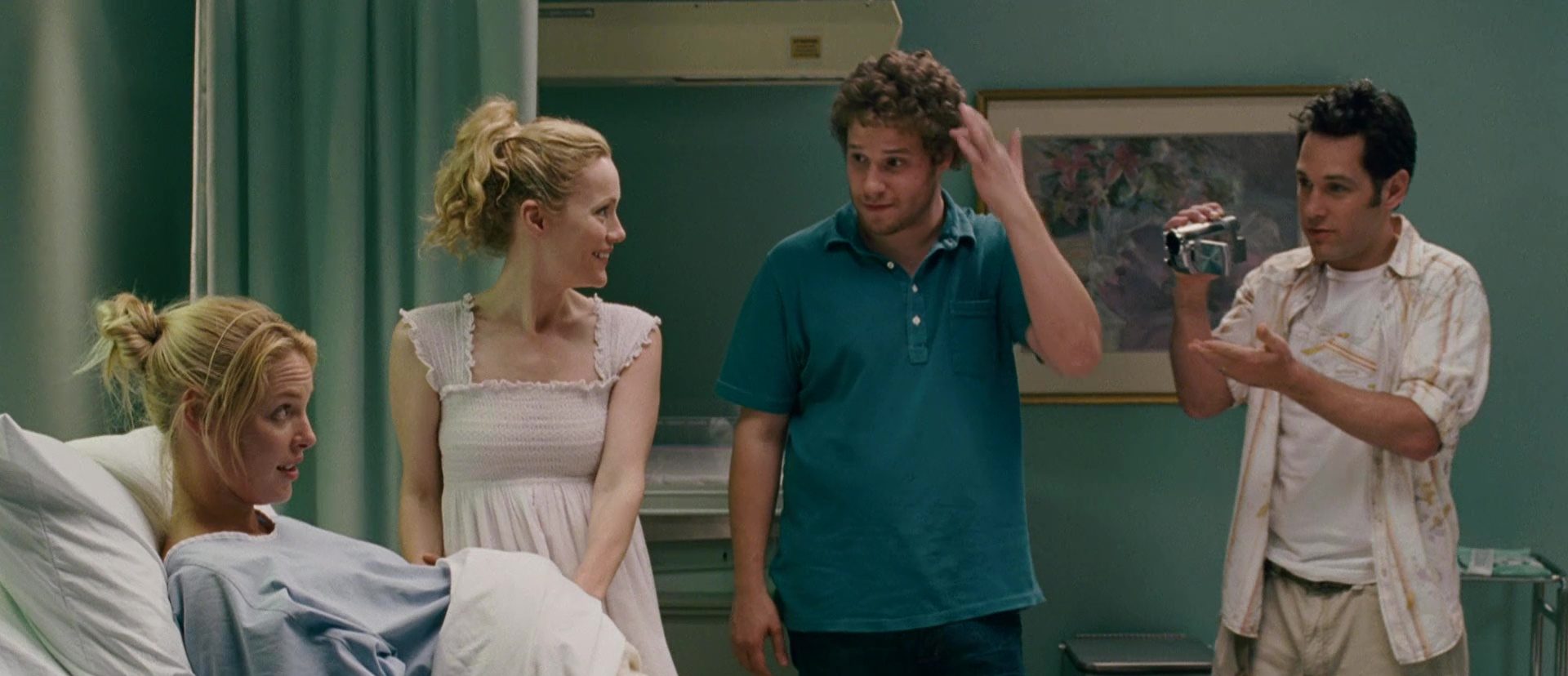 A one-night stand with a bummer of a guy named Ben Stone (Seth Rogen) takes career-oriented journalist Alison Scott (Katherine Heigl) by shock because she gets pregnant. However, rather than choosing to raise the baby by herself, she opts to share the responsibility with Ben and wants him to become father material, which also involves trying to fall in love with Alison and vice-versa. Becoming a parent is a tough job and more so for Ben, who himself is still a kid, if not a baby. Seth Rogen proved his capabilities as a comedic actor with this movie, which is also his first feature film role, while Katherine Heigl is lovely as Alison. Directed by Judd Apatow, the 'Knocked Up' cast also includes Leslie Mann, Paul Rudd, Jonah Hill, and Jason Segel. You may watch it here.
3. 500 Days of Summer (2009)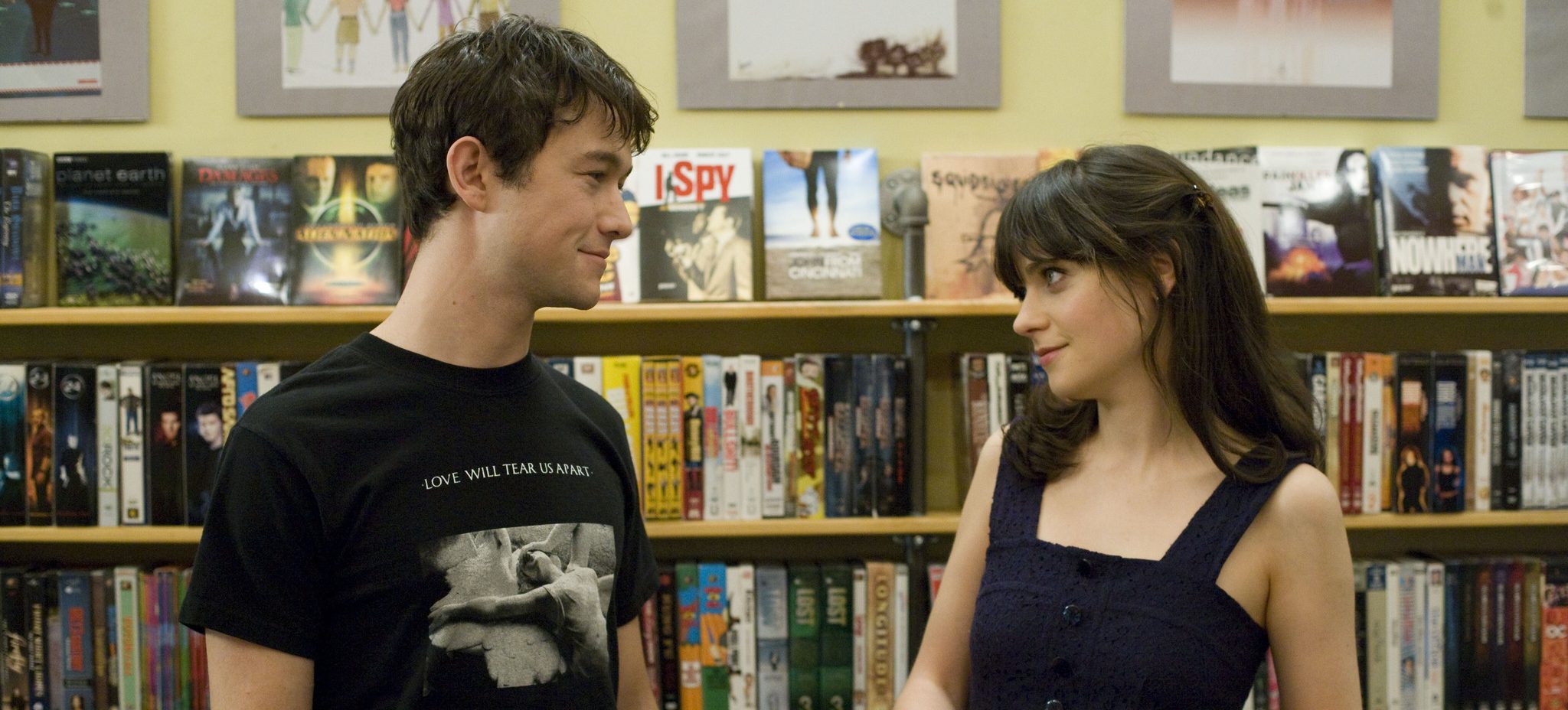 When someone counts the days of his/her/their relationship, they are head over heels in love. The same is the case for Tom (Joseph Gordon-Levitt), who falls in love with Summer (Zooey Deschanel) and vice-versa. But after 500 days since they got to know each other, she dumps him. Now Tom has to press the replay button in front of his friends and go through the 500 days in order to find out what went wrong and where and when. Presented in a non-chronological manner, '500 Days of Summer' shows how Tom deals with the breakup while sharing his love life with his friends and viewers. This way, he, as well as we, realize that it is important to accept things and move on because grabbing onto stuff only slows us down. The movie is directed by Marc Webb and stars Chloë Grace Moretz, Matthew Gray Gubler, Geoffrey Arend, Clark Gregg, and Rachel Boston. You can stream it here.
2. The Devil Wears Prada (2006)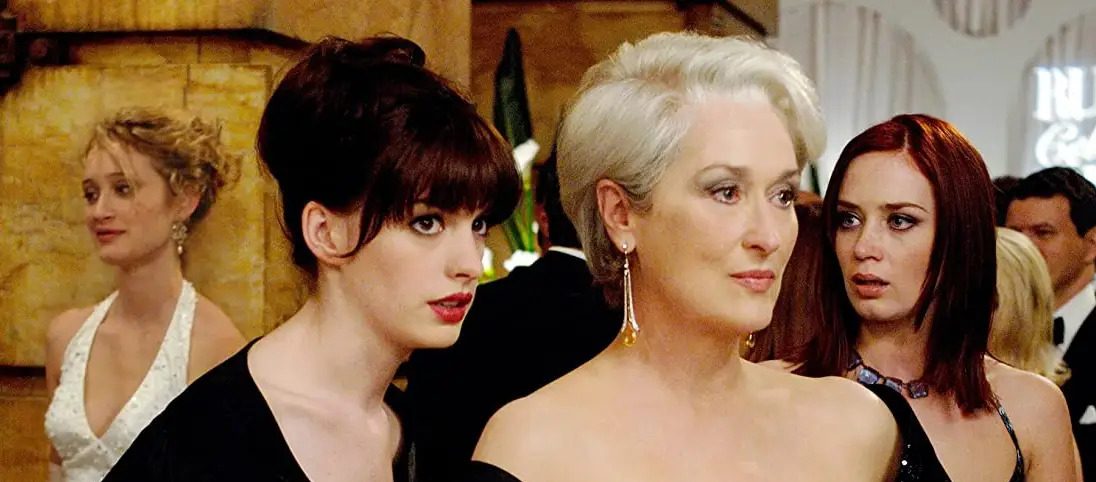 Directed by David Frankel and featuring Anne Hathaway, Meryl Streep, and Emily Blunt, 'The Devil Wears Prada' has, over time, become a part of American culture, and rightfully so. It tells the story of Andrea "Andy" Sachs (Anne Hathaway), who gets hired as a second assistant to the proud, cold, and demanding Miranda Priestly (Streep). However, the job is only a stepping stone for Andy, who wants to explore a career in journalism. However, as days pass, her personal life is compromised by Miranda's daily orders, tasks, and assignments, which are only made worse by her cold behavior. How Andy deals with this cruel treatment and whether she is able to come out of it are what follows. All the actors nailed their performances to give us a movie that seems to age like fine wine. You can taste it right here.
1. Casablanca (1942)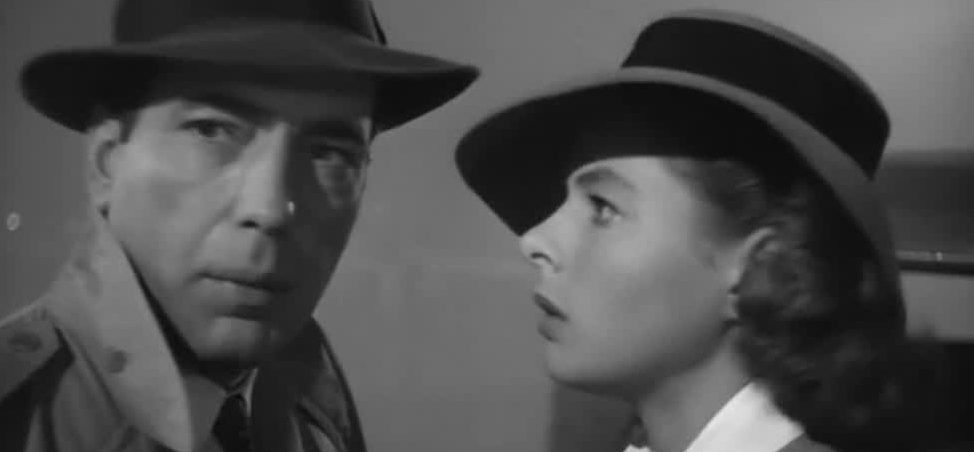 The number one position on this list goes to the black-and-white classic romance starring the greats Ingrid Bergman and Humphrey Bogart. Directed by Michael Curtiz, the movie is set during the early years of World War II and tells the story of Rick Blaine (Bogart), owner of a nightclub in Casablanca, Morocco, that serves as a refuge for people fleeing from the Germans to America. Faced with the choice of either getting back to his old flame Ilsa (Bergman), whom he bumps into at his café or helping her husband Victor Laszlo (Paul Henreid), a leader of the Czech resistance, escape Casablanca and thus from the Germans, Rick finds himself in a tough dilemma.
From the dialogues to the theme song to the lead characters, every aspect of the movie became iconic with time, and today, 'Casablanca' is considered one of the best films ever made. The story of the film is adapted from an unproduced play called 'Everybody Comes to Rick's' written by Murray Burnett and Joan Alison in 1940. You can stream the classic film here.
Read More: Best Chick Flicks of All Time