American with a Cuban parentage, Eva Mendes is what you can call the dark beauty of tinsel town. Inspite of having a dusky appearance, Eva has successfully solidified her place in an all-white Hollywood community, through her hard work and one-of-a-kind acting skills. Starting with B-grade movies, she proved her penchant for acting with the 2001 thriller 'Training Day' and went on to star opposite legendary actors like Nicolas Cage, Denzel Washington, and Paul Walker. In 2011 she hooked up with fellow co-star Ryan Gosling, with whom she has two children. Here is the list of top 10 Eva Mendes movies. Cheers.
10. Girl in Progress (2012)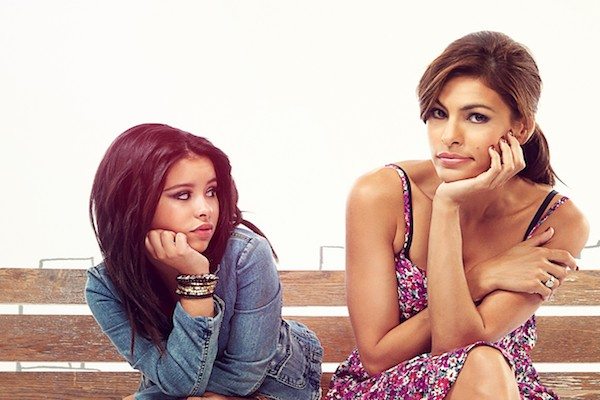 A coming-of-age story starring Eva Mendes and Cierra Ramirez, Girl in Progress is a roller coaster of love, emotions, and heartbreak. Fed up with taking care of her single mother Sara (Eva Mendes), 14-year-old Ansiedad (strange name right?) decides to start behaving like an adult and run off to New York. But first, she must complete three tasks – be a good girl, become popular at school, and lose her virginity. Each failed task brings Ansie one step closer to the realities of life, as she is humiliated in front of the entire school and finds she has no one to console her. It is up to Grace now to take care of her daughter's botched up job, while attempting to repair their relationship at the same time.
9. The Other Guys (2010)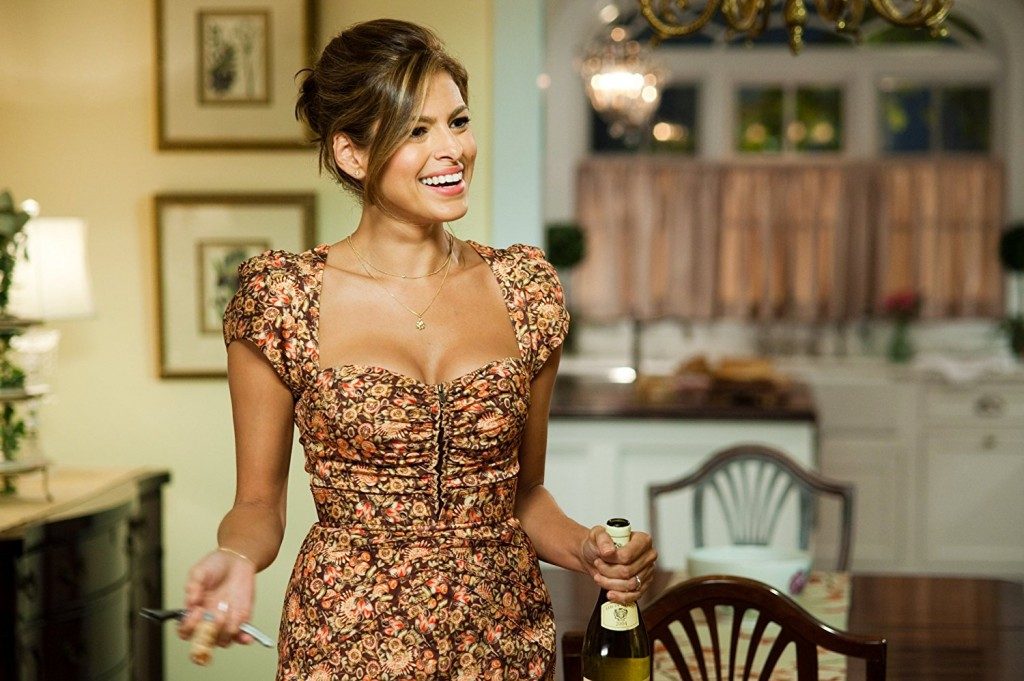 Allen (Will Ferrell) and Terry (Mark Wahlberg) are two disgraced NYPD cops who can't seem to do anything right when it comes to police work. When their idols die mysteriously, the not-so-dynamic duo begins an investigation which leads them to a real estate scheme of looting millions out of the NYPD pension fund. The couple must gather evidence against Ershon, the man behind all this while dealing with their family problems. Eva Mendes in the role of Allen's girlfriend gives the much needed comic respite to this action thriller.
8. Bad Lieutenant: Port of Call New Orleans (2009)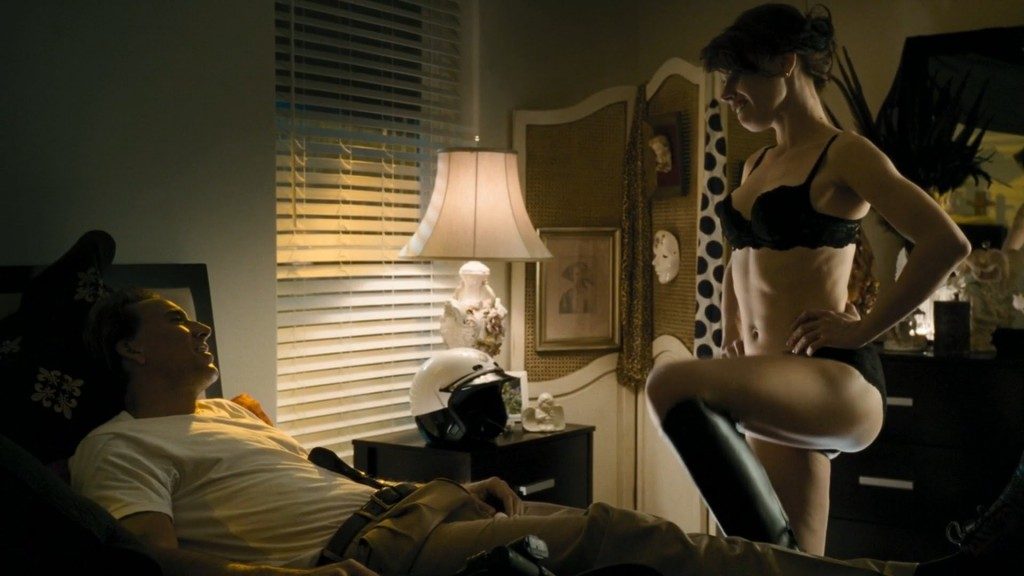 Once an honest and hardworking cop Terrence (Nicolas Cage) has now become addicted to painkillers and cocaine due to an accident that happened during Hurricane Katrina. Once a petty sergeant, Terrence now enjoys a spoiled life with his prostitute girlfriend Frankie (Eva Mendes). Things change when his honesty is exhumed by a homicide case. Surrounded by a horde of personal and professional problems including bankruptcy Terrence must choose between catching the killers and surrendering to the forces of evil to become a 'bad lieutenant.' Though not successful at the box office, this movie is considered to be an important one for Eva Mendes when it comes to acting maturity.
7. Ghost Rider (2007)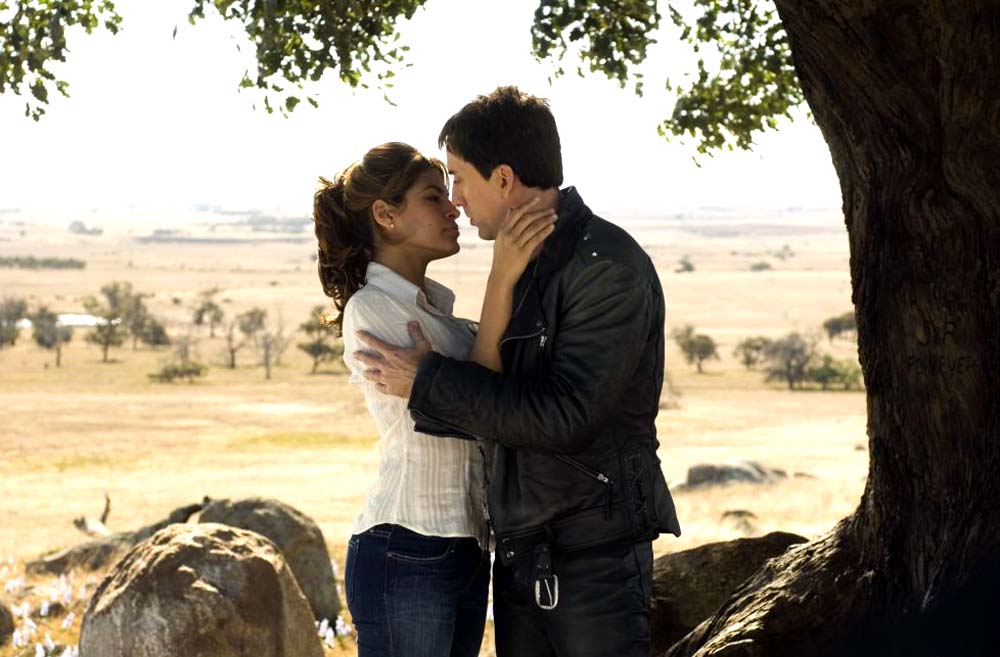 Johnny Blaze (Nicolas Cage) a bike racer sold his soul to the Devil in exchange for his father's life. But the Devil tricked Johnny and took everything away from him including the love of his life Roxanne (Eva Mendes). Years after getting marked by the Devil, Johnny meets Roxanne again, rekindling the flame of love that once existed between them. However, Devil with his own plans of controlling the underworld unleashes Ghost Rider, the monster hidden inside Johhny. Who will win this battle between love and evil?
6. 2 Fast 2 Furious (2003)
Former LAPD cop Brian O' Conner (Paul Walker) is investigating the businessman Verone for his involvement in drug dealing and money laundering. He takes the help of his ex-con friend Roman (Tyrese Gibson) to penetrate Verone's criminal empire. The situation as always worsens for Brian when he falls for Monica Fuentes (Eva Mendes), Verone's girlfriend. With nothing to gain except a beautiful dame and everything to lose, what will the unlikely team of ex-cop and ex-con do when the drug lord comes after them?
Read More: Best Ryan Gosling Movies
5. The Place Beyond the Pines (2012)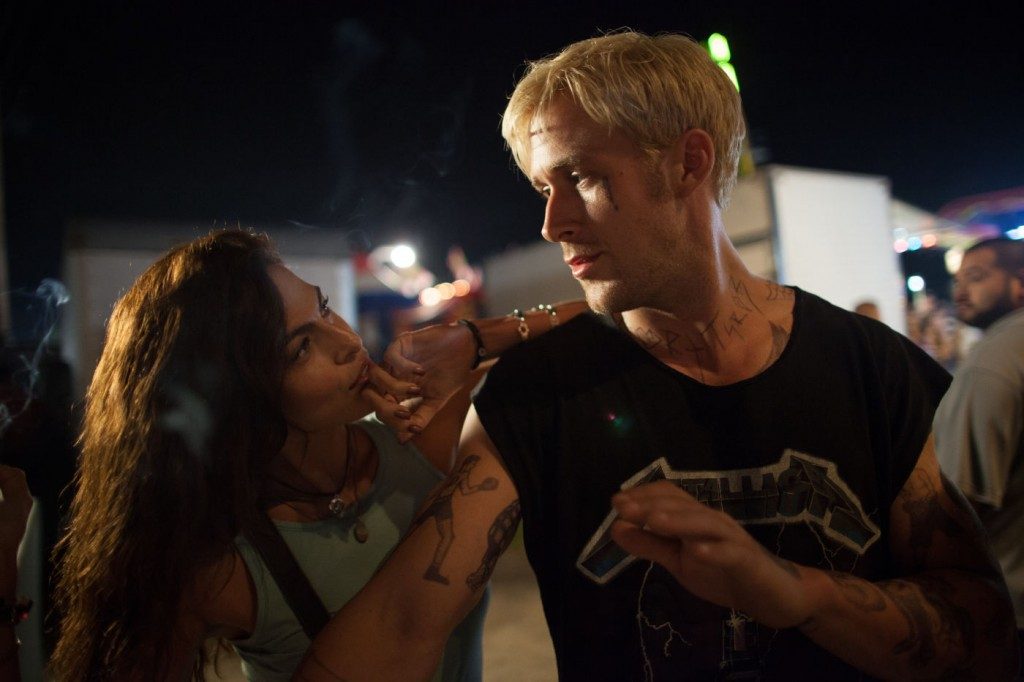 Luke (Ryan Gosling) is a stunt racer who leaves his dangerous life to pursue his longtime love interest Romina (Eva Mendes). To provide for his beautiful wife and newborn son, Luke starts looting banks and that too quite successfully all thanks to his riding skills. However, when an ambitious cop Avery (Bradley Cooper) crosses the stunt rider's path, Ryan is caught red-handed and murdered brutally. Fifteen years later, when the sons of Avery and Ryan become friends and are arrested on a drug charge, Avery realizes how the past has come back to haunt him. When Jason, Ryan's son realizes the truth about Avery, he comes back to know the truth and exact vengeance for his father's death.
4. Out of Time (2003)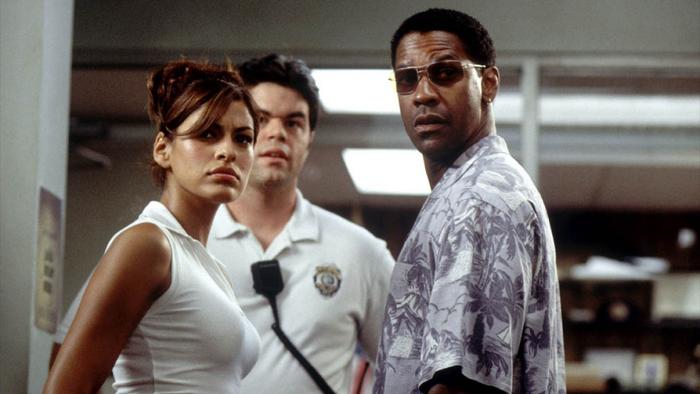 A small-town Florida Police Chief Matt Whitlock (Denzel Washington) is way out of his depth. After separating from his wife Alex (Eva Mendes), a Miami police-detective, he has lost his way. Inspite of being an honest cop, he is forced to steal some money out of evidence to pay for his girlfriends Ann's cancer treatment. Things spiral out of control when what seemed to be a simple plan turns out to be a deeper controversy against Matt. With Alex trying to build up evidence against his ex-husband and Matt trying to find the one who is trying to set him up for two murders, this movie will take you through a gauntlet of action, suspense, and thrill. Eva Mendes' performance in this one is one to look out for, backed up by the fact that she was able to stand ground with an actor of Denzel Washington's caliber.
3. Hitch (2005)
Fed up with your life? Can't seem to hold onto our life partner? Chased your soulmate away because you didn't have any game whatsoever? Well, don't be afraid because Hitch is here. Alex Hitch is a Love Consultant who helps people in improving their love life through small – sometimes big- improvements here and there. However, when he meets Albert Brennaman, he immediately accepts defeat. With a pure heart but idiotic and clumsy habits strewn across his body, Albert is in love with one girl who is way out of his league: Allegra Cole. Can Hitch, the magician of love, make Allegra fall in love with Albert while handling his own love disaster with the skeptical reporter Sara (Eva Mendes)?
2. We Own the Night (2007)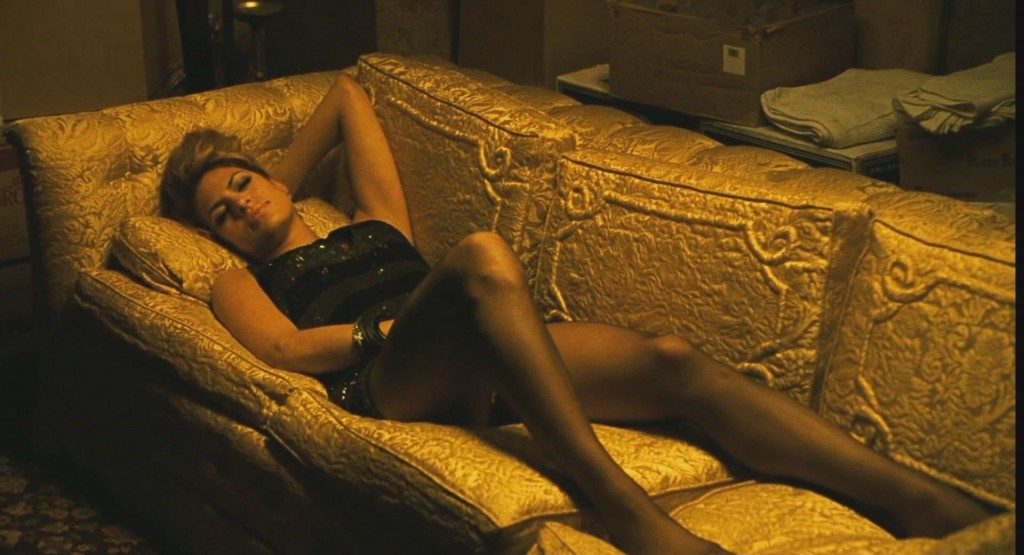 Eva Mendes seems to have a liking for playing the bad girl or at least the girlfriend of the bad guy. A story of two brothers who have chosen to lead an entirely different life in the city of New York, this movie puts to test the supposed strong bonds of family. NYPD Chief Burt Grusinsky (Robert Duvall), and his son Captain Joseph Grusinsky (Mark Wahlberg) want to catch the notorious Russian druglord, Vadim. And for that, they need the help of Bobby Green (Joaquin Phoenix), Joe's brother. Bobby owns a posh nightclub in the prime location of New York along with his girlfriend Amada (Eva Mendes) and wants nothing to do with his family's futile mission. However, when Joe and his father raid Bobby's club to catch Vadim, Bobby inadvertently gets involved in a vast web of crime, deceit, and drugs where his relationship with Amada is tested.
1. Training Day (2001)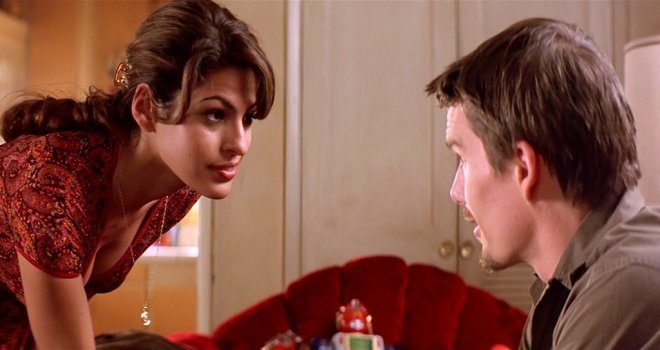 Alonzo Harris (Denzel Washington) is a ruthless and corrupt LAPD Narc who has an unconventional approach to the drug problem, which involves smoking them up. Weird huh? Rookie cop Jake Hoyt (Ethan Hawke) has been told to spend his first day on the job with Alonzo as his partner. As the day moves along Jake realizes that Alonzo is deeply connected with the drug mafia and that he might be getting set up. Eva Mendes gained a prominent position in the tinsel town playing the role of Alonzo's mistress Sara in this one. The dramatic and mature acting performance given by Eva was appreciated by filmmakers and audience alike.
Read More: Best Ethan Hawke Movies