From his early years, Ethan Hawke has proved himself in all areas and genres of the industry. Beginning at the age of 14, Hawke has ameliorated is talent throughout his career and has significantly perked up his skills to do better every time. Nominated for Academy Awards four times, Hawke is also a director and an amazing writer, his two of those four nominations coming for writing credits. With that said, here's the list of 13 best movies of Ethan Hawke.
13. Explorers (1985)
Ethan Hawke made his debut in feature films in Joe Dante's 1985 sci-fi teen drama, 'Explorers'. 'Explorers' was the story of three teenagers, who, because of their obsession with aliens, build a spaceship in order to explore the fantasies of the outer world. Also starring River Phoenix (who went on to become an early acting sensation) and Jason Presson, 'Explorers' was rushed into production for an early release. As a result, it went on to bomb at the box office, suffering heavy loss.
Ethan was so disappointed at the film's failure, that he quit acting for quite a time (a fact as he didn't appear in any film until 1989). He even described his sorrow as a child in later years, saying, "I would never recommend a kid to act".
12. A Midnight Clear (1992)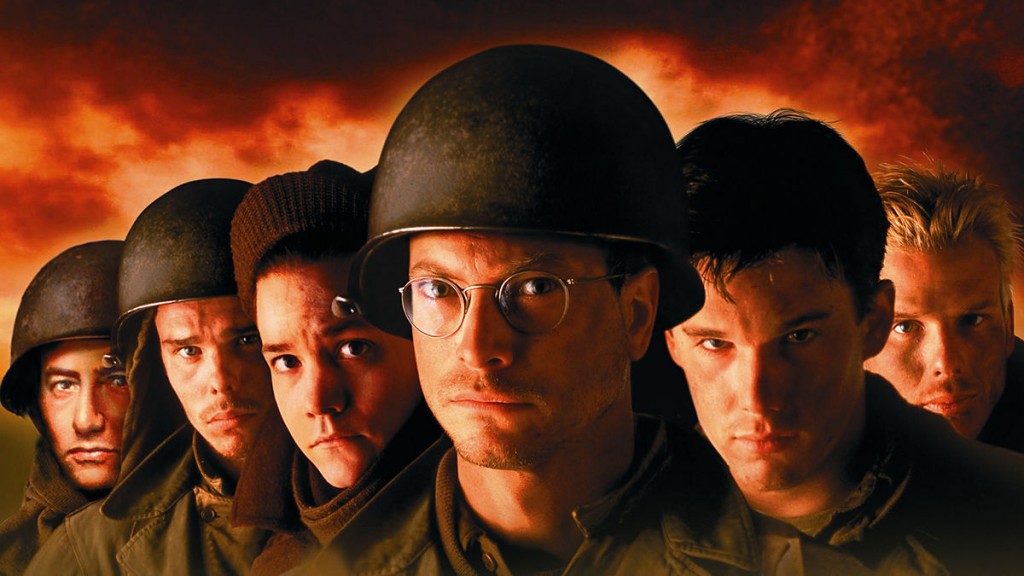 After 'Dead Poets Society' went on to become a huge commercial success, Ethan came into significant limelight. This led him to star in Keith Gordon's (director of famous TV shows like Dexter and Homeland) 1992 war drama, 'A Midnight Clear'. Ethan portrayed young Sgt. Knott, alongside Peter Berg (who became an acclaimed director) and Gary Sinise.
'A Midnight Clear', however intriguing, was a box office bomb, but it was commended strongly by critics who went on to turn in some largely positive reviews for the movie, especially praising Ethan's and Gary Sinise's performances.
The movie, heavily underrated, is listed among some finest war movies ever produced.
11. Before The Devil Knows You're Dead (2007)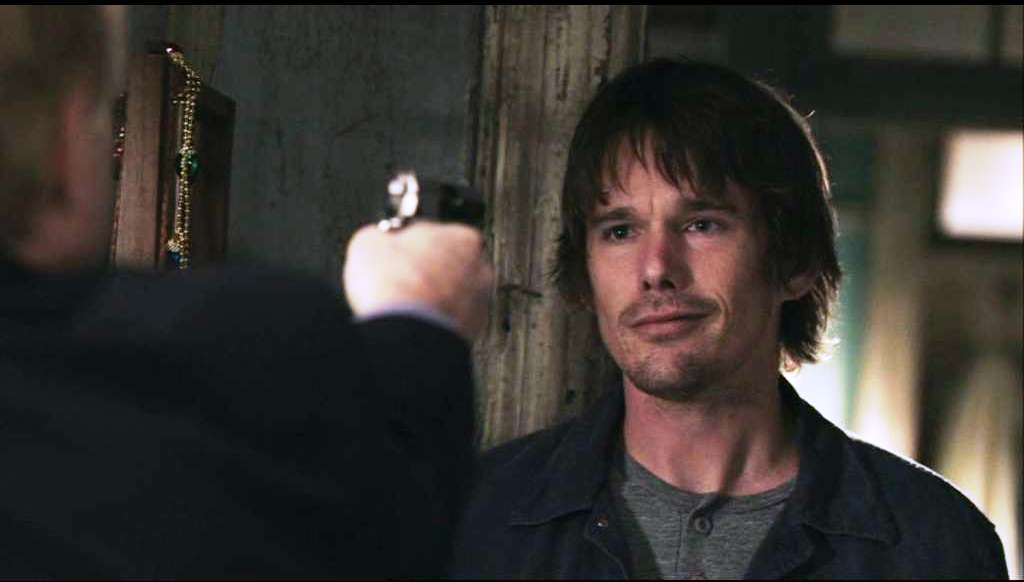 After his Oscar nomination, Sidney Lumet's (legendary director, famous for 12 Angry Men) last work, the crime drama 'Before The Devil Knows You're Dead' gave him an opportunity to prove his mantle among some masters like Alber Finey, Philip Seymour Hoffman, Michael Shannon and of course Sidney Lumet's off-screen mentorship. The story follows two brothers who rob their parents' jewellery store, however things turn upside down when their father decides to hunt down the criminals.
Shot in the non-linear filming style, movie made into top-ten end of the year list of more than 20 critics and earned a spot in AFI's top-ten influential films of the year. Ethan did left a major mark with his effectual and fruitful performance and was highly complemented for his entertaining as well as haunting portrayal.
10. Sinister (2012)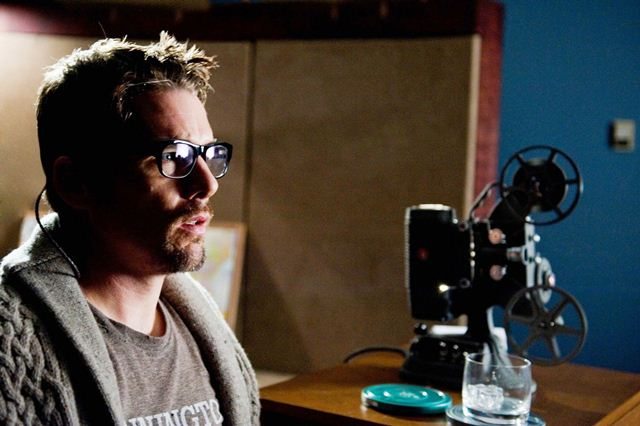 In 2012, Ethan also dived into horror film genre for the first time, in Scott Derrickson's 'Sinister', produced by Jason Blum. 'Sinister', however not the best horror film, is but certainly Ethan's one of the finest acting credits. 'Sinister' follows Ellison Oswalt (Ethan), a true-crime writer, who investigates gruesome murders in his new house's garden. 'Sinister' was a major commercial success earning $78 million against a $4 million budget, enough to spawn a future sequel. The best thing about the film was Ethan's much appreciated acting and his cleverly directed solo sequences. Ethan looked awesome as the terrified and scared protagonist, this his new venture proved to be a worthy diversification.
9. Tape (2001)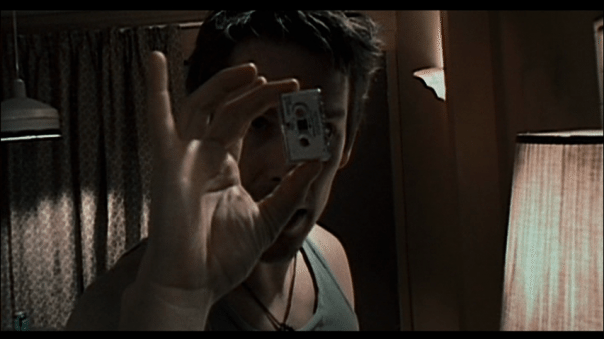 'Tape' was director Richard Linklater's second film of 2001, which starred Ethan Hawke. The camcorder drama also united Ethan with his 'Dead Poets Society' co-star Robert Sean Leonard and also starred his then-wife Uma Thurman. 'Tape' is a story of an unpleasant encounter between three high school buddies, which starred Ethan as a small-time drug dealer Vince. The movie, shot in real time, on an HD Camcorder in a single cabin, was tough not the best thing to see, but it clearly showed the ability of Ethan's acting limits.
Ethan's performance of very praised for his psychologically acute role, and gained much recognition that bagged him better commercial movies in the years to come.
8. Predestination (2014)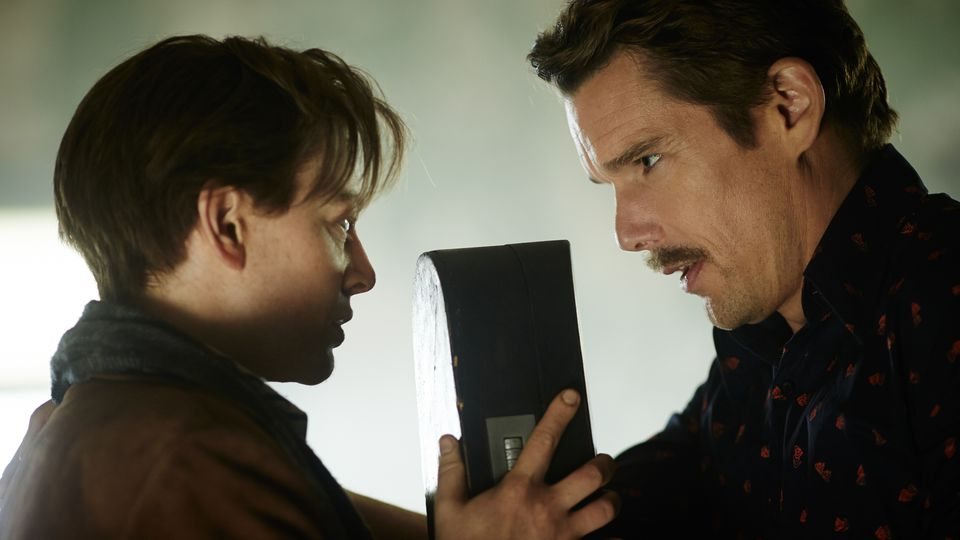 Directed by The Spierig Brothers, 'Predestination' is one of the best sci-fi thrillers of recent times. Based on the concept of casual-loop, 'Predestination' adjuncts the individual plotlines of two central characters using that concept; and presents you an exhilarating cinematic experience that you can always vouch for. The editing, the cinematography, the screenplay; everything is so profound and proficient that you can't miss any sequence.
Moreover, along with the sci-fi, the story takes an emotional turn for the better part of the film, when we go down in Jane's life. What everything leads to, is an absolutely unbelievable and leaves your mouth open.
Ethan Hawke is as always at his best as the mysterious Barkeep. He has a specific charisma in him and his ability to carry out a role in such plain and simple manner makes his perfect choice for the role. The surprise performance by Sarah Snook is the one to vouch for. Her role as the woman, going through a severe sex-change surgery, is both fierce and sentimental at the same time. The blend of sci-fi, time travel, and drama, 'Predestination' is a film made for the ages.
7. Training Day (2001)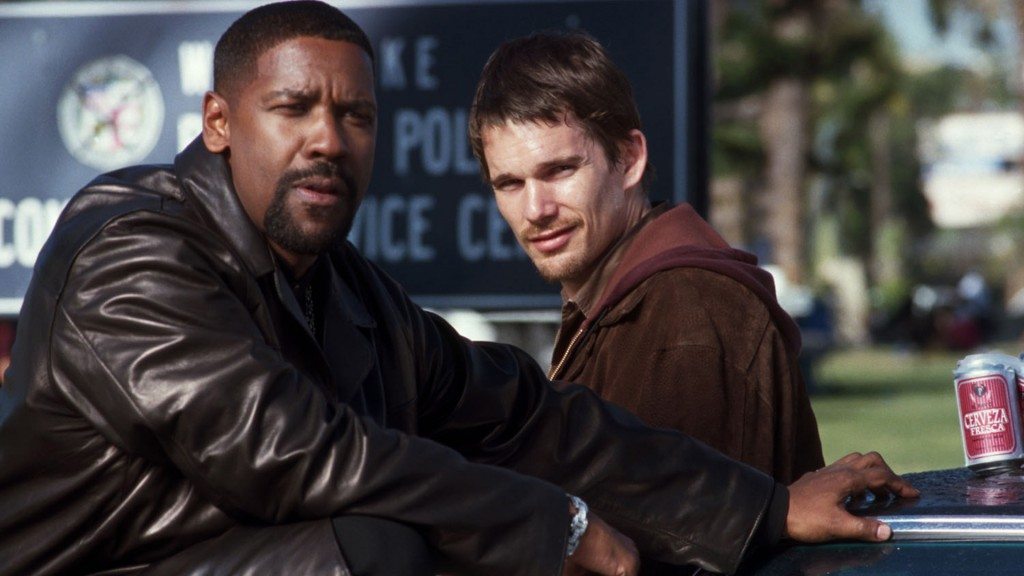 Ethan's final appearance of 2001 came with Antonie Fuqua's 'Training Day'. Written by David Ayer, 'Training Day' revolved around two LAPD Narcotics Officers, who operates in a gang-ridden neighborhood. 'Training Day' starred Denzel Washington in the lead as Det. Alfonzo Harris, along with Ethan Hawke as Off. Jake Hoyt. Ethan earned substantial acclaim for his role as a rookie policeman and a father to be. His top-notch performance earned him his first ever Academy Award nomination for Best Supporting Actor. Ethan's nomination for Oscars, made him a huge star in the industry and brought his over the years' hard work, it's much deserving appreciation. Though he lost it to Jim Broadbent, his co-star Washington won it in Best Actor category.
Read More: Emma Roberts Movies
6. Gattaca (1997)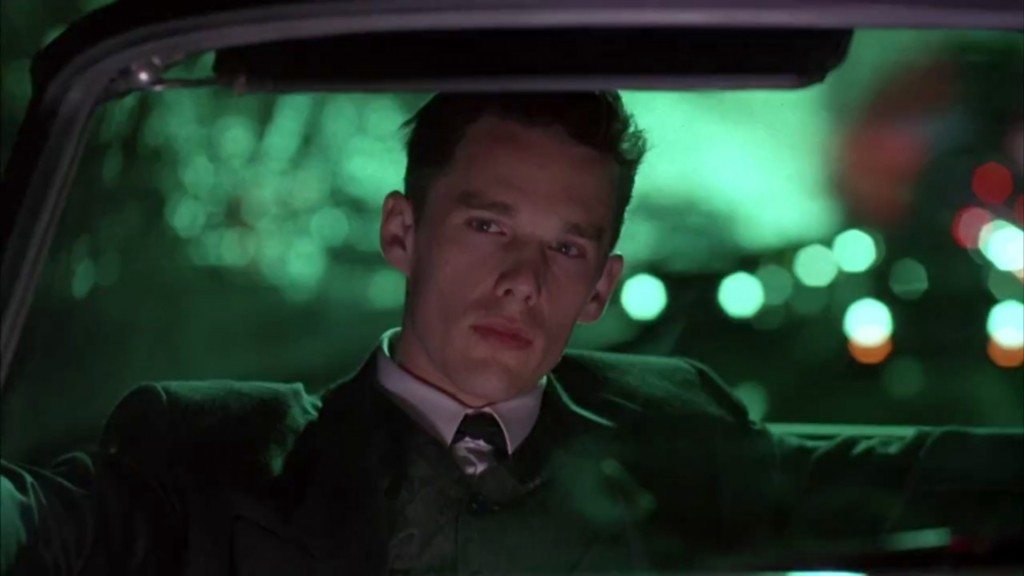 Ethan starred in Andrew Niccol's sci-fi flick, 'Gattaca', a distinct and more interesting script for him. The movie showcased a futuristic world, populated by genetically "perfect" humans, which is infiltrated by Vincent (played by Ethan). 'Gattaca' earning $12.5 million against a $36 million budget, was a commercial failure but was widely applauded by critics, who praised it for its thematic attractiveness, the depiction of "genoism" and the way it accentuates the topic of human genetic engineering.
Ethan's performance was once again well received, critics calling him the "most impressive thing about the movie". Presence of his subtle and edgy character and the way it was developed by Ethan in the film was very charismatic.
5. Dead Poets Society (1989)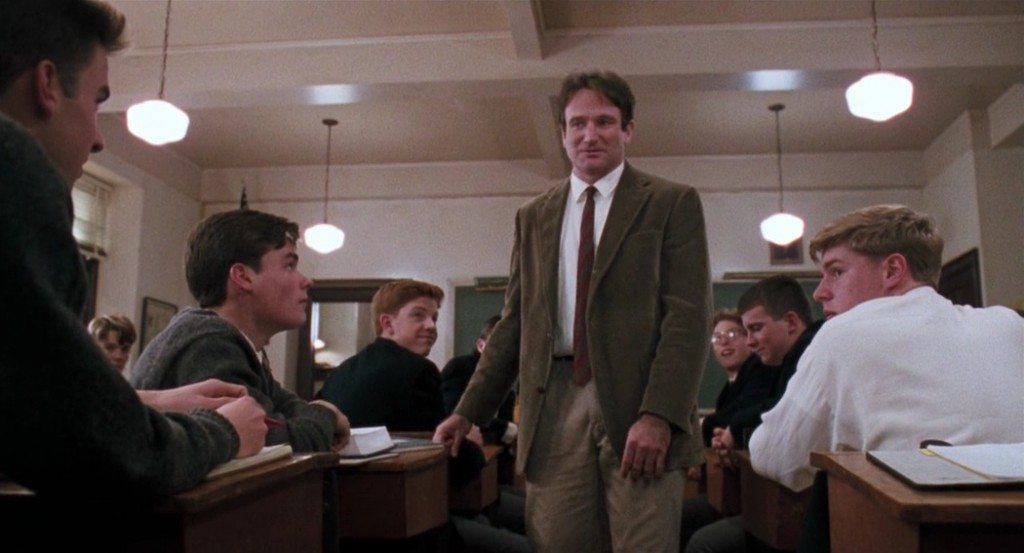 Ethan returned to Hollywood after a long hiatus in 1988 for Bryan Singer's short film, which was followed by his breakthrough role in Peter Weir's 'Dead Poets Society'. Set in 1959, 'Dead Poets Society' revolved around John Keating (Robin Williams), an English teacher at a conservative residential school, who inspired his students to live a different life. Williams led an outstanding young cast which also included Ethan (as his student), making the movie a worldwide phenomenon.
Ethan played a shy, lonely and isolated Todd Anderson, a student at the academy who is brought out of his shell by William's character and realizes his full potential. The movie was a commercial and critical success that landed Ethan numerous offers and pursued him to continue acting, rather than going back to college.
Winner of Best Picture at BAFTA and Best Original Screenplay at Oscars, the movie remains Ethan's most commercially successful picture till date, grossing approximately $236 million worldwide.
4. Before Sunrise (1995)
After 'Dead Poets Society', Ethan went on to star in numerous films, gaining fame and attention and receiving praise for his improving performances. But, his major critical success, which gained him worldwide recognition came through Richard Linklater's 1995 romantic drama, 'Before Sunrise'. Ethan played a romantic cynic, Jesse, who spend a night walking around the city of Vienna, with Céline (Julie Delpy), a woman he met on a train. Ethan's performance, as well as his chemistry with Julie Delpy, was well received by audience and critics equally.
Based on the theme of self-discovery and self-fulfillment, 'Before Sunrise' had a minimalistic plotline, so, the actors had a tough task to get the movie going and keeping the audiences attached to it. 'Before Sunrise' was a huge critical success, and marked Ethan's first collaboration with director Richard Linklater, and also the first of the three films in what became a future trilogy.
After 'Before Sunrise', Ethan began to sign for tougher roles and started diversifying himself into different genres of the cinema industry.
3. Before Midnight (2013)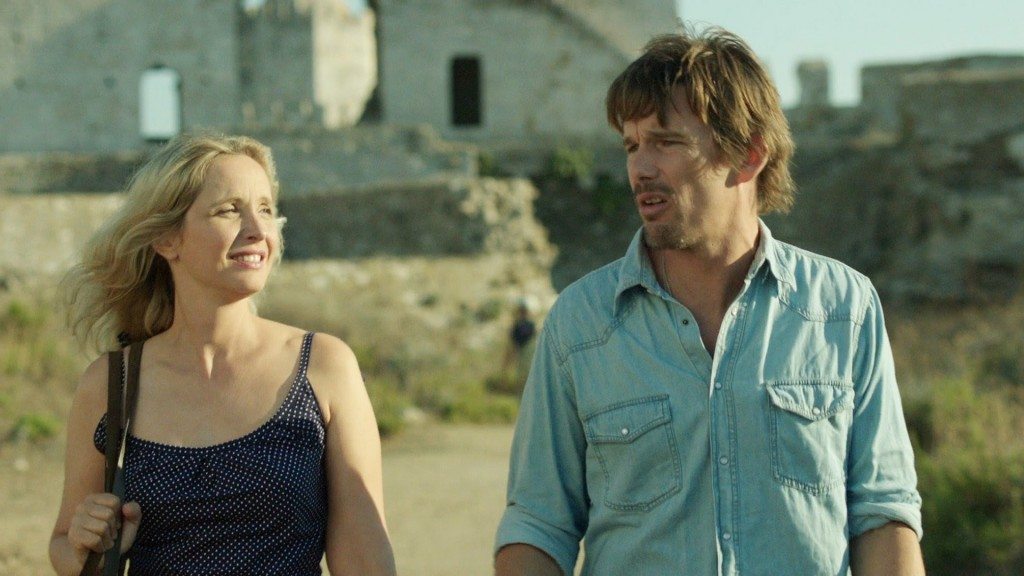 Ethan again returned to writing, and penned the screenplay (along with his co-star Julie Delpy and director Richard) for Linklater's final film in his famous romantic trilogy and reprised his character once again. The movie again picked up after another nine years, this time showing Jesse (Ethan) and Cèline (Delpy) as parents to twin girls, and focusing on their conversations during a summer vacation in Greece.
Like it's both predecessors, 'Before Midnight' went on to gain widespread acclaim and once again earned Ethan an Academy Award nomination, his third, for Best Adapted Screenplay. Although he lost the golden lady once again, he established himself among the proficient writers of the industry.
2. Before Sunset (2004)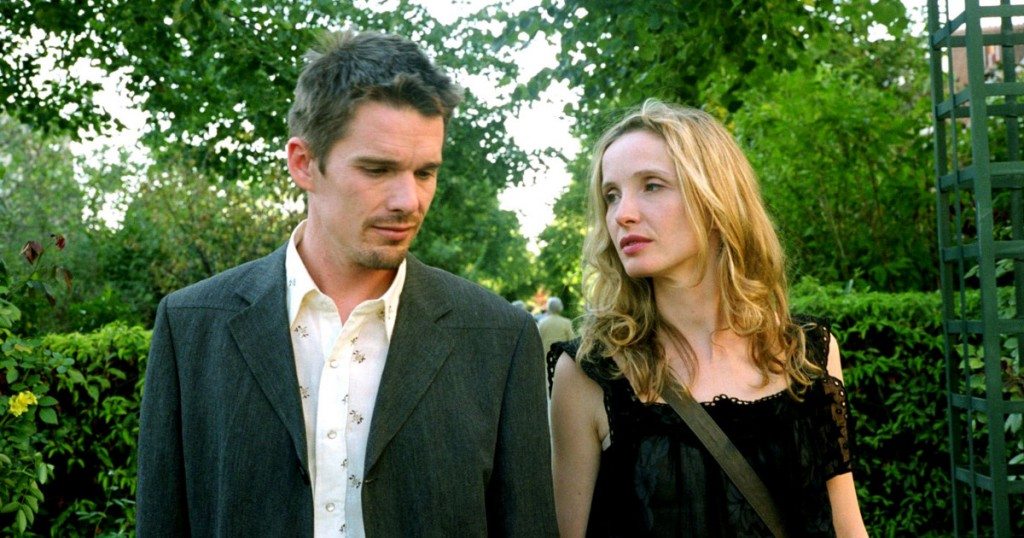 After 'Training Day', Ethan didn't act in many films in next few years, and focused on his directorial debut 'Chelsea Walls' (2002).He returned to acting after a year gap in Richard Linkaters 'Before Sunset', and reunited with Julie Delpy for the sequel of their 1995 hit. 'Before Sunset' picked the storyline nine years after the events of the first film, when Jesse and Cèline comes across each other again, this time in Paris. Adding-on to his credits, Ethan also co-wrote the film's screenplay (with Delpy and Linkater) and earned his second Academy Award nomination, this time for Best Adapted Screenplay. The film received top scores on every critic's panel and gained universal acclaim. Ethan was largely praised for his remarkable acting.
1. Boyhood (2014)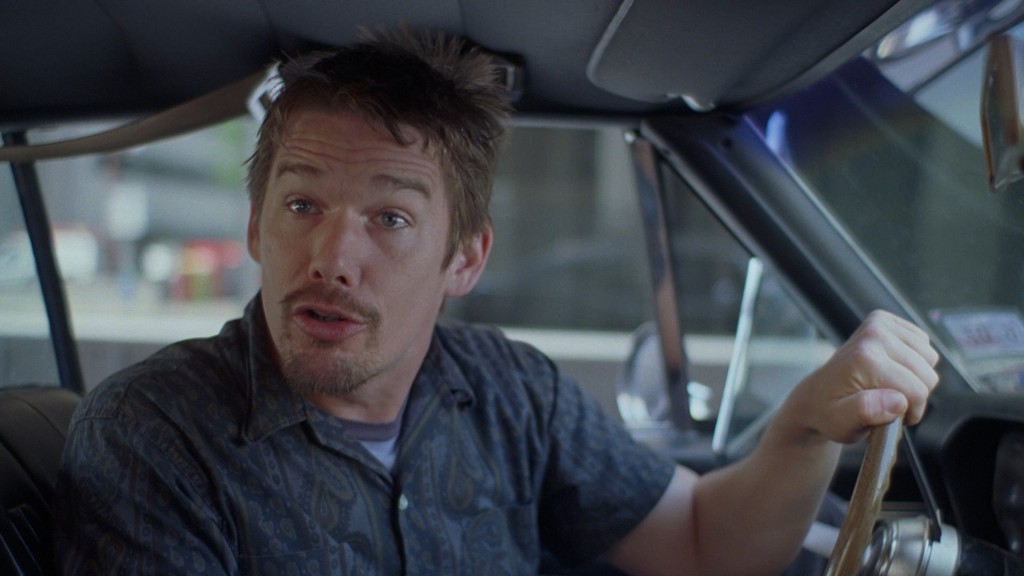 In 2014, Ethan Hawke once again collaborated with Richard Linklater's for his long-awaited passion project 'Boyhood'. 'Boyhood'is the story of a Mason (Ellar Coltrane) and his struggles with his life throughout his 12 years of school life. The movie was uniquely shot in the time-span of 12 years from 2001 to 2013, in six separate drafts. In the movie Ethan portrayed Mason Sr., the protagonist's father who has divorced his wife. Ethan too, along with other cast members was brought on board in 2001. His portrayal in the movie earned him his fourth Academy Award nomination for Best Supporting Actor.
The movie became a cult classic and received widespread critical acclaim for the uniqueness and direction style and also the cast's performance. In terms of critical scores, 'Boyhood' is best film of Ethan till date.
Ethan has appeared in several other films besides these 12, and has constantly proved his worth in his every performance. While he is still kicking ass in the industry, we really hope to keep watching and admiring his amazing talent in the future.
Read More: Anushka Sharma Movies