Leslie Mann has the kind of face one would find hard to forget once you have seen her. Whether it's her sweet, appealing smile or her enchanting eyes, the point is she is hard to forget. On top of all that she has acted in some iconic films in the last three decades.
Mann is famous for being a rom-com darling — she is married to director Judd Apatow. As one magazine has previously said, 'Mann does the right type of rom-coms' and we couldn't agree more. Here's the list of top Leslie Mann performances.
10. Funny People (2009)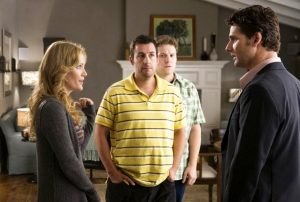 Funny People is a 2009 American comedy-drama film written, co-produced and directed by Judd Apatow. It stars Adam Sandler, Seth Rogen, Leslie Mann and Jonah Hill. The film follows a famous comedian who is diagnosed with a terminal disease and tries to fix the relationships in his life. Funny People is one of the mature works of Judd Apatow. A film that greatly combines the hilarious moments with those of deep emotional depth. A funny and moving picture loaded with memorable characters and genuine wit.
9. Cable Guy (1996)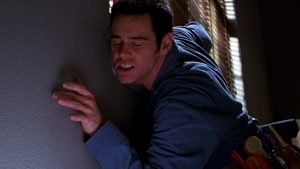 The Cable Guy is a 1996 American thriller comedy film directed by Ben Stiller, starring Jim Carrey, Matthew Broderick and Leslie Mann. It's about a cable guy who begins to wreak havoc in the life of one of his customers when he refuses rejects their friendship. Cable Guy consists of some of the most underrated works in both Carrey and Stillers career. Their chemistry is unmatched and both showcase great comedic timing. Cable Guy upon its released was met with very mixed reviews but has gone on to become a cult classic.
8. Blockers (2018)
Blockers is a 2018 American sex comedy film directed by Kay Cannon (in her directorial debut). The film stars Leslie Mann, Ike Barinholtz, and John Cena as a trio of parents who try their best to stop their daughters from losing their virginity on prom night. The film is elevated by strong comedic performances, a smartly written script, and a refreshing perspective on things. It's a generational clash as the older vs younger mindset becomes the main playground in the films story.
7. 17 Again (2009)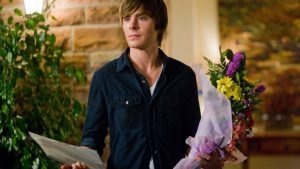 17 Again is a 2009 American comedy film directed by Burr Steers. The film stars Matthew Perry, Zac Afron, Leslie Mann, Thomas Lennon and Michelle Trachtenberg. It follows Matthew Perry's character who magically turns 17 again, to improve the mistakes he has commuted in the past. 17 Again is a fun film that can be enjoyed by both the young as well as the old. Zac Efron is the star of the film who charms his way through the heart of the audience. It management squeeze through without being just a 'switch film'.
6. Little Birds (2012)

Little Birds is a 2011 American film written and directed by Elgin James. It stars Jump Temple, Kay Panabaker, Kate Bosworth and Leslie Mann. follows two girls that leave home to follow two skateboarders to Los Angeles and is loosely based on the life of the director. It premiered at the 2011 Sundance Film Festival. Little Birds is a quirky tale of female empowerment that enjoys some brilliant and memorable scenes. Overall it is not able to convince to its full potential but does so just enough to get away with it. Being loosely based on his own life, the director is able to make the film feel grounded and sensitive.
Read More: Judd Apatow Movies
5. 40 Year Old Virgin (2005)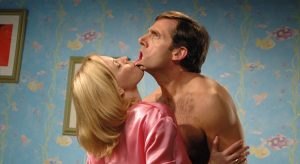 The 40-Year-Old Virgin is a 2005 American sex comedy film co-written, produced and directed by Judd Apatow. As the title suggests the film is about a middle-aged man who is still a virgin. It follows the journey of the man as he tries to get himself laid. It stars Steve Carell, Catherine Keener, Paul Rudd, Elizabeth Banks, Seth Rogen and Leslie Mann. 40 Year Old Virgin is honestly one of the best comedies of the 21st century. It is a raunchy but realistically funny comedy that will greatly connect to adult audience. Steve Carell shines and steals the show as the virgin and will leave you with both empathy and heavy laughter.
4. George of the Jungle (1997)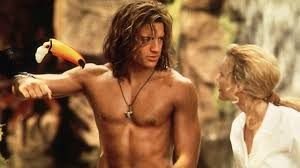 George of the Jungle is a 1997 American live- action film adaptation of the Jay Ward cartoon of the same name, which itself is a spoof of Tarzan. The film stars Branden Fraser as George(Tarzan) and Leslie Mann as Ursula, Tarzans Lover. It went to become a big commercial success. The film works at it's best due to it being very self aware and not taking itself seriously. The idea of the film might sound a little too ridiculous, but it is definitely a pleasant surprise due to its funny slapstick comedy and a heartwarming story.
3. I Love You Phillip Morris (2010)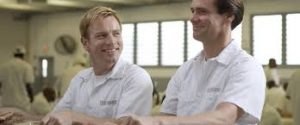 I Love You Phillip Morris is a 2009 black comedy drama film based on the 1980s and 1990s real-life story of con artist, impostor, and prison escapee Steven Jay Russell. Jim Carrey plays Russell and Ewan McGregor plays the titular character Phillip Morris. The supporting cast includes Rodrigo Santoro, Antoni Corone and Leslie Mann. I Love You Phillip Morris is a consistently funny and sweet film, that tells a traditional love story. Jim Carrey is amazing in the film and delivers one of his careers finest. Some familiar Carrey tactics are on display, but overall its a performance that showcase a smart and sweet character.
2. This is 40 (2012)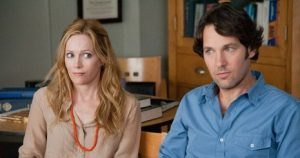 This Is 40 is a 2012 American comedy film written, co-produced and directed by Judd Apatow, and starring Paul Rudd and Leslie Mann. It is the spin-off sequel of Knocked Up. The film follows a couple who are having trouble turning 40, while facing problems with family and finances. They decide to take a vacation, which makes things worse. The biggest problem with the film is the runtime, otherwise Judd Apatow is able to deliver with some hilarious scenes. Annoying at times, the film wins on over with its warmth and honesty. The characters and the actors playing them are very likeable that you are kept rooting for them till the end.
1. Knocked Up (2007)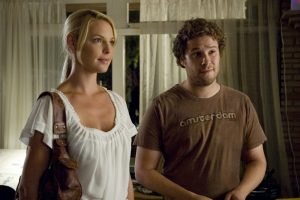 Knocked Up is a 2007 American romantic comedy film written, directed, and co- produced by Judd Apatow, and starring Seth Rogen, Katherine Heigl, Paul Rudd and Leslie Mann. It follows two people who have a one night stand, and the repercussions they have to deal with. Knocked Up is a hilarious and refreshing film that is smartly written, and is very well acted as well as directed. The story and characters are engaging, plus the dialogues are so wittily written. A modern comedy classic that needs to be seen by all fans of comedy.
Read More: Seth Rogen Movies