Mobsters and mafia in movies are somehow portrayed as cool. However, we enjoy these films in the safety of our own homes, never having been exposed to the actual violence of gangs. The victims sometimes speak of the horrors they experienced first hand and even despise such movies sometimes. However, for the audiences far removed from said concerns, we can enjoy gangster films and we enjoy them even more if they are based on real-life gangsters – we can just picture them strutting in, owning the place and not giving two hoots about anyone else. Here is the list of top movies based on real life mobsters.
12. Pain & Gain (2013)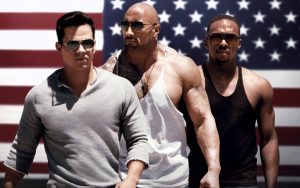 Michael Bay directed this dark comedy, and it appears on the list because although the people weren't part of any official gang or gangsters, the bodybuilders in the Sun Gym did form a kidnapping ring and things really did go awfully wrong for them. The number of snags they hit on the way is what inspired Bay to make the dark comedy in the first place. Although the victim's family was displeased with the perpetrators being made to look like sympathetic goofballs, the film itself is a laugh riot and deserves a watch. A little sneak peek – the part where the chainsaw gets clogged due to hair, is actually derivative of the real incident where the chainsaw wouldn't work because they forgot to put motor oil in it.
11. Hoodlum (1997)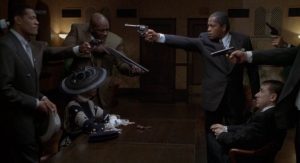 The film directed by Bill Duke is set in a very volatile time in New York crime history. The film presents a fictional account of the actual gang war between an Italian and Jewish alliance and the black gangs in Harlem. Heading the black gangs was Ellsworth 'Bumpy' Johnson played excellently by Lawrence Fishburne. The alliance was headed by the dreaded duo Dutch Schultz played by Tim Roth and Lucky Luciano played by Andy Garcia. Hosting a gallery of rogues, the film made use of the excellent acting talents to make this gangland violence movie a success. Watch out for Tim Roth and Lawrence Fishburne's performances especially in this movie, they are very good!
10. Blow (2001)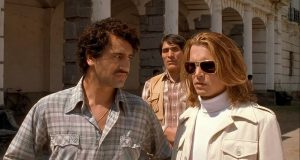 This fantastic true crime story is based on the real-life story of George Jung a young boy who was convicted of marijuana dealing but later went on to become one of the largest cocaine dealers in the USA. Jung is played to perfection by Johnny Depp, but a movie about cocaine during that time means a movie where there will be a presence of the Medellin cartel and we get to see a fine cinematic portrayal of Pablo Escobar. Note that this was long before Narcos and Wagner Moura blew us away. Cliff Curtis as Pablo Escobar in this film was very memorable and he easily filled the role of the formidable gangster and feared boss of the Medellin cartel.
9. Legend (2015)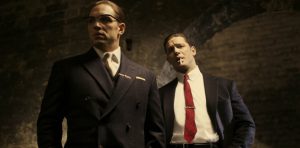 This crime thriller is a recent addition to a list of fine films based on real-life gangsters. The Kray twins were violent gangsters who controlled most of London's east end including a lot of gambling operations and a few nightclubs. Portrayed by Tom Hardy in a double role, Ron and Reggie Kray come to life before us on screen – all their rage, all their violence, all of Reggie's mental instabilities are brought forth expertly under Hardy's exquisite acting potential. This film was rather underrated when it released but it deserves a lot more attention and is a fine gangster movie in itself.
8. Black Mass (2015)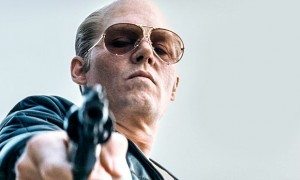 This year was a good year for movies on real-life gangsters and here is another. James Whitey Bulger, a feared head of the Irish mob that ran in South Boston. Played by Johnny Depp who should get top marks for makeup and acting, the film focuses on Bulger's alliance with the FBI and the subsequent misuse of the alliance to further his criminal empire. Bulger's notoriety is captured brilliantly by Depp who makes the menace evident in a few high tension scenes. A fantastic movie, Depp truly brings the feared Irish mob boss to the screen brilliantly.
7. Donnie Brasco (1997)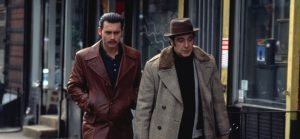 Perhaps one of the greatest undercover stories, this film directed by Mike Newell is based on the real-life infiltration of the Bonnano crime family. Johnny Depp plays an FBI agent here whose alias is Donnie Brasco. He develops a friendship with Lefty Ruggerio, a soldier for the family. Ruggerio, a feared enforcer had around twenty-six murders to his name and was an old school Cosa Nostra mobster. A man who would not break the rule of Omerta even when captured. Al Pacino brings the character to life brilliantly – showing the human side of the job and the allegiance to the family. Pacino brings to screen all of the acumen of Mafia politics that Ruggerio had and gives us a very real representation of the soldier's life.
Read More: True Crime Stories