Siddharth Suryanarayan or Siddharth as he is popularly known is one of the few handfuls of actors who had the distinction of working across Telugu, Tamil, Hindi, English, and Malayalam cinema without the loss of enthusiasm or fan-following. While he has more prominently worked in Telugu and Tamil films, his four feature films in Hindi have been equally acclaimed commercially and critically, especially his performance in 'Rang De Basanti', through which he got a nationwide recognition and accolades. From a humble debut in Shankar's Tamil feature film 'Boys' in 2003, to 'Gruham' in 2017, and counting, the journey of the singer, composer, actor, and producer is replete with many milestones.
Born and brought up in Tamilnadu, but having received his education from New Delhi, the mother tongue influence in most of Siddharth's works is practically non-existent. The actor's transition from speaking one language to enacting in another is practically seamless. With multi-lingual cinema picking up the trend, for dubbings are so old-school, many of Siddharth's movies were shot simultaneously in Telugu, Tamil, and Hindi etc.
The 39-year-old actor though has come a long way in his cinematic journey, but we're hoping to witness more character oriented roles and meaningful work out of his movies. With this list, we've brought to you the best films Siddharth has acted in, movies which speak volumes about his versatility as an actor, for these belong to genres and sub-genres like comedy, romance, action, drama, horror, thrillers, suspense, and have been received well by the critics and audiences alike.
14. Anaganaga O Dheerudu (2011)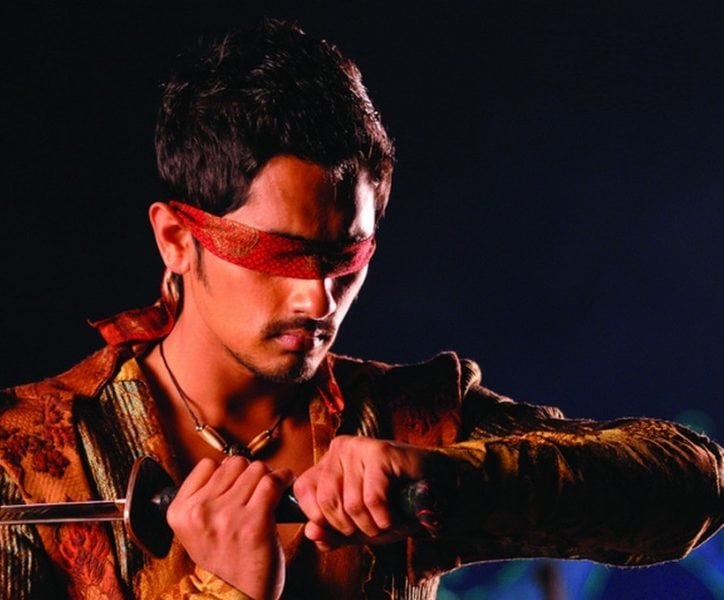 As the story goes, Siddharth is seen playing Yodhha, a blind warrior and a bodyguard to Moksha, a nine-year-old girl with healing abilities. The story starts in Anga Rajyam, wherein Irendri, a sorceress is brought back to life by the blood of her great-great-granddaughter Priya who has been carrying a locket with the former's soul trapped in it. As Irendri comes to know that the blood of Moksha, the girl who is protected by Yodha, would make her invincible, Moksha heals Yodha to render his vision back and help him defeat Irendri. Though the plot is seemingly derivative, the visual effects are pretty decent for a movie of this stature, and the fantasy-adventure touch in the movie is its sole highlight.
13. Oy! (2009)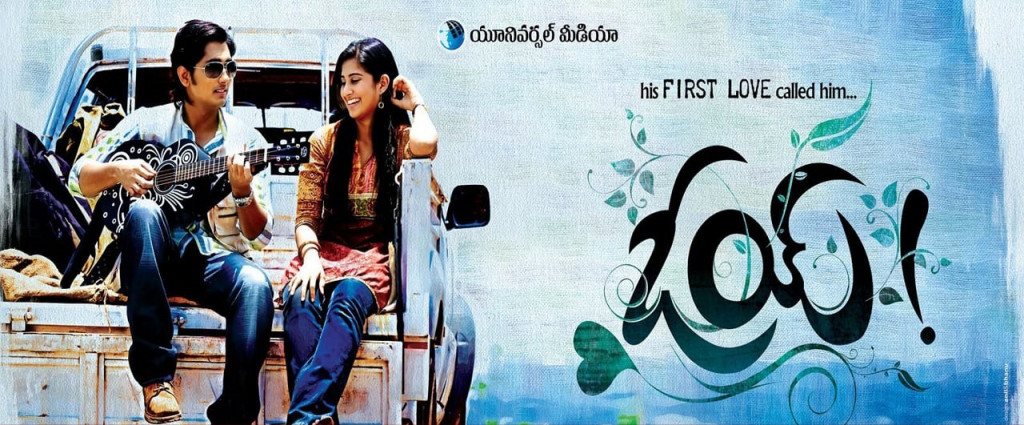 A loner Sandhya and an optimistic, outgoing Uday hit crossroads when the latter sees the former in a pub, writing in a diary. As Uday falls for Sandhya and her simple ways, he finds out that she lives in a humble abode on a beach shore, and attempts to impress her by "learning" Telugu with the help of his friend Fatso, giving her gifts on her birthday and leaves no stone unturned to woo her. Turns out, Sandhya's insurance policy has no nominee and hence was initially rejected. Later on, it is revealed that Sandhya is suffering from cancer and has very little left to live, to which Uday tries to make her live the remaining of her life to its fullest. "Oy!" as she calls him, is a syllable that echoes in his ears even after she's gone.
12. Striker (2010)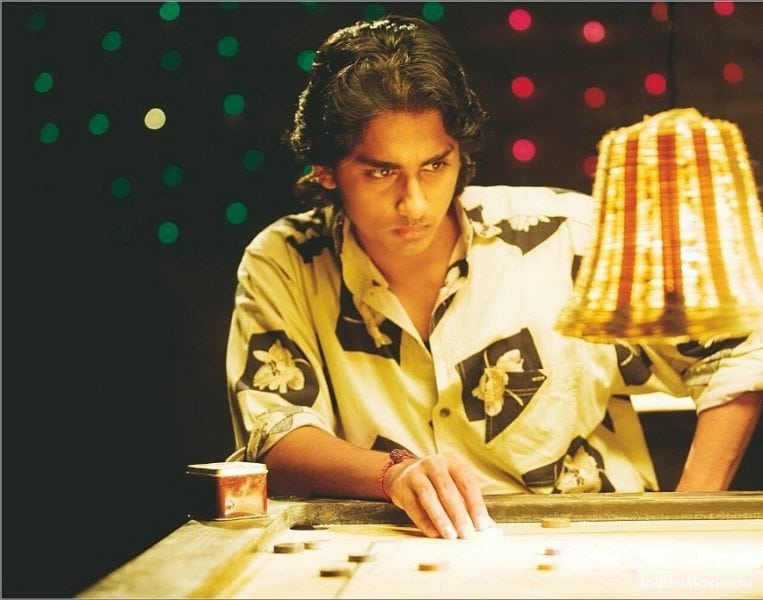 Also featuring Aditya Pancholi, Anupam Kher among others, 'Striker' has the distinction of being the first Indian film to be released simultaneously in theatres as well as on the Youtube. Be that as it may, the film revolves around carrom-board as a game and leaving aside a few carrom-board moments in a bunch of movies, we almost never had a mainstream movie focused solely on the game. The plot is set around Surya, whose passion for the game of carrom-board has taken him places, who must fight a local mafia overlord to protect his interests and avenge the wrongs done to him. 'Striker' though has an ensemble cast, Siddharth is central to the plot, and if not for him, the movie was ought to be doomed.
11. Konchem Ishtam Konchem Kashtam ( 2009)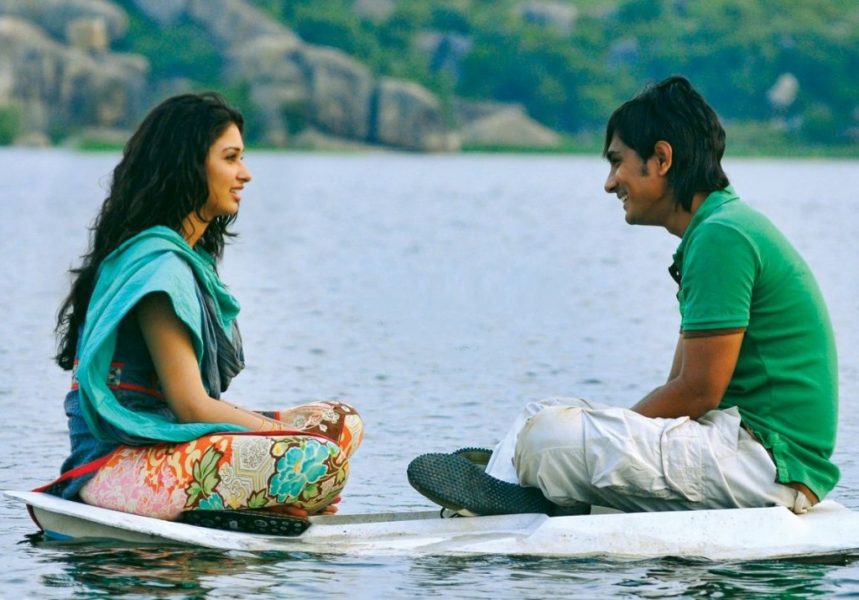 Music was the first thing that caught my interest when I watched this movie. The well-written lyrics and soulful composition keep ringing in our ears for long. Siddharth as Siddhu is a friend of a close relative of Geeta (Tamannaah). Siddhu's parents have separated and his father Prakash (Prakash Raj) is an affluent businessman who still dotes for his separated wife and her mouth-watering dishes. As Siddhu is offered a top management position at his dad's company, he also falls for Geeta, whose parents, in turn, have put forth a condition not to marry her with Siddhu unless his parents remain separated. The story concludes with Siddhu uniting his parents by "moving mountains" and marrying Geeta. A light-hearted film with ample dose of laughter, 'Konchem Ishtam Konchem Kashtam' is totally worthwhile.
10. Boys (2003)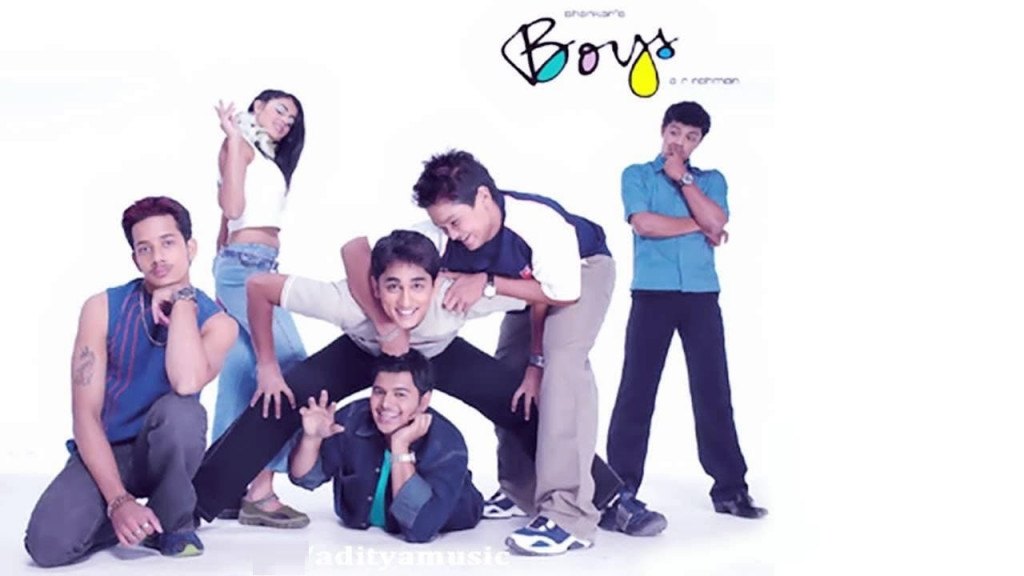 When we know that S. Shankar himself has been involved in a project, rest assured there's no one stopping the box office collections or the incoming accolades. 'Boys' had a similar stint back in 2003 when it was released and considered a blockbuster hit, with mostly debutantes including Siddharth. 'Boys' revolves around six teenagers, including a girl, who haven't figured it all yet. Munna, Galy, Krishna, Kumar, and Juju are five promiscuous boys who don't know what to do with their lives. Their days are spent drinking, smoking, and figuring out which girl would suit whom. Enter Harini, and her pack of girls which piques the interest of this boy-gang and despite their last-ditch attempts to date the women, they end up being close friends. Evidently, that's not the end, and Munna (Siddharth) and Harini (Genelia) fall for each other eventually. Like any Indian teenage-drama, 'Boys' too had quite some cult following back in the day.
9. Gruham (2017)
Shot simultaneously in Hindi, Tamil, and Telugu, 'Gruham' primarily revolves around Dr. Krish (Siddharth), a neurosurgeon who has moved into a new home and soon they have neighbors next door and both the neighbors get along very well. Jenny, the eldest daughter of next door neighbor Paul, has developed a liking for Krish, but also exhibits eerie behavior, like sleepwalking, jumping into a well, among other things. As Jenny becomes more and more paranoid, Krish and Paul arrange for a fake exorcism for Jenny to ward off her inhibitions for a ghostly presence in the house. The exorcism goes haywire and everything turns out to be true about Jenny and her alleged sightings. A possessed Krish must protect his family while dancing to the tunes of a Chinese merchant and his deceased family, who belonged to the house before Krish's family. Complicated, but full of its own terrorizing, frightening moments, 'Gruham' will give you jitters.
8. Kaaviya Thalaivan (2014)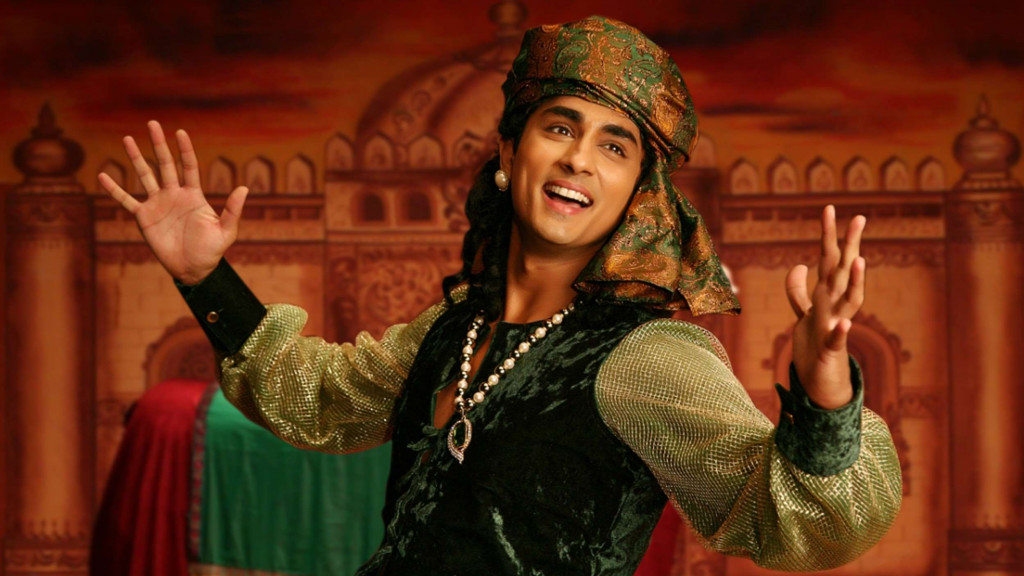 Kaliappa, or fondly known as Kali (Siddharth), was an orphan boy found by Swami years ago, who runs a drama company. With Kali and Gomathi (Prithviraj Sukumaran) as his proteges, Swami's troupe grows proportionately. As Kali and Gomathi grow up playing the supporting roles and feminine roles respectively, with new female entrants in the troupe, they end up confronting each other, the fire set by none other than their own master. Gomathi's insecurities about Kali and Kali's selfless attitude land them in different places, but they're set to cross each other's path yet again. With its backdrop in the pre-independence era, their plays are usually a reflection of the events or happenstances in the society. The tragic end to what merely started as a squabble is unforgettable.
Read More: Sushant Singh Rajput Movies
7. Kadhalil Sodhappuvadhu Yeppadi (2012)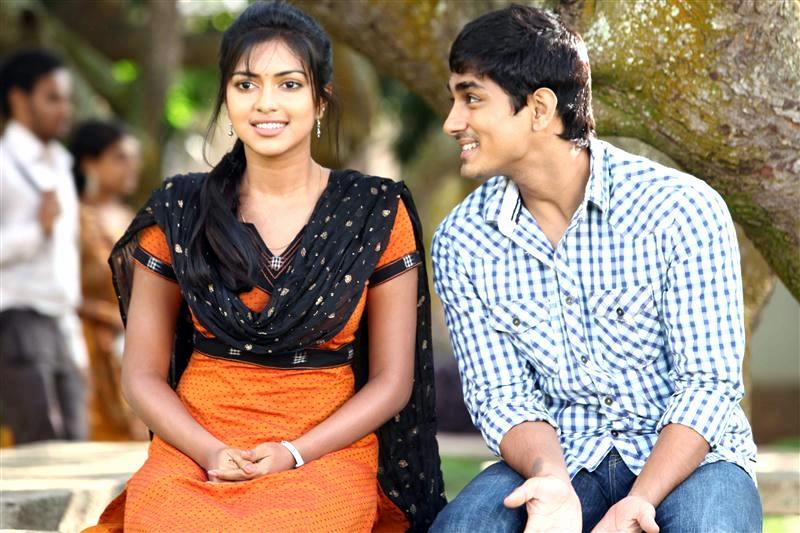 Another Siddharth's movie which was shot simultaneously in Tamil and Telugu, 'Kadhalil Sodhappuvadhu Yeppadi ' also features Amala Paul opposite Siddharth as a protagonist. The whole point the movie tries to make is that even trivialities in any relationship can lead to potential disasters, that may inflict permanent wounds on one's emotional self. Arun and Parvathi are friends turned lovebirds, who fight over sweet nothings but don't want to separate. As their fights grow, they do separate, but the timeline of their separation is not revealed to the audience.
The primary reason of Parvathi's troubles is because her parents are getting divorced and her father is a client of Prabhu, Arun's father, who advises them against the divorce. In the end, things settle down and Arun and Parvathi reconcile over a fight. The storyline though is simplistic, resembling that of 'Konchem Ishtam Konchem Kashtam', the presentment is way better and the movie feels like a breath of fresh air.
6. Enakkul Oruvan (2015)
For those who have seen the crowdfunded Kannada blockbuster film 'Lucia (2013)', 'Enakkul Oruvan' is not going to be a very pleasant experience, but nonetheless, it is one of Siddharth's best works. Pawan Kumar, who directed the original version has turned up for producing 'Enakkul Oruvan'. Comprising of a Memento-like storyline, with references to the past and the present embedded for all the characters altogether, the primary driver of the entire plot is a drug named Lucia, which gives its consumer a capability to continue their own dreams, like a parallel world. Apparently, the dreams and the reality have been portrayed in black and white and color respectively.
Vicky, an usher in a local movie theatre, who is also an insomniac, dreams of himself as Vignesh, a popular film-actor. As the movie progresses, the switch between dreams and reality becomes more frequent, and the ultimate shocker, in the end, reveals that Vignesh is the reality and Vicky was only a dream. Oops, did I forget to mention the spoilers disclaimer in the beginning?
5. Nuvvostanante Nenoddantana (2005)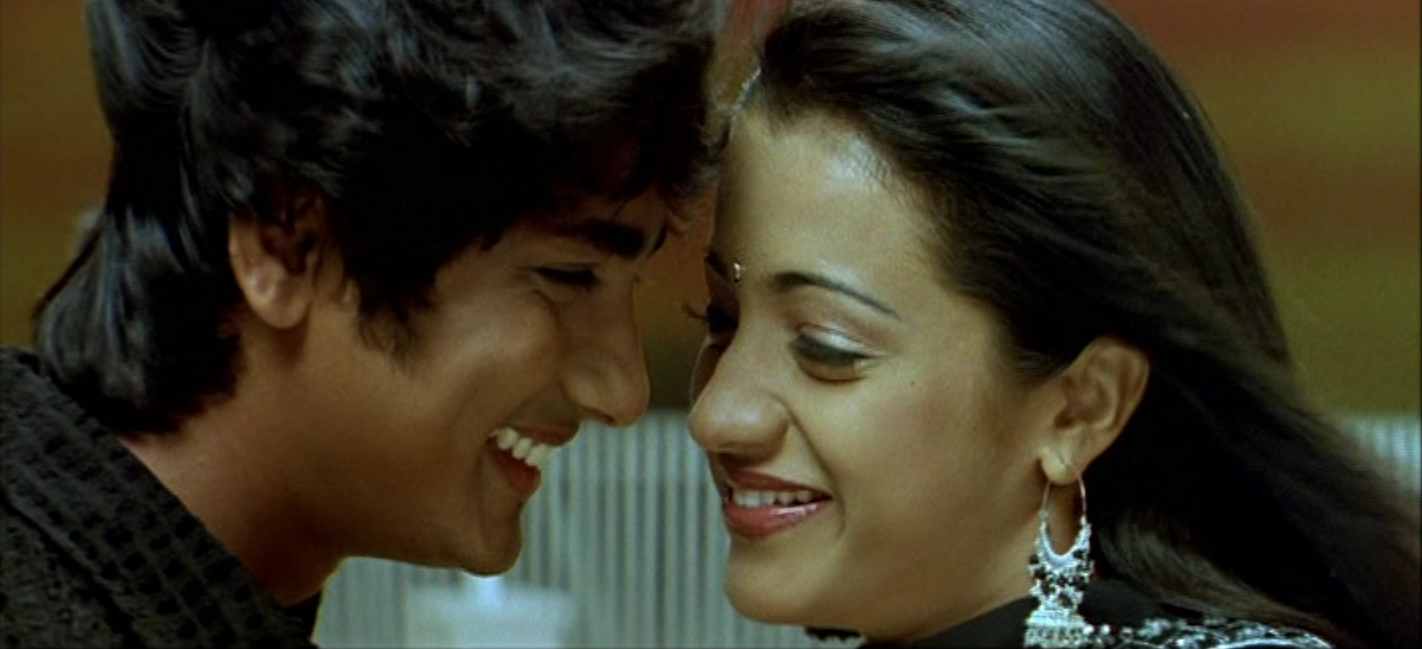 I know the name sounds quite a mouthful, but this Telugu feature film has perhaps garnered more awards than any other movie on this list. Featuring Trisha Krishnan (as Siri) opposite Siddharth (as Santosh), the movie is set in the beautiful countryside of Andhra Pradesh.
With an overly simplistic storyline, 'Nuvvostanante Nenoddantana' is centered around Santosh, a rich lad who lives with his multi-millionaire family in London. Enter Siri, a countryside lass, who is content with her life, who lives with her brother Siva. As Santosh and his family heads to India, Santosh and Siri cross their paths and they fall for each other. Due to some initial qualms, Siva is not happy with Santosh being the husband of his sister, for he doesn't know their village "ways", and hence, tasks Santosh with living in the village, and resort to farming to prove his worth. Santosh, at the same time, also has to deal with a reluctant mother and a potential affluent match for himself, while trying to win back Siri. An overall winner and a mass-entertainer, the movie bagged Filmfare and Nandi awards in almost all the categories and departments.
4. Aaytha Ezhuthu (2004)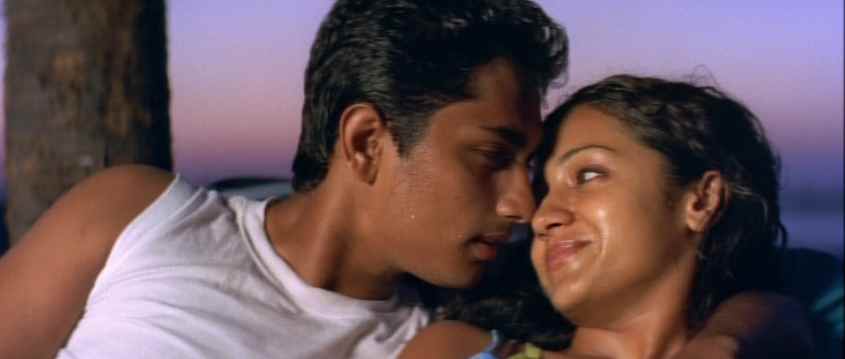 Belonging to hyperlink cinema at the outset, 'Aaytha Ezhuthu' boasts of an ensemble cast and comes from the cinematic genius that is Mani Ratnam. Also shot simultaneously in Hindi titled 'Yuva', 'Aaytha Ezhuthu' revolves primarily around three men – Inba, Michael, and Arjun. While Inba is a goon and a rapist, who rapes his wife under the pretext of marriage, Michael is active in his college politics and loves his next-door neighbor Geetha.
Arjun (Siddharth) is a spoilt brat and loves Meera. As Arjun and Meera enter a fight one fine day, Meera takes an auto and leaves. Arjun hops behind Michael and they follow Meera when Michael is shot at. Following the incident, Arjun enters politics alongside Michael and they have to fight a political syndicate to keep the college elections clean and out of mainstream politics. Mani Ratnam's signature style is omnipresent in the film.
3. Bommarillu (2006)
One of the flagship movies of Siddharth's career, 'Bommarillu' is a beautiful story of a father-son relationship told in a coming-of-age manner. Siddhu belongs to a well-off family and he has had all the material needs he ever wanted. But an overbearing, nosy father Aravind irritates him and Siddhu wants to make his own choices with career and love, without the intervention of his father. As it turns out, Aravind settles to marry Siddhu with Subbulakshmi, against Siddhu's own wishes which rattles him further but they get engaged.
Hasini, a student piques Siddhu's interest and they both fall for each other. To convince his parents that Hasini is a better partner for him than Subbulakshmi, he talks Hasini into staying at his house for a week. Things go awry when Hasini's parents come to know of this "unofficial" arrangement. With an open-ended storyline and a watertight screenplay, 'Bommarillu' is set to leave you awed and intrigued.
2. Rang De Basanti (2006)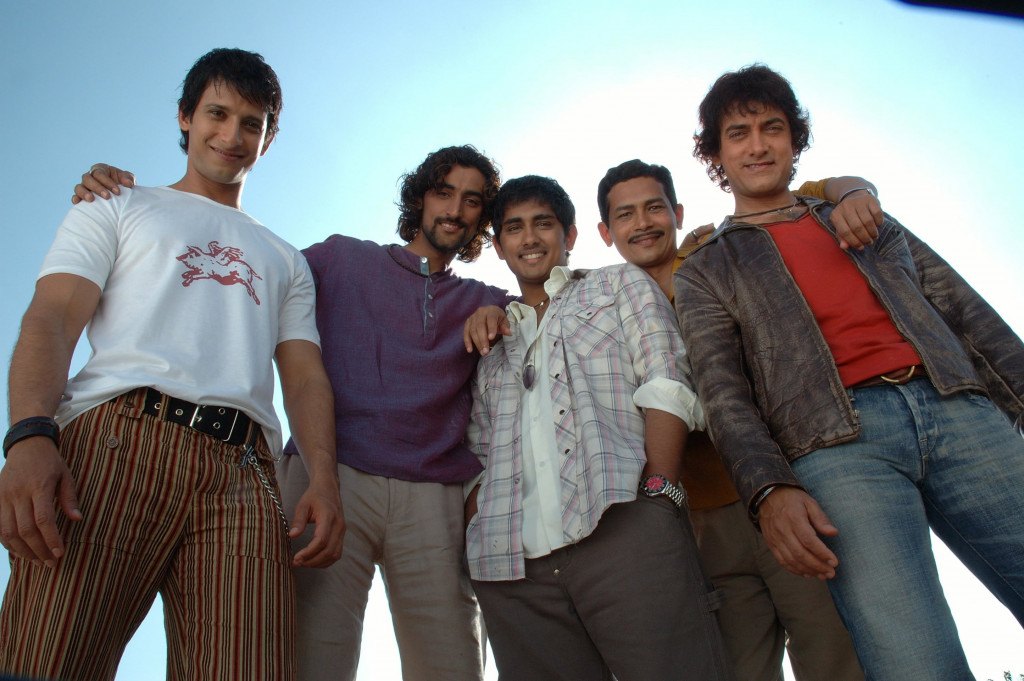 And now to the pathbreaking movie which deeply influenced the way of filmmaking in the upcoming years and which also changed many perceptions about the Indian society, 'Rang De Basanti' had hit all the right notes as far as an idealistic movie is concerned. Not only did it move the masses against the evils of corruption and the lust for power by a bunch of politicians, it also busted many myths on the "apparent" political and religious divides of the civil society.
The movie revolves around a group of friends- DJ, Karan, Lakshman, Aslam, Sukhi, Sonia who are college students and a fighter pilot Flt. Lt. Ajay Rathod. Each character has their own deep-rooted principles and desires and their lives are further interwoven when Sue, a struggling filmmaker arrives from the UK to shoot a documentary on Bhagat Singh, Rajguru, Ashfaqullah Khan, Ramprasad Bismil, Rajguru, Durgawati Devi and Chandrashekhar Azad. The roles of Bhagat Singh and Karan are portrayed by Siddharth and I don't think there is any better realistic portrayal of Bhagat Singh by anyone else as is his in this movie. Also, kudos to Rakeysh Omprakash Mehra for this brilliant piece of artwork.
1. Jigarthanda ("Cold Hearted", 2014)
The best film of Siddharth's career so far, 'Jigarthanda' is an engrossing, raw, genre-defining film which was praised equally for its performances, especially actor Bobby Simha for his role of a dreaded gangster Sethu, a role which also landed him a National Film Award for Best Supporting Actor.
The movie starts on the backdrop of a reality TV show wherein Karthik (Siddharth), an assistant director is ridiculed for his short-film that's not up to the mark and is thrown out eventually. One of the judges, who take interest in his work, agrees to support him if he makes a film on a real-life gangster. Enter Sethu, a Madurai-based gangster, who is to be the lead character of Karthik's film. The comedy of errors that follows is rib-tickling and is a completely out-of-the-box feat never witnessed in Kollywood. Sethu ends up playing himself in Karthik's documentary, notwithstanding the dreadful image he has off-screen, he turns out to be exactly the opposite on-screen.
Read More: Illeana D'Cruz Movies