Sridevi is no more and her fans are still reeling under the shock. The beautiful actress, who had crossed her 50s, passed away at a family function in Dubai in February and that left a void in Bollywood no other actor could fill. Sridevi was matchless and had an aura of her own. She danced like a dream; and she acted like it too! The doe-eyed beauty had a professional life full of highs and lows – highs mostly – and she ruled the Indian silver screen by her presence in the late 80s and early 90s, which made her one of the most sought after actresses of her time.
A cruel blow of fate in February 2018 cut short her acting career of five decades, which had only started to look up, post the release of her last film in 2017. In a long and fruitful career, Sridevi acted in a number of movies across different film industries and proved that when talent matters, nothing else does! With that, we take a look at the list of top films, which had the late Sridevi in memorable roles.
15. Tohfa (1984)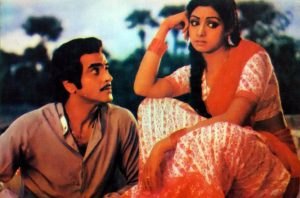 Out of the many films in which Sridevi starred alongside Jeetendra, K. Raghavendra Rao's 'Tohfa' was the most memorable one. And not because it had a well-intentioned storyline or a talented star cast, but because of its songs that topped the charts at the time of its release. Sridevi played Jaya Prada's sibling, who falls for the same man as her sister, yet decides to move on and sacrifice her love for her sister's sake. Love triangles were quite popular in the late 80s and Sridevi's 'Tohfa' added to the long list. The film's flashy dance sequences and amusing dance moves are best remembered for all the loud sets and glitzy attires the actress had to don to make the film work.
14. Judaai (1997)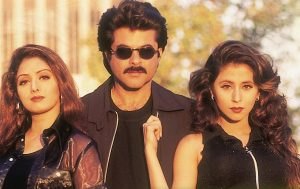 The film, which Boney Kapoor produced especially for his wife, before she took a sabbatical to start a family and raise their children, 'Judaai' was one of the highest grossing movies of the year, starring Sridevi, Urmila Matondkar and Anil Kapoor in lead roles. Sridevi played a money-hungry wife and mother of two, who is willing to share her marriage with the daughter of her husband's boss for some quick bucks. Trouble starts to brew in her paradise when things don't go as she had planned. 'Judaai's' Kajal was one of Sridevi's memorable characters with a little streak of grey, which she did not hesitate to take up despite being the leading actress for all the years.
13. Gumrah (1993)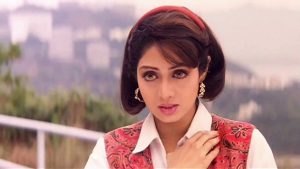 Based on an Australian miniseries called Bangkok Hilton and a true story, which Mahesh Bhatt spun into a film, 'Gumrah' starred Sridevi and Sanjay Dutt in lead roles, post which they never appeared together again. The crime-thriller saw Sridevi in a character she hadn't portrayed before and was greatly lauded for her gritty performance. She played a talented singer, who is framed by her boyfriend in Hong Kong, for which she faces criminal charges. Sridevi's transformation from a simple young girl into a strong-willed woman, who goes to all lengths to prove her innocence, was noteworthy. One of the highest grossers of the year, 'Gumrah' garnered enough positive attention at the box office for its power-packed performances.
12. Khuda Gawah (1992)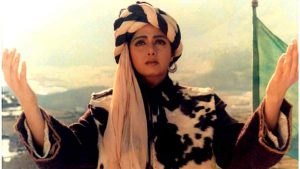 One of the three renowned Hindi films to be shot extensively in Afghanistan, 'Khuda Gawah' starred Amitabh Bachchan in the lead role alongside Sridevi, who played a mother and a daughter yet again after 'Lamhe'. A runaway hit in the country, the film brought Afghani traditions to the fore and audiences were in awe of the lavish sets that the film had put up. Rumour mills had started to do the rounds back then that a host of actresses were approached to star opposite Bachchan by director Mukul S. Anand, but they turned down the offer.
Later when he offered the role to Sridevi, she declined too, stating that she wasn't signing films opposite Amitabh Bachchan, for fear of losing the limelight, which all turned out to be fabricated news. Sridevi starred in a double role and the movie turned out to be a clear winner at the box office.
11. Nagina (1986)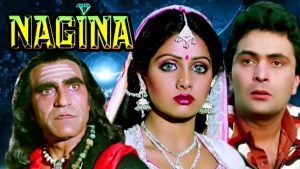 The subject of a shape-shifting snake sounded absurd in the 80s and a film that centered on such a character was even more ridiculous. And when director Harmesh Malhotra came up with the topic, he was sent off saying the film wouldn't work. He then approached Sridevi, who loved the subject and agreed to dabble in the genre too, which was way too different from her regular movies.
'Nagina' became a great success at the box office and become the second highest-grossing movie of that year. It was a little difficult to digest the fact that the gorgeous actress would shape-shift into a dreadful cobra, but she was accepted in her new avatar and the song Main teri dushman still reminds us of the original naagin dance we have seen on the big screen before!
Read More: Shruti Haasan Movies
10. ChaalBaaz (1989)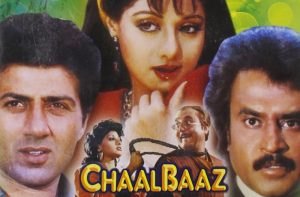 Pankaj Parashar remade the classic Hema Malini-starrer double-trouble movie 'Seeta Aur Geeta' into 'ChaalBaaz' and the result was obviously better than the original because Sridevi put both her heart and soul into the two roles. She played the gullible Anju and the flamboyant Manju with equal finesse and gave a new lease of life to the double role genre in Indian cinema. Her smooth moves from the popular song Naa jaane kahan se aayi hai has been a hot favourite of many over the years and Sridevi, who was paired opposite celebrated actors of those days – Rajinikanth and Sunny Deol – overshadowed both of them by her act!
9. Moondru Mudichu (1976)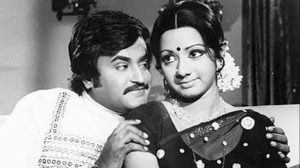 Before Sridevi forayed into the Hindi film industry, she was experimenting with regional film industries in the south. At just thirteen years of age, Sridevi signed the Tamil film 'Moondru Mudichu', opposite two stalwarts of South Indian cinema – Rajinikanth and Kamal Hassan – and left an indelible mark. She played a naïve, young woman, who falls for a simpleton, who she is separated from by his friend, who secretly loves her too. When the love of her life accidentally drowns on a picnic, instead of sulking, she exacts revenge. She marries the latter's father and embarrasses him for putting her in trying situations. Despite being young and new in the business, Sridevi dared to be different and played Rajinikanth's stepmother, which got her the recognition she deserved.
8. Mom (2017)
A power-packed performance-oriented film directed by first-timer Ravi Udyawar, 'Mom' made for a great movie-watching experience, in times when the safety of women is compromised everywhere in the world. Sridevi played a mother to a teenage stepdaughter, mirroring her real image as a mom to two teenagers. In the crime thriller, also starring Nawazuddin Siddiqui and Akshaye Khanna, the actress played a vigilante, who seeks vengeance and justice for her stepdaughter, who is brutally raped and dumped off. Sridevi gave a rousing performance in the film, which was also dubbed in Tamil, Malayalam and Telugu, gaining wide acclaim. The award-winning film also brought Sridevi her first posthumous National Film Award for Best Actress.
7. Mr. India (1987)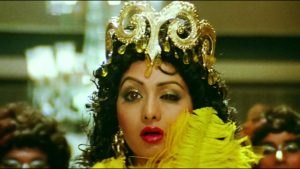 Sridevi was cast opposite her real-life brother-in-law, Anil Kapoor in a lot of films and audiences loved their pairing too. But long before she was married to Boney Kapoor, she was cast in 'Mr. India' by internationally-acclaimed director Shekhar Kapur, who wanted a strong female lead opposite Anil Kapoor, despite the limelight being on the male protagonist in the film. Sridevi signed the movie and demanded a meatier role and equal share of the limelight, which gave us journalist Seema Soni, who transformed into the iconic Miss Hawa Hawaii and Charlie Chaplin on several occasions for the sake of a scoop for her newspaper. The sci-fi thriller aimed at the younger audiences worked wonders at the box office and is one of the best films Sridevi ever agreed to do in her career.
6. Chandni (1989)
When Yash Chopra decided to make 'Chandni', he wanted to cast Rekha in the title role. But when she declined the offer and recommended Sridevi instead, the director stuck with the idea. Sridevi was at the peak of her career, when Chopra offered her the role after Rekha and the diva, who was already the toast of B-Town at that time, signed the film and immortalized the "Chandni Look", which redefined fashion in India in the late 80s and early 90s. Sridevi's iconic yellow sari against the lush green Swiss background in the Mitwa song was truly a delight to watch.
Read More: Nagarjuna Movies
5. English Vinglish (2012)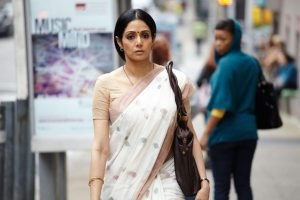 A pleasant social drama directed by Gauri Shinde, which was also a tribute to the director's own mother; 'English Vinglish' marked Sridevi's return to the arch lights after her very long hiatus from acting. The movie was socially-relevant and Sridevi breathed life into Shashi Godbole, a middle-class Maharashtrian woman, who is mocked by her family for her poor English-speaking skills, especially when she is on her way to the US of A to attend her niece's wedding. An embarrassment in the new and foreign country leads Shashi to learn the language and regain her self-confidence, which forms the crux of the story. Sridevi gave one of the most subtle performances of her career through the film, which is close to reality and its memories still linger on in our minds.
4. 16 Vayathinile (1977)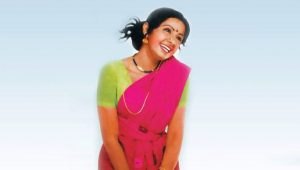 '16 Vayathinile' was a Tamil film, which starred Kamal Hassan and Rajinikanth in lead roles, where the latter once again played the villain. Sridevi was only fourteen when she signed the film and proved her mettle once again. She played a school-girl smitten by a visiting vet, who leaves her with desperate measures. Kamal Hassan played a physically-challenged man, who looks after the girl, who in turn, nurtures him and helps him regain his lost self-confidence. The film initially did not find many distributors since it was written off as an experimental movie, but once it was released and people saw Sridevi's sheer talent, it became a critical and commercial success, eventually getting remade as 'Solva Sawan' in Hindi, with Sridevi in it opposite Amol Palekar.
3. Kshana Kshanam (1991)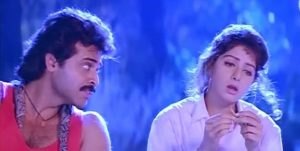 Ram Gopal Varma cast Sridevi in one of his early experimental road films and succeeded in it too. And when the Telugu film 'Kshana Kshanam', starring Venkatesh, Sridevi and Paresh Rawal evoked a positive response from the audiences, he remade it into Urmila Matondkar-Sanjay Dutt-starrer 'Daud', which unfortunately, did not meet the same fate. 'Kshana Kshanam' was the story of a petty thief, who is set to deliver a mysterious package to a dreaded gangster, but later, along with a simple girl, is on the run for getting entangled in an even deeper mess. The film was a sleeper hit and was dubbed as 'Hairaan' in Hindi, which also received a positive response. Sridevi's performance won her widespread acclaim across film industries.
2. Lamhe (1991)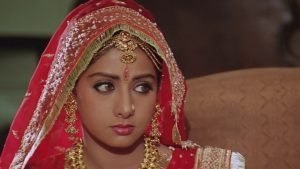 After Yash Chopra cast Sridevi in 'Chandni', he was totally in awe of the actress, who was immensely talented and could mould herself the way her director wished to see her perform. So he offered her the lead role in 'Lamhe' again, which was opposite Anil Kapoor. The role demanded Sridevi to play both – a mother and a daughter; and the actress effortlessly got into the skin of both the characters, which are permanently etched in our minds. Although the story of the film created quite a furor among Indians, who panned it for highlighting an incestuous relationship, it became a huge hit at the international box office and shattered major records. The Sridevi-starrer, now considered a cult classic, however, was received with warmth back in the country and is now among one of the greatest Indian films of all time.
1. Sadma (1983)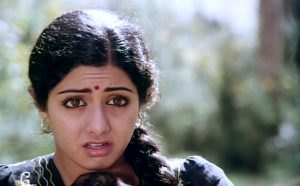 Sridevi's passing away came as a rude sadma not only to the film industry but also to her fans, who totally loved her as the woman-child in 'Sadma', which was a remake of her own Tamil film 'Moondram Pirai', starring Kamal Hassan opposite her. The film has gained a cult status among the audiences and Balu Mahendra's heartwarming story still breaks our heart, when we see the star-crossed lovers destined to part ways on an emotional note. One of the best performances by Sridevi in her entire career, she brought to life Reshmi's character, which we are sure, is too difficult for all of us to forget!
Read More: Kamal Haasan Movies