Perhaps Anushka Shetty is the first name that pops up in the minds of Telugu horror movie fans. Or maybe Ram Gopal Varma. Tollywood has so far continually innovated and evolved in filmmaking across all the major genres – suspense thrillers, comedies, fantasy, sci-fi, romance, action, drama, devotional, and what not. Yet, probably the only genre which is still maturing and which has only a very limited number of movies in its kitty has to be the horror genre. Right from the 80s when 'Kashmora' happened, till date, with 'Bhaagamathie' and 'Kanam' being the latest additions to the genre, Telugu horror movie releases have been limited to barely 1 or 2 movies a year. Such movies are yet to emerge as mass entertainers, with all the elements of a masala movie in it, like a dash of comedy, suspense, pound script, better cast and crew and sound CGI.
Though many Telugu horror movies have managed to spook us considerably, yes, but many of these had rather clichéd portrayals common to a typical horror movie (like creaking doors, leaking faucets, eerie calm, windy nights etc.) which, I'd say, appears archaic. With this list, we bring to you the best Telugu horror movies of all time, which have managed to scare us all or made us fall off our chairs and these can hold the fort for some time for the entire genre unless a 'Baahubali' like revolution happens. Here's the list of top Telugu horror movies ever made.
12. Tripura (2015)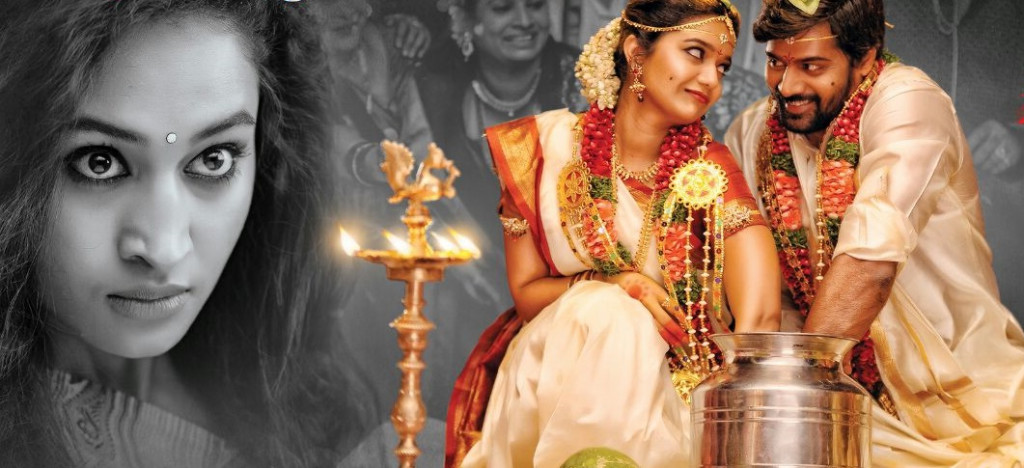 The story revolves around Tripura, a girl who has a disorder of dreaming things or events which happen to her in real life as well. She falls for a doctor named Naveen, who is also treating her of the ailment, they marry and move into a new house. One fine day, she dreams of killing her husband, and things become awry. Add a murder, a ghostly spirit which intends to kill its murderer and the perpetrator of the crime, and the whole story becomes a relatable yet boring mess. The plot promises a lot, yet the execution is lacklustre which makes 'Tripura' a diminishing and predictable affair.
11. Case No 666/2013 (2013)
'Case No 666/2013' is the first and only such Tollywood's effort so far which follows a "found footage" narrative and closely mimics the Hollywood's timeless classic 'The Blair Witch Project (1999)'. The movie has a journalist on the trail of 3 friends – Bhaskar, Chaitanya, and Durga, who went missing six months ago. As the reporter finds their memory cards, the footage reveals that the three, along with a stranger had ventured into a haunted guest house inside the forest to prove their point, and chilling details follow through as with any horror movie. There are a few moments of genuine scare and more or less the handi-cam video makes us divert our attention from both cinematography and performances, which are just about average. Only for horror junkies, this one!
10. Avunu ("Yes", 2012) / Avunu 2 (2015)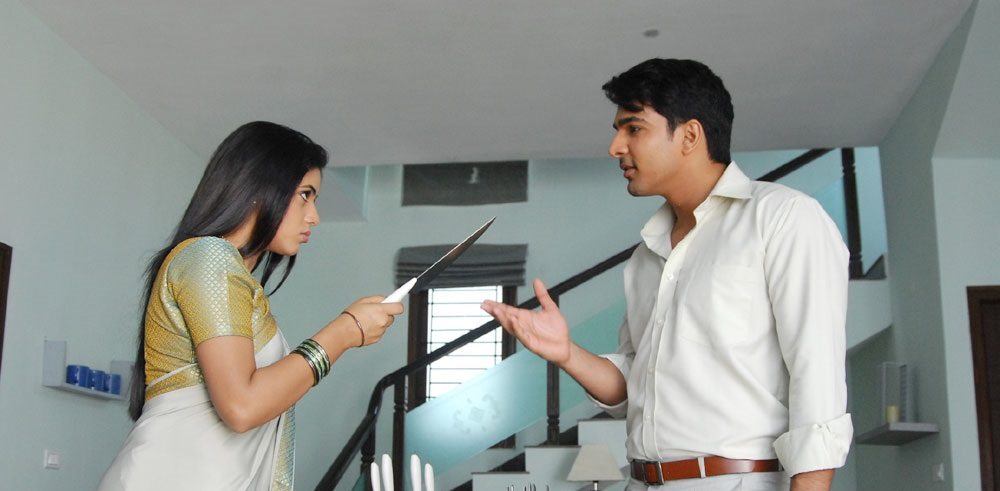 The first instalment depicts two newly weds, Mohini and Harsha who've moved into a newly purchased house, only to know that there's been an evil spirit of a deceased Captain Raju who has gotten infatuated with Mohini and also eliminates anyone who crosses its way or appears to be a hindrance. Alas, they leave the house in search of a new one as the movie ends. The second instalment picks right from where the first one ends, with an amulet around Mohini's neck, Mohini and Harsha have settled down in a posh new locality. Unbeknownst to them, Captain Raju has also followed them and the amulet is the only thing that can stop Captain Raju's spirit from forcing him upon Mohini. 'Avunu' is good, but it is good only in parts.
9. Raksha ("Protection", 2008)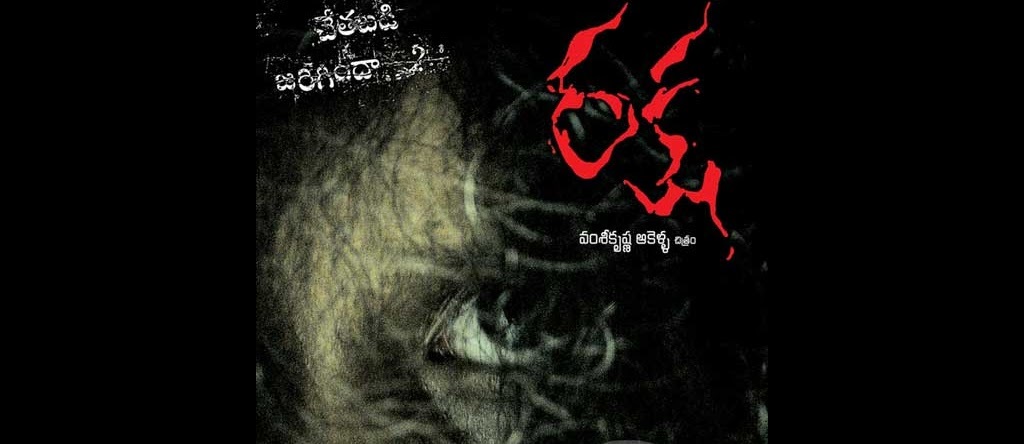 An official remake of the Hindi feature 'Phoonk', 'Raksha' is the younger daughter of Rajeev, who owns and runs Raksha Construction Company. Owing to his atheism, a bunch of employees who were ousted from his company perform black magic on Rajeev's daughter, thus making her behave weirdly. To revive her, Rajeev now resorts to the non-scientific methods and also to teach the perpetrators a fitting lesson. Though there's nothing in the movie we haven't seen or heard before, 'Raksha' offers a simplistic storyline, with scares in between and a typical RGV stylised theme. Not too overwhelming, yet not completely missable.
8. Deyyam ("Ghost", 1996)
And now to Mr Ram Gopal Varma's second venturing into making horror movies for Tollywood after Raatri (1992), 'Deyyam' is far spookier than it sounds. The story begins with Murali and Sindhu, a married couple moving into a thrown away farmhouse along with their 3-year-old son Chinni and Sindhu's sister Mahi. As the story progresses, Chinni starts talking to ghosts and is eventually killed, after which the couple comes to know that the property had been built upon a graveyard which is causing all the killings and disappearances. The film is open-ended, and we don't know whether Mahi and her boyfriend Narsingh survive the volley of ghosts coming to them. If you can ignore the movie's uncanny similarities with Steven Spielberg's classic 'Poltergeist (1982)', 'Deyyam' is an enjoyable affair.
7. Raju Gari Gadhi 2 ("The King's Room", 2017)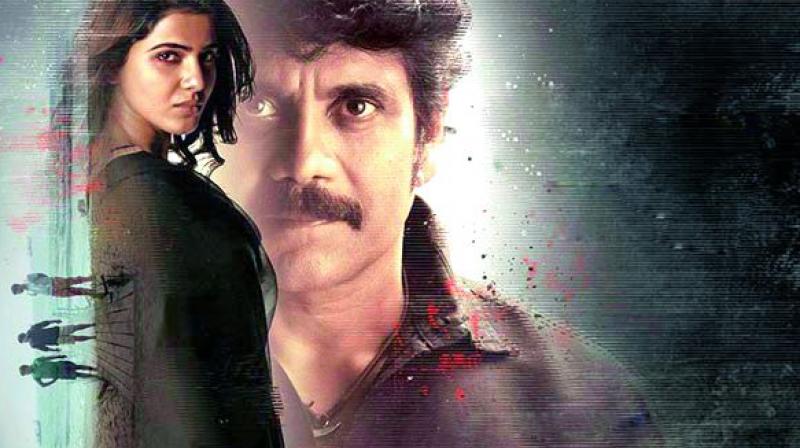 Though the first instalment fails to impress, yet it sets the tone of the movie which is more or less continued in the second instalment. The story begins with a group of 3 friends who're trying to run a resort business which is hindered by metaphysical activity in the resort. On the recommendations from a local priest, they hire a mentalist Rudra, who can communicate with spirits and can ward off any evil activity. As Rudra finds out that a girl named Amrutha was subject to voyeurism in the very resort after communicating with her spirit, he nails down on the perpetrators and frees the resort from her vengeful spirit. For the fans of Nagarjuna and Samantha, this becomes a must watch. For the rest, 'Raju Gari Gadhi 2' guarantees less of horror and more of the drama.
Read More: Telugu Movies 2017
6. Prema Katha Chitram ("Love Story Movie", 2013)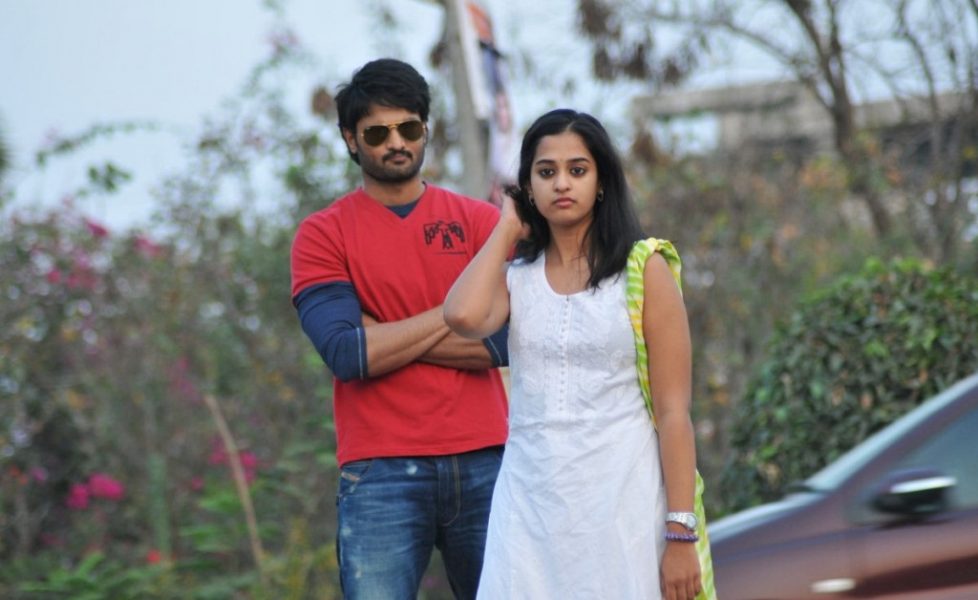 As three friends – Sudheer, Nanditha and Praveen decide upon ending their lives simultaneously, for they have been leading aimless lives for so long, they go on to fulfil their last wishes prior to kissing the world goodbye. They gather at a farmhouse where they're joined by Giri, another suicidal chap, and they find that an evil spirit has possessed Nanditha which seeks justice. Turns out that the evil spirit is that of a girl named Lakshmi who was sexually assaulted and killed along with her husband on their wedding night by the owners of the farmhouse. Now armed with a purpose, the trio connives to kill the owners and free Lakshmi's lurking spirit. 'Prema Katha Chitram' offers a breath of fresh air among the otherwise stale genre of movies, which sets it apart from its counterparts.
5. Kanam ("Opening", 2018)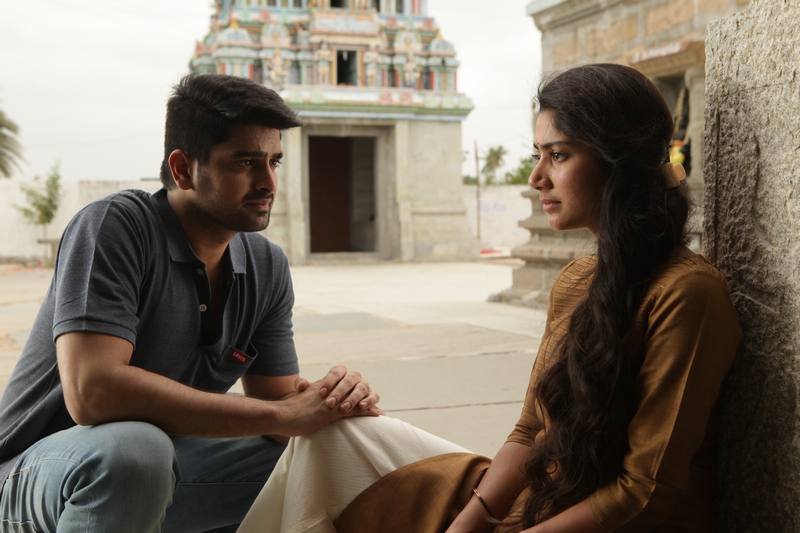 The latest movie on this list, 'Kanam' has Sai Pallavi and Naga Shourya sporting rather serious, intense roles which is a straight departure from their previous projects. Krishna and Tulasi, who were neck-deep in love during their college days have married each other after a hiatus of five years. The non-linear narrative reveals that Tulasi was pregnant five years ago with Krishna's child and had they not aborted the child, their kid would've been five years old today. Unable to let go of her trauma, Tulasi starts seeing the spirit of a 5-year-old girl Diya, whose introduction to their lives has started causing inexplicable deaths and who, according to Tulasi, is real. What happens next forms the whole gripping narrative one should be seeing rather than being told.
4. Gruham ("House", 2017)
"Terrifying" is the word which describes 'Gruham' the best. Krish and Lakshmi, a happy newly-wed couple have moved into a new apartment near the foothills of the Himalayas. Their neighbours, Paul and his family have moved in recently and both the families gel well until Paul's daughter is seemingly possessed by an evil spirit and needs the help of an exorcist. The moments of horror come to you like a shock and the edge-of-the-seat thrill is beyond captivating.
3. Anando Brahma ("God is Bliss", 2017)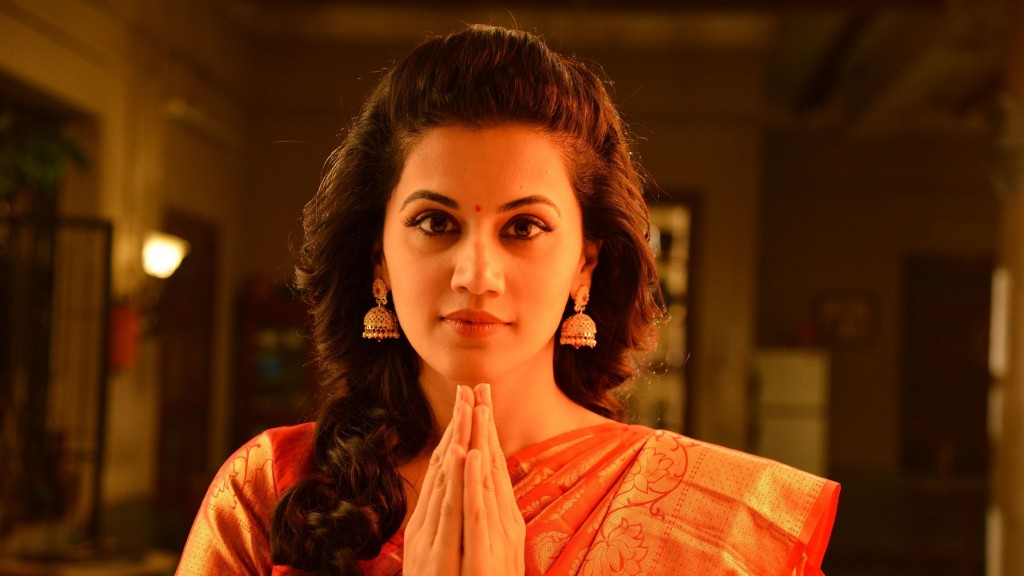 An NRI Ramu, who's looking out to sell his ancestral house is made to believe that the house has been haunted, which is why the quoted price in lieu of it is paltry. He then hires a bunch of four misfits – Sidhu, Babu, Raju, and Shankar, wherein each one of them has a peculiar problem – a heart disorder, a deaf and night-blind, a drunkard and a multifaceted chap who turns into a different celebrity every day, and they have to spend some time in the house to ascertain the sanctity of it. Tapsee's on-screen presence as one of the ghosts makes the movie even the more enchanting. Do they succeed in finding about the ghosts? Do they get to the bottom of the paranormal activity in the house? Well, there's only one way to find out.
2. Bhaagamathie (2018)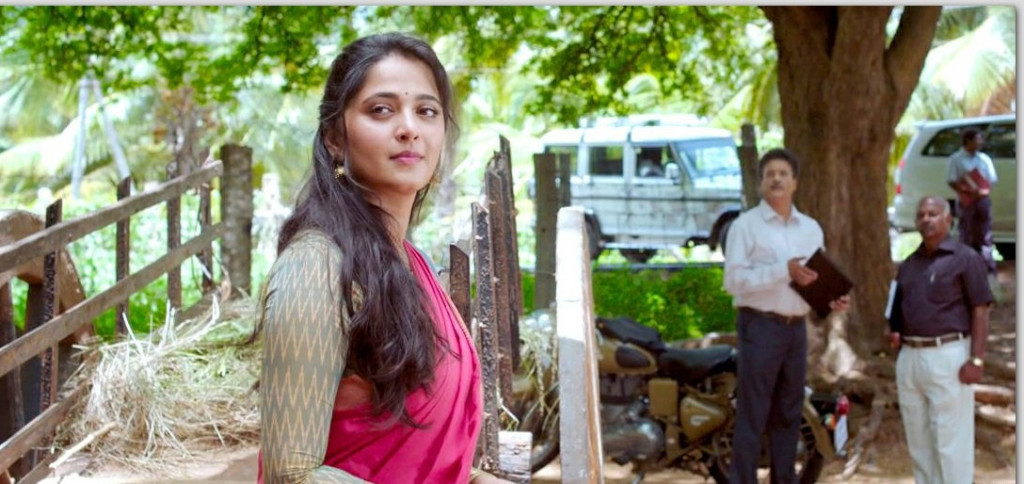 Anushka Shetty's only solo movie which is in the million dollar club in the US box office, as well as the only Telugu horror movie to gross more than US$ 8 million in overall revenues worldwide, 'Bhaagamathie' reaffirms the popularity of Anushka as a seasoned actress yet again. 'Bhaagamathie' revolves around a bungalow of the same name wherein Chanchala, an IPS officer who was on a sentence has been lodged for interrogation. As she goes on to explore the various facets of the bungalow and its previous occupant Queen Bhaagamathie, murkier details come to the fore and she succeeds in unearthing a scam worth hundreds of crores which she purportedly was a part of. The scale and the production design are mesmerising and 'Bhaagamathie' is a visual treat similar to the likes of 'Baahubali'. The grandeur and the thrill, along with a concealed identity of whether Anushka Shetty plays Chanchala or Bhaagamathie is something that cannot be missed.
1. Arundhati (2009)
A movie that catapulted Anushka to fame, 'Arundhati' is the signature movie of her career which garnered rave reviews and was a huge critical and commercial success. Belonging to the fantasy-horror genre, the present day Arundhati realises that she's the exact replica of her great great grandmother Jejjamma of the Raja of Gadwal. After digging in further, she discovers the truth around Jejjamma's rivalry with Pasupathi – a womanizer, rapist and murderer, whose evil spirit lurks to this day and can only be killed by a girl of jejjamma's own race and physical attributes using a dagger made out of her skeletal remains. The rest of the story follows the confrontations between Arundhati and Pasupathi. A recipient of 10 Nandi Awards, 2 Filmfare Awards, and numerous accolades across various departments, 'Arundhati' wins you all over with its CGI, performances, and production design.
Read More: Telugu Thriller Movies