There are many meat-lovers across the world who've turned vegan and embraced it as a way of life, and cinema and documentaries have always looked to delve deeper into the reasons behind people choosing to adopt this new way of life. Real footages and actual camera clips play a huge role in inspiring people to follow an animal-friendly, cruelty-free life, ruled only by a plant-based diet. With all that said now, here's the list of really good vegetarian documentaries on Netflix that are available to stream right now.
5. Live and Let Live (2013)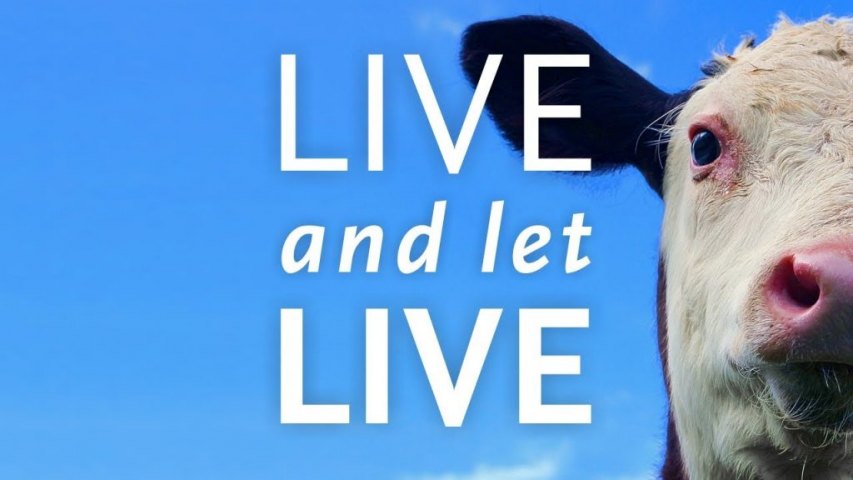 'Live and Let Live' is a documentary film that explores the relationship between man and animals, the history of veganism, and why people should go vegan. Some of the major reasons why people are becoming more and more aware of ditching animals and animal-based food products are food scandals, climatic changes, lifestyle-related diseases, and ethical concerns. The film features six individuals, including butchers, vegan chefs, factory farmers, and sanctuary owners who decide to stop consuming animal products for different reasons. The documentary shows how this change positively impacted their lives.
Here are some of the stories: Jan and Karin alters a dairy farm and converts it into a retirement home, which would be a haven for old, abandoned, and rescued animals such as cows, horses, pigs, chickens, and others. Activists Ria and Hendrik rescue chickens from factories and give them a safe sanctuary. Chef Aaron, who had a restaurant that served veal and foie gras, has a change of heart, became vegan, and started an all-vegan Italian restaurant. Professional, Olympic cyclist Jack discovers that he performed better on a plant-based diet.
The film also features philosophers like Peter Singer, Tom Regan, Gary Francione and scientists T. Colin Campbell and Jonathan Balcombe, along with several others who discuss the ethical, health and environmental benefits of veganism. 'Live and Let Live' traces the roots of veganism to 1944 in London and then shows how it has evolved to become one of the most embraced lifestyle changes. You can watch it here.
4. Cowspiracy (2014)
'Cowspiracy: The Sustainability Secret', released in 2014, is another documentary film which sheds light on the effects of animal agriculture on the environment and tries to explore the validity of government policies that handle this issue. Some of the environmental hazards featured here are global warming, water use, deforestation, and ocean dead zones. And behind each of these events, animal agriculture might be a key contributor. According to the film, the majority of greenhouse gases are produced by animal agriculture as compared to fossil fuel emissions. You can watch it here.
3. Rotten (2018)
'Rotten', an American docu-series, comes from producers Zero Point Zero. It mainly focuses on the loopholes in the food supply chain. Each episode of this 6-part series has a runtime of 1 hour and mainly revolves around a particular food product. The show features manufacturers, distributors, and others involved in the process and tries to highlight criminal case, if any, that had been raised against these individuals. You can watch it here.
2. Forks Over Knives (2011)
'Forks Over Knives' is a documentary film that advises viewers to follow a low-fat, whole-food, plant-based diet. According to the creators, this is the only way to prevent or reverse several chronic diseases. The film also advocates that people should avoid processed food and oils at all costs. Overall, the movie promotes adopting only whole, unrefined or minimally refined plant-based foods. Examples of such food products are whole grains, legumes, tubers, vegetables, and fruits. And foods which are excluded from this list are animal-based protein and highly refined foods such as refined sugars and bleached flours.
As per American physician, Caldwell Esselstyn and professor of nutritional biochemistry, T. Colin Campbell, who are featured on the show, this lifestyle can prevent many illnesses like obesity, cardiovascular diseases, and cancer. 'Forks over Knives' also claims that the Western diet, which mainly comprises processed and animal-based foods, is responsible for many of our health problems.
Read More: Best Paranormal Documentaries on Netflix
1. In Defense of Food (2015)
'In Defense of Food' is a documentary which tries to answer the question — 'What should I eat to be healthy?' This show is adapted from Michael Pollan's best-selling book, 'In Defense of Food: An Eater's Manifesto'. The program focuses on the relationship between nutrition and the Western diet. Its main tagline is, "Eat food. Not too much. Mostly plants."
According to Pollan, people should try to follow what their ancestors practiced as their diet. He also adds that Americans do not eat real food but actually depend on "imitations of food" for their nutrition. The program advocates that people should stop focusing on nutrients in their food and should follow buying locally, rather than relying on readymade products. However, all the claims in the book, as well as the show, are not accepted by everyone. For example, a professor from the University of Wisconsin, Madison wrote that Pollan's writing was, "an individual's biased and disputed view of today's food and agricultural systems." You can watch it here.
Read More: Best Crime Documentaries on Netflix