When you talk about the best young actresses around, Shaliene Woodley's name springs up instantly. Apart from her drop-dead gorgeous looks, and her tingly voice, her acting skills are the reasons for her burgeoning popularity. Starting out as a child artist is never easy. But for Woodley, it was a boon in disguise, eventually being some of her best work. In spite of her limited body if work, its top-notch quality reflects her ineffable acting skills. Predominantly featuring in emotional roles, her career has taken pleasant discourses, also touching upon genres such as action and drama. Most of the movies with Shailene Woodley have been coming of age or teenage dramas, but with her recent performance in Jean Marc-Valle's terrific TV mini-series 'Big Little Lies' she showed her acting range. Here's the list of top 10 Shailene Woodley movies and TV Shows.
10. Felicity: An American Girl Adventure (2005)
She looks almost unrecognizable, doesn't she? One of her very first roles in the industry came in the form of the biographical adaptation of Felicity Merriman's early onset into the American Revolution on TV. In a series of stories, Woodley portrayed the brave and inquisitive jewel of Valerie Tripp's famous children books early days. Woodley's melting innocence and intrepid rebellion against the societal norms that girls have to conform to were both inspiring and staunch in essence. The character itself is a role model for young girls across America. In today's testing times its importance, an Woodley's association with it is priceless.
9. Final Approach (2007)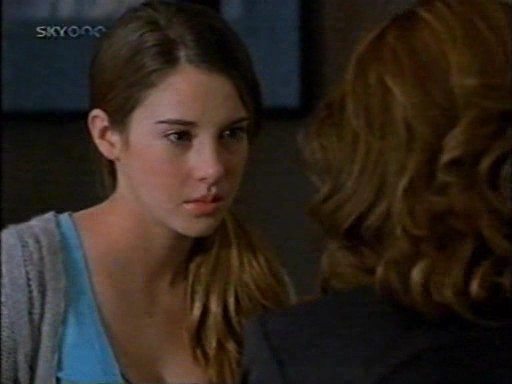 I made a promise to myself before starting writing this article: not to fanboy all over it. The threshold of the same is being tested to its limit. Another teenage role, and another example of her abundant talent. Playing the daughter of a rogue and depressed "man with talents", Woodley was spot on in picking up the character's fear and distance from her father. The film revolves around a hostage situation on an airplane, which requires the former's divine intervention. The biggest hurdle for her was the non-availability of surroundings to work with, which she thrives on. In spite of all the restrains, Woodley did a superlative job in her limited screen time.
8. Divergent (2014)
Woodley showed her versatility and mass appeal with the titular role in the film adaption of the very popular Divergent novels. Her able shoulders were trusted with carrying a film with immense potential for a franchise, something which she achieved with effortless ease. She assumed the character of Beatrice Prior, a simpleton girl, set to follow in the footpath of her illustrious father. At the choosing of the faction, however, she gets divergent, literally, and ends up choosing something completely else. The film was a good effort on in its entirety, providing wholesome entertainment and commanding a great fan following. Woodley came in for special praise, also making head turns for her well-coordinated action sequences.
7. The Secret Life of The American Teenager (2008-13)
The show on the whole wasn't received well. Critics were skeptical of its success, due to its cliched story-line and more focus on style than substance. But the show stuck a chord with the youth, especially the teenage girls, who connected like a strong wi-fi signal with Shailene's character. Amy Juergens, a sensitive, intelligent, kind and loving girl in high school faces the problems every teenager faces: life. The TV show encompasses her evolution from a pimple-clad, insecure, and frustrated teenager to a mature, self-assured and self-reliant adult. The movie deals with the day-to-day problems that girls go through puberty and adolescence. Watch it for the emotions, not the logic.
6. Big Little Lies (2017)
I sometimes mistake Jean-Marc Valle for a poet. A romantic hopeless, with a peculiar penchant for orchestrating ballads of mellifluous tunes in his movies, Valle is a genius. His newest attempt made all the big headlines, at-least in the TV world. 'Big Little Lies' had a strong opening, gradually increasing its numbers to a very respectable amount. The story is narrated through a series of flashbacks and interspersed interrogations between the police and expected witnesses. It revolves around a mysterious murder that has taken place, and in the flashbacks, involves the main characters, which includes that of Woodley. Playing a single mother, the darkest secrets buried in the deepest trenches emerge with an unrealistic and majestic moonlight. Impressive work sir!
Read More: Gerard Butler Movies