'Big Brother 10' was the tenth iteration of the reality TV series 'Big Brother' that premiered on CBS in July 2008 and ran for ten weeks until its live finale in September. The format lets viewers get to know the cast members personally and understand their motives and desires. The 1oth season of the show featured a cast that captured the public's attention. After over a decade since their appearance on the show, fans are curious about what these cast members are currently up to, and we have the answers for them!
Where is Dan Gheesling Now?
Daniel Robert Gheesling is a well-known reality TV personality, YouTube personality, and Twitch streamer. He is widely regarded as one of the most outstanding contestants in the show's history due to his impressive gameplay and strategic moves. Gheesling was born on September 1, 1983, and attended Divine Child High School before earning a Bachelor's degree in business and a Master's in kinesiology from Michigan State University. He tied the knot in Orchard Lake, Michigan, on July 2, 2011, and has been blessed with three beautiful children with his wife.
Gheesling creates content on various topics, including gaming, fitness, and personal development. He has also authored two books, 'How to Get on Reality TV: The Ultimate Guide' and 'Clean Slate: A Cookbook and Guide,' which have received positive reviews from readers. With his impressive achievements and growing fanbase, the 'Big Brother 10' winner continues to inspire and entertain people worldwide.
Where is Robert "Memphis" Garrett Now?
I'm clearly diggin' the food, drink and vibe of No Man's Land in Fort Lauderdale with owner @MemphisGarrett – catch #tasteofthetown tonight @CBSMiami at 5:30! pic.twitter.com/yMSYuEFSgp

— Lisa Petrillo (@LisaPetrillo) December 17, 2021
Robert "Memphis" Garrett, the runner-up in the tenth season of 'Big Brother,' has remained active personally and professionally since his time on the show. He was invited back as an all-star player for season 22 and was rumored to be the oldest player to date. Recently, Robert tied the knot with Christmas Abbott, another television personality. He has been pursuing his passion for food and drink, managing a range of restaurants, including The Poké House, Blue Wave Sushi, No Man's Land, and Ya Mas Taverna. In addition, Robert is the CEO and founder of Garrett Hospitality Group, a curated group of restaurants.
Where is Keesha Smith

Now?
Keesha Smith, who left the 'Big Brother' house a week before the season finale, is currently enjoying her time with her family. Although she was brought back for the all-star season 22, she didn't last very long and was evicted in the first week. Since then, Keesha has shifted her focus to her family, including her two sons and three dogs. Earlier this year, she went through a tough family loss and has since decided to keep a low profile on social media to spend more time with her loved ones.
Where is Lorenza "Renny" Martyn

Now?
Lorenza "Renny" Martyn is a multi-talented woman who came into the 'Big Brother' game at 53, making her one of the oldest contestants at the time. Despite her age, she held her own and made it to the top five, showing her tenacity and wit. Before her time on the show, Renny owned a beauty salon and still dabbles in hair styling. However, she has expanded her career horizons and is currently a Real Estate Specialist working for Latter & Blum Companies. Renny has been in the real estate industry for over five years and is successful in her field.
In addition to her real estate work, Renny is an entertainer and storyteller, utilizing her wit and humor to engage audiences. She founded Renny LLC, which allows her to pursue her passions for entertaining and connecting with others. Despite her busy professional life, Renny is a dedicated family woman. She prioritizes spending time with her loved ones, including her husband and two daughters. Renny's energy, creativity, and zest for life make her a true inspiration to many.
Where is Bryan Ollie

Now?
Bryan Ollie is a Client Partner at OpenX, a leading digital advertising technology company. He joined the company in November 2022 and is based in Gilbert, Arizona, but works remotely. Aside from his work at OpenX, Bryan is the Founder of Ollie Athletic Training, a fitness and athletic training company he established in January 2017. His passion for fitness and wellness led him to start this business and help others achieve their fitness goals.
Before his current roles, Bryan worked for around five years at Goodway Group, a digital advertising agency. He was Senior Director, Client Experience and was responsible for leading a team of account managers and ensuring that clients received exceptional service. Bryan has a diverse background in digital advertising, sales, and fitness. Besides work, he is a loving father and husband who loves spending time with his family.
Where is Michelle Costa

Now?
In addition to her successful radio career, Michelle Costa has ventured into the world of podcasting and has her own podcast called 'Hello Friends with Michelle Costa.' She uses this platform to interview guests and discuss reality TV, personal growth, and pop culture. Michelle has remained active on social media and has a solid following on platforms like Twitter and Instagram. Her fans love her for her lively personality, sense of humor, and relatable content. Michelle's success and versatility demonstrate her ability to excel in various fields and connect with people from different walks of life.
Where is April Dowling

Now?
April Dowling is an accomplished professional who has worked in various roles in her career. She began her journey as a Financial Manager at Earnhardt Auto Centers, where she worked for four years, from 2004 to 2008. She then became an Account Executive at POST Magazine, where she currently works.
April is a mother of two beautiful boys and has been a devoted parent, balancing her work and family life with ease. Her experience as a Financial Manager and Account Executive has helped her develop skills in managing budgets and working in a team environment. April is known for her caring and nurturing personality outside her professional life. The 'Big Boss 10' star enjoys spending quality time with her family and engaging in hiking, camping, and traveling activities.
Where is Jessie Godderz

Now?
Jessie Godderz, also known as Mr. PEC-Tacular, is an American actor and professional wrestler. He is currently competing for Ohio Valley Wrestling (OVW) and holds the OVW National Heavyweight Championship, OVW Television Championship, and OVW Southern Tag Team Championship. Godderz is also known for his time in Total Nonstop Action Wrestling (TNA), where he was a two-time TNA World Tag Team Champion as a part of The BroMans with Robbie E.
Godderz has made several appearances on the reality TV show 'Big Brother,' starting from season 10. He has made surprise visits, provided fitness advice, and hosted competitions. In 'Celebrity Big Brother,' he appeared during the dance number of the premiere episode as former houseguest Paul sang his introduction. In April 2019, Godderz won the OVW Television Championship but lost it two days later to Drew Hernandez. In September 2020, Godderz won the first OVW National Heavyweight Championship; in April 2021, he won the OVW Tag Team Championships with Tony Gunn. He is also a host for the upcoming TV series 'Whacked Out,' which is set to be released in 2023.
Where is Jerry MacDonald Now?
Jerry, a retired marketing executive, made a remarkable mark in the history of reality TV by becoming one of the oldest contestants to participate in the 'Big Brother' house, taking on the challenge at 75. Despite not being active on social media platforms, it is evident that he is alive and well. In 2018, on the 10-year anniversary of the season in which he competed, Jerry reunited with Dan, as well as the other members of the cast, in a special gathering featured on his YouTube channel.
Talked to Jerry today!

When I called him he was digging a 50ft long trench for his condo association to save everyone money…he is 87 years old.

He sent me this photo to share & said to tell CBS he is ready to play again and is in great shape. #BB22 pic.twitter.com/82xJqnW6T1

— Dan Gheesling (@DanGheesling) August 5, 2020
This reunion served as a nostalgic reminder of the memorable moments and bonds formed during their time on the show. Recently, in March 2023, Dan shared that Jerry celebrated his 90th birthday and wants to compete again in the future seasons of 'Big Brother.' The season 10 alum is in great shape and is a true example of the phrase "age no limits."
Where is Libra Thompson Now?
Libra Thompson, M.Ed., is an experienced Educator currently working as a full-time teacher in the Conroe Independent School District in Conroe, Texas. She has expertise in teaching diverse student populations, including English Language Learners (ELL) and students with special education needs (SPED). Before her teaching career, she worked as a Wine Sales Representative at Southern Glazer's Wine & Spirits in Houston, Texas.
In this role, Libra gained experience in sales and marketing within the wine industry. In her personal life, she is married to Scott Thompson, and they have two children named Halle and Cullen. Libra's dedication to education, coupled with her commitment to her family, showcases her well-rounded approach to life and her passion for both professional and personal growth.
Where is Angie Swindell Now?
Angie Swindell is an accomplished professional serving as an Account Executive at CCS Medical, a healthcare company. With a background rooted in education from the University of Florida, she brings a strong foundation to her role. Based in Ormond Beach, Florida, Angie maintains a low profile in her personal life and does not engage in social media platforms.
As an Account Executive, Angie likely plays a vital role in developing and maintaining relationships with clients, ensuring their healthcare needs are met. Her professional expertise and commitment to providing excellent service contribute to her success in the field. While Angie's personal life remains private, her focus on her professional responsibilities demonstrates her dedication to her career and the well-being of the clients she serves.
Where is Steven Daigle Now?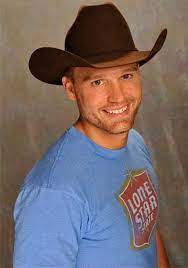 Steven Daigle is a well-known adult film actor who has appeared in numerous adult films throughout his career. Known for his performances in the adult entertainment industry, he has garnered a following of fans who appreciate his work in this genre. Steven is indeed known for his appearances in adult films, including titles like 'Steven Daigle Mega-Stud' and 'French Connection.'
Additionally, the 'Big Brother' star has made guest appearances in mainstream media, such as the TV series 'The Men' and the film 'Eating Out: Drama Camp' in which he portrayed the character Conor. Steven was involved in a legal incident in 2010 following an altercation with his ex-boyfriend, who is also known in the adult film industry.
Where is Brian Hart Now?
Brian Hart, a talented actor, was born in Smithtown, Long Island, New York. He has made notable appearances in films such as 'The Right Connections,' 'The Santa Con,' and the television series 'Hollywood Medium.' Brian Hart is a dynamic professional with a passion for technology and operations mastery. Currently serving as the Operations Director at Wonder, he brings a wealth of expertise in growth and scaling strategies.
Brian's educational background includes studying at Northwestern University's Kellogg School of Management, where he honed his business acumen. Beyond his on-screen achievements, Brian has found happiness in his personal life. On September 26, 2015, he entered into a blissful marriage with Giovanna Augello. Together, they have embraced the joys of parenthood and are proud parents to two wonderful children. Brian's commitment to his craft and his family reflects his dedication to both his career and his loved ones.
Read More: Big Brother Season 9: Where Are They Now?