Premiering on June 26, 2013, Season 15 of the popular reality TV series 'Big Brother' saw 16 contestants enter the 'Big Brother' house, competing for a chance to win a grand prize of $500,000. The season aired on CBS, with Julie Chen returning as host. Throughout the 90-day competition, the houseguests faced challenges and evictions as they vied for power and alliances in the house. 'Big Brother 15' was a season filled with drama, twists, and strategic gameplay, making it a memorable installment of the popular reality series. So, if you are curious to know where your favorite contestants are nowadays, we've got you covered.
Where is Andy Herren Now?
Andy Herren, a former contestant and winner of 'Big Brother 15,' has transitioned into entrepreneurship as the proprietor of his own business, Andy Herren: D-List Celebrity Dog Walker. Hailing from Aurora, Illinois, he resides in the vibrant city of Chicago. Andy pursued his academic journey at the University of Illinois Urbana-Champaign, where he focused on Communication studies.
Beyond his professional pursuits, Andy Herren is openly gay and currently embraces his single status. His experiences on 'Big Brother,' combined with his charismatic personality, have granted him a place in the public eye. Combining his love for animals and recognition as a D-list celebrity, he offers specialized dog walking services for the Chicago community.
Where is GinaMarie Zimmerman Now?
GinaMarie Zimmerman, a Staten Islander, is known for participating in 'Big Brother 15.' She has ventured into entrepreneurship as the owner of Party Pup. Following her time on the show, GinaMarie has established her business in New York City, New York. Her commitment to privacy prevents her current relationship status, but she did share the heartbreaking news of her boyfriend, Angelo's demise in May 2021.
For once I'm a lost for words. My boyfriend Angelo has passed away. He was a such a smart amazing person, who loved his family , Zeus and I. He worked so hard though out law schools and achieving his goals. You are now my true angel. We love you pic.twitter.com/ewwxmbTBRO

— GinaMarie Zimmerman (@GinaMarieZ) May 19, 2021
GinaMarie's pursuit of education led her to study at The New York Conservatory for Dramatic Arts, honing her skills in the field. While her journey on 'Big Brother' brought her into the public eye, she prioritizes her personal life and professional endeavors. Following her appearance on 'Big Brother 15,' GinaMarie faced professional repercussions. Per reports, she got into hot waters due to her use of racial slurs during the show; she was dismissed from her position at East Coast USA Pageant.
Where is Spencer Clawson Now?
During his time as a contestant on 'Big Brother,' Spencer Clawson, a Railroad Conductor from Arkansas, garnered attention for making offensive remarks observed on the 24-hour live feeds on CBS.com. His comments included homophobic slurs, admiration for Hitler's oratory skills, and the use of derogatory language. The repercussions extended beyond the show, as Clawson's employer, Union Pacific Railroad, released a statement disassociating themselves from his offensive remarks.
The company clarified that the 'Big Brother' contestant's views did not reflect his or his employees' values. His controversial statements ignited a public outcry and sparked conversations about the impact of offensive language and the responsibility of individuals in the public eye. Besides, Clawson's remarks highlighted the importance of promoting tolerance, respect, and inclusivity in personal and professional settings. That said, he is very private in his personal life and prefers to stay away from the public eye.
Where is McCrae Olson Now?
McCrae Olson, known for his appearance on 'Big Brother,' is now working professionally as the Chief Marketing Officer at 36 Lyn Refuel Station. Currently based in Minneapolis, Minnesota, he is fully dedicated to his position at the company. McCrae's educational background includes attending Kellogg Executive Education, where he pursued Marketing/Marketing Management, General studies.
McCrae also holds a Bachelor of Arts in Film/Video and Photographic Arts from Hennepin Technical College, which he obtained between September 2008 and June 2010. As for his personal life, it is worth mentioning that the former reality TV star is currently single. While McCrae's time on 'Big Brother' introduced him to the public eye, he now focuses on his professional endeavors, leveraging his marketing expertise in his job.
Where is Judd Daugherty Now?
Judd Daugherty has pursued a career in the consumer electronics industry. Based in Englewood, Tennessee, he is a Sales Manager, utilizing his expertise to drive business growth. Before his current role, Judd spent over a decade working as a Sales Manager at D&M Used Cars in Etowah, Tennessee, from September 2004 to August 2015. Demonstrating his versatility, he worked as a Bull Operator at Saddle Ranch Chop House from 2014 to 2015.
While Judd's time on 'Big Brother' brought him recognition, his focus now remains on his professional pursuits. Presently, he is single, dedicating his time and energy to his career in the consumer electronics field. Judd's diverse experiences contribute to his sales and customer service expertise, allowing him to impact his industry significantly.
Where is Elissa Slater Now?
Elissa Reilly Slater, beloved by fans during her time on 'Big Brother 15,' has transitioned into motherhood and prioritizes her role as a mom to her son, Forester Bruce Elijah, born on September 11, 2022. She is married to her husband, Brent, and their family resides in Charlotte, North Carolina. Beyond her reality TV fame, Elissa has established a successful career in fitness and nutrition. She is a Fitness and Nutrition Specialisandas a Coach specializing in the Drop Method.
As the owner of Advance To Wellness, Elissa helps individuals achieve their weight loss and wellness goals through her app and coaching services. She holds a Bachelor of Science in Sports Management from PennWest California, where she graduated Summa Cum Laude and received several academic honors. With her fitness, nutrition, and coaching expertise, Elissa inspires and empowers others on their wellness journeys.
Where is Amanda Zuckerman Now?
Amanda Zuckerman is an accomplished entrepreneur and businesswoman, currently the Co-Founder, President, and Chief Brand Officer at Dormify, a leading company specializing in dorm room decor and essentials. Based in New York City, she plays a pivotal role in driving the success and growth of the brand. Amanda's professional journey began with her co-founding Dormify in 2009, where she served as the Chief Brand Officer for over a decade.
From May 2021 to December 2022, Amanda took on the additional responsibility of CEO before transitioning to her current position as President. Outside of her thriving career, she is happily married to Mike Zachman, and together, they have three children named Fordy, Madison, and Vander. Through her entrepreneurial expertise and dedication to Dormify, Amanda Zuckerman continues to make significant strides in the business world while balancing her role as a mother.
Where is Aaryn Gries Now?
Aaryn Elizabeth Williams (formerly Aaryn Gries) is a reality television personality, YouTuber, and business owner from San Marcos, Texas. She gained prominence as a contestant on the reality TV show 'Big Brother 15,' but her time on the show was marred by controversy. Aaryn faced severe backlash and public condemnation for her racist and homophobic comments, which were widely criticized by viewers of the show's live feeds and the host, Julie Chen.
Aaryn has now diversified her career and is currently involved in various ventures. Shownsof Gries Ranch and serves as the CEO of Sugarberry, demonstrating her entrepreneurial spirit. Additionally, Aaryn is the creator of "Aaryn and Nick Uncut," showcasing her creative endeavors. With a background in education, she attended Douglas County High School in Castle Rock, Colorado. Aaryn further pursued her studies at Texas State University, expanding her knowledge and skills. She resides in Boerne, Texas, where she spends her days with her husband, Nick, and their four children.
Where is Helen Kim Now?
Helen Kim is an accomplished professional working as a Senior Recruiter at Coinbase, a leading cryptocurrency exchange based in San Francisco, California. With her expertise in talent acquisition, Helen plays a crucial role in identifying and attracting top talent to support Coinbase's growth and success.
Before Coinbase, Helen gained valuable experience in the recruitment field at Uber. During her time there, she served as a Senior Recruiter, contributing to the company's talent acquisition efforts in San Francisco, California. Helen's career journey also includes previous experience as a Recruiter, where she honed her skills and built a strong foundation in identifying and securing qualified candidates. She is married to Michael Fitzpatrick, and the pair has four beautiful children.
Where is Jessie Kowalski Now?
Jessie Kowalski is an experienced professional who has held roles as an Executive Assistant. Recently, she worked as an Executive Assistant to the Chief Executive Officer at EasyPost in the Austin Metropolitan Area. Jessie demonstrated her exceptional organizational skills in this position s by coordinating complex calendar management, arranging detailed travel plans, conducting research projects, and providing administrative support to other executives.
Jessie also collaborated with the events team to organize company events and maintained project files. Before EasyPost, she served as an Executive Assistant to a Partner at Legacy Star Capital Partners on a contractual basis. Outside of her professional life, Jessie is engaged to Benjamin Henderson, embarking on an exciting personal journey alongside her career accomplishments.
Where is Nick Uhas Now?
Nick Uhas is a versatile American TV host, former professional aggressive inline skater, actor, and YouTuber. He gained prominence by participating in CBS's 'Big Brother 15' and later ventured into hosting and producing content for various platforms. Uhas has worked as a producer and host for The Weather Channel, DreamWorksTV, and Fox's popular Saturday-morning TV show FabLab, where he showcases his expertise and creativity.
Uhas is widely recognized as the creator of Nickipedia, a brand where he shares captivating content on his YouTube channel and national broadcast TV programs. He attended Miami University, briefly interrupting his studies to pursue a career in aggressive inline skating in San Diego. His impressive skills led to him becoming a professional skater, representing renowned sponsors like Team Rollerblade USA and Razor Skate Co.
In 2015, Uhas gained international attention when he appeared on the Australian news show The Today Show, performing popular science experiments from his YouTube channel. He later demonstrated more experiments on NBC's Today Show. Additionally, Uhas has contributed to 'The Dr. Oz Show,' presenting science-demo segments. Currently, Uhas hosts the nationally syndicated science-based Fox Saturday morning TV show, 'FabLab.' He also hosted the Netflix series 'Blown Away,' a thrilling competition featuring glassblowers that premiered in July 2019. He is dating Jeanann Grubbs, founder of a new marketing and production agency, Hour One, LLC.
Where Is Candice Stewart Now?
Candice Dontrelle Stewart is a prominent television personality and beauty pageant titleholder hailing from Metairie, Louisiana. She gained recognition by competing in the Miss Teen USA and Miss USA pageants, showcasing her talent and poise on the national stage. Candice's notable television appearance came when she joined the 15th season of the popular reality show, Big Brother, captivating audiences with her strong presence.
During her time in the Big Brother house, Stewart faced unfortunate incidents of racism from fellow HouseGuests, Aaryn Williams and GinaMarie Zimmerman, which drew widespread attention and sparked conversations about race and equality. Despite facing adversity, Candice remained resilient and became the first 'Big Brother' jury house member that season, leaving a lasting impact on the show's viewers. She also starred in 'Words, Wine and Women' and 'Sum 41 Don't Try This at Home.'
Before her television ventures, Candice pursued higher education, obtaining a bachelor's degree in speech-language pathology and audiology from Xavier University of Louisiana in 2006. Prior to that, she showcased her passion for cheerleading as a member of the renowned New Orleans Saints cheerleading team. Currently, Candice's relationship status is undisclosed, and she appears to be focusing on her personal journey and career.
Where Is Howard Overby Now?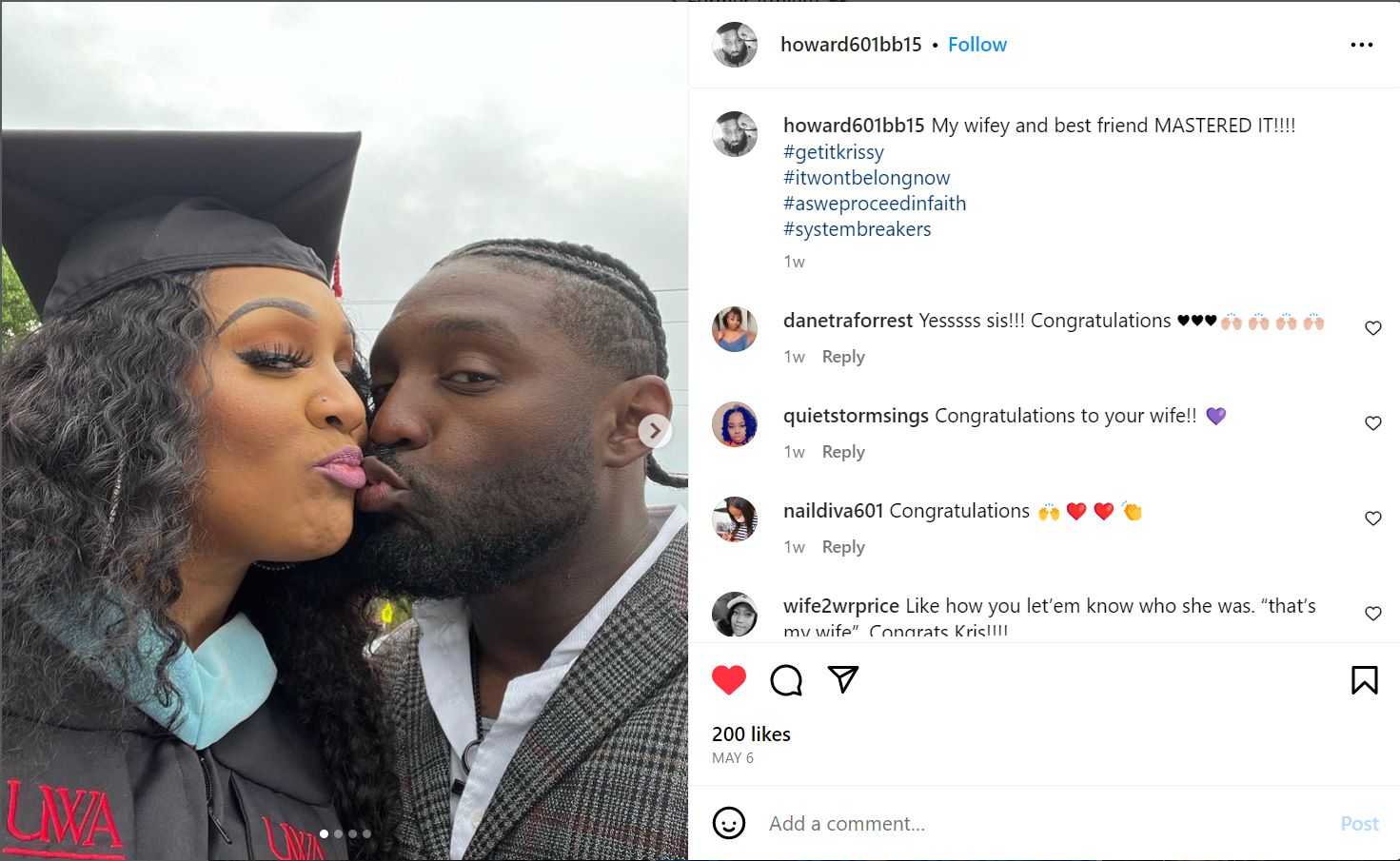 Howard Overby, a distinguished motivational speaker, actor, and public figure, has made a significant impact in his various professional endeavors. As a self-employed individual, Howard has dedicated himself to inspiring and empowering others through his motivational speaking engagements. Having attended The University of Southern Mississippi, located in Hattiesburg, Mississippi, Howard acquired a strong educational foundation that has undoubtedly contributed to his success.
In addition to his motivational speaking career, Howard has also ventured into the entertainment industry. He has showcased his acting skills on the popular television show, 'Bold and Beautiful,' produced by CBS Television Distribution. With his versatility as a minister/counselor, personal trainer, coach, and former athlete, Howard has displayed his passion for helping others thrive in various aspects of their lives. On the personal front, Howard is in a relationship with a woman named Krista. While he has garnered attention for his professional achievements, Howard keeps his personal life private, focusing on his own growth and the positive impact he can make on others.
Where Is Kaitlin Barnaby Now?
Kaitlin Barnaby, originally hailing from Minneapolis, Minnesota, embarked on her journey as a bartender before joining the show. While her professional life remains somewhat undisclosed, it is worth noting that Kaitlin engaged in a fitness photoshoot with Stark Naked, showcasing her dedication to maintaining a healthy and active lifestyle.
Beyond her professional endeavors, Kaitlin is a devoted mother to three children and cherishes her loving relationship with her husband. Although she has chosen to keep their identities private, her commitment to her family is evident.
Where Is Jeremy McGuire Now?
Jeremy McGuire, a 23-year-old boat shop associate from Katy, Texas, gained some recognition through his appearance in the movie 'Sex Drive.' While Jeremy has not divulged many details about his personal life, he maintains a level of privacy regarding his background and interests.
Although his public presence may be limited, Jeremy's work as a boat shop associate showcases his expertise in the industry. His involvement in the film 'Sex Drive' highlights his foray into the entertainment world and offers a glimpse into his potential aspirations. While Jeremy's personal life remains undisclosed, his focus on his career and passion for boats suggests he is a dedicated and driven individual
Where Is David Girton Now?
David Girton is a lifeguard and surfer hailing from San Diego, California. While he has not openly shared many details about his personal life, his dedication to his profession as a lifeguard and his love for surfing speak volumes about his adventurous spirit and passion for the ocean. He also starred in 'Naked and Afraid of Love.'
As a lifeguard, David plays a vital role in ensuring the safety of beachgoers and helping prevent potential accidents in the water. His skill and expertise in surfing further demonstrate his deep connection with the waves and his commitment to mastering his craft. Although David keeps his personal life private, his choice to pursue a career as a lifeguard and surfer indicates his adventurous nature and love for the outdoors.