'Big Brother 21′, the twenty-first season of the iconic reality television series, brings its gripping and immersive drama to the screens again. Adapted from the renowned Netherlands series that made waves in 1999 and 2000, this season premiered on CBS on June 25, 2019, captivating audiences with its unique blend of strategic gameplay and intense social dynamics.
Over ten thrilling weeks, viewers were treated to a rollercoaster of alliances, backstabbing, and unexpected twists, leading to a live finale that kept fans on the edge of their seats until the end. With each houseguest vying for power, trust, and ultimately the coveted title of 'Big Brother,' the twenty-first iteration promises to deliver an unforgettable and electrifying experience. Naturally, fans must be curious to know what the contestants are doing nowadays. If you are one of them, we've got you covered.
Where is Jackson Michie Now?
Thomas Bracco's educational background includes attending Franklin High School and studying Pre-Law/Political Science at the University of Tennessee, Knoxville. Currently, he resides in Franklin, Tennessee, which is his hometown, while originally from Nashville, Tennessee. Thomas is happily engaged to Caitlin Goodrich, and their relationship marks an important milestone in his personal life. Together, they embark on a journey of love and partnership, building a future.
Where is Holly Allen Now?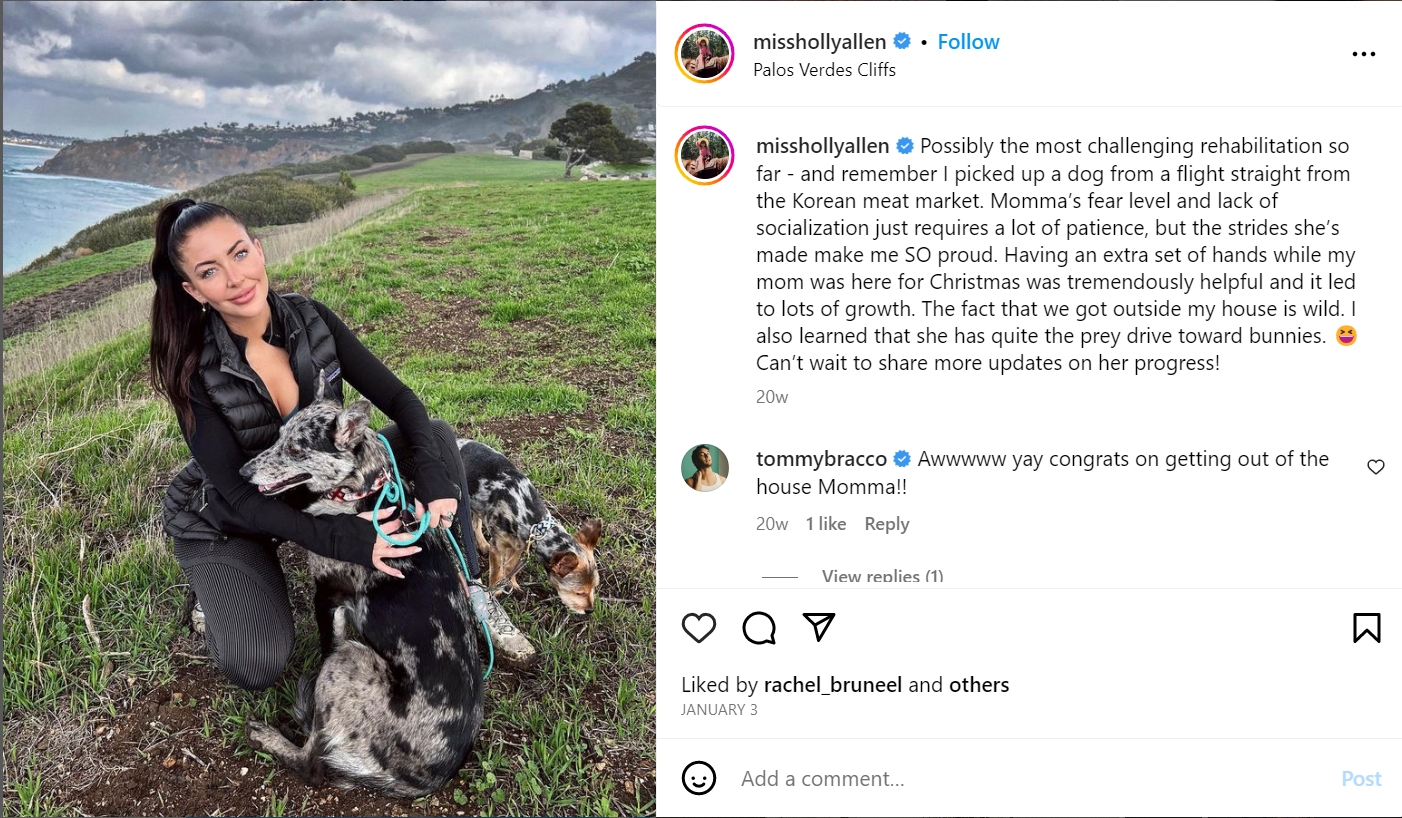 Holly Allen is a multifaceted individual with various passions and interests. She is actively involved in animal rescue, demonstrating her compassion and dedication to helping animals in need. Also, Holly is a sommelier with extensive wine knowledge and expertise. Her love for nature is evident as she describes herself as a "mountain child," indicating a strong connection to the outdoors and the beauty of mountains. While details about her personal life are not explicitly mentioned, it is suggested that Holly is likely single, focusing on her pursuits and adventures in Los Angeles, California.
Where is Nicole Anthony Now?
Nicole Anthony, a dedicated preschool aide from Long Island, New York, has found love and companionship in her engagement to Brian "Lefty" Fontanez. As she continues her meaningful work in supporting young children's education and development, Nicole also cherishes her relationship with Brian. Their engagement signifies a deep commitment and bond, and they embark on a journey of love and partnership. Nicole's passion for nurturing young minds in her profession aligns with the warmth and care she shares with Brian. They create a harmonious connection, enriching each other's lives as they build a future together.
Where is Cliff Hogg III Now?
Cliff Hogg is a professional with expertise in technical sales, application engineering, business development, and marketing. He brings his knowledge and skills to serve various industries such as chemicals, energy, environment, and manufacturing. Cliff obtained his education at Texas A&M University and is based in Houston, Texas. Currently working as a Technical Sales Representative at REO Processing, he plays a vital role in providing valuable solutions to clients. While Cliff excels in his professional endeavors, he has chosen to keep details about his personal life private.
Where is Tommy Bracco Now?
Thomas Bracco is a multi-talented American actor, reality television star, and Broadway performer. He gained recognition for his role as Spot Conlon in the Broadway musical 'Newsies,' where he showcased his exceptional talent on stage. Thomas made his acting debut in the film '4th Man Out' and has appeared in TV shows like 'Submissions Only' and 'The Battery's Down.'
Thomas continued exploring reality TV with his appearance on 'The Challenge: Ride or Dies' in 2022, demonstrating his versatility and willingness to take on new challenges. With his diverse talents and experiences, Thomas Bracco continues to captivate audiences on stage and screen. He is in a loving relationship with Joseph Macli, and the two got engaged in May 2023.
Where is Christie Murphy Now?
Christie Murphy, a public figure and boutique owner from Keyport, New Jersey, embraces her role as a mother and a manifestor. She is known for participating as a reality TV luminary on 'Big Brother.' Recently, Christie embarked on a new chapter of her life by tying the knot with Jamie Martin in a romantic ceremony at the beautiful Itzik Wedding Venue in Tulum, Mexico, on April 23. As she continues to grow and evolve, Christie is also training to become a life coach, further empowering and guiding others on their personal journeys.
Where is Jessica Milagros Now?
A fashion model, Jessica Milagros exudes confidence and embraces her identity as a plus-size diva. With a passion for fashion, she embraces her role as a fashionista and expresses her love for beauty. As a selfie queen, Jessica captures moments of her life enthusiastically and creatively. She is also a dreamer, constantly aspiring to achieve her goals and make her mark in the industry. In addition to her modeling career, Jessica is a reality TV personality and YouTube host, sharing her experiences and insights with her audience. She is happily married to Steve James, celebrating the joys of love and partnership in her personal life.
Where is Nicholas "Nick" Maccarone Now?
Nicholas "Nick" Maccarone is a therapist based in Sewell, New Jersey. With a strong background in mental health, Nick is dedicated to helping others navigate their emotional well-being and find healing. While he is passionate about his profession, Nick is a loving partner to his girlfriend, Heather Bonato, and a doting dad to their baby daughter, Juliana.
Where is Analyse Talavera Now?
Analyse Talavera is a skilled professional in social media marketing and brand influencing. She focuses on leveraging social media platforms and helps businesses enhance their online presence and engage with their target audience. Analyse gained her expertise through her education at the University of Nevada, Reno, and has since been actively involved in social media marketing full-time. While Analyse dedicates her time and energy to her professional endeavors, she is currently single, focusing on her career growth and personal development.
Where is Kathryn Dunn Now?
Kathryn Dunn, known as Kat Dunn, is a lively personality who gained recognition through her participation in CBS's reality show, 'Big Brother.' Before her television stint, she was an NBA dancer and beauty queen, showcasing her talents and grace. Kat's intriguing interests extend to extraterrestrial phenomena, as evidenced by her involvement with the Conspire Away Podcast. Currently residing in Dallas, she embraces a great life with her photographer boyfriend, Alex.
Where is Jack Matthews Now?
Jack Matthews is a talented Videographer and Director of Photography hailing from Nashville. With his keen eye for design and a passion for capturing moments, he has also ventured into photography and various creative pursuits. Jack embraces a "Master of None" mindset, allowing himself to explore different interests and skills without limiting himself to a single focus. His versatile nature and dedication to his craft contribute to his success as a visual artist and storyteller. With a relaxed and peace-loving attitude, Jack continues to create and inspire through his work. He is currently enjoying his single life.
Where is Samuel "Sam" Smith Now?
Samuel "Sam" Smith, a dedicated truck driver, resides in Mountain Top, Pennsylvania. As he navigates the roads, Sam plays a crucial role in transporting goods and ensuring their timely delivery. In his personal life, he is happily married to Melissa Smith, sharing a life of love and companionship.
Where is Isabella Wang Now?
Isabella Wang, a Public Health Analyst based in Los Angeles, California, excels in her field by analyzing and addressing various public health issues. While committed to her professional pursuits, Isabella also nurtures a fulfilling personal life. She is currently in a relationship; however, she has chosen to keep the details of her boyfriend private. Respecting her privacy, Isabella focuses on maintaining a healthy work-life balance and cherishing her relationship while continuing to make positive contributions to the field of public health.
Where is Olukemi "Kemi" Fakunle Now?
Kemi Fakunle is a Telecommunications Specialist employed at Keller and Heckman LLP. With a professional background in this field, she brings valuable expertise to her role. She holds a degree from the University of Maryland College Park, showcasing her dedication to her education. While Kemi focuses on her career, she is currently single, allowing her to invest time and energy into her professional growth and personal development. As a driven and independent individual, she utilizes her skills and knowledge to excel in her field. Kemi's commitment to her work and independence underscores her determination to achieve success in her professional endeavors.
Where is Ovi Kabir Now?
Ovi Kabir, a talented individual with Indian roots, hails from Tennessee and New York City. He is the founder of Kabir Creative Agency, a venture that emphasizes his expertise in marketing and creative solutions. Having completed his education at the University of Tennessee, Knoxville, and the United Nations Institute for Training and Research (UNITAR), he has gained valuable knowledge and skills to excel in his professional endeavors. Currently, Ovie serves as the Managing Director of Kabir Creative Agency, leading and directing the agency's operations. On the personal front, he is in a relationship with Hannah Claire Blackwell, sharing a loving connection and building a life together.
Where is David Alexander Now?
Originally from Atlanta, Georgia, David made a memorable but brief appearance on Big Brother Season 21. Following his time on the show, he relocated to Los Angeles, California, where he works as a senior sales representative. Alongside his professional career, David is passionate about photography, particularly in the documentary style. This creative outlet allows him to capture authentic moments and tell compelling stories through his lens. With his dual roles as a sales rep and photographer, David embraces his professional and artistic pursuits in the vibrant city of Los Angeles.
Read More: Big Brother Season 20: Where Are They Now?