'Big Brother 22,' also called 'Big Brother: All-Stars,' is the twenty-second season of the popular reality TV show 'Big Brother.' It premiered on August 5, 2020, and was aired on CBS. This season was unique because it featured a cast of HouseGuests from the earlier seasons, known for their memorable gameplay and personalities. The game was filled with drama, twists, and turns as the houseguests navigated through alliances, backstabbing, and eliminations. So, if you want to know where your favorite contestants from Season 22 are now, we've got you covered.
Where is

Cody Calafiore

Now?
Cody Christopher Calafiore became the runner-up on 'Big Brother 16' in 2014, captivating audiences with his strategic gameplay. He solidified his position as a formidable competitor when he returned and emerged as the winner of 'Big Brother 22: All-Stars' in 2020. Before his television debut, Calafiore worked as an event host at Total Entertainment in Hackensack, New Jersey, and held a sales associate position at ADP in 2015. Following his appearance on Big Brother 16, he signed with Soul Artist Management, a New York-based modeling agency.
As a model, Calafiore has graced the pages of esteemed publications such as Winq Magazine, Men's Fitness, LOVE Magazine, and Risbel Magazine. He has also showcased his modeling talents on fashion runways for acclaimed designers like Malan Breton, Gents, and Ricardo Seco. Beyond television and modeling, Calafiore explored his passion for acting and co-starred in the independent film 'What Happened Last Night' in 2016. He also joined Keller Williams Realty as a representative for Shrewsbury, New Jersey, in October 2019.
In July 2021, Calafiore and fellow 'Big Brother' winner Derrick Levasseur launched the podcast 'The Winner's Circle,' providing insights and commentary on the show's current season. Furthermore, in January 2023, he participated as a contestant on the reality TV series 'The Traitors,' which premiered on the streaming platform Peacock. In his personal life, Calafiore is currently engaged to Cristie Laratta, and they continue to support each other in their respective endeavors.
Where is Vincenzo "Enzo" Palumbo Now?
Vincenzo "Enzo" Palumbo, a charismatic Italian-American from Bayonne, New Jersey, has built a successful career as an Insurance Adjuster. His expertise in navigating the intricacies of the insurance industry allows him to ensure fair and accurate assessments. While Enzo dedicates himself to his professional life, his journey has also significantly shaped his identity.
Enzo was previously married to Joella Kealy, and although the couple has since divorced, they maintain a strong focus on their children's well-being through co-parenting. Enzo and Joella are proud parents to a son named Nico Palumbo and a daughter named Gia Palumbo. Together, they navigate the joys and challenges of raising their children, providing them with a nurturing and supportive environment.
Enzo's commitment to his family extends beyond his role as a father. He cherishes the bond he shares with his children and strives to influence their lives positively. Balancing his career and parenting responsibilities, Enzo embraces the challenges and rewards of fatherhood, continually working to create lasting memories and meaningful connections with his children.
Where is Nicole Franzel Now?
Nicole Ann Franzel-Arroyo, a television personality originally from Ubly, Michigan, has made a name for herself in reality TV. While she began her career as an ER nurse after graduating from college in 2014, her path changed when she appeared on Season 16 of 'Big Brother.'
In addition to her 'Big Brother' journey, Nicole competed on 'The Amazing Race 31' alongside her then-boyfriend, Victor Arroyo. Their relationship blossomed during their time on 'Big Brother 18,' and they became engaged on September 8, 2018, in a special appearance on an episode of 'Big Brother 20.' The couple tied the knot on March 16, 2021, marking a new chapter in their lives.
In January 2021, Nicole shared the exciting news on Twitter that she was expecting her first child with Victor. Their son, Victor "Arrow" Arroyo IV, was born in July of the same year, bringing immense joy to their growing family. Nicole's journey has been filled with memorable moments inside and outside the 'Big Brother' house. She continues to embrace new adventures and milestones alongside her loved ones.
Where is Christmas Abbott Now?
Christmas Abbott is a renowned figure in fitness and personal development, leaving a lasting impact on those she inspires. She has achieved significant success as a nationally bestselling author with her books 'The Badass Body Diet' and 'The Badass Life,' empowering individuals to cultivate positive habits and transform their lives. In addition to her writing, Christmas has had a diverse career. She has worked as a NASCAR pit crew member, showcasing her skills in high-pressure environments. She has also competed in the CrossFit Games and garnered national recognition as a weightlifter, further cementing her dedication to fitness.
Beyond her personal achievements, Christmas travels worldwide, sharing her knowledge and expertise through nutrition seminars, keynote speeches, and workshops. She aims to motivate and guide others on their journey to unlock their full potential. As the owner of CrossFit Invoke, located in Raleigh, North Carolina, she continues to impact the fitness community through her thriving fitness center. On a personal level, Christmas is married to her 'Big Brother' housemate Memphis Garrett, who previously gained recognition for his appearance on 'Big Brother 10.' Together, they navigate life's adventures and inspire others through their shared passions and accomplishments.
Where is Robert "Memphis" Garrett Now?
Robert "Memphis" Garrett, known for his appearance on the tenth season of 'Big Brother,' has made personal and professional strides since his time on the show. He returned as an all-star player for the twenty-second season, solidifying his status as a prominent figure in the 'Big Brother' franchise. Notably, he was rumored to be the oldest player to date in the all-star season. In his personal life, Robert recently married Christmas Abbott, his castmate from season 22. Their union showcases their shared connection and commitment to each other.
Professionally, Robert has pursued his passion for food and drink. He manages various restaurants, including The Poké House, Blue Wave Sushi, No Man's Land, and Ya Mas Taverna. These establishments reflect his dedication to providing exceptional dining experiences. Moreover, Robert serves as the CEO and founder of Garrett Hospitality Group, a curated collection of restaurants that highlights his entrepreneurial skills and vision. Through his various endeavors, he continues to make a mark in the culinary world and solidify his position as a multifaceted entrepreneur.
Where is Tyler Crispen Now?
Tyler Crispen has made a name for himself in the entertainment industry, showcasing his talents in productions such as 'The Queen's Jewels' and 'The Bold and the Beautiful.' However, his ambitions extend beyond acting. Tyler has a strong passion for travel and adventure, which he shares with his audience through his YouTube channel. With captivating content from his global explorations, he inspires others to embrace new experiences and discover the beauty of different cultures.
In addition to his entertainment endeavors, Tyler has ventured into entrepreneurship as a co-owner of Naut and Chain, a minimalist jewelry store. This venture allows him to express his creativity and style through unique accessories. While currently single, Tyler continues to captivate his audience with his charismatic personality and diverse pursuits. With his talent, passion, and entrepreneurial spirit, he will make further strides in the entertainment and business industries.
Where is Daniele "Dani" Briones Now?
Daniele Donato, the daughter of Evel Dick, made a notable impact on the reality TV show 'Big Brother.' Her journey began in 2007 during the eighth season, and she returned for subsequent seasons, showcasing her competitive spirit and strategic gameplay. Beyond 'Big Brother,' Daniele made guest appearances on various TV shows, including 'Reality Obsessed' and 'Power of 10,' and shared her experiences on 'Big Brother' with viewers on Entertainment Tonight.
During her time in the 'Big Brother' house in season 13, Daniele developed a close friendship with Dominic, which eventually blossomed into a romantic relationship after the season ended. In August 2012, Daniele and Dominic got engaged and tied the knot on January 19, 2013, in Huntington Beach, California. Their relationship defied expectations, as they were initially only friends on the show.
In February 2018, Daniele and Dominic shared the joyous news that they were expecting their first child together. Their daughter, Tennessee Autumn, was born on August 20 that year, which also happened to be Daniele's birthday. Today, they continue to thrive as a family, cherishing their shared journey from the show to building a life together.
Where is David Alexander Now?
Originally from Atlanta, Georgia, David made a memorable but brief appearance on Season 21 of 'Big Brother.' After his time on the show, he moved to Los Angeles, California, where he works as a Senior Sales Representative. In his role, David utilizes his skills to excel in the business field. However, his interests extend beyond his professional career. The 'Big Brother' alum is passionate about photography, particularly in the documentary style.
David can capture authentic moments and tell compelling stories through his camera lens. Photography is a creative outlet for him, allowing him to express his artistic side and share his unique perspective with others. David embraces his professional and artistic pursuits in the vibrant city of Los Angeles.
Where is Kevin Campbell Now?
Kevin Campbell, a former contestant on 'Big Brother All-Stars,' has established himself as a Marketing Creative Director, showcasing his creativity and expertise in the field. Alongside his professional endeavors, Kevin is also passionate about running and has actively participated in several marathons, demonstrating his commitment to fitness and personal achievement. Furthermore, Kevin advocates for the LGBTQ+ community, using his platform to promote equality and acceptance. As an openly gay individual, he has been vocal about LGBTQ+ rights and has worked towards creating a more inclusive society.
While Kevin is a public figure, he has kept his personal life relatively private. He is in a serious relationship with a partner whose name he has not disclosed. By maintaining this level of privacy, Kevin has prioritized his boundaries and focused on his professional and advocacy work. Kevin's time on 'Big Brother' showcased his strategic gameplay and charismatic personality, earning him a dedicated fan base. As a Marketing Creative Director, he continues to apply his creativity and expertise to various projects across various industries.
Where is Da'Vonne Rogers Now?
Da'Vonne Rogers is a multi-talented individual who has significantly impacted the world of television and entertainment. Known for her vibrant personality and captivating presence, Da'Vonne has been involved in various reality TV programs, showcasing her versatility and talent. Her appearances on shows like 'The Bold and the Beautiful,' 'The Revengers,' 'The Challenge,' and 'Ex On The Beach' have allowed Da'Vonne to demonstrate her entertainment skills and connect with audiences worldwide. Her ability to engage and entertain viewers has made her a fan favorite across different platforms.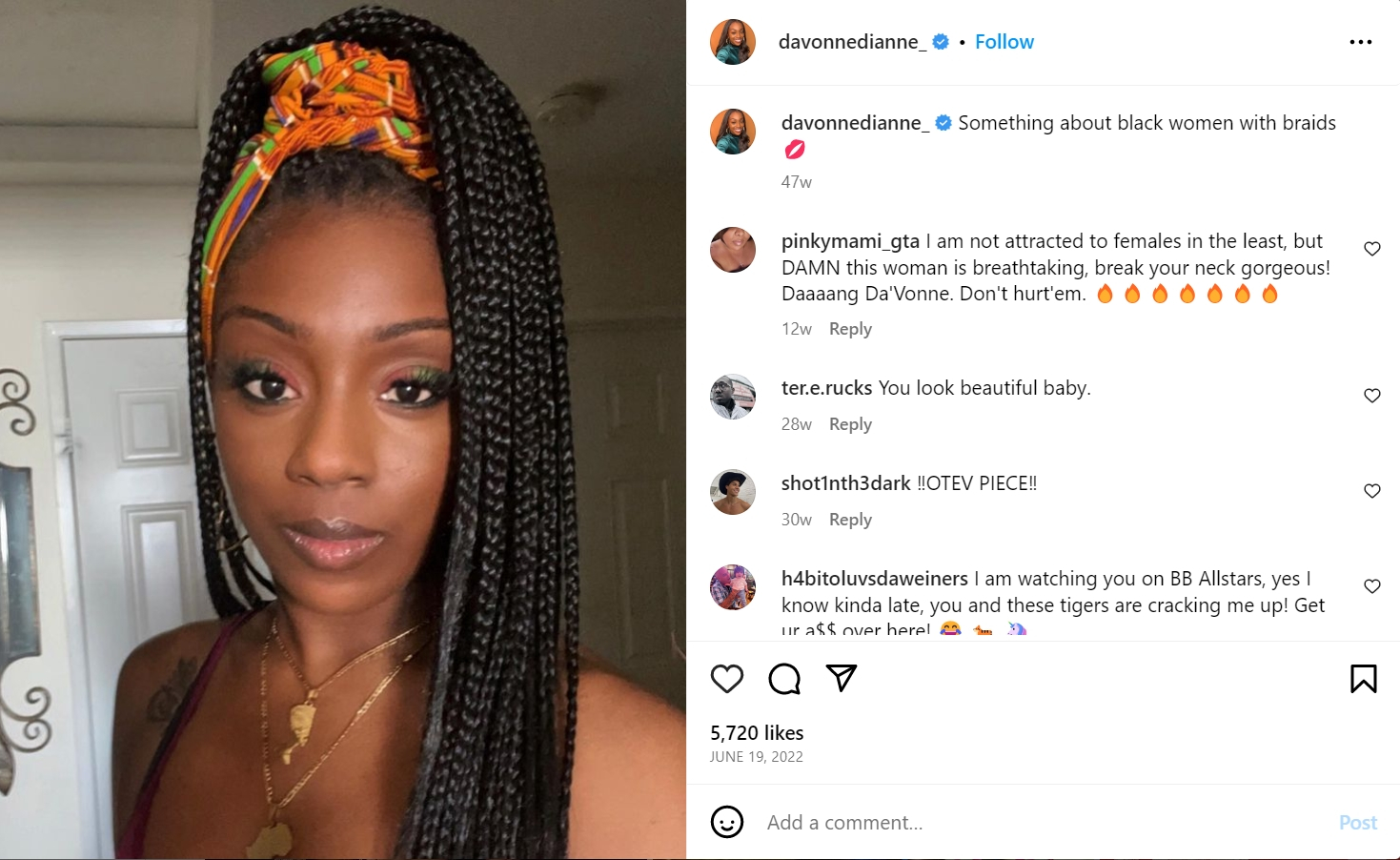 One of Da'Vonne's notable contributions is her involvement in the official podcast of 'The Challenge,' where she provides unique insights and behind-the-scenes stories and engages with the show's dedicated fan base. She offers a deeper understanding of the show's events and cast members through the podcast, enhancing the viewer's overall experience. Outside of her professional endeavors, Da'Vonne is a devoted mother to her 8-year-old daughter, Kadence Dianne. This aspect of her life highlights her commitment to family and adds another layer to her multifaceted personality.
Where is Ian Terry Now?
After achieving success on 'Big Brother,' Da'Vonne Rogers continued to make waves in the reality TV world by participating in 'Big Brother: All-Stars,' the 22nd season of the series. This further solidified his status as a prominent figure in the franchise. Based in Houston, Texas, Da'Vonne has taken on the role of Senior Consultant at EPMI since June 2022. In this position, he brings his expertise and knowledge to contribute to the company's success. His professional achievements outside the show demonstrate his versatility and ability to excel in different fields.
Where is Bayleigh Dayton Now?
Bayleigh Amethyst is a multi-talented individual who has made a name for herself in the entertainment industry. As a fashion model, she brings elegance and poise to the runways and campaigns she graces. Her versatility and charisma have also led her to excel as a former beauty queen, actress, and host, captivating audiences with her diverse roles.
However, Bayleigh's most cherished role is being a devoted mother and wife. She is happily married to Chris Williams, and together they have a beautiful daughter, forming a loving and nurturing family. Bayleigh's personal experiences and insights are shared through her YouTube channel, BayleighDaily, allowing fans to connect with her more personally and gain a deeper understanding of her life beyond the spotlight.
Where is Kaysar Ridha Now?
Kaysar Ridha is a highly accomplished professional who has demonstrated expertise in leveraging design and technology to create exceptional products. He acquired his education from UC Irvine in Irvine, California, which laid a solid foundation for his career path. As Vice President of Global Product & Design, Healthcare at Desktop Metal, Kaysar focused on utilizing advanced manufacturing techniques and materials to revolutionize patient care. In particular, his work in bio-printing showcased his commitment to improving healthcare outcomes. By integrating design and technology, Kaysar aimed to provide personalized care and contribute to advancements in medical treatment.
Where is Janelle Pierzina Now?
Janelle Marie Pierzina is a well-known figure in the American reality show industry, having made multiple appearances in popular shows. She gained prominence through her participation in several seasons of 'Big Brother,' including the sixth, seventh, fourteenth, and twenty-second seasons, where she showcased her competitive spirit and strategic gameplay. Janelle also ventured into 'The Amazing Race' during its thirty-first season, further solidifying her presence in reality TV.
Before her reality TV journey, Janelle had a diverse career that included acting, modeling, and working as a cocktail waitress, demonstrating her passion for the entertainment industry. However, she has also faced personal challenges, including legal issues such as a misdemeanor DWI infraction and theft charges. Despite these setbacks, Janelle has shown resilience and the determination to overcome obstacles.
In recent years, Janelle has shifted her focus to the real estate industry and is currently working as a Real Estate Agent for Edina Realty in Minnesota. Alongside her professional pursuits, she is a dedicated mother to her children, who bring joy and fulfillment to her life. Janelle cherishes her role as a mother and strives to create a loving and nurturing environment for her children.
Where is Nicole Anthony Now?
Nicole Anthony, a dedicated preschool aide from Long Island, New York, has found love and companionship in her relationship with Brian "Lefty" Fontanez. As she continues her important work in supporting the education and development of young children, she also treasures her connection with Brian. Their engagement symbolizes a firm commitment and a shared path as they navigate life together.
Nicole's passion for nurturing young minds in her profession aligns with the love and care she shares with her partner. They have formed a harmonious connection, enriching each other's lives and creating a loving and supportive partnership. As they embark on their journey together, Nicole and Brian embrace the values of love, understanding, and growth, building a future filled with shared dreams and aspirations.
Where is Keesha Smith Now?
Keesha Smith, a memorable contestant from 'Big Brother,' has chosen to prioritize her family and personal life following her appearances on the show. While her return to the all-star season was brief, Keesha has found fulfillment in the company of her loved ones. She is a devoted mother to her two sons and shares her home with three beloved dogs, forming a close-knit family unit. In early 2023, Keesha experienced a difficult loss within her family, which led her to adopt a more private and low-key approach to social media. By doing so, she can dedicate more quality time to her loved ones and navigate through this challenging period with their support and care.
Read More: Big Brother Season 21: Where Are They Now?