As a documentary series we can only describe as equal parts disturbing, gripping, and haunting, Amazon Prime Video's 'Shiny Happy People: Duggar Family Secrets' is truly unlike any other. That's because it comprises not just archival footage but also first-hand accounts from significant individuals to really underscore the dark, sordid side of religious, patriarchal fundamentalism. And right at the center of it all is TLC reality's once-eminent Duggar family as well as their mentor Bill Gothard — so now, if you simply wish to learn more about the latter, here's what we know.
Who is Bill Gothard?
It was back when William "Bill" Gothard Jr. was a young boy that he first developed an interest in biblical studies due to his religious household, only for it to persist growing as the years passed. Thus, of course, he enrolled at Wheaton College in his home state of Illinois almost as soon as he had graduated from school to pursue a Bachelor's (1957) and a Master's (1961) in the same. Though what most people do not know is that he even has a Ph.D. — he'd earned it from Louisiana Baptist University in Shreveport in 2004, meaning he technically holds the title of "Doctor."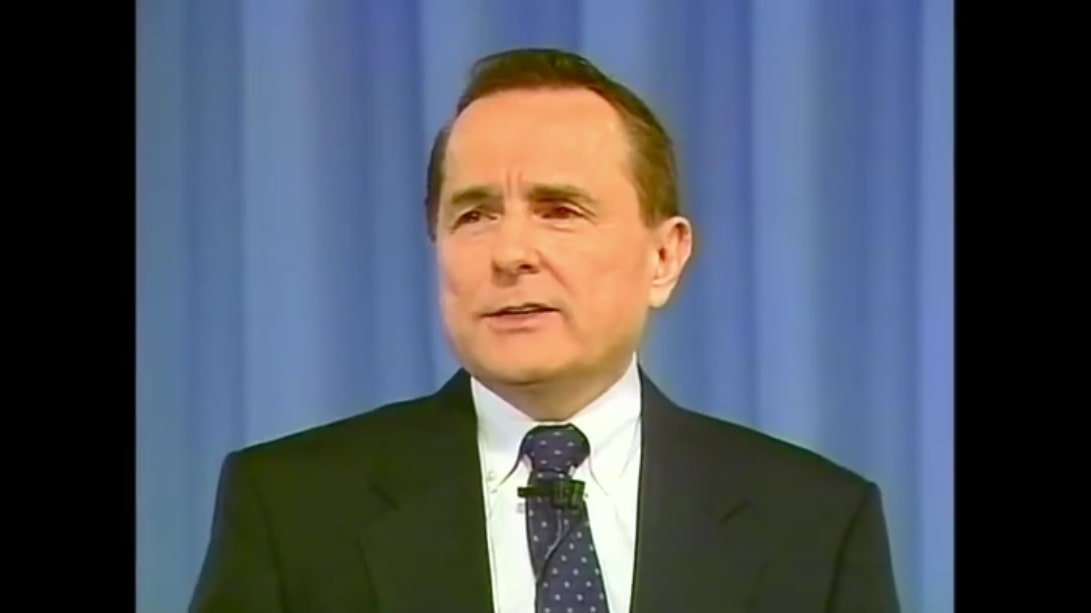 Going back to 1961 itself, Bill had established Campus Teams as an ultra-conservative Christian group to help fellow youngsters "make wiser choices," unaware it'd soon evolve into much more. According to reports, as this organization made its way to different churches on a state and then a national level, it changed its name to The Institute in Basic Youth Conflicts (IBYC) in 1974. However, by the time 1989 rolled around, its founder, president, as well as board member had done such wonders it sparked another change — IBYC became IBLP, Institute in Basic Life Principles.
The truth is not only had Bill's teachings spread across the world by this point, but he'd also founded the Advanced Training Institute (ATI) as a Sermon on the Mount-based homeschooling program. Moreover, he'd successfully managed to find a way of holding seminars to teach his non-optional principles of Design, Authority, Responsibility, Suffering, Ownership, Freedom, and Success. Then, he built training camps for IBLP children to help them acquire "life skills," all the while lecturing on moral dating, the importance of purity, and the devilish message behind rock music.
In other words, as per the Amazon production, Bill's entire practice was designed to be scary, patriarchal, and fundamentalist, especially as some facets put men directly under the word of God. In fact, whether it be female obedience, conservative dressing, chaperoned courtship, aversion to birth control, or "discipline" through both mental and physical techniques, he promoted it all. Ultimately, though, several sexual harassment allegations against him led the board to place him on indefinite administrative leave in February 2014, following which he resigned but admitted no wrongdoing.
Where is Bill Gothard Now?
According to reports, as many as 34 women who worked beside Bill have claimed he inappropriately touched them at one point or another, yet just ten agreed to be in the lawsuit calling him out in 2016. This case even named a few other church leaders on the grounds of intense harassment, sexual abuse, and cover-ups, but it eventually led nowhere due to the statute of limitations having passed. We should mention the former minister has vehemently denied the allegations against him by telling The Washington Post, "Never in my life have I touched a girl sexually. I'm shocked to even hear that."
As for Bill's current standing, despite the fact the 88-year-old maintains a social media presence and his principals are still the core of IBLP, his personal backing is seemingly not what it once used to be. From what we can tell, he lives alone in a rather comfortable home in Chicago, Illinois, these days, but his long-held political connections with people like Mike Huckabee, Sonny Perdue, Sarah Palin, and Jim Bob Duggar don't hold much sway. It's also imperative to note that even though Bill used to teach his followers about marriage as well as how to raise kids, he has never married or had children of his own.
Bill Gothard's Net Worth
With roughly 35 self-published books under his belt, his decades-long service as a minister, and his extensive work as a public speaker, Bill has reportedly accumulated a lot of money for himself. As per the docuseries, there was a point The IBLP had close to $90 million under its name with its different facilities, private jet, etc., yet as per our estimates, its former president has wealth that is only a small percentage of this in comparison — we believe his net worth at the moment is close to $3 million.
Read More: Shiny Happy People: Where Are The Ex-IBLP Members Now?