In the twenty-second episode of 'Blue Lock,' titled 'Voice,' Isagi realizes that he needs to foresee all possibilities on the field better than Rin in order to outsmart him and give his team an edge in the match. Unfortunately, it is not as easy as it seems since Rin manages to manipulate him into completely messing up his tactics which ends up costing his team dearly. But Isagi turns his mistakes into a learning opportunity and then focuses all his attention on creating such complex strategies that take into account Rin's vision. Here's everything you need to know about the ending of 'Blue Lock' episode 22. SPOILERS AHEAD!
Blue Lock Episode 22 Recap
When Rin gets the freekick, Isagi stands right in front with his teammate to block a direct shot. He also feels that he can quickly move to his left in case his opponent goes for a pass. However, Isagi is yet to figure out what Rin is going to do. Rin is smart enough to feel this confusion in Isagi and goes for a direct shot. Isagi is late in jumping and misses the ball by a small margin. This goal gives Rin's team a 4-3 lead and puts Isagi and his teammates in a precarious position.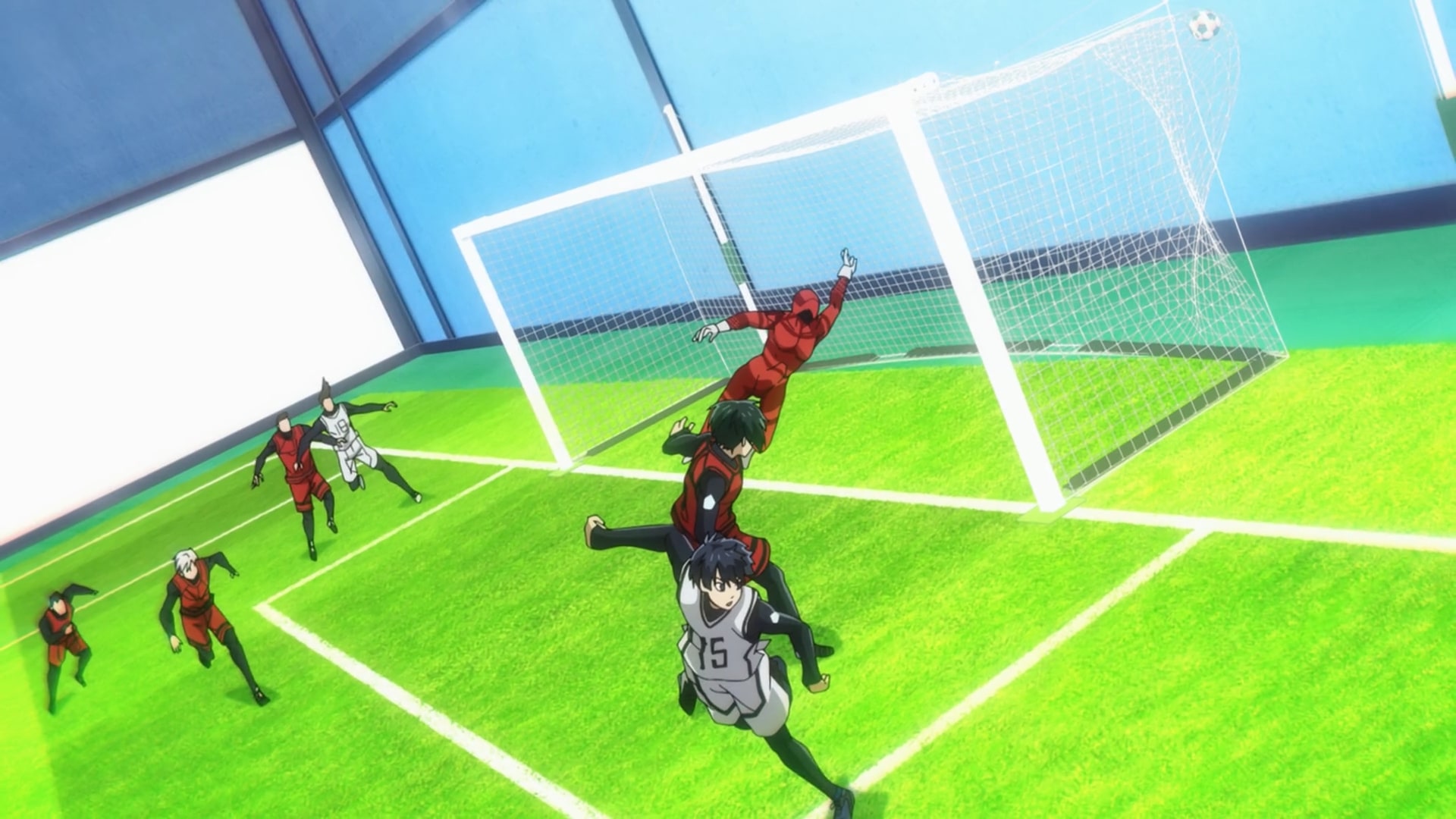 If Isagi's team concedes another goal, they will lose the match. In such a desperate situation, Isagi feels that he is able to process Rin's mindset but is unable to catch up to him in the final moments of the game which makes a world of difference. Now that Isagi's team has possession of the ball, he goes a step further to formulate a better goal plan. This time he uses Rin's blind spot to put himself in a great goal-scoring position when the ball is with Chigiri.
But just when his teammate passes the ball toward him, Isagi makes it seem that he is going to shoot with his front foot. Rin tries to tackle and take possession of the ball but Isagi ends up scoring a beautiful goal using a reverse direct back-heel shot. Now that the scores are level, Rin's team with the possession is in a hurry to end the game. But as they advance toward the goal, Bachira loses the ball to Chigiri, which gives Isagi's team a great counterattack opportunity.
Blue Lock Episode 22 Ending: What Leads to Bachira's Awakening? Does He Score the Final Goal for His Team?
As Isagi and his team are building the pressure for the last goal of the match, Bachira has the heartbreaking realization that he may end up losing the only friends he has gained at Blue Lock. Nagi tells him that in his present state, even Isagi would not pick him if their team wins. In such a scenario, he will not only end up playing without Isagi but also Rin, whom the opponents will most likely include in their side.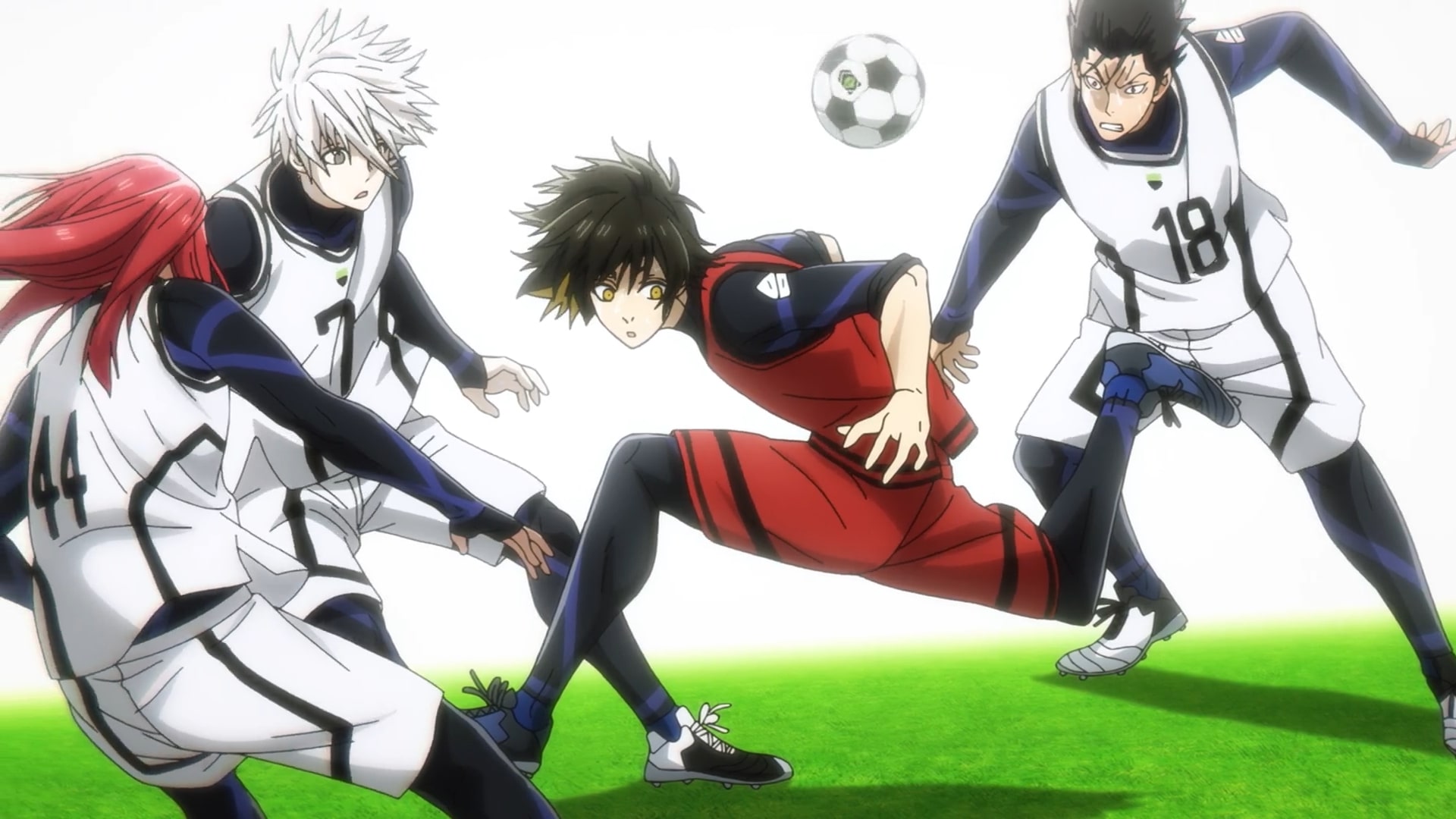 All his life, Bachira has been guided by the voice of the monster in his head when he is on the field. Unfortunately, that has prevented him to seek out his inner voice and truly express himself with freedom. As Isagi and his teammates reach closer to the goal, he begs for just one more chance to prove himself. When Isagi tries to score a goal, Rin analyzes his moves accurately and with a well-timed jump, he manages to stop a wonderful goal.
By sheer luck, the ball ends up at Bachira's feet after hitting Rin's head. Since he is free to move, he realizes that this is his golden chance to shine. Bachira now pays attention to his own voice only and advances towards the goal determined to prove himself. Soon, he finds Isagi blocking his way but instead of passing the ball to anyone who has a better chance of scoring a goal, he continues to move forward.
With a series of three perfectly executed nutmegs, he manages to outsmart Isagi, Chigiri, and Barou. The opponents realize that they need to surround him leaving him no empty spaces to move forward. This is exactly what they do too but even in this situation Bachira refuses to pass the ball. He shows incredible dexterity and ball control to outperform everyone close to him and advances very close to the goalpost. He is about to shoot and end the game when he suddenly finds Isagi standing in front of him, who accurately predicts his move.