Hieronymus "Harry" Bosch is the protagonist of the Amazon Prime Video series 'Bosch' (2014–2021) and its Amazon Freevee spin-off and sequel series 'Bosch: Legacy.' Both shows are TV adaptations of the 'Harry Bosch' book series by Michael Connelly, who co-created the newer show. In the first series, Bosch is a Los Angeles Police Department Detective III attached to the Hollywood Homicide Division. He is a former Army Special Forces operator and a veteran of the First Gulf War and Afghanistan. As a police detective, he is a strict adherent of rules and policies, but as the first series progresses, he starts to demonstrate his rebellious side. In 'Bosch: Legacy,' Bosch has quit the LAPD and now works as a private investigator. If you are wondering when and why Bosch quit the LAPD, we got you covered. SPOILERS AHEAD.
When Did Harry Quit LAPD?
Bosch quits the LAPD in the season 7 finale of 'Bosch' after the police gun down the father of a ten-year-old girl for killing the arsonist responsible for his daughter's death. Afterward, Bosch contemplates what the next stage of his life will be. In the sequel series, the audience finds him working as a private investigator, still doing what he does best, but while working for himself and not for the city.
The character is portrayed by Titus Welliver in both shows. Reflecting on his character's evolution in the course of seven seasons, Welliver told Vulture, "The purest part of his evolution over the course of seven seasons has been his relationship with his daughter and how he has been forced to try to evolve because he has a daughter who is not unlike him, who's stubborn and opinionated, but who also has a really strong moral compass. It doesn't always help him in his parenting because he realizes that, in a way, he's knocking heads with himself. I identify with that because I have that with my own daughter, who's 15. The similarities between myself and my daughter are very, very palpable. Knocking heads, we both find ourselves going, 'Oh, there's the rub.'"
The primary focus of the sequel series is Bosch's relationship with his daughter Maddie, who applies for the LAPD in the same episode her father quits the force. "It's a legacy on a lot of different levels," Welliver told Screen Rant. "I think the legacy aspect with Harry and Maddie is that she's now become a police officer. They have formed this subtextual, if you will contract, where Maddie is not overly solicitous of his advice. And he's giving her room to sort of find her way, so there's a there's a hesitation on his part. It's an interesting dance that they get to do."
Why Did Harry Quit the LAPD?
At the start of season 7, a fire breaks out in an apartment building in East Hollywood on the 2019 New Year's Eve. Among the dead is Sonia, a ten-year-old girl who was handing out fresh homemade tamales to neighbors. As Bosch begins to investigate, he discovers that Mickey Peña, a high-ranking member of the Las Palmas gang is responsible for the fire. Bosch speaks to Sonia's father, Hector, and is freshly inspired to find those responsible. However, the FBI warns Bosch and the rest of the LAPD to back off, but Bosch and his partner arrest Peña. The FBI, realizing what happened, speaks to Chief Irving, who berates Bosch for not following orders, suspends him, and orders Peña's release to the FBI custody.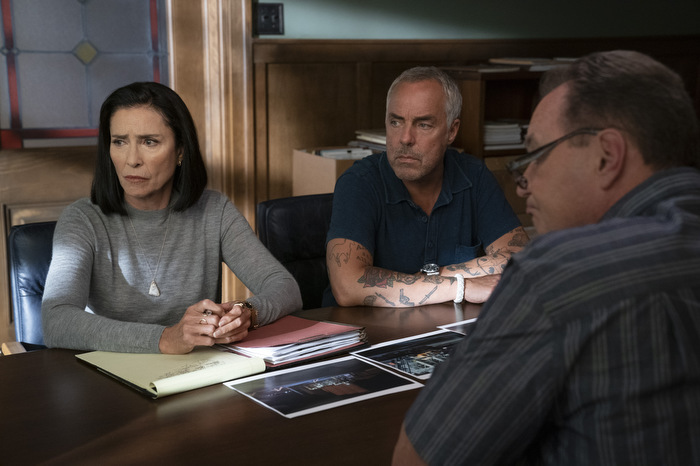 As Peña waits outside the precinct for the FBI to arrive, Hector approaches him out of nowhere and kills him, prompting the officers accompanying Peña to fatally shoot him. After hearing the gunshot, Bosch comes out with the others and discovers what has happened. Hector, just before dying in his arms, utters, "For Sonia." Holding Irving responsible, Bosch declares this is all on the other man before quitting the LAPD. When Irving questions who he is if he doesn't have a badge, Bosch asserts that he is about to find out.
Read More: Who is Kurt Dockweiler? Why Did He Kidnap Maddie?