NBC's 'Dateline: Queen of the County' depicts how Bruce Harkley conspired with his nephew and his girlfriend to murder his stepmother in March 2012 in Texas. As the investigators probed into the heinous crime, they were startled to discover a tale of greed, money, and despise that spanned three generations of the influential Harkey family. So, who is Bruce Harkey, and how was he caught? Let's find out.
Who is Bruce Harkey?
Bruce Wayne Harkey was born to Riley and Joan Harkey in San Saba, Texas, in the early 1950s. He was 5-years-old when he helped his father, brother, John, and grandfather, Olga Bryan Harkey, to plant 1,500 pecan trees and form the Harkeyville Orchard. The Harkeys were arguably the most influential face in the town's prospering pecan industry, and Bruce took after his father's passion for the orchards. He keenly looked forward to the day he would take care of the orchards himself.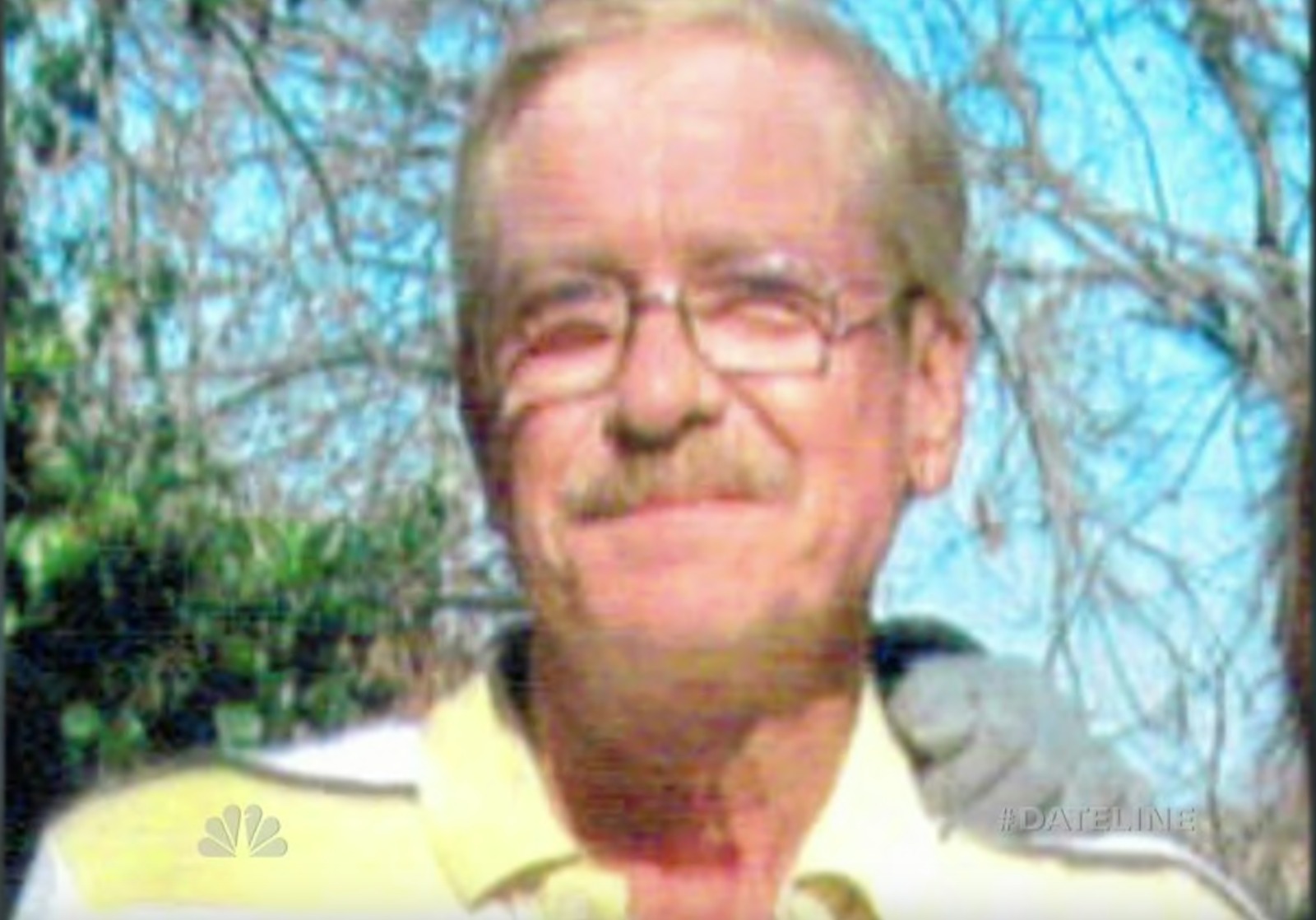 According to Bruce, he expected Riley would hand over the day-to-day operations of the thriving farm in the same way Olga had ceded oversight to Riley in his 30s. The episode noted how the grandfather had also admitted Bruce had the keenest interest in farming of his two grandsons. However, he was 11-years-old when Riley married Bonnie Katherine Sawyer Harkey in April 1963, which threw a wrench into Bruce's dreams. Bruce alleged he sensed Bonnie's reluctance to embrace him and John, feeling her disdain after the wedding concluded.
Bruce had a challenging life while his brother and half-sister, Connie, settled down and started families after enrolling at Texas Tech University in the 1960s. He traveled between San Saba and his biological mother's Nevada home before settling in his native town. However, he chose to live with his grandparents than move in with his father and stepmother. He joined the Spanish club, student council, and Future Farmers of America, while his handsome features and mischievous smile garnered female attraction.
Bruce married Judi Bishop in August 1969 as he took classes and worked at a Texaco station. The couple gave birth to a premature boy, Eric, on April 1, 1970. The baby died a fortnight later due to health issues, and the marriage broke. Still grieving, he enrolled at Texas Tech University but dropped out of college and moved west, driving trucks in California and holding odd jobs before finding work in Nevada as an officer in the Reno Police Department in 1978. He married and divorced two more times before returning to Texas in 1987.
He secured a plum position in the Texas attorney general's office investigating Medicaid fraud and nursing home abuse. Meanwhile, Riley purchased a third pecan grove and willed the three orchards to his three children in 1991. He also ensured his wife would maintain a life estate over all the property if he died first. After Riley's death in July 1997, Bruce hoped to take over the farm, but to his utter dismay, Bonnie took control. He had always blamed Bonnie for his infant's death since she was babysitting him at the time, and this broke him completely.
Where is Bruce Harkey Now?
Bruce's downward spiral continued when he was sentenced to five years in federal prison for conspiring to kill his estranged eighth wife and was released in December 2007. Finding it hard to get work due to his felony conviction, he moved in with an ex-wife, Jennifer Karnes, into an upstairs bedroom on the Harkey farm. As per reports, Bruce had filed for bankruptcy in 1998 to discharge $176,256 worth of debt and owed $100,000 in back child support. According to a friend, he had frequent meltdowns and called himself the most broke millionaire in the county.
By 2010, Bonnie's health began to deteriorate as she developed dementia and was diagnosed with an aortic aneurysm in September 2011. With her counting her days to death, Bruce and John Harkey planned to sell Prichard Orchard to their high-profile neighbor Tommy Lee Jones. The orchard's future rights belonged to Connie's adopted son, Carl Pressley, after her March 2011 death. The Harkeys pursued Carl to sell his future rights for a measly $75,000 in May 2011, even though the property was valued at more than $500,000.
They wished to sell the Prichard Orchard to their high-profile neighbor Tommy Lee Jones. But Bonnie still had a life estate on the property, and her estate's court-appointed permanent guardian rejected the deal. An enraged Bruce moved out of the Harkey farm, and the locals alleged spotting his silver F-150 in a neighboring field as he reportedly scrutinized the orchards that weren't his from afar through a pair of binoculars. By March 23, 2012, he became impatient and hired his nephew, Carl, and his erstwhile girlfriend, Lillian King, to murder the matriarch.
However, the authorities arrested Carl and Lillian within hours of Bonnie and her caretaker's death on March 25, and they confessed to murdering them. They also claimed Bruce had been constantly talking about killing Bonnie since she was allegedly involved in his infant's death before asking them to do it in exchange for money. Reports claimed the stepson had brazenly declared his murderous intentions all over town and also solicited others the hit. But he eventually settled with Carl since professionals demanded steep charges.
After years of working with the police, he knew how to construct the perfect alibi and had purportedly chosen to spend that weekend at John's Fort Worth house. During his April 2014 trial, Bruce sat coolly through the court proceeding, confident he would be found not guilty. He took copious notes until the jury delivered a guilty verdict for capital murder and sentenced him to life without parole. The 71-year-old is serving his sentence at the James V. Allred Unit in Wichita Falls, Texas.
Read More: Bonnie Harkey and Karen Johnson Murders: How Did They Die? Who Killed Them?