Converging flavors and heritage, Buena Papa Fry displays a unique fusion in season 15 episode 4 of ABC's 'Shark Tank.' The reality television show features Johanna and James Windon, business and life partners who enter the arena of high-stakes negotiations to elevate their business into a national phenomenon. Using exotic spices and ingredients to elevate potato fries, the business confluences the influences of two unique cultures. Given the ambitions the duo share for their company, fans have been curious to know more about the establishment. So, if you're wondering the same, look no further because we've got all the information right here!
Buena Papa Fry Bar: Who Are They and What Do They Do?
With the simple belief of introducing the delicacies of Colombia in North Carolina, Johanna and James Windon decided to kickstart a fry bar in the hopes of introducing the eclectic taste of Latin cuisine to a staple food group in America. The couple's journey began with the idea of Bandeja Paisa, a traditional dish from Medellin, which represents the ideal of "our community in a tray." After the pandemic shut down their cleaning business, the couple were looking for new opportunities.
One night, while cooking Bandeja Paisa, they decided to include special ingredients to elevate their dinner menu. However, the inclusion of traditional ingredients set them on a new path where they decided to enhance the profile of the dish and kickstart a new journey. Buena Papa, or Good Potato, isn't just the title of their establishment but also highlights the essence of their menu. Using a common Colombian phrase as the name of their restaurant, James and Johanna decided to kickstart their journey in the food industry.
Coalescing the gastronomical essence of Mexican, Colombian, and Puerto Rican cuisines, the family set out to create gourmet French Fries that would change the game. With potato fries as the bedrock, the couple used different ingredients to kick things up a notch. From introducing chorizo, chicharron, and frijoles to using a myriad of base ingredients, James and Johanna elevated the essence of their fries.
As pivotal ingredients in Latin cuisine, Johanna and James used pork and bean-based additives to represent the authenticity of Colombian cuisine. In addition to this, the husband and wife also hoped to create awareness through their work. Their restaurant menu tries to bring people one step closer to learning Spanish through its bilingual nature. By converging identities and intersecting exotic flavors over an American staple food, James and Johanna kickstarted a business that wouldn't just unite people through food but also create bonds through traditions and culture.
Buena Papa Fry Bar: Where Are They Now?
Coupling the familiar taste of crispy and succulent french fries with bright and bursting flavors, Buena Papa Fry Bar continues to serve an endless number of customers under the leadership of James and Johanna Windon. Since kickstarting its journey on 411 West Morgan St Suite, Raleigh, North Carolina, the brand has continued to scale its operations and marketing. Besides availing their made-to-order delicacy at their establishment, customers also have the choice of ordering the salivating concoction of potato and meat through Door Dash, Seamless, Grub Hub, Toast Lab, Post Mates, and Uber Eats.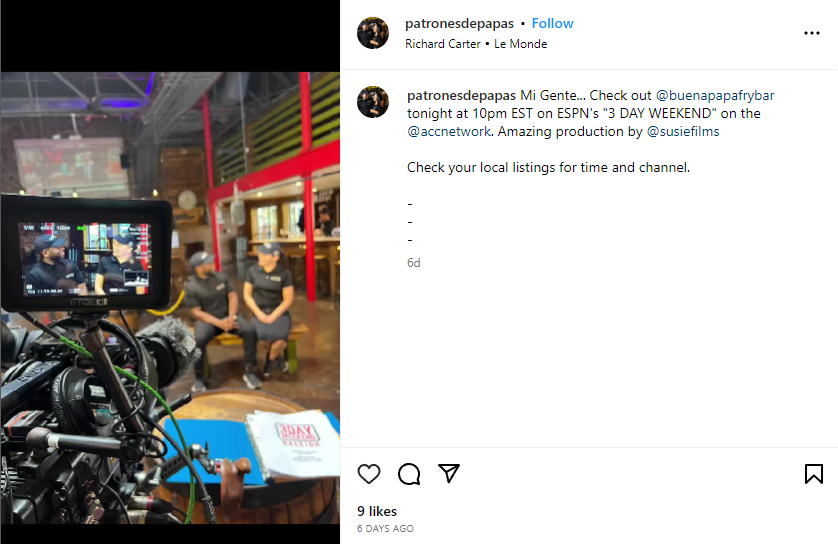 In addition to appearing on 'Shark Tank' to elevate their brand's profile, the couple has franchised their company, too. Some of their locations in North Carolina include the original Morgan Street Food Hall in Raleigh, the Streets of Southpoint establishment in Durham, and a kiosk at PNC Arena in Raleigh, which is open during events and games. Finally, they are in the process of kickstarting another establishment at Wynwood, Miami, Florida.
Their signature dishes do not just include a variety of toppings but also offer different flavor profiles for customers to explore. Some of their dishes include the Colombiano, Mexicano, Boricua, Americano, Italiano, Griego, and Carolina. Besides this, they have an assortment of sauces that customers can choose to add. An additional healthy option has been added to the menu, too. While their beloved fries have appealed to a wide consumer base, the company has also focused on elevating its business profile through social media. Their fries have been declared the "official loaded fries" of the NHL's Carolina Hurricanes.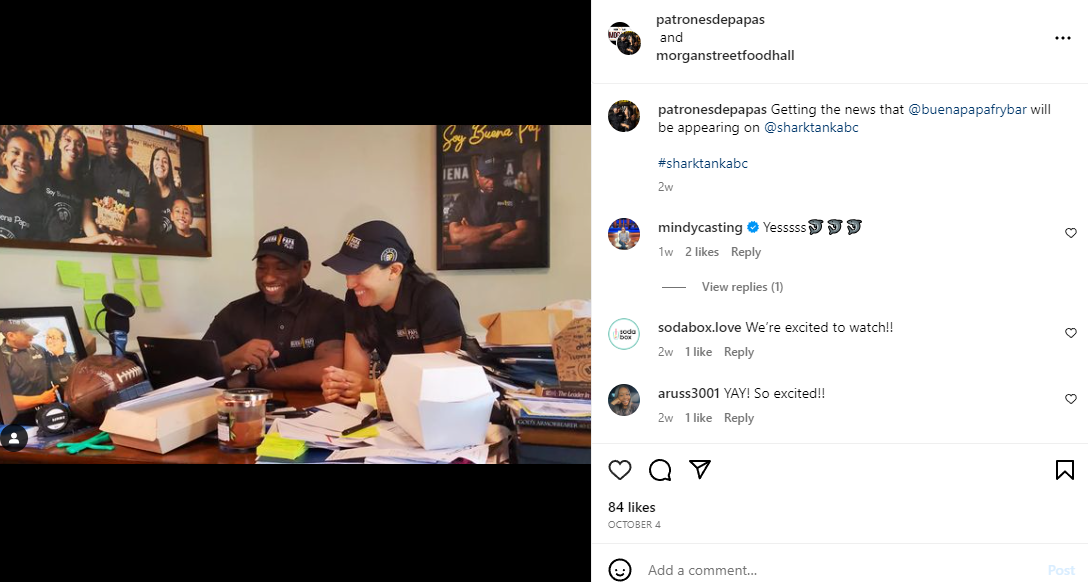 The founders have even launched a new challenge where consumers can build a new recipe by using numerous options from the fry basket. The customers also stand a chance to win a Bueno Papa Prize Pack by entering the online competition. They have also gained major momentum through their appearances in the media. Most recently, the duo made an appearance in 'Thriving Through Food' hosted by celebrity chef Pati Jinich and ESPN's '3 Day Weekend.' They have also appeared in the 'Restaurant Unstoppable' podcast, where they spoke about their journey as owners of the french fry bar and parents of three children. Naturally, it stands to reason that several great milestones still await the company and its founders!
Read More: GW Glove Wrap on Shark Tank: Here's the Latest Update on Them