It is no longer a secret that exploitation and inequality have become quite common in the food industry in recent years. On top of it, most of the supply chains are non-transparent, and often the small farmers and producers are the ones who suffer the most. Burlap and Barrell was conceived to combat such issues as the company is responsible for creating an equal and transparent international supply chain small farmers can benefit from.
It is also known for producing and marketing natural spices, which can elevate all types of cooking. While the product and the intention behind the company got us interested, fans became eager to learn more once entrepreneurs Ori Yosef Zohar and Ethan Frisch presented Burlap and Barrel on 'Shark Tank' season 14 episode 20. Well, let's delve into the details and chart the company's growth, shall we?
Burlap and Barrell: Who Are They and What Do They Do?
Since both Ori Yosef Zohar and Ethan Frisch had prior experience in the food industry, they were able to get Burlap and Barrell up and running in no time. Incidentally, Ori completed his Bachelor of Science in Business from the University of Maryland before becoming a part of the Account Management team at McCann Erickson. Besides, he has prior entrepreneurship experience, as he launched an ice cream pop-up business back in 2010.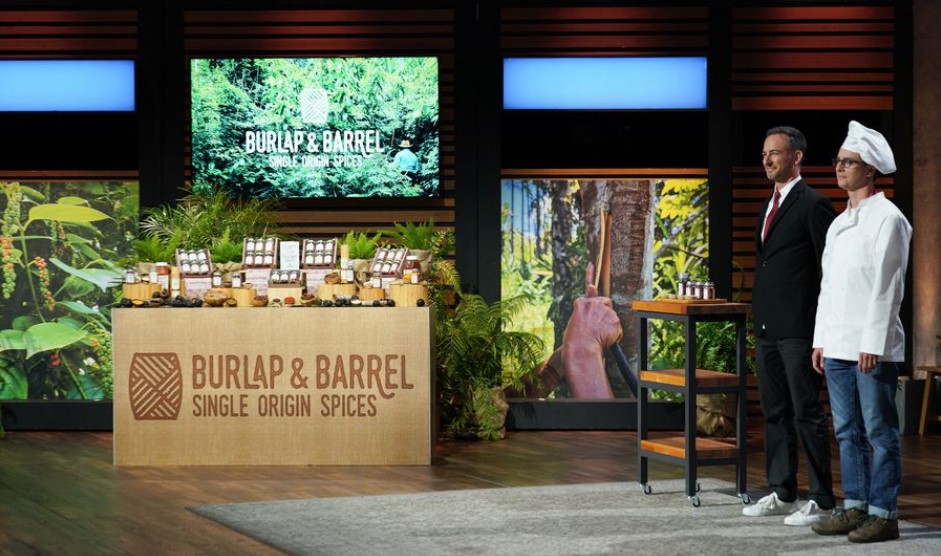 On the other hand, Ethan completed his Bachelor of Arts in Conflict Studies, Education, and Social Change from the Macaulay Honors College at The City University of New York, before earning a Master of Science Degree in Violence, Conflict, and Development from SOAS University of London. In the meantime, he worked numerous jobs and even earned experience as a Line Cook during his time in London.
Following his graduation, Ethan took up employment at the Aga Khan Development Network as a National Infrastructure Program Coordinator and was soon promoted to the position of Policy Advisor. Interestingly, he even worked as a Team Lead & Senior Operations Manager at Zomato, New York City, for a few months and co-hosted the 'Why Food?' podcast on Heritage Radio Network from January 2018 to December 2021. Due to Ori and Ethan's proximity to the food industry, they knew how outdated, opaque, and unfair most supply chains were to the farmers.
While the middlemen and well-established brands soak up most of the cash, farmers producing the actual crop are paid the bare minimum. On top of it, there was also the issue of commercial production, as some brands often use artificial ingredients and flavors in their spices. Determined to address such problems, Ori and Ethan came up with Burlap and Barrell in 2016. Through their company, the entrepreneurs have attempted to establish a fair, equal, and transparent supply chain that benefits both the buyers and the farmers.
Instead of going through intermediaries and go-betweens, Burlap and Barrel source their products directly from the farms and pay them up to 10 times what they might have earned from big corporations. Additionally, Ori and Ethan insisted that all of their spices are grown organically and are free of radiation or artificial ingredients. On top of it, the company also supports and encourages sustainable as well as eco-friendly farming methods.
Where Is Burlap and Barrell Now?
Burlap and Barrell started operations in 2016, and the company has witnessed immense growth in a short period of time. When Ori and Ethan initially introduced their company and brought the products to the market, they received hugely positive responses, and it did not take long to grow a loyal customer base. Besides, people were also interested in trying organic and natural spices instead of mass-produced products from more prominent brands. As a result, the company has paid farmers a total of $1.7 million since 2016, and they passed the $5 million mark in sales in 2022 alone.
Customers interested in trying out the spices can purchase them from Burlap and Barrell's official website as well as Amazon. While the company often collaborates with world-famous chefs to create new spices, most of their products fall within the range of $8.99 to $34.99. On top of it, customers can also build and customize their own gift boxes. It is truly remarkable to experience the business' success, and we are sure that it will gain even more support in the years to come; as Ori said, "Our entire goal is to create long-lasting relationships with our partner farmers."
Read More: Yellow Leaf Hammocks Shark Tank Update: Where Are They Now?