While hammocks are pretty relaxing and have a significant customer base in the country, most of them are made from plastic and aren't bio-degradable. Incidentally, entrepreneurs Joe Demin and Rachel Connors were vacationing in Thailand when they came across a unique kind of hammock that was used by people belonging to the Mlabri Tribe.
Since this hammock was eco-friendly as well as comfortable, Joe and Rachel brought it over to the States and marketed it under their company, Yellow Leaf Hammocks. They even presented the business on 'Shark Tank' season 11 episode 22, which made viewers eager to learn more. Well, let's find out where Yellow Leaf Hammocks is at present, shall we?
Yellow Leaf Hammocks: Who Are They and What Do They Do?
Rachel Connors completed her Bachelor of Arts in Public Relations and Bachelor of Science in Political Science from the University of Florida in 2007 before going on to work as an Integrated Marketing Communications Manager at Eos Dental Technology, Inc. Besides, since she had interned in public relations and marketing before her graduation, Rachel soon moved on to the position of a Marketing & Communications Consultant at Girl About Town Communications in 2008.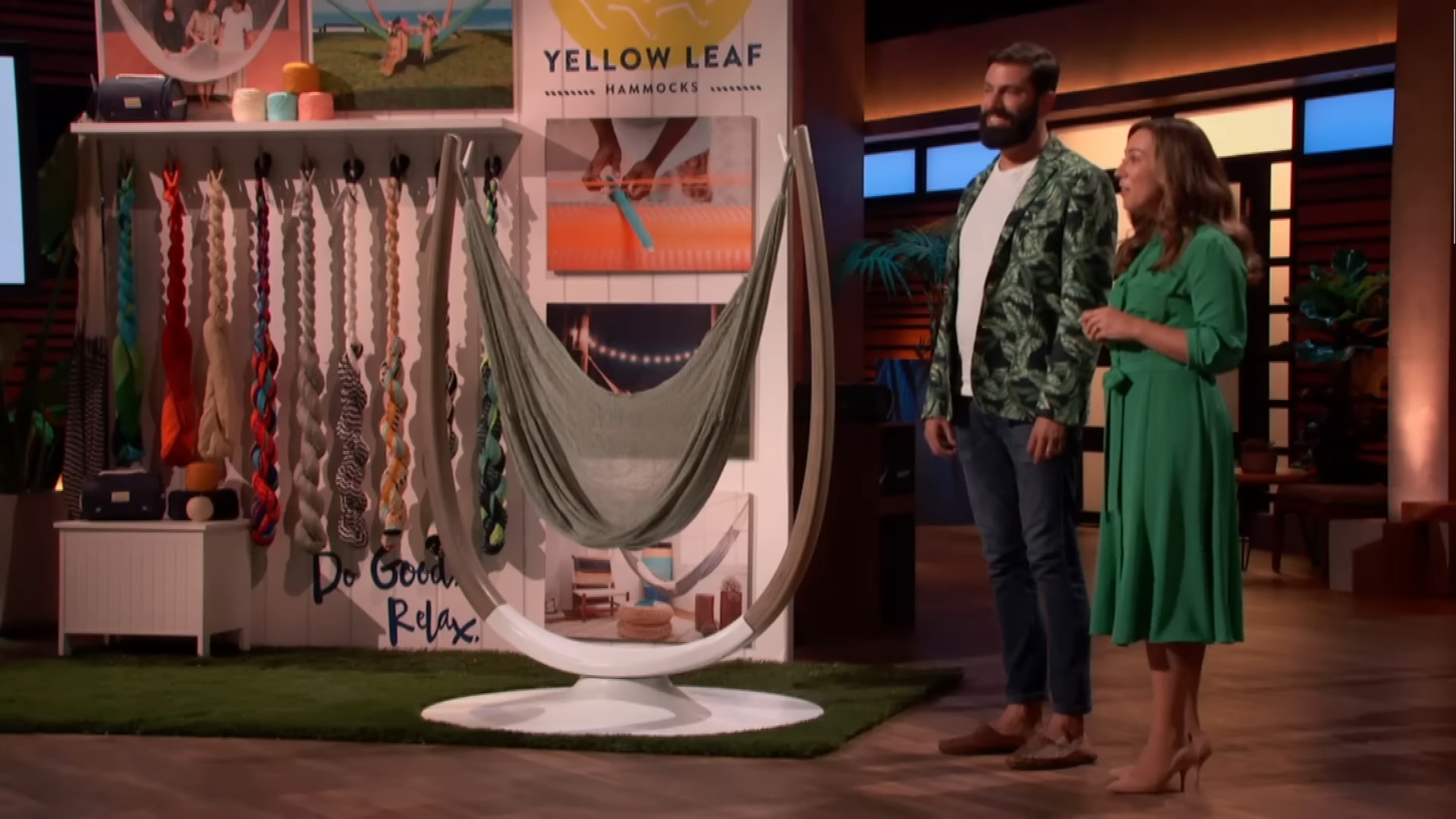 Although Rachel left the marketing field in 2010 and co-founded Yellow Leaf Hammocks in 2011, she knew being an entrepreneur required a lot of experience. Hence, she took on a fellowship at The Unreasonable Institute in 2014 and was also a part of the 2017 GSBI Accelerator Cohort at the Miller Center for Social Entrepreneurship, Santa Clara University. On the other hand, Joe completed his Bachelor's Degree in Finance with a concentration in Real Estate from DePaul University in 2006. Following his graduation, he earned a position at a prestigious Chicago firm.
Unfortunately, Joe lost his job during a layoff in 2008. However, determined not to give up easily, he soon found a new challenge in life when he co-founded Yellow Leaf Hammocks alongside Rachel in 2011. At present, Rachel functions as the company's Chief Enthusiasm Officer, while Joe holds the position of Chief Relaxation Officer. Interestingly, Rachel and Joe came across the idea of starting Yellow Leaf Hammocks after a vacation in Thailand.
While most hammocks available in the US are made from plastic, the two came across members of the Mlabri Tribe in Thailand, who were used to making much more comfortable hammocks from natural materials like cotton and yarn. Naturally, the aspiring entrepreneurs fell in love with the unique creations and realized that the US had a massive market for such eco-friendly and organic products.
Subsequently, upon their return to the country, the pair co-established their company, Yellow Leaf Hammocks, and directly partnered with several female members from the Mlabri Tribe. Thus at present, the company procures its products directly from the tribe, which also creates ethical and well-paid jobs for the tribeswomen. Besides, Rachel and Joe mentioned that they still maintain the use of natural materials, as indoor hammocks are made from cotton rope, while the ones designated for rugged use outdoors use weather-safe yarn.
Where Is Yellow Leaf Hammocks Now?
While Yellow Leaf Hammocks began with a successful Kickstarter campaign which raised $11,400 in 2012, Rachel and Joe kept innovating and raised another $235,814 in 2019 for the Hammock Throne, a 360-degree swiveling stand for the hammocks. In the meantime, the hammock made it to Oprah's Favorite Things List in 2017, and even though the company had some problems during the Covid 19 pandemic, Rachel and Joe were able to push on through, as they earned quite a handsome amount in sales in 2019.
On top of it, they even had a successful run on 'Shark Tank' as Daniel Lubetzky offered them $1 million for 25% of their company. Naturally, Yellow Leaf Hammocks grew even more successful with Daniel on board, and the company had a massive $1 million annual revenue by the end of 2022. On top of it, they have also been featured in several prestigious publications, including Vogue, The New York Times, and Outside. Those looking to get their hands on the hammocks can purchase them on the company's official website as well as on Amazon.
While each hammock will set one back by $199, customers can buy hammock chairs for $179, while the hammock throne demands a price tag of $2,999. On top of it, the company also offers several kinds of gift cards for interested buyers. Yellow Leaf Hammocks owes its success to Rachel and Joe's hard work, and we are confident that the company will grow further in the years to come.
Read More: Parting Stone Shark Tank Update: Where Are They Now?