From Fellini to Kurosawa or Hitchcock to Godard, there are dozens of powerful icons in the filmmaking world from which Charlie Chaplin is without a doubt a major figure and unique pioneer who shone and who'll keep shining throughout cinema's long-lasting memory. From behind and front of the camera, he brought to life the universally known character "The Tramp" for which he invented various stories to defy social issues and simultaneously make people laugh. His "slapstick" comedy style truly is one of a kind and we can't avoid but to recognise what a brilliant and intelligent man he was, one who took the silent era and made it louder and brighter than ever. Let us be amazed with this historical figure and take a look at the list of top Charlie Chaplin movies.
10. The Immigrant (1917)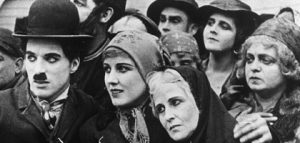 One of Chaplin's earlier works, this short 25 minute film sets the Tramp as an immigrant on his way to the United States. We see him acting out his funny sketches on the rough seas with the other people on board and fall in love with a pretty lady who he'll later meet again on hard ground. It subtly includes experiences he himself lived through in the form of social commentary in order to mark a presence on the difficulties immigration brings along for the people arriving in unknown lands. I mean, what better year to shoot this film as the one from the 1917 Immigration Act which intended to restrict immigrants? As we can see in most of his other movies as well, under the comedy and simplicity of his stories, he always transmits a message through the various themes he touches upon.
9. Limelight (1952)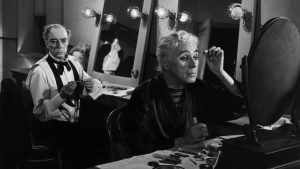 The character of the Tramp did not stand aside Chaplin for the entirety of his work. By 1952, he had long put the iconic figure aside to leave space for new characters and stories to take on the stage. "Limelight" narrates the struggle and survival of two artists who unite to go through life together and find hope in its vast world. Chaplin plays the washed-out comedian and Claire Bloom, the desperate and suicidal ballet dancer. It was on the touring of this spoken film that Charlie got told he was not allowed back into the United Stated due to his "so-claimed" communist support, making this movie poorly screened overseas. However, 20 years later it was widely re-released getting him an Academy Award for it. Every element of this film fits to perfection as a beautifully completed puzzle. It is almost a self-introspection of the master himself, offering us a critical view onto his personal life and work, especially his later years, in the form of an honest and emotional comedy-drama.
8. The Circus (1928)
This movie's production was very difficult and pressuring for Charlie Chaplin to create. Not because of its content, but because of the circumstances it was shot, as he was in full vicious divorce from his second wife, amongst more misfortunes. However that did not stop him from giving life to one more amazing silent film that took his performance to a new level, showing he could create outrageously inventive tricks and gags in this creative and punchy smart comedy. Here, Charlie slips back into the Tramp's character, who mistakingly ends up hired at a circus, performing unintentional comedic chaos, and who falls in love with a horse rider named Merna. A rich and entertaining Chaplin masterpiece that, in the end, undoubtedly was worth his 2 years of sweat and hassle.
7. A Dog's Life (1918)
"A Dog's Life" was Charlie's first film under his new contract with the production and distribution company First National Films. This contract was one of the first million-dollar deals in film history! It gave him quite a lot of freedom and time, as he didn't receive a release deadline, which enabled him to greatly develop his skills and techniques, giving more emphasis on the structural aspect of a story as well as polishing the character of the Tramp. In this short film, the Tramp befriends a stray dog, his companion on this journey, which will lead them to encounter a dance hall singer. The dog eventually digs up a wallet filled with money that will be thrown back and forth between them and the thieves who buried it, until one of them keeps it and moves on to living a happy life. I'll let you guess which one.
6. Monsieur Verdoux (1947)
With "Monsieur Verdoux", a romantic comedy drama, Chaplin completely detached himself from the Tramp in order to incorporate the character of Henri Verdoux, a man who, after being fired from his job, decides to marry and murder rich widowed women in order to support himself and his family. Of course, just like any story, this one also suffers some obstacles and dangers that give it its exciting thrill and forward-moving plot. Once again, its humour and creative crime story is in fact hiding, and in the end exposing, a more important social and historical aspect that is closely related to the end of the second world war, which was only less than two years prior of this film's release. Kill a few and you're a murderer condemned for life, kill a thousand and you're a hero honoured by all.
Read More: Charlie Hunnman Movies
5. The Kid (1921)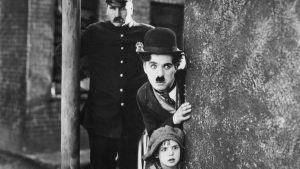 Charlie Chaplin's first full-length film "The Kid" might be one of the most emotional and heart-touching movies of his lifelong work and dedication to cinema. His combination of comedy and drama are perfectly mixed and smoothly merge into each other, just like the opening title beautifully prepares "A picture with a smile – and perhaps, a tear". In this initially sad story, the Tramp comes in the picture and with his kind heart, adopts a baby that had been abandoned by his mother. He takes care of him and grows closer until five years later, they happily live as father and son, while the kid helps out in his daily activities. When it is understood he is not the kid's biological father, the authorities attempt to take the boy into an orphanage which leads them to fight against their separation. This film made Jackie Coogan (the kid) one of the first child stars in history leading him onto a rich and successful career which landed him the role of Uncle Fester in the popular 1960's series "The Addams Family".
4. The Gold Rush (1925)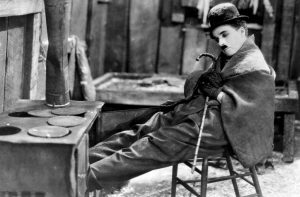 Set during the Great Gold Rush of Alaska, the Tramp has in this story embodied the character of a gold miner looking for his fortune in a beautiful set of white topped mountains. It is truly a well-conceived screenplay with amazing and admiring visual work that completely deserved its huge success. It is said that this is the one film Charlie Chaplin wanted to be remembered for, and after watching it, one couldn't disagree with this wish. After getting caught in a blizzard, the Tramp seeks shelter in a cabin where he meets criminal Black Larsen and gold prospector Big Jim. Naturally, a lot more follows which takes this character on a new comedic adventure that will continue to enchant and entertain the audience, young or old.
3. City Lights (1931)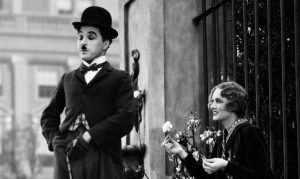 One of his most famous works, this Charlie Chaplin feature film is praised and admired for the Tramp's performance at its best. He is not only endlessly funny but also passionate, romantic, courageous and sympathetic. It's a story that remains alive throughout the ages and continues to represent its importance in the history of film. Our charming little moustached character meets, in this wonderful adventure of his, a beautiful blind girl selling flowers and instantly falls under her charms and decides to dedicate his efforts in helping the poor innocent woman from her devastating misfortunes. Through a bobbing friendship with an alcoholic millionaire, he manages to "save" the girl and lead her into a better life. A graciously emotional tale that, despite in a time where sound films were rapidly rising, stayed true to its silent and, through body movement expressive character. The Tramp never needed a voice to convey all the marvellous essence of his being.
2. The Great Dictator (1940)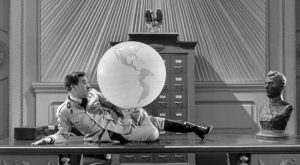 Known by most, this daring critical caricature and condemnation of Adolf Hitler and his Nazi fascism and antisemitism gained great popularity at its release and is still nowadays known as one of the most significant visual satires ever made. With Charlie Chaplin in the role of both a pitiless dictator and a jewish barber, the clever comparison is more than obvious. Although the Tramp is not embodied in this piece of work (Chaplin didn't want him in sound film), the resemblance is quite big due to the typical moustache he wears. This one was simply to resemble Hitler and make both opposite character be physically almost identical for the events of the story and the general message conveyed. Chaplin was definitely the master of comedy, with his ability to use humour as a tool for exposing the dark sides of humanity. After all, laughing at your enemy can be the best attack.
1. Modern Times (1936)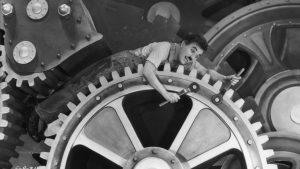 "Modern Times" – Charlie Chaplin's masterpiece in which we see the soul and spirit of his wonderful character impossible not to love. There's no better than this beautiful tear-shedding (of laughter and emotion!) moving picture, that awakened the world in wonder and admiration. It is one of the best examples of social commentary upon the struggles and poor conditions that modern industrialisation brought to the newly employed workers in a world where steel was substituting people. The Tramp is seen initially working on an assembly line, but not for long. From hospital to jail, he goes on a desperate adventure with an orphan girl, Ellen, in order to succumb the difficult obstacles this new age lays on them and hope for a better future. In the mids of these misfortunate days, the two protagonists are still able to find happiness within the small things, even if they don't last. That's how great and inspiring Charlie Chaplin made his character be, in order to amaze and inspire the people at the time, and the ones that were yet to come.
Read More: Charlie Sheen Movies