There aren't many actresses in Hollywood right now who are judicious disciples of method acting. Many prefer rather to rely on the comeliness of their body, and in the moment circumstances to trudge them on. Therefore someone who is a method actor becomes a revered and priceless commodity. And both of the above is Charlize Theron. The South African beauty has established herself as scrupulous and inspiring student of the art, and has given certain memorable performances.
Theron's changing looks in movies have gotten her the title of a chameleon, and has seen her rocket to the acme of her career. Her adaptability has protected her from being monotonous, and being dogmatically associated to one single genre. Saluting her spirit and celebrating her art, we decided to acquaint the world with some of her top work. Here is the list of top Charlize Theron films. You can also watch some of these Charlize Theron movies on Netflix or Hulu or Amazon Prime.
12. A Million Days to Die in the West (2014)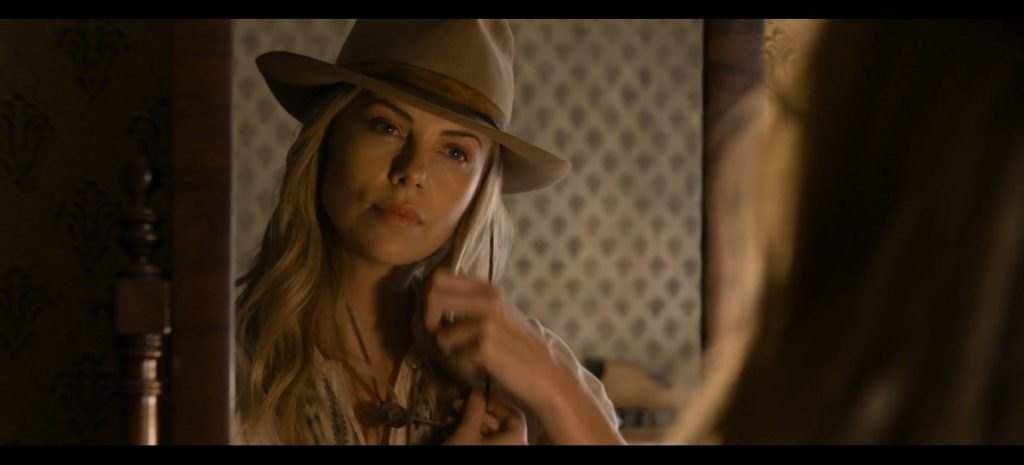 Not a great movie, by any stretch of imagination, but if there's a reason to watch the film it is Charlize Theron. Seth McFarlane's written Western-comedy saw Theron inhabit the character of Anna Barnes Leatherwood, a charismatic and exuberant simpleton, who lives with her husband in the guise of siblings for an ulterior plan. A burgeoning friendship ensues between her and Albert, when the latter saves the former from being crushed to her death. The relationship complicates things, and culminate into funny crescendos. It is perhaps the most normal yet moving performance from her in the list. Theron managed to be endearingly heartfelt and had an enduring sense of humor. She certainly brought her A-game to the fore, and reveled in a limited yet important role.
11. The Burning Plain (2008)
For the umpteenth time, a bad movie doesn't necessarily translate into bad performances. In her own production, Theron starred as Sylvia, a highly dysfunctional and successful woman, whose promiscuity and proclivities towards suicide keep her on the edge. We are told about how Sylvia, formerly known as Mariana, escapes her life and starts a new one, away from her family and friends. Meeting her estranged and obscure daughter turns s new chapter in her life, one that she is reluctant to pursue. Theron's subtle yet bold display of human insouciance was both appealing and pain-afflicting. The tangible sense of realism that she lends to the character stands out in an egregiously flawed film.
10. Hancock (2008)
Theron proved her mettle as an adroit action star, with her turn as Mary Embrey, Ray's wife and Hancock's ex-wife who also has powers and abilities like him, but they are both becoming weak as they are close to each other, in 'Hancock'. Generally a superhero movie doesn't require people to delve deep and philosophize, but she did exactly that and gave layers to an otherwise straightforward character. She makes this conscious decision to live in suburbia and be this soccer mom to her stepson and be the perfect wife—she lives in this bubble. This restraint is to masquerade her own super-powers, which she knows to have devastating effects. A decent performance though.
9. Mighty Joe Young (1998)
One of Theron's primitive roles was an apotheosis of her dedication and colloquial way of evolving a character. Playing the doting mother of a 2000 pound mountain gorilla, Theron exquisitely manages to hold the film together, the burden of which squarely rested on her shoulders. Still in the nascent stages of her career, she managed to carve out her character's identity in a respectful and thoughtful manner, establishing her credentials as a thespian of the art. She made the movie likable and acceptable for kids, and her intense rivalry matched her uninhibited portrayal of a protective and caring mother to someone who isn't her own child.
8. Cider House Rules (1999)
'Cider House Rules' turned out to be her third major consecutive success, which accorded her the status of a superstar. it also became her most critically acclaimed role to date, and earned her various nominations. The movie features her as Candy Kendall, a young impregnated woman, who discovers a new friend in a clinic, Homer, where she had gone to get an abortion. Her husband, a serving defense personnel, has to answer to the nation's duty, which renders a manifestation of a special relationship between Candy and Homer. Receptive of a paraplegic Wally, Candy finds herself in a moral quandary of deciding between her own emotions for Homer, or her duty as the ailing Wally's wife. Theron simply was outstanding in the film, and her scenes especially with Maguire were the highlight of the movie.
7. The Devil's Advocate (1997)
If you are an admirer of her comeliness and beauty, this is the film to start. The story follows Kevin Lomax, a defense attorney who has never lost a case, being given a golden chance to join the Milton firm. The ensuing job isolates him from his wife Mary Ann (Theron), and furthers his descent into being a slave of his work and his enigmatic boss. Mary Ann is the victim of the firm's owner's brutal atrocities, being raped and mutilated by him, as her pleading doesn't convince Kevin. She later is instituted in a mental penitentiary, where she commits suicide. Theron does a compelling job in convincing us of her innocence and sense of loneliness. The iconic film certainly benefited from her inclusion, which also made it more visually appealing film.
Read More: Tom Hardy Movies
6. Atomic Blonde (2017)
Her latest film is also one of her most kick-ass roles. Theron absolutely flourished in her role as an eponymous MI6 agent, in a well-crafted thriller. I'm sure of there being more talk about her performance when it gets a wider release, and therefore would feel guilty in ruining your pleasure.
5. Young Adult (2011)
In this tale of stunted development, Theron is a comic force of nature, giving her character considerable density and humanity despite her monstrous aspects. She churned out one of the best performances of the year and got a Golden Globe nomination. The plot focuses on Mavis, an alcoholic divorcee and an author of adult novels. She decides to return to her hometown and reunite with her ex-boyfriend. The problem is, he is married and has a daughter, which makes her connive a different plan. The topsy-turvy events culminate in her completing her novel, and it being a big hit. Watch it for her unbridled and intrepid performance.
4. The Italian Job (2003)
She again brought to life a character seeking redemption and revenge in this heist-drama. Stella Bridger, a safe-vault technician, is the daughter of the now deceased John Bridger, who joins his familiar team to avenge the former's death. She prefers the use of technology to crack safes for the police, unlike her father, who did the whole thing by touch. As these films go, the end was predictable but satisfying. Playing an indignant and frustrated character, Theron manages to create a tangible and mature sense of hollowness and loneliness. She pulls off her stunts convincingly, and attract our attentions with a perfect blend of destructive and deft.
3. North Country (2005)
A fictionalized account of one of America's most groundbreaking sexual harassment lawsuit. The movie revolves around Josey Aimes who flees her abusive husband and tries to support her two children. The stunning performance landed her nominations in major awards, and showers of praises and love. The relatively unknown film got a huge boost due to her presence, not only theatrically, but performance wise as well. The restrained and deft turn as a woman deprived of her birth rights is emotionally eviscerating and resoundingly inspiring.
2. Monster (2003)
For the people who haven't seen the film, go to Yotube and type Aileen Wuornos interview. Watch the respective videos, and then download the movie. You'll know. If there's one actress in the industry who doesn't care about her looks and is a method actor, it is Charlize Theron. The protean actress, known for changing looks and colors like a chameleon with each film, won her first Academy Award for her portrayal of former prostitute and serial killer Aileen Wuornos. For the role, Theron gained 30 pounds (14 kg), shaved her eyebrows, and wore prosthetic teeth. Critics called her performance, and her makeup, a "transformation". Her performance is often cited as one of the greatest in the history of cinema. A must watch!
Read More: Best Oscar Issac Movies
1. Mad Max: Fury Road (2015)
The moment I completed the film, I rushed to the know about the movie and Charlize. Her chameleon instincts kicked in rendering her totally unrecognizable in appearance, yet strikingly familiar in spirit. A rebel against the anarchist administration and tyrannical rule, Furiosa aims to liberate herself and the hapless people from Immortan Joe's selfish persona. Miller's dream project, and frankly one of the greatest action films ever made, gave Theron a platform to create and live an iconic character. Truly amazing.