Christina Ricci is an actress who was one of the many familiar child stars in the 1990's, playing an eclectic mix of roles as she grew older. Ricci has shown different sides of her acting capabilities in the various roles she has held since she was nine-years old, when she played opposite Winona Ryder and Cher in Mermaids.
Christina Ricci has done a lot of films over the years, so people often debate each other over what the greatest Christina Ricci movie of all time is. If you and a friend are arguing about this then use this list of top Christina Ricci films to end the squabble once and for all. You can also watch some of these Christina Ricci movies on Netflix or Amazon Prime.
12. The Hard Way (1991)
'The Hard Way' is a buddy-cop action movie with lots of fun and comedy. And the makers of this film know that the success lies in a successful clash of well-defined personalities. That's the appeal of this long, loud, silly, over the top, but very fun slick picture from mainstream action specialist John Badham.
11. Monster (2003)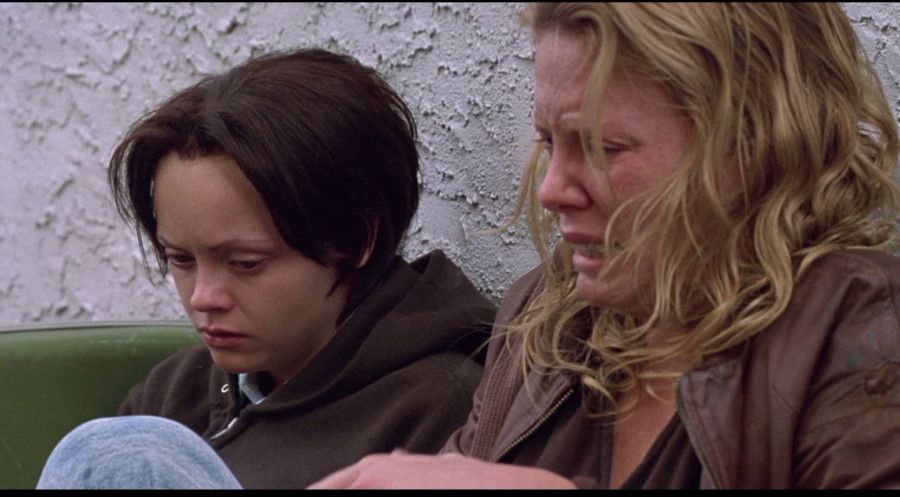 'Monster' is based on a true story that is about Ailen Wuornos (played by Charlize Theron who's just incredible), a prostitute, who killed quite a few men who she "serviced". It starts off just before she began murdering men and has met Selby (Christina Ricci), an adorable lesbian who loves her. It basically chronicles their relationship and what led Wuornos to kill these men.
10. Black Snake Moan (2006)
Brewer's 'Black Snake Moan' is a movie with great direction, great casting, great plot and great editing. Christina Ricci does a great job and is thoroughly convincing in her role, as is Samuel L Jackson. Justin Timberlake is also in the movie, playing as Rae's military-bound boyfriend. The rest of the cast is also solid with a shining performances.
9. The Addams Family (1991)
'The Addams Family' is a black comedy and that keeps us enthralling throughout the film. Full credit must be given to the writer and director for bringing this family to life in a way that just cannot be repeated. Protagonists of the movie are – Raul Julia, Anjelica Huston, and a young Christina Ricci – who all delivers great performance in the movie.
8. Sleepy Hollow (1999)
'Sleepy Hollow' embodies Tim Burton's unique take on one of the most well-known horror tales of all time with a few new plot twists and greater character development, including a dark past for Ichabod Crane and a "story behind the story" of what's going on in the haunted town, which is beautifully rendered, dark and foggy for an eerie atmosphere.
7. Buffalo '66 (1998)
Vincent Gallo's directorial debut – 'Buffalo 66' is a powerhouse of fine acting, writing, and editing. Christina Ricci provides one of the year's best performances as Layla. 'Buffalo 66' is one of the finest independent films that you'll ever see, and perhaps the most fascinating character study on film. There are also fine supporting performances from Ben Gazzara and Angjelica Huston, as Billy's utterly dysfunctional parents, Mickey Rourke, as a sleezy bookie, Jan-Michael Vincent, as Billy's touchingly loyal friend and owner of a bowling alley, and Kevin.
Read More: Best Charlize Theron Movies
6. Casper (1995)
'Casper' is a beautifully made movie that has great humor, excellent cast, an enchanting music score, spectacular special effects and a very touching story. This family cum fun-packed movie and certainly not targeted only for children. The plot concerns two baddies who find out about a long lost treasure hidden in a Gothic mansion in Maine. The only thing standing in their way is the ghosts that haunt the place.
5. Now and Then (1995)
'Now and Then' is a film that has a likeable cast and is funny and expresses friendship. Yes, it is definetley a girl's movie, but even though, boys will also enjoy it. The movie features Melanie Griffith, Demi Moore, Rita Wilson and Rosie O'Donnell, with Thora Birch, Gaby Hoffman, Ashleigh Aston Moore and Christina Ricci playing their younger counterparts. The film is a good and fun movie.
4. The Man Who Cried (2000)
Christina Ricci will hold your attention in the movie with well-acted and profound performance. The movie had – art direction, music, and cinematography – all in top-drawer. As is par for the course with Sally Potter's films, it looked good and had some interesting things to say. Protagonists in the movie are Christina Ricci, Cate Blanchett, John Turturro and Johnny Depp.
3. Pecker (1998)
'Pecker' is full of humorous characters and interesting situations, starting with the blithe, innocent Pecker (Edward Furlong) who likes to photograph almost everything he sees in every day life. Christina Ricci also shines as Pecker's alienated girlfriend. The movie gently makes a point about how every day life has many riches to offer, and it succeeds in making this point without being too heavy-handed about it.
2. All Over The Guy (2001)
'All Over The Guy' is a film that breaks the barriers and focuses on issues of intimacy and finding ways to communicate. Good moments from Christina Ricci, and Doris Roberts was perfect. All of the characters are likeable and interesting people. Kudos to the director – Julie Davis for well casting and direction. Lisa Kudrow is also in the movie and has done a great support role.
1. Mermaids (1990)
'Mermaids' is set in coastal Massachusetts. Director of the film – Richard Benjamin who has also given us some charming films as Milk Money and My Stepmother is an Alien, rivals Penny Marshall and Rob Reiner with this gem. The movie is from the daughter's point of view and Ryder does an excellent job playing the purtian to Cher's mother role. Ricci is the youngest, a champion swimmer who steals the whole movie with scenes like her pumpkin scene.
Read More: Best Anna Kendrick Movies