Most women who like staying active throughout the day know how chaffed skin, especially on the insides of the thighs, can end up being extremely painful. Entrepreneur Brittany Lammon aimed to combat this very issue through her product Chub Rub Patch, which provides a comfortable barrier between one's skin and clothes.
While such an innovative and helpful product made us curious to learn more, interest in Chub Rub Patch peaked when Brittany Lammon appeared on ABC's 'Shark Tank' season 14 episode 14, hoping for a life-changing investment from the Sharks. Well, let's dive in and chart the product's growth, shall we?
Chub Rub Patch: Who Are They and What Do They Do?
Since Brittany Lammon discovered her passion for fashion and cosmetics from a young age, she completed her education at Bowling Green State University before earning her cosmetology license from Ohio State School of Cosmetology-Columbus. Besides, she even studied at the Cosmix School of Make-up Artistry, which further enhanced her skills. While most readers would know Brittany as the make-up artist and hairstylist for World Wrestling Entertainment, she surprisingly has a lot of experience in entrepreneurship, as she started her first company, BigCreations LLC, in 2015.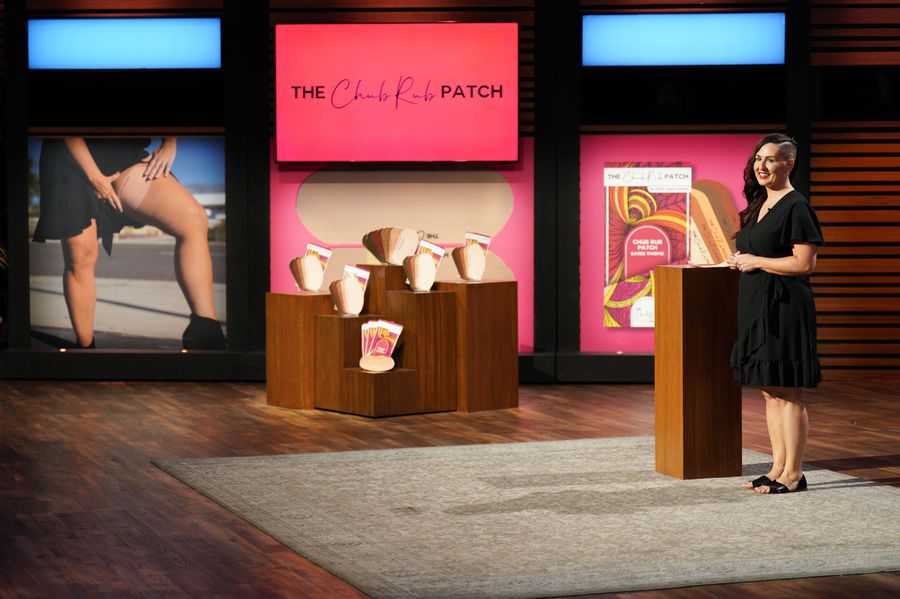 Later, Brittany went on to own the business Bfabulous Inc. and became the president of her own company, BragCreationsLLC. Eventually, in 2021, Brittany established TheChubRubPatchLLC, under which she produces and markets the Chub Rub Patch. Readers should also note that before Chub Rub Patch, Brittany invented and patented several other products, which gave her some much-needed experience once she decided to tackle the issue of skin chaffing. She has always been a busy woman handling several businesses at once, and most of her days are pretty active.
Hence, Brittany knew how difficult and painful it was to deal with chaffed skin, especially on the insides of the thighs. Moreover, apart from being painful, chaffed skin can lead to various infections and make it difficult to dress as one pleases. However, no matter how much Brittany searched, both online and offline, she was disappointed to realize that no one had a solution to the problem. Thus, putting her experience as an entrepreneur to use, she went back to the drawing board and came up with the innovative idea of a Chub Rub Patch.
At its core, the Chub Rub Patch is a thin strip that sticks to the skin and keeps it from rubbing against one's clothes. Since most chaffing is caused by friction between skin and fabric, the Chub Rub Patch effectively reduces the point of contact, keeping the skin safe. While each patch is completely free of latex, people can use them without worry, as they are made from hypoallergenic materials, including medical-grade cotton and poly-acrylic adhesive.
On top of that, the Chub Rub Patch is fully waterproof, making it comfortable to wear, even for long periods. Even using the product is pretty simple, as one needs to place the patch on the inside of one's thighs before putting on their clothes, while the natural adhesive allows the patch to come off easily.
Where Is Chub Rub Patch Now?
While the idea of the Chub Rub Patch might sound simple, readers will be surprised to know that Brittany had to go through several prototypes before she was satisfied with the final product. In fact, reports state that it took two years to develop and market the final product, and Brittany gained popularity when her videos demonstrating the Chub Rub Patch went viral on TikTok. Furthermore, since the inventor had prior experience as an entrepreneur, it did not take long for Brittany to increase her customer base, and she soon started shipping her product to all corners of the country.
Additionally, the Chub Rub Patch was featured in several magazines and TV programs, which increased its popularity. People looking to use the Chub Rub Patch can purchase it exclusively from their official website, where a three-pack costs $12:50, while a two-pack is slightly cheaper at $8.99. Besides, the company offers a subscription-based service, which offers additional discounts, and the patches are available in 5 different shades.
While the Chub Rub Patch now ships to countries outside the United States, including Germany, Italy, Brazil, the United Kingdom & Israel, Brittany also uses her company to advocate for body positivity and self-confidence. It is inspiring to witness Brittany's success to date, and we are confident that she will reach greater heights in the near future.
Read More: Retold Recycling Shark Tank Update: Where Are They Now?