Landfills are frequently responsible for soil and groundwater contamination because polluting compounds (such as heavy metals like lead and mercury) in stored garbage can move to the land and water surrounding the facility. A combination of synthetic and natural fibers makes up the majority of clothes. When materials made entirely of natural fibers, such as cotton or wool, are disposed of in landfills, the methane they produce can be discharged into the environment, which, when not contained, causes severe harm to the environment.
In season 14 episode 14 of ABC's 'Shark Tank, 'entrepreneurs Amelia Trumble and Alan Yeoh presented the Sharks with an alternative solution that would brilliantly revolutionize the process of recycling discarded clothes and preventing them from being dumped in landfills. Retold Recycling is a brand that sends different-sized biodegradable bags to be collected from the homes of consumers filled with discarded clothes, which would've been dumped at landfills. These clothes are then upcycled, recycled, or sent to thrift stores and charities, depending on their condition. Now that we've caught your attention with such a useful product on display, let's delve in and trace the company's growth, shall we?
Retold Recycling: Who Are They and What Do They Do?
Retold Recycling is the brainchild of Amelia Trumble, Noelle Delory, and Alan Yeoh, who jointly founded the company in 2018. Amelia Trumble completed her education at RMIT University in Business and Marketing. Following her graduation, she joined Wishlist Holdings as a Marketing Manager. She held reputable positions in different companies, including Fairfax Digital, where she worked as a Campaign Manager. The CEO of Retold Recycling then tried her professional game in the makeup and beauty industry.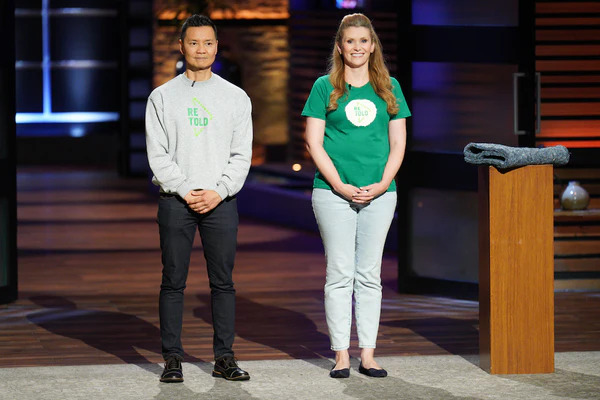 She worked as the Manager in Internet & Mail order Channel in Cosmetics Cubed Pty Ltd, after which she stayed at The Estée Lauder Companies Inc. for 9 years reaching to the top position as the Vice President. At Bray & Co her role as a Digital Consultant helped her to form marketing startegies for her own compay which she establised with her business partners. She continued her professional life in other companies including Render Better and Trumble & tribe NY LLC. While continuing her freelancing job at Trumble & tribe, she co-founded Retold Recycling as is currently the CEO of the brand.
Alan Yeoh, on the other hand, completed his Master's in Business Administration, Strategic Management from The Wharton School. His resume is quite thick as he has held high positions in different companies including Airbnb, Uber, The Vitamin Shoppe, The Estée Lauder Companies, British Telecom, Teradata, Carlson Marketing, and Telstra. Though, Noelle Delory is no longer a part of the company, she remains as one of the co-founders. Currently, she is working as the Cheif Marketing Officer at thredUP. She has previously worked with MAC Cosmetics, Cake Group, Havas Group, Rockstar Games, and Miramax Films.
Noelle received her MBA in International Business from IESE Business School and earned her BFA in Film & Television Production from New York University. While working with each other at MAC Cosmetics in New York, the co-founders frequently conversed about the long-term shift to devote resources to a company that would benefit the environment. One day while Amelia was decluttering her unwanted clothes, she was frustrated to see no alternatives for discarded clothes that reached the landfills.
Out of such frustration, the idea of creating change in terms of consumer goods marketing compiled with eco-consciousness was born. Retold Recycling bags made of cornstarch helps consumers to collect unwanted clothes at home, which could be filled with different clothing items, and simply dropping them off at the nearest post office would create a change of a lifetime. The employees at the company would then take off the headache from the consumers and distribute the clothes to thrift stores, community centers, charities, and elsewhere to prevent the increase of landfills.
Where is Retold Recycling Now?
In 2018, an idea between three colleagues was born that would tackle the problem of sending tons of discarded textiles to landfills that directly impact the welfare of the environment. Retold Recycling seeks to create a group of like-minded clients that share the same motto and goal: #NoLandfill. They are a practical and ethical mail-in service for recycling any unsold and used textiles from homes and apparel, ethically preventing waste from going to landfills. Retold has successfully kept 20 tons of textile waste out of landfills by diverting and recycling it.
Items delivered in each Retold bag are meticulously sorted by the company before being sent to charities, thrift stores, reuse partners, up-cyclers, rag firms, and, eventually, next-generation fabric houses. They have developed a simple, hassle-free solution that allows customers to dispose of unwanted textiles in the most ecologically responsible and sustainable manner possible, putting recycling at the forefront of customer purchasing behavior.
Consumers have the option of making a commitment-free single or bulk purchase of our recycling bags or signing up for the subscription services to receive automatic rewards and cashback that can be redeemed at one of our feel-good partner companies. To prevent anything from ending up in a landfill, every Retold bag is composed of biodegradable materials and comes with a postage-prepaid label.
People interested in trying out the products can purchase them exclusively from the Retold Recycling website, where you can choose from a range of subscriptions. Their Closet Clean-out 10-pack bag comes with ten bags with dimensions 15x15x4 inches and up to 5 lbs at $145, now selling at a discounted price of $129.50. Their annual subscription bag comes up with six bags sent for the entire year for $99, now at $94. The Threesome pack comes with three bags without any commitment at $43.50, now at $41.50.
The Quarterly subscription pack provides six bags a year at $24.75; however, shipping is chargeable. Customers can get approx $15 rewards with this subscription. Those who simply want to try it out first can try the Solo bag at $14.50. The company has been growing at a steady rate, with over 20 tons of textiles saved from landfills, and with the help of the Sharks, the manufacturing process has become faster and better, with more products being shipped out.
Retold Recycling has been featured on different media platforms, including Buzz Feed, Shoutout LA, Fat Mascara, Shondaland, California Apparel News, Bustle, Hunker, and Medium. It is inspiring to witness Amelia and Alan's incredible success, and we are confident that the company will grow further in the years to come.
Read More: Copy Keyboard Shark Tank Update: Where Are They Now?