Cincha is a brand that offers innovative travel accessories to simplify and enhance travelers' experiences. Based in Oakland, California, the company offers stylish and unique products that meet modern travelers' needs. Additionally, Cincha actively supports initiatives to reconnect migrant families, aiming to make the world a better place. The product was displayed on ABC's 'Shark Tank' season 14 episode 19.
Ashley Sharma and James Baker Jr. founded Cincha Travel, both avid travelers frustrated by the lack of stylish and functional accessories to secure their personal bags to their luggage. They wanted to create a solution that would be affordable, visually appealing, and solve this common travel problem. Now that we've caught your attention with such a useful product on display, let's delve in and trace the company's growth, shall we?
Cincha:
Who Are They and What Do They Do?
Ashley Sharma and James Baker Jr started designing travel products from their California apartment, focusing on catering to different tastes and preferences. Cincha's aim was to become more than just a travel accessory provider and positively impact the greater good. The company values direct interaction with customers, ensuring the best possible experience for everyone. James passed with the Highest Honours from the University of California, Davis, in B.A., Political Science. The attorney also attended the prestigious Harvard Law School.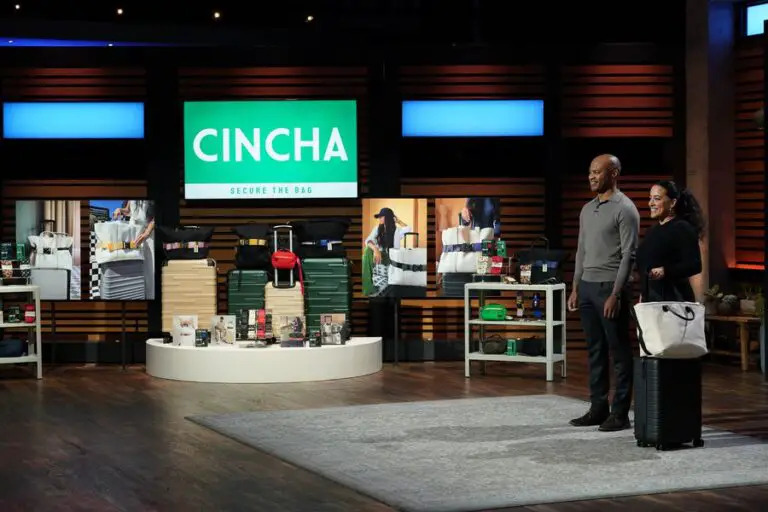 In 2009, James joined Sen. Edward Kennedy – Senate Committee on Health, Education, Labor and Pensions where he worked as the Robert T. Matsui-University of California Congressional Fellow. The entrepreneur held prestigious poistions in dfferent companies as a Fellow, including Office of Congresswoman Barbara Lee and Public Advocates where he worked as the Congressional Black Caucus Foundation Fellow and Equal Justice America Legal Services Fellow.
From 2013 to 2018, James worked as an Associate at Farella Braun + Martel LLP. Since 2018, he is working at the U.S. Equal Employment Opportunity Commission as the Trial and then as the Senior Trial Attorney. Ashley completed her Bachelor of Science degree in Marketing from San Francisco State University in 2012. While attending her University Ashley worked as a Marketing Coordinator, Associate Marketing Manager, and finally rose to the position of the Marketing Manager at Yes To Inc.
She also held prestigious positions in The Honest Company as the Retail Marketing Manager and Williams-Sonoma, Inc. as the Senior Brand Creative Manager, Mark and Graham. The entrepreneur was also employed at Bobbie as a Marketing Marketing. While focusing on her own company, Cincha Travels, Ashley is also the Marketing Director at Cora.
Where is Cincha Now?
Cincha has a long-standing commitment to supporting communities in need. Initially, the company donated food to local food banks for every Travel Belt sold, resulting in over 3,300 meals donated. However, since March 2021, Cincha has shifted its focus back to its travel roots by donating 100 airline miles for each Travel Belt purchase to help reconnect migrant families in partnership with Miles4Migrants. Cincha has donated over one million miles to date, demonstrating its dedication to social causes and its mission to simplify travel experiences while positively impacting the world.
With its unique and functional travel accessories, Cincha is more than just a fashion brand, making it an essential part of any modern traveler's toolkit. Cincha has made a consistent effort to support communities in need. Initially, the company donated three meals worth of food for every Travel Belt sold to local food banks in the Bay Area, resulting in over 3,300 meals donated. However, since March 2021, Cincha has shifted its focus to its travel origins, donating 100 airline miles for each Travel Belt purchase to assist in reuniting separated migrant families.
In collaboration with Miles4Migrants, a non-profit organization, Cincha has donated more than a million miles thus far. By prioritizing social causes and offering distinct products, Cincha is more than a fashionable and practical travel accessory brand; it strives to constructively impact the world by simplifying travel experiences and supporting migrant families. As a company that values both style and substance, Cincha has become an indispensable component of the contemporary traveler's heart.
The brand has been featured across different media publications BuzzFeef Essenxw, Oprah Daily, AFAR, and TravelLeisure+. The different travel belts cost $35.99 and come in different patterns and colors, per your choice. Their mini travel belt costs $31.99. The travel belt bags, which include the Cincha strap costs $35.99. They appeared on 'Shark Tank' due to their creative product combination. They are ready for the next phase of expansion by asking the sharks for a heavy investment, which would help the company increase production and increase its footprint nationwide.
Read More: Burlap and Barrel Shark Tank Update: Where Are They Now?