What comes to your mind when someone says "school"? Textbooks, classrooms, exams and maybe careers. School is supposed to prepare us for the future but what if there was a lot more to it than just classroom-based learning? What if a school not just tested you through written exams but also took things a little beyond that? 'Classroom of the Elite' is all about that. It takes you on a journey with students who survive not only a tough academic curriculum but also challenges outside the confinements of their classrooms. Right from the beginning, the anime had my attention as it was starting to deconstruct the entire educational system. The whole idea of "with great power comes great responsibility" is quite common these days. TV shows and movies use a rather cliched idea of just portraying teenagers with superpowers and how they end up misusing it. But 'Classroom of the Elite' explores the idea of "teenagers with responsibilities" in a very unique way.
The premise of the anime is really interesting and is backed up with some really diverse and interesting characters. Since it's a school setup, there are many different characters, but even then the anime does a great job with the development of most of them in a short span of just 12 episodes. From the first episode itself, it becomes quite obvious that there is going to be a whole lot of drama in the show. If drama is not for you, then you might want to reconsider watching it. The anime dives deep into social problems that are faced by most teenagers, which include depression, the fear of missing out, and also the fear of rejection. Each character also seems to have a hidden dark agenda which makes it even more interesting. In addition to all of this, there is some lighthearted comedy here and there. The humor is not all the bad but it's the fan service side of it that holds the show back.
Studio Lerche deserves to be appreciated for creating high-quality animation for the series. The visuals really stand out and the characters have a unique style of vibrancy to them. Being a drama, the body language and mannerism of each character matters and that is something that has been pulled off with astonishing perfection.
Overall, I would say that 'Classroom of the Elite' is pretty much a hit or miss show that can only be enjoyed by some. What I truly loved about it is the message it sends out about the education system and how one's status is not necessarily dependent on it. The story could've been executed in a more complete way but it still is worth a try. So if you are able to use your own imagination to explore certain aspects that are missed out by the anime, then you will actually have fun while watching it. But if drama is not your thing and you expect the plot to be perfect, then you might want to skip this.
Classroom Of The Elite Season 2 Release Date: When will it premiere?
'Classroom of the Elite' season 1 released on July 12, 2017 and ended on September 27, 2017 with a total of 12 episodes. As far as the next season is concerned, despite the fact that the renewal has not been confirmed yet, many factors point out towards its possibility. The first season of the anime only covers 3 volumes of the light novel series. Which means that there are still 7 more volumes of the source material to be covered. Considering this, the show could actually have two more seasons with 12-episodes in each one. Our best guess is that 'Classroom of the Elite' season 2 release date could fall sometime in 2021. We will update this section as soon as we hear more.
The anime has been extremely popular, and so it seems really odd that the studio hasn't announced a new season yet. Considering its popularity, it seems very less likely that they don't have enough budget to go for a new season. So if they never come up with a season 2, then it is probably because of the fact that the sole purpose of the anime was just to promote the light novels. There may still be some hope because the first season came out just two years ago, but let's not be delusional about it.
Classroom Of The Elite English Dub:
The subbed and dubbed versions of 'Classroom of the Elite' are available on Crunchyroll, Funimation, and Netflix.
Classroom Of The Elite Plot:
Kuodo Ikusei Senior High School is a heaven for students because of all the freedom that it gives. It is also known as one of the best educational institutes in Japan. But on the inside, there is a lot more to it and the reality is only known by the students who study in it. The high school follows a very unorthodox style in its functioning. It divides its students into 4 sections from A to D where the ones in section A are the brightest of all and the ones in D are with the lowest grades.
Kiyotaka Ayanokouji is a student of section D where the school places its worst students. This is where he meets a girl named Suzune Horikita, who is a complete outcast and believes that the only reason why she sits in class-D is that there has been some mistake from the school's end. Her only desire now is to prove what she is capable of and then jump to Class-A. He also becomes friends with the Class-D's class idol named Kiyou Kushida, who just wants to be friends with everyone around.
Class rankings are not at all permanent and if a student is willing to work hard and rise up in ranks, then he/she will certainly be recognized. But pretty much everyone wants to be a part of the classroom of the elite and that is the reason why the competition to reach the top is absolutely cut-throat. For the ones who belong to Class-D, there are no restrictions. They can literally use any methods to improve their ranks. But then again, the same applies to all the students and only the ones who are willing to give it everything will eventually reach the top.
Classroom Of The Elite Characters:
Kiyotaka Ayanokouji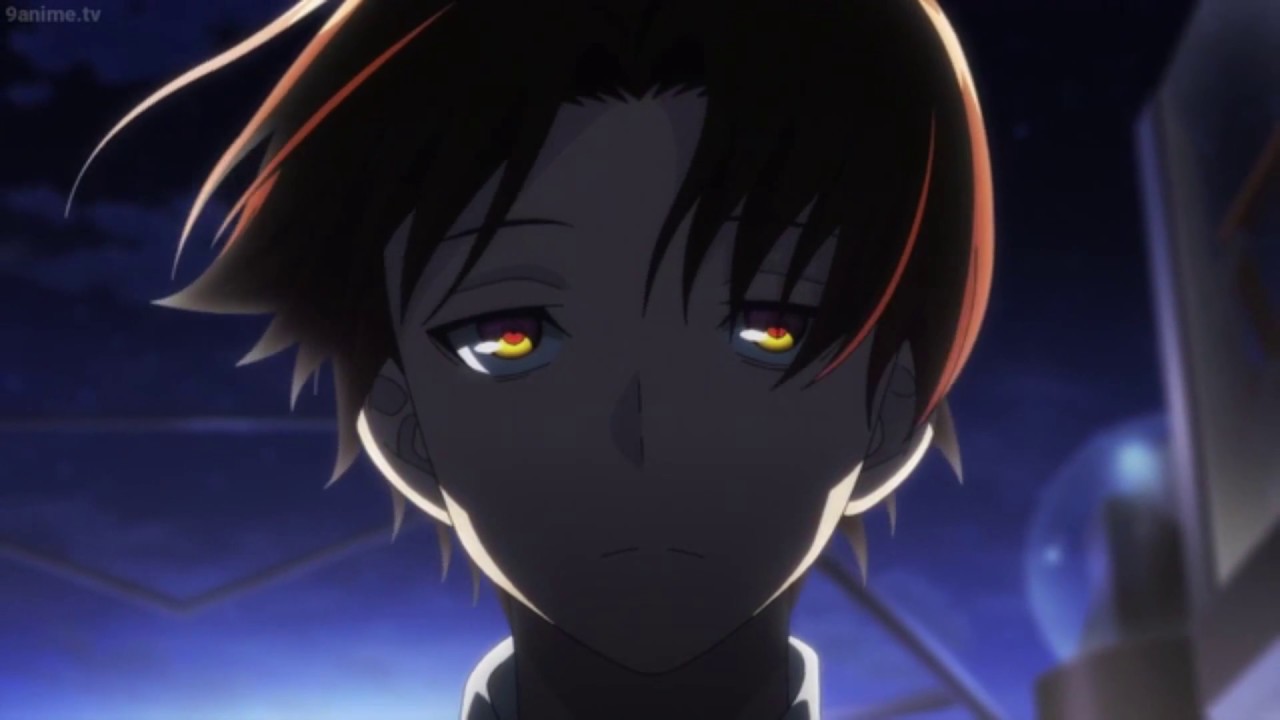 Kiyotaka is the main protagonist of the show. He is a first-year student of the high-school. When he appeared for the entrance exam of the school, he scored 50 in each subject and that's how he got Class D. Kiyoto has an average height with a very athletic build. He is a very handsome guy and that's the reason why he gains a lot of popularity amongst the first year girls of his class. When he is asked if has always been into sports, he denies it. His muscular build is probably an outcome of an event from his past, which is later shown as a flashback.
Besides his good looks, Kiyotaka never really does anything to draw the attention of others onto him. He stays quiet and believes in observing the people around him. Though his grades are average, he often shows his intelligence by quoting various historical facts from time to time. He is what one would call street smart because he often finds his way around the school rules and uses them to his advantage. Everyone believes that he very well deserves to be in Class A; all he needs to do is to apply himself well. People often assume that he is cunning and self-centered because of his aloofness and monotonous way of talking. But he is actually a great guy if someone makes an attempt to understand the reason behind his social awkwardness.
Suzune Horikita
Suzune Horikita is another student at the High-School who has been placed in Class-D. She is really good at academics but she lacks the ability to work in a group and keeps to herself most of the times. Nevertheless, she is determined to rise to the top and somehow make her way to Class-A. She is not only good at academics but also excels at sports. It is only her anti-social nature that holds her back and the only way she can reach Class-A is by making more friends and being active.
Almost all her life, she has been the top student in her class but after she joins Kuodo Ikusei High School, all of that changes when she is placed in Class-D. This is where she gets her wake up call and realizes that she needs to do a lot more than just being good at studies. Initially, she comes off as a very cold person who bluntly says everything out loud without thinking about how the other person would feel. She believes that making friends is just pointless and it will only drag her down. But later in the series, when she actually starts making an attempt to get along with people around her, she begins to understand the true importance of having friends.
Read More in Anime Preview: Dragon Pilot Season 2 | The Asterisk War Season 3