With Netflix's 'Untold: Swamp Kings' exploring how coach Urban Meyer turned the University of Florida's entire football program upside down in mere years, we get a docuseries unlike any other. After all, it carefully incorporates not just archival footage but also exclusive interviews to really underscore the impact as well as the legacy of this coach and some of his most trusted athletes. Amongst those to feature here was actually once-Florida Gators offensive coordinator Daniel "Dan" Mullen — so now, if you simply wish to learn more about him, we've got the details for you.
Who is Dan Mullen?
Dan Mullen was born in Pennsylvania on April 27, 1972, to Barabara and Robert "Rob" Mullen as one of their two sons. However, he primarily grew up in New Hampshire, falling in love with the world of athletics. Therefore, with his parents' unwavering support at every step of the way, he was thriving in both basketball as well as football by the time he began attending Trinity High School in Manchester. Though, it's the latter alone that became this tight-end player's true passion, enabling him to help lead his team to the 1988 State Championship before enrolling in college for his degrees in Education.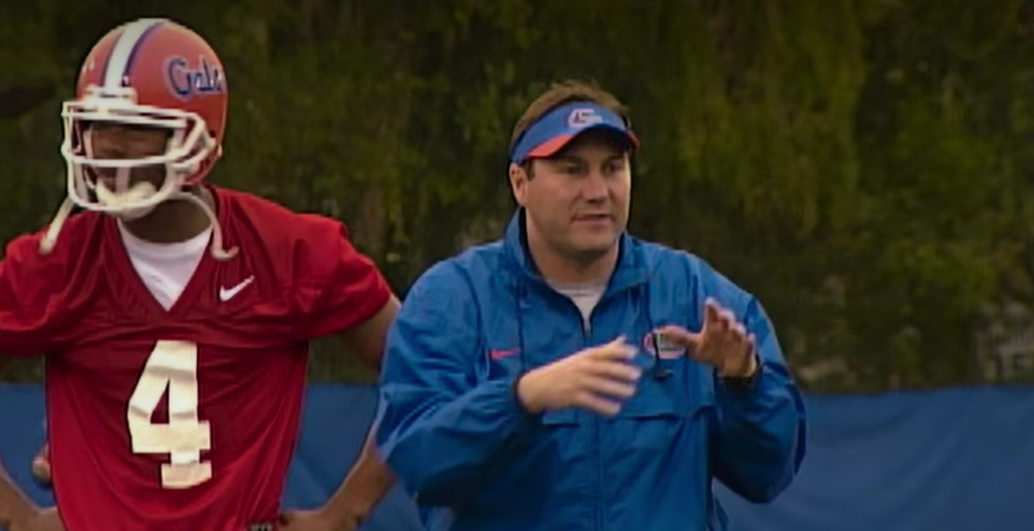 We say degrees because Dan initially pursued a Bachelor's in Education from Ursinus College (1990-1994) prior to obtaining his Master's in the field from Wagner College (1994-1996) as a student-coach. The truth is he knew his next step would be to evolve into a football trainer owing to the skills he'd garnered over the years, driving him to get an early start by becoming a wide receivers coach during his final year at university. Then came his two-season stint at Columbia University in the same position, just for him to move on to being a graduate assistant at Syracuse in 1998 and later at Notre Dame from 1999 to 2000.
It was from here that Bowling Green hired Dan to coach quarterbacks for the 2001 and 2002 seasons under head coach Urban Meyer, which is an explosive dynamic to have stuck once Utah signed them from 2003 to 2004. This is because they together brought the spread offense technique to the latter, only for it to do such wonders their team won the Mountain West Conference both years with 10-2 and 12-0 records. "The base idea was to get away from the traditional offense where the quarterback just stood in the pocket and threw the ball; you never had to worry about him running," the former said in the production.
Dan continued, "[Urban and I] wanted to create this offense where defenses had to defend a quarterback that could throw and run, running backs that could run and catch, receivers could come in and run the ball, and force you to have to defend the whole width of the field." It hence comes as no surprise that when coach Urban was recruited by the University of Florida in 2005, he was hired as offensive coordinator as well as quarterback coach too — positions he loyally maintained until he got an incomparable opportunity during the 2008 season.
Where is Dan Mullen Now?
Dan was actually appointed head coach of Mississippi State University by its Athletic Director on December 11, 2008, yet he reportedly did not jump on this wagon until 2009 rolled around. That's because he wanted to see through the Florida Gators to another championship, which he did, and then stuck by the Mississippi Bulldogs in the same manner for the ensuing nine seasons. In fact, by the time he switched allegiance again by signing a $36.6 million head coach contract with Florida in November 2017, he was already the third-winningest coach for Mississippi.
From what we can tell, following almost four years to the tee, Dan was fired as head coach in November 2021 owing to a bad season, resulting in him formally hanging up his coaching hat. Nevertheless, it's imperative to note he does currently volunteer as a "contributing resource" for the Lake Oconee Academy's football team, all the while also serving as a television analyst with ABC and ESPN. Most importantly, we should mention this 51-year-old — with a total head coach record of 103-61 — is currently based in Georgia, where he's blissfully surrounded by his wife of nearly 2-decades, Megan Mullen, plus usually his three children: Canon Mullen, Rowan Mullen, and Breelyn Elisabeth Mullen.
Read More: What Did the Pouncey Twins Do? Where Are They Now?