In 'Demon Slayer: Kimetsu no Yaiba' season 3 or 'Demon Slayer: Kimetsu no Yaiba Swordsmith Village Arc' episode 4 titled 'Thank You, Tokito,' the Mist Hashira saves Kotetsu from the demon and learns that Kanamori and Mr. Haganezuka also need his help. Meanwhile, Tanjirou is struggling against Urogi who uses his wings to his advantage to deliver quick aerial attacks that make it very hard for the demon slayer to keep up with him. Genya and Nezuko are tasked with the complicated responsibility of fighting against the three powerful clones of Hantengu who are relentless in their attacks. Here's everything you need to know about the ending of 'Demon Slayer: Kimetsu no Yaiba' season 3 or 'Demon Slayer: Kimetsu no Yaiba Swordsmith Village Arc' episode 4. SPOILERS AHEAD!
Demon Slayer: Kimetsu no Yaiba Season 3 Episode 4 Recap
After Muchirou changes his mind and rushes to save Kotetsu, he tells him to run away as does not want him to get in his way. Kotetsu simply hides behind the bushes and watches the drama unfold. Muchirou easily cuts the demon's head but it regenerates somehow. That's when the Mist Hashira notices the vase on the demon's back and realizes its weakness. After he cuts the vase in two halves, the demon dies moments later.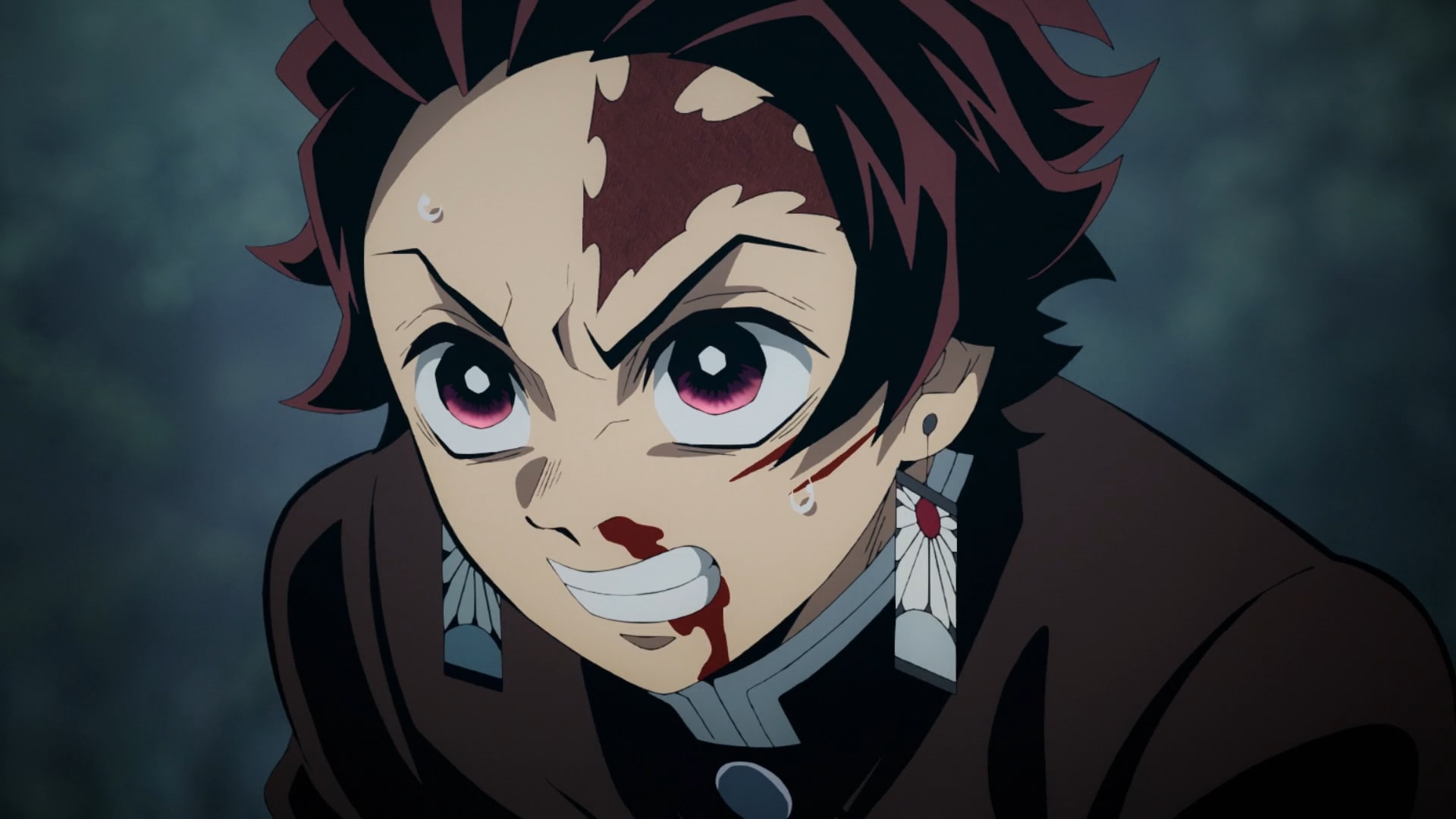 As Muchirou is about to rush back to fight alongside fellow demon slayers, Kotetsu informs him that Kanamori and Mr. Haganezuka are under attack as well. He weeps in front of the Mist Hashira so that he can convince him to help. Eventually, Muichirou gives in and the two of them rush to save the swordsmiths. Meanwhile, Genya and Nezuko are fighting against the three clones made by Hantengu.
Despite getting stabbed repeatedly, Genya shows no signs of slowing down and bravely tells the demons that they must remember his name as he is going to be the one who will slaughter them. Nezuko also fights hard but eventually gets electrocuted by Sekido. Elsewhere Tanjirou is busy fighting Urogi who has separated him from his sister and Genya.
Demon Slayer: Kimetsu no Yaiba Season 3 Episode 4 Ending: Does Tanjirou Reunite With Nezuko? What Happens to the Siblings?
While fighting Urogi, Tanjirou realizes that he needs to reunite with Nezuko and Genya as soon as possible. He knows that the house they are fighting in is not far from the place where he is right now, but Urogi continues to make it tough for him to go anywhere. So, Tanjirou comes up with a tricky plan to eventually get back to the mansion so that he can fight alongside Nezuko and Genya. When he starts running away from Urogi, the demon feels that he is winning the battle and tries to rush toward him.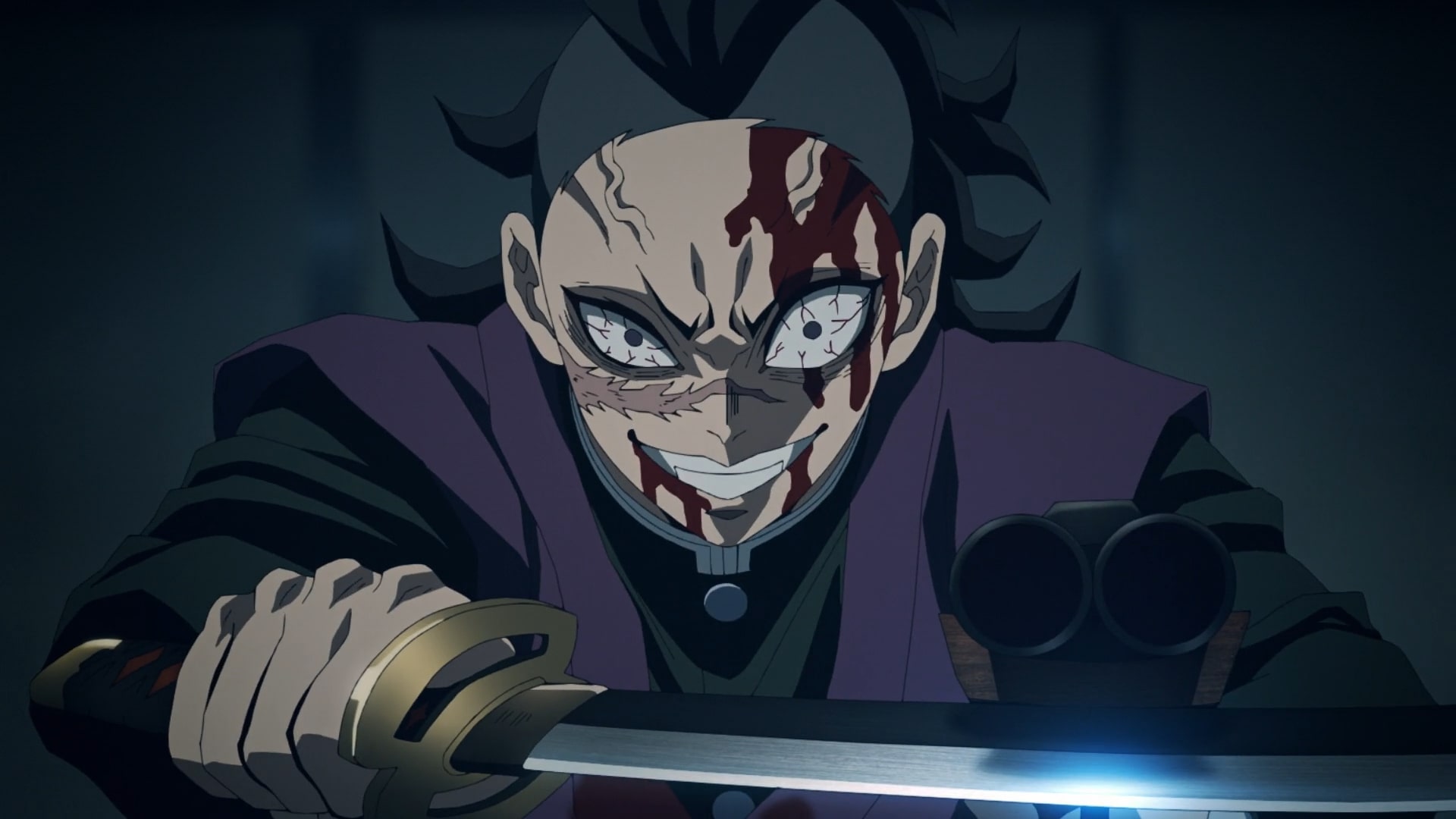 But at the very last second Tanjirou evades his claws and puts his sword through his leg and mouth giving him control of Urogi's light body. He then smartly steers the demon towards the mansion and eventually crashes him so hard against the wall that it falls down. Interestingly, they end up in the room where Sekido is electrocuting Nezuko continuously using his long iron rod. Tanjirou naturally rushes to help his sister and Sekido tries to attack him with another one of his iron rods that he summons out of thin air.
But when he tries to stab and electrocute the young demon slayer with it, Tanjirou uses Urogi's feet that he surreptitiously cut moments earlier to act as an insulator and protect himself from electrocution. Then he proceeds to save Nezuko by pulling out the iron rod from his neck. Sekido tries to attack Tanjirou one more time when he is not looking but Nezuko saves him at the very last moment.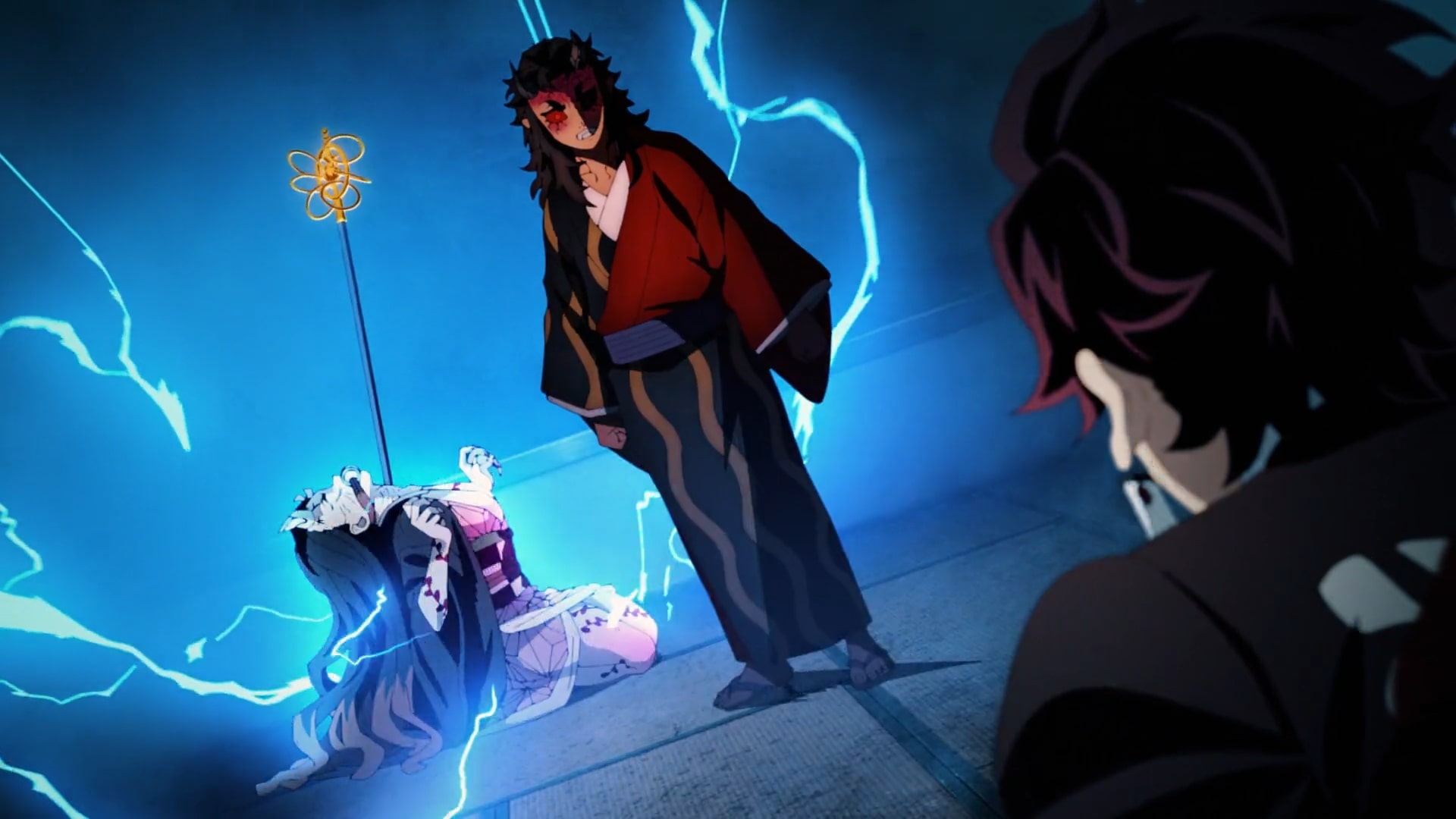 But just when the siblings are not paying attention, Kuraku uses his maple leaf-shaped Uchiwa to push them through the ground to the floor below. The wind pressure on them is so high that Nezuko and Tanjirou are unable to stand up on their feet. Meanwhile, the Love Hashira learns about the emergency in the Swordsmith village and rushes to the location. Although Tanjirou and Nezuko are in a desperate situation, the duo will eventually manage to get themselves out of danger and continue fighting.
Read More: Demon Slayer: Kimetsu no Yaiba Season 3 Episode 3 Recap and Ending, Explained