Investigation Discovery's 'Crime with Tamron Hall: Innocence Lost' and NBC's 'Dateline: Complicated' feature how Dennis Pott murdered his former lover, Tori Vienneau, to hide his misdeeds from his erstwhile partner and to avoid paying child support. Not just that, he killed his biological infant son in a gruesome double murder that shook San Diego, California, in July 2006. So, who is Dennis, and where is he now? Let's find out.
Who is Dennis Potts?
Dennis Mickjal Potts and Tori Marie Vienneau used to date during their senior year at Bonita Vista High School in the 1990s in San Diego in San Diego County, California. They dated for about two months before they broke up, and he started dating Nicole Zolezzi, who attended the same high school. They continued dating even after graduating from school, and the latter moved into Dennis' family home in 2005. She resided with him and his parents, and the young couple got engaged in 2006.
According to court documents, Dennis and Tori engaged in sexual intercourse multiple times for about six months after high school graduation. Yet, they stopped seeing other beginning in 2003, and she moved in with her erstwhile boyfriend, Neil Springstube, in 2004. The couple also had a roommate named Daniel Moen. Court testimonials showed Dennis claimed he last had sex with Tori in December 2004, with the latter texting him she was pregnant in early 2005.
In late 2005, Tori gave birth to a son, Dean Springstube, but Neil was suspicious about being the biological father. He submitted samples for a paternity test and found his suspicions true in the spring of 2006. A broken-hearted Neil left Tori and moved to Florida, leaving her to bring up Dean as a single mother. She struggled as she tried to provide for her infant son, and Daniel used to babysit him while she went to work. He cared for the baby for a week when Tori went to Florida to unsuccessfully convince Neil to return.
When Tori returned from Florida, their landlord gave notice under the lease, and Daniel moved in with his mother. Consequently, the young mother moved in temporarily with her girlfriend, Autumn Castellones, her two young children, and her sister, Tricia Castellones. After finding Neil was not the biological father, Tori asked Dennis to submit to a paternity test. Court documents suggested he was initially reluctant to take the test and believed he could not possibly be Dean's biological father.
Nevertheless, Dennis agreed to take a mail-in paternity test and submitted two samples, with both tests concluding his apprehensions were correct. But an upset Tori was not ready to give up so readily, as she believed he had tampered with the test samples. She insisted he was required to take a court-supervised paternity test, and Dennis was reportedly upset about the request. According to court testimonials, Tori had confided in her friends that Dennis had not informed his parents or fiancé about the paternity issue.
Where is Dennis Potts Now?
22-year-old Tori and her 10-month-old son were found strangled in a Southcrest apartment on South 45th Street on July 26, 2006. Her friends and family pointed the finger at Dennis, and the investigators interviewed him the following day after learning about the history he shared with the victim. He told the officers he and Tori were long-time friends and former lovers but denied having any physical relationship with her lately. Dennis further claimed he had last seen her on July 20, and they discussed hanging out together when he returned from his Las Vegas trip.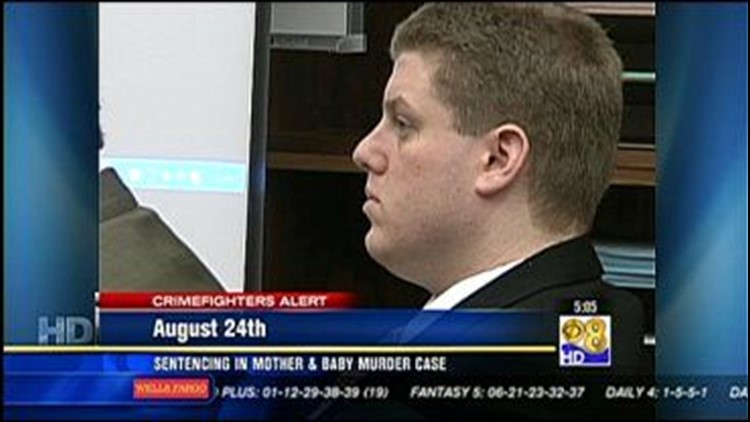 Yet, Dennis denied the allegations of having dinner with Tori on the night of the murder and later conceded she had canceled the plans at the last moment. He claimed he was with his friend, Maxwell Corn, from 5:00 PM to 8:00 PM on July 26 — the time frame of the double homicide. Dennis stated he was there to review the surveillance video from his CCTV cameras to find who was stealing his newspaper. Thus, he denied being close to Tori's apartment on the night of the murder.
Even though the investigators did not go public with the infant's death, they were suspicious when Dennis did not enquire about the baby's welfare once during the entire interview. On July 28, the officers collected a DNA sample from him. The investigators arrived at Dennis' residence on September 13 with a search warrant and confiscated his computer hard drive. The forensics team found he had conducted several incriminating Internet searches on his computer shortly before the killings.
The investigators disputed Dennis' claims of not tampering with the paternity tests after conducting their own and finding him to be Dean's biological father. His phone records showed he had texted and called Tori several times on July 26 — which he had deleted from his cell. In addition, Dennis' mobile had pinged a tower near her residence on the night of the murder, despite him claiming he was with his friend the whole time. Upon being interrogated, Maxwell reluctantly admitted to helping Dennis tamper with the paternity tests.
When Maxwell conceded Dennis was not with him the whole time, the latter was arrested and charged with two counts of murder and one count of conspiracy to obstruct justice. A jury found him guilty of all counts in September 2009. Dennis Potts was sentenced to two consecutive life sentences without the possibility of parole and three years in prison on the obstruction of justice count, also to be served consecutively, in November 2009. According to court records, the 38-year-old is serving his sentence at the California State Prison in Corcoran.