Hulu's 'Up Here' follows the love story of Lindsay and Miguel. The romantic comedy uses the voices inside their heads to tell us what they're thinking and why they make questionable choices. What makes it more interesting is that the conversations that they have with themselves take a musical format. Whenever they dive into a feeling, it is presented on the screen with a song accompanied by a dance number.
This approach to storytelling gives the show a Broadway vibe. Every song corresponds to the protagonist's feelings and gives us an insight into their thought process. Because music is an important part of the show, you might wonder if the actors sing all those songs or if someone else fills in for them. Let's find out.
Did Mae Whitman and Carlos Valdes Sing?
Yes, Mae Whitman and Carlos Valdes, who play Lindsay and Miguel, sang all of their songs in 'Up Here.' Inspired by the 2015 Broadway show of the same name, the Hulu series features original songs written by Kristen Anderson-Lopez and Robert Lopez. Because singing is crucial to the story, the creators of the show needed actors who could sing well.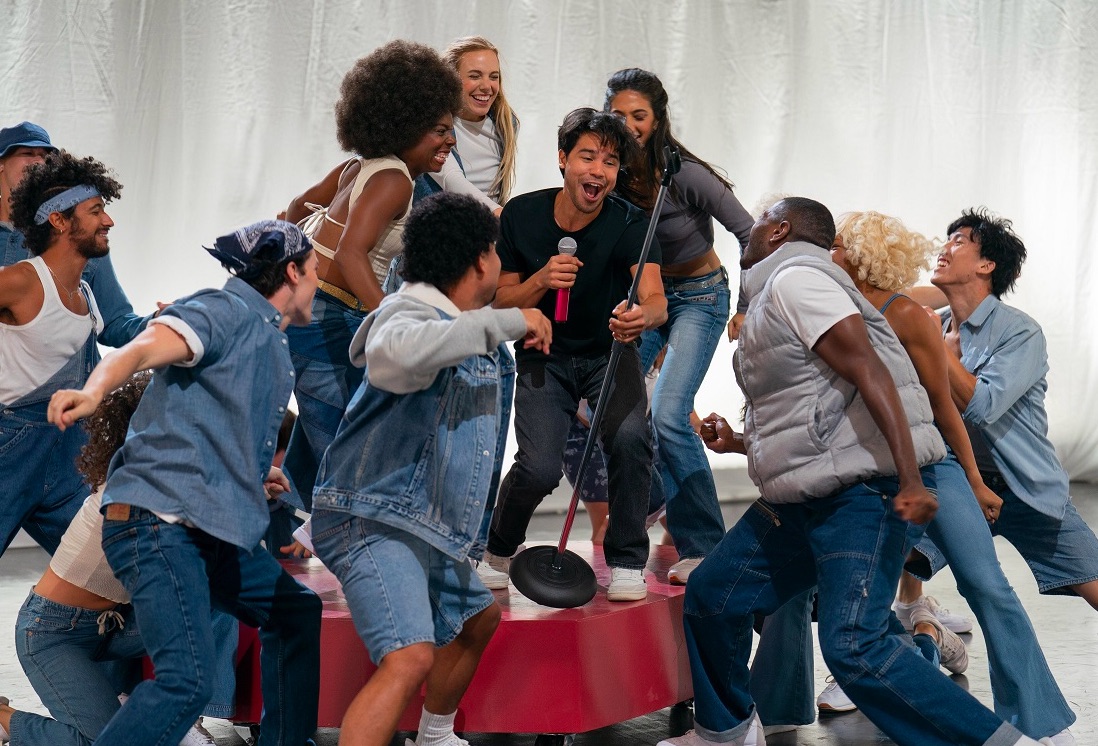 Neither Whitman nor Valdes had starred in a musical before this. Whitman had some experience singing on 'Parenthood,' but it was nothing compared to 'Up Here.' "Being a child actor, going in front of a camera is no big deal. But there's something about singing that is so terrifying because it's like the direct window to my soul," Whitman said. Despite being terrified, the actress saw it as an opportunity to do something new and explore her horizons.
"This was the one medium left that I haven't really explored, and I was, 'If I can do this, I will have a confidence in myself that I will not be able to get any other way.' And to be able to work with these people in this way that's so original and unique, where there's nothing really else like it – that's really, really exciting," the 'Good Girls' actress said.
To help them get in shape for the songs and the dance routines, the producers set up what they called "Up Here University." Here, the actors could practice their singing and dancing skills, and Whitman revealed that it helped a lot. "We basically recorded an album and rehearsed every single dance number every day for a month before we even started filming. There was this bonding experience that happened before we even began filming," she said.
While this was entirely new for Whitman, Valdes had some experience in musical theatre. This was, however, the first time he would be singing and dancing in front of the camera. "It felt like this perfect little confluence of influences in my life, so it kind of elevated the auditioning experience," 'The Flash' actor said. Kristen Anderson-Lopez revealed that Valdes exhibited "an amazing musicality" in his approach to playing Miguel.
Because the songs represent the character's emotions, getting the highs and the lows right was important. When he got into the character, Valdes felt "there was a sort of rightness about it." "It was very easy to let go of any of those voices of insecurity or doubt that sort of constantly intermingle in my head," he said. The actor said capturing the emotions "and just laying that bare in front of the camera" felt challenging. He "had to trust the music, trust all the other components." From how the show turned out, it is fair to say that Whitman and Valdes' hard work paid off.
Read More: Is Hulu's Up Here Based on a True Story?