Although the main theme of Netflix's 'Outer Banks' is the pursuit of a legendary treasure, romance plays an important role in the story. The developing relationship between John B (Chase Stokes) and Sarah (Madelyn Cline) is one of the important aspects of the first season. In season 2, it shares the stage with the blooming romance between Pope (Jonathan Daviss) and Kiara or Kie (Madison Bailey).
If John and Sarah are star-crossed lovers, Pope and Kiara prove that opposite attract. Pope is the proverbial good kid among his friends. Although his family is from the Cut, people around him basically know that he will be successful in life. At the start of the series, he is all set to get a scholarship to go to college. In contrast, Kiara is a Kook, but she has been friends with Pope, John, and JJ (Rudy Pankow) all her life. She is a quintessential troublemaker and quite proud of being one. If you are wondering what the future holds for Pope and Kiara, this is what you need to know. SPOILERS AHEAD
What Will Happen to Pope and Kiara in Outer Banks?
In his internal monologue early in the series, John reflects that all three of them "have a thing" for Kiara. Initially, it seems that the writers have plans to develop romantic tension between John and Kiara. But that doesn't go anywhere as the two characters desperately try to maintain the status quo. And then, John and Sarah spend a day in Chapel Hill together, and they quickly fall head over heels in love with each other. Pope starts to show that he is interested in something more than a friendship with Kiara in the last few episodes of season 1 when he becomes agitated after Kiara rebukes him for putting his future plans above his friends.
Their first kiss happens in the season 1 finale, right after John leaves. Season 2 picks up the story where season 1 ended. Believing John and Sarah to be dead, their friends in Outer Banks grieve for them. High on weed, Kiara asks Pope if he wants to hook up. He declines, believing that she will regret it when she is sober. Optimism returns to their lives again when they find out John and Sarah are still alive and currently in Nassau.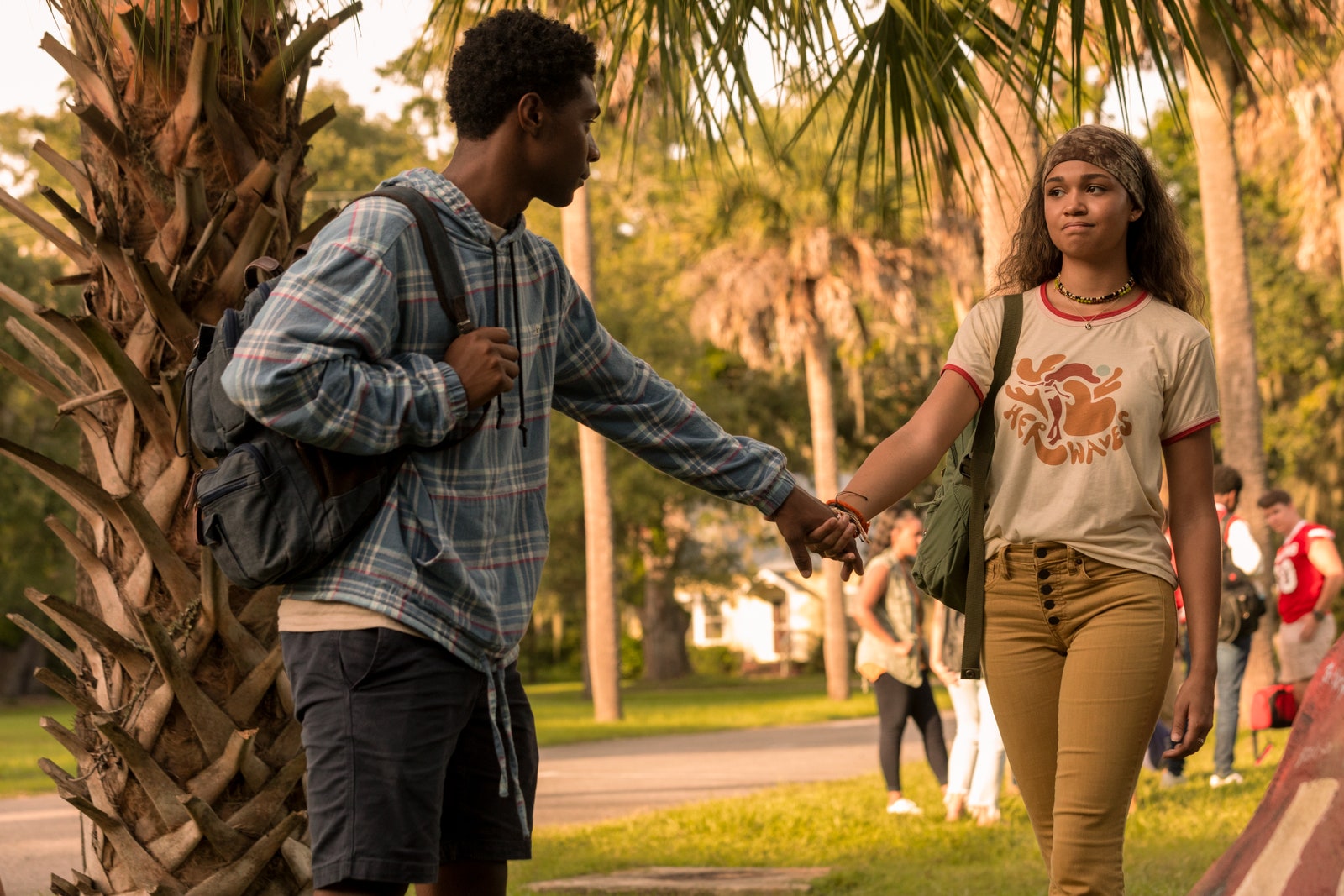 The relationship between Pope and Kiara begins to grow then. Kiara's parents threaten her to send her to the Blue Ridge boarding school, and Pope finds out that he is a descendant of Denmark Tanny, who brought both the gold and the Cross of Saint Domingo to the shore from the shipwrecked Royal Merchant. JJ, Pope, and Kiara reunite with John and Sarah during their visit to Charleston. Upon returning to Outer Banks, Pope and Kiara make love for the first time.
However, shortly afterward, Kiara tells Pope that she wants to maintain their friendship, shattering Pope's hope for a romantic relationship. He remains angry at her until other things, such as their dangerous enemies and treasure hunting, take precedence. In the season 2 finale, the show makes some subtle changes in the character dynamics by including Cleo (Carlacia Grant) in the group. There are also hints toward possible romances between Cleo and Pope and Kiara and JJ in the future. But 'Outer Banks' has a history of ending one episode on a cliffhanger and returning to the status quo in the next. So, that can always happen in season 3. However, the chances are that the romance between Pope and Kiara was never meant to last long, and the third season just might confirm that.
Read More: Where Is Outer Banks Filmed?