For nature-loving thrill seekers, there are few activities more captivating than the sport of rock climbing. Naturally, 'The Climb' has easily created a huge fanbase given its exciting premise, talented participants, and awe-inspiring mentors. Given the zeal with which the climbers try to prove their mettle by attempting to beat some of the most challenging routes, it is easy to see why they might have so many admirers.
One of the most popular competitors of the HBO Max production is none other than Dominique "Dom" Terrill Barry, who bagged the second position in the first iteration of the reality series. Needless to say, people are eager to know what he is up to these days, and we are here to answer the same!
Dom Terrill Barry's The Climb Journey
Dom entered the first season of 'The Climb' to showcase to the world exactly what he could do in the world of rock climbing. Though he was not able to complete the very first route on the show, his performance did keep him away from the bottom 2 positions, keeping him safe from elimination. As the competition progressed, Dom was determined to keep his cool and not let any height, adversity, or apparent failure bother him.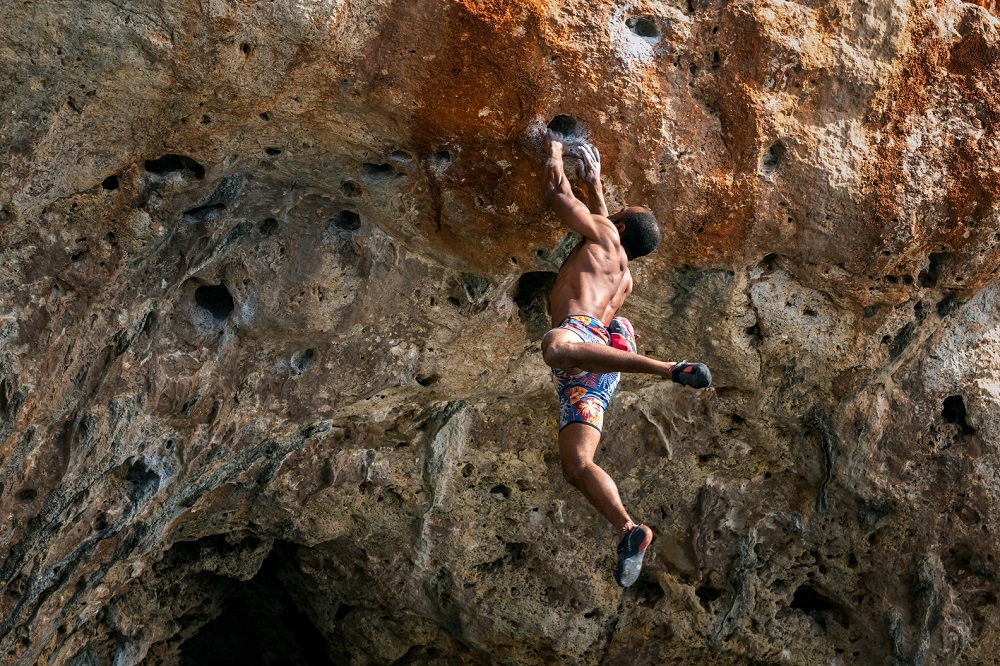 Slowly but surely, Dom made his way forward into the competition, though his journey was not all smooth. That being said, he never did become a part of the bottom 2 until the fifth round. However, due to Tiffany Soithongsuk's Covid-19 quarantine, this particular round of challenges was not meant for eviction. This meant that Dom was safe from elimination. In the next round of climbs, which would lead to the elimination of two climbers, Tiffany had to leave after the main route itself, while Dom and Decco had to go head-to-head in the elimination challenge.
Thanks to his performance and determination, Dom was able to stay in the competition. In the penultimate episode, he was teamed with Alice Hafer for the multi-pitch round. While their work was nothing short of impressive, the two still faced each other in the speed climbing round. Dom was, once again, safe from eviction and remained in competition as one of the top 3 performers. Soon enough, Dom and Cat Runner were the only people remaining, and they gave their best to become the winners. Even though Dom did not win the competition, he was pretty thankful for the experience and congratulated Cat on his victory.
Where is Dom Terrill Barry Now?
As of writing, Dom lives in Lakewood, California, and works as a Cliber and Coach. The athlete is affiliated with La Sportiva North America, a sports brand that provides products to people interested in outdoor sports and other activities. The climber is also associated with Organic Clothing, which mainly provides items for outdoor climbing. With a special emphasis on bouldering, the company is known for its high-quality products that are made in the US.
It seems like Dom has nothing but positive to say about his time on the show. He has been actively promoting the series since it first started and has encouraged everyone to check it out and show him some love. Additionally, it seems like his performance in the show has also helped him land many sponsorships, including Chevrolet and Sierra Nevada Brewing Co. Moreover, the reality TV star seems to have maintained his connections with fellow participants like Cat Runner.
Apart from being an avid athlete, Dom also believes in raising his voice for issues that he feels need to be addressed. In fact, he even took part in one of the Black Lives Matter marches that were held across the country in June 2020. While not completely associated with a single charitable organization, Dom has indeed contributed to local establishments like Access Fund, Friends of Joshua Tree, ClimbingFor Change, and Los Angeles Regional Food Bank.
Read More: Cat Runner: Where is The Climb Winner Now?