Bollywood has been the paradise for heroes. The sheer moment where a villain is battered by the heroes for all the crimes committed. Throughout the gigantic universe that is "Bollywood", we have seen actors don heroic characters to completely transform themselves into the quintessential leads.
Greats such as Amitabh Bachchan, Dharmendra, Aamir Khan and Akshay Kumar have portrayed men of virtues who ultimately defeat the villains. This incessant focus on one-dimensional heroes has resulted in the portrayal of one-dimensional villains. The villains are tied with the clichéd sense of a villain representing the horrifying look and horrifying deeds. This is why we have seen memorable yet unimportant villains in Bollywood. The west on the other hand has deftly portrayed cinematically important villains such as Darth Vader of the 'Star Wars' franchise, Hannibal Lecter of 'The Silence of the Lambs' (1991) and Norman Bates of 'Psycho' (1960) – who not only are extremely villainous but are also highly important in the art of cinema.
However, from time to time, Bollywood has successfully created some great villains. This article attempts to map "15 Bollywood Movies Where Villain Stole the Show". It's imperative to understand that these Bollywood Villains are not necessarily iconic, there's a different list for that. These villains are not a mere physical representation of evil but boast of a more deep and underlining context. They provide illustrative outlines for the plot, character and cinema. These aren't just characters implemented to act as complementary assets for the heroic deeds. Also, while characters such as Liak Mohammed Tungrekar from 'Badlapur' (2015), Dheeraj Pandey from 'Murder 2' (2011) and Ramadhir Singh from 'Gangs of Wasseypur' (2011) are great villains, they do not provide character arks for pure heroism. So, without further ado, here is the list of "15 Bollywood Movies Where Villain Stole the Show"
15. Gupt: The Hidden Truth (1997)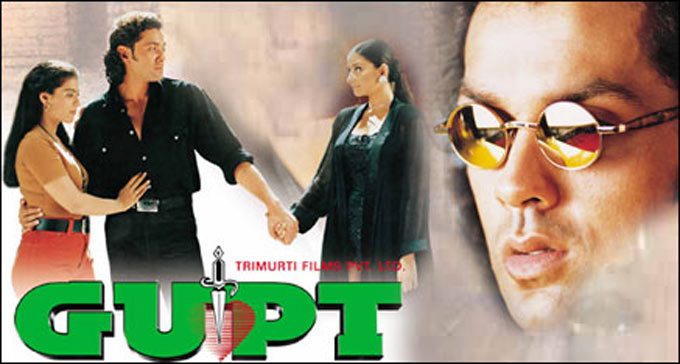 Bollywood has never been kind to women. The sense of films being a "patriarchal art" is deep-rooted. While actresses are reinventing their roles post the 2000s, Kajol kicked off such a historic movement with the 1997 suspense thriller 'Gupt: The Hidden Truth'. Donning the role of Isha, Kajol portrayed the psychopathic serial killer and obsessive lover with an unsettling ease. 'Gupt: The Hidden Truth', directed by Rajiv Rai, follows the mysterious murder of Governor Jaisingh Sinha is murdered and the needle of suspicion points towards his estranged son, Sahil Sinha who must prove his innocence. Winning the "Filmfare Award for Best Performance in a Negative Role", Kajol added a depth to the narrative which could've easily drowned in a complex narrative.
14. Agneepath (2012)
Sanjay Dutt's Kancha Cheena was a stuff of nightmares. With Marlon Brando's rogue military leader Colonel Walter E. Kurtz's bald look being an inspiration, make-up artist Robin Slater's dexterity catapulted the fear. Directed by 'Karan Malhotra', the action drama traces Hrithik Roshan's Vijay Deenanath Chauhanman, who gets embroiled in crime and offense to seek to revenge from Dutt's Kancha Cheena who framed and murdered his father. Dutt's humongous physical frame made Roshan look quite timid and his menacing look just added to the evil. While Danny Denzongpa's character of the 1990 cult classic opted for a slick and ostentatious appearance, this reincarnated villain was rugged and resembled the evil is a more literal sense.
Kancha Cheena is a character is set in complete opposition to Vijay. While Vijay represents multiple layers, ranging from, compassion, brutality and fear, Cheena is purely satanic. The character could've been annoyingly one-dimensional; Dutt's sheer brutality and lack of humanism made it such a memorable character.
13. Padmaavat (2018)
It is quite difficult to include such a recent performance is list considering the "all-time greatest". However, amidst a sloppy screenplay and over-ambitious aesthetics, Ranveer Singh brought in vigour and dynamism with masterfulness.
Directed by the enigmatic Sanjay Leela Bhansali, 'Padmaavat' follows the life of Rajput Queen Padmavati and her prosperous marriage with the noble King Ratan Singh. Their lives crumble when the demonic Sultan Alauddin Khilji enticed by her beauty, attacks the kingdom to claim her as his possession.
The foundation of the character is built upon Bhansali's perception. Credited as a fragment of imagination, the distorted historical facts helped the director mould Singh's character, hence the savage and vicious portrayal. Khilji's frame and built is filled with anger, ambition, lust and chauvinism. The antagonist's antipathy holds a rare distinction of being catapulted by a song sequence – Khalibali – a track which essentially reinforced his "masculinity".
12. Yuva (2004)
Directed by veteran director Mani Ratnam, 'Yuva' follows the lives of Michael, Arjun and Lallan, three men from three different stratas of society, who get embroiled in the corruption and student politics in Kolkata. The film's narrative is masterfully executed and the intricate direction did not let the huge star cast stagnate.
Amidst the righteous Michael Mukherjee, essayed by Ajay Devgn, a student leader who wants to lead students into being politicians, and Arjun Balachandran, essayed by Vivek Oberoi, a 20-year-old boy who dreams of going to America, is Abhishek Bachchan as Lallan Singh, a local hoodlum working as political muscle for Om Puri's Prosenjit Bhattacharya. Lallan Singh isn't the clichéd villain. Bachchan's character is torn apart between his corrupted sense of power and an urge to lead a morally upright life. Singh is the anti-hero who moulds in the vessel of corruption, greed and power created by the politicians. What makes his character such a brilliant creation is that through the narrative, Singh appears to finally achieve his moral dream, but is still fundamentally besmirched. With Bachchan being continuously lynched for being a star-kid with poor acting talents, Mani Ratnam's directorial venture proved otherwise.
11. Anjaam (1994)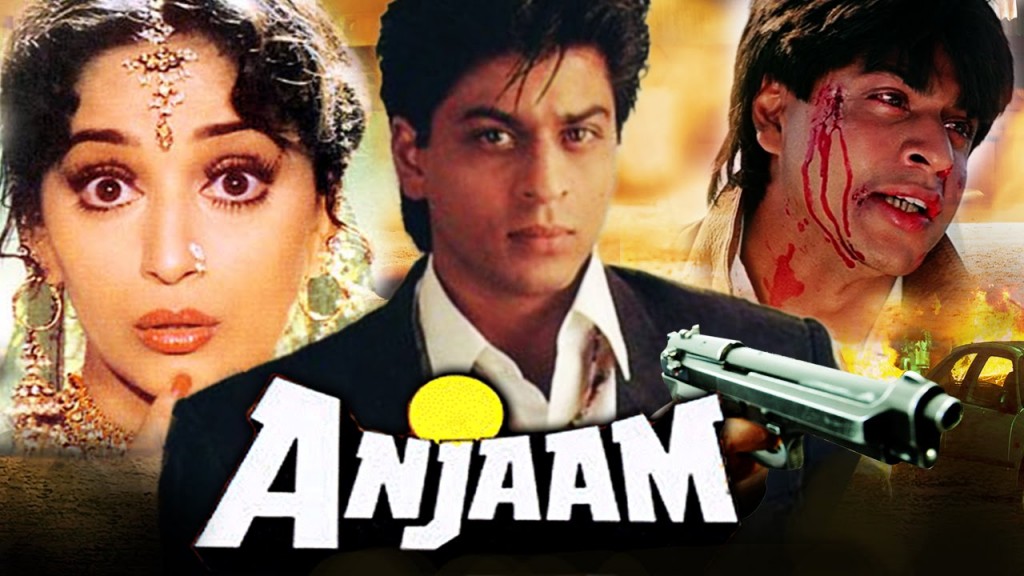 Directed by Rahul Rawail, 'Anjaam' is a disturbing watch. Starring Madhuri Dixit and Shah Rukh Khan, 'Anjaam' follows the story of Vijay, essayed by Khan who falls in love with Shivani, essayed by Dixit. However, with continuous rejections every time, his love turns into an atrocious obsession and turns her life into a hell.
Shah Rukh Khan's portrayal of Vijay Agnihotri teemed with narcissism, materialism and chauvinism. While Khan had already ventured into negative characters, with 'Baazigar' (1993) and 'Darr' (1993) being very successful, this character was unique in every sense. The characters' obsessiveness and villainous act were justified, Vijay's actions were simply inexcusable. The movie's title, meaning "consequence" is aptly titled as it portrays the heinous actions of Vijay, and the odious consequences. Khan's character transcends from mere obsessiveness and passion to complete evil. The film's portrayal of the underlined patriarchy and atrocities against women is blunt and spearhead the character traits of Vijay.
Read More: Best Bollywood Villains