Everyone likes funky party hats that add life to a party. One finds there are fun-themed hats for every occasion that lights up everyone's faces and increase the charm of any event. Grace and Manuel Rojas, a mother-and-son team, founded Foam Party Hats to inject some fun into conventional accessories. When Grace was living in Venezuela and organizing the Hora Loca or "crazy hour" for her daughter's wedding, the idea for it first occurred to her.
Grace let her creative side go wild since she wanted to make something that would be both well-liked and yet completely unexpected to surprise everyone. The entrepreneurs presented their unique product on ABC's 'Shark Tank' season 12 episode 5, hoping to get the Sharks on board with their idea to gain substantial investment to further sales. Now that we have your undivided attention about the product, let's trace the company's growth and find out where they are at present, shall we?
Foam Party Hats: Who Are They and What Do They Do?
Grace Rojas completed her Bachelor's Degree in Education from UCAB or the Universidad Católica Andrés Bello in 1976. The entrepreneur joined her Master's program at the University of the Pacific, where she received her degree in Education. The mother of two is not new to the game of entrepreneurship. She served as the Designer and Manager at SOMBREROS DE GOMA ESPUMA – HORA LOCA, where she stayed from 2006 till 2011. Finally, jointly with her son Manuel, Grace founded Foam Party Hats; it was officially established in 2017, though the company's roots go back to 2010.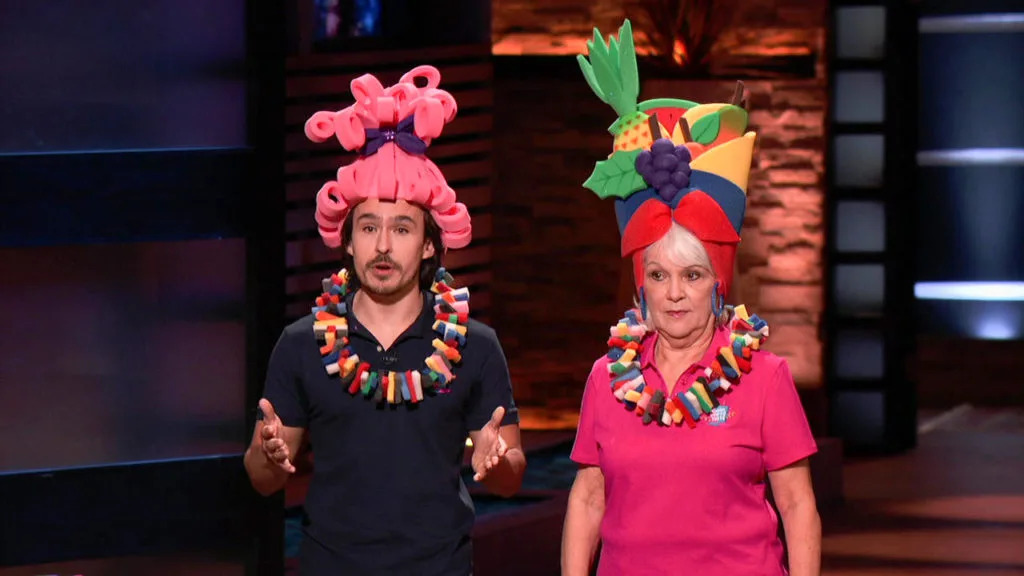 Manuel Rojas graduated from the University of Houston with a Bachelor's degree in Chemical Engineering in 2016. Following his graduation, he joined Crystaphase as their Research and Development Intern. He worked at the University of Houston for over eight years, where he secured positions as an Undergraduate Research Assistant and is still working as an Academic Assistant. Shortly after, Manuel started his position as a Consulting Analyst and later as a Senior Consulting Analyst at Accenture. While working with his mother in their fun entrepreneurial venture, Manuel is currently working with Accenture.
Going back to where it all started, Grace designed quirky hats with elaborate designs and brilliant colors for everyone, even the guests. She eventually started a small company in the countryside back in Venezuela as a result of its success at the party. Regrettably, the economic situation in Venezuela forced Grace and her son Manuel to relocate to Houston, Texas, in 2010. She was naturally dejected to leave her craft behind.
Grace then resumed her job, making it larger and better than before after realizing there was also a demand for weird hats in America. She even went so far as to build the website herself. Once Manuel graduated college, he joined his mother's company, and the two of them founded Foam Party Hats LLC, where one size fits most. These products are suitable for practically everyone since they are of the highest quality, lightweight, and highly flexible.
Where is Foam Party Hats Now?
Along with having clients in every state in the US, Foam Party Hats also managed to attract the interest and business of Google and the Mardi Gras celebration in New Orleans. Whether it be sports, seasonal, holiday, wedding, birthday, bar mitzvah, or any other occasion, they have a crazy, over-the-top, and yet incredibly fun hat for it all. Grace and Manuel have also provided their hats during the Chinese New Year, St. Patrick's Day, and Halloween celebrations. Most of all, Foam Party Hats make wonderful party favors. The business now sells wigs, headbands, expensive vintage hats, and headwear.
Foam Party Hats features a variety of styles for everyone to love, including flower and animal prints, geeky patterns, and popular looks. Founders Manuel and Grace Rojas gave their presentation in an eye-catching manner on 'Shark Tank.' It was very well received by the Sharks, who then examined the usability and product quality. In exchange for a 15% equity stake, the entrepreneurs requested a $100,000 investment in their business. After a few disagreements, Mark Cuban and Lori Greiner chose to invest in this firm; they contributed $100,000 in return for a 25% share stake.
When the business first debuted on Shark Tank, it was valued at $400,000 following the deal. They sell all different kinds of headwear, with an average price of $39.99. You may obtain free delivery to the US if you place an online buy worth more than $250. In 2022, the estimated net worth of Foam Party Hats was more than $1 million. At the moment, only their website and Amazon provide their items.
The price of each of their pieces varies from $10 to $50. The price is slightly higher if you're searching for a bride and groom-paired hat, but given their tight quality requirements, it is worth it. On their website, you may also select party packages, which are more expensive. We are very excited to see Foam Party Hats flourish and what new products they bring to the table.