Netflix's 'MH370: The Plane That Disappeared' opens our eyes to the tragedy that befell the Malaysia Airlines flight MH370 on March 8, 2014, during a scheduled trip from Kuala Lumpur to Malaysia. Through dramatic recreation, one-on-one interviews, and original footage, the show tries to investigate what actually happened to MH370 and how it could disappear without a trace. Furthermore, the documentary tables three theories presented by journalists and experts that could explain the strange incident, thus including Fuad Sharuji, the then-Vice President of Malaysia Airlines as well. He talked about his experience on the show and explained how he attempted to manage the shocking and sudden tragedy. Thus, with the audience now interested in Fuad Sharuji's current whereabouts, let's find out more, shall we?
Who Is Fuad Sharuji?
Fuad Sharuji started his career with Malaysian Airlines even before completing his education, as he joined the company as a Trainee Aircraft Maintenance Engineer in 1976. Subsequently, in 1981, he earned an engineering degree in aircraft maintenance from St. Albans College, England, before working with several divisions, including Operations, Engineering, and maintenance. However, determined to take his career forward, Fuad completed his Master's in Business Administration from University Tun Abdul Razak in Malaysia and was made the Senior Manager of the Emergency Management Centre in 2005. He held that position up to 2009 when Malaysia Airlines promoted him to the post of Vice President.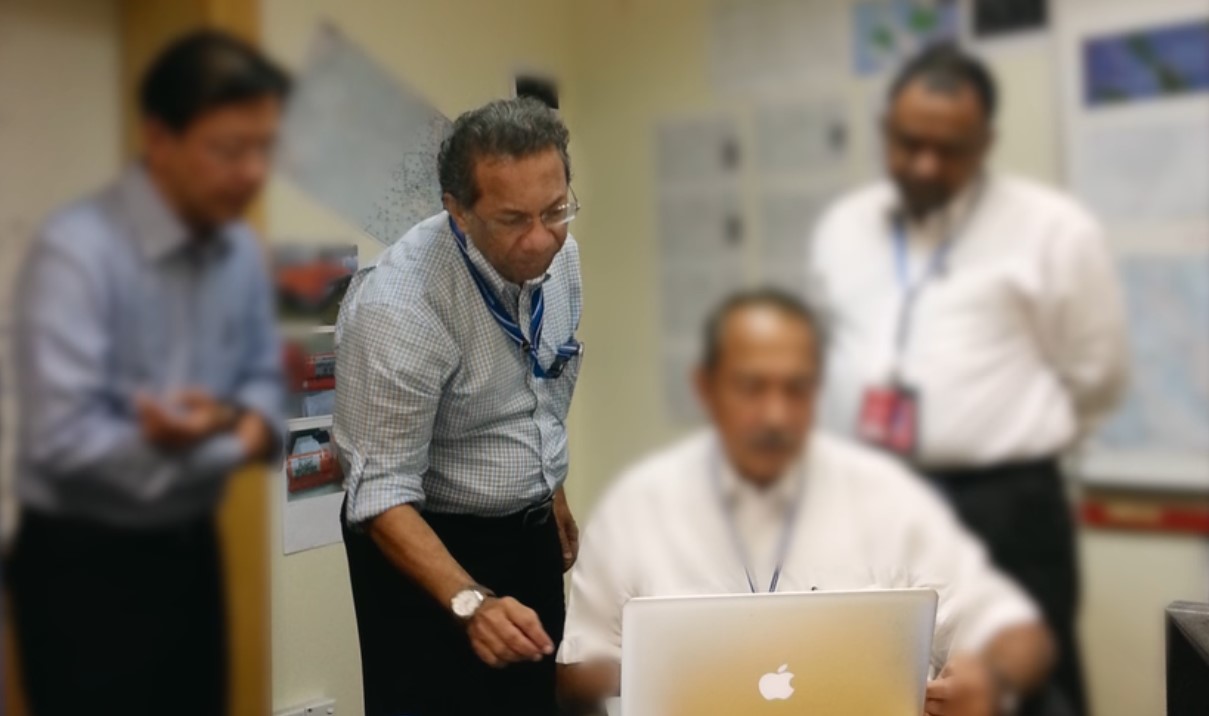 Flight MH370 took off shortly after midnight from Kuala Lumpur on March 8, 2014, and everything seemed normal as the plane approached the end of Malaysian airspace. Right before handing the flight over to Vietnam's air traffic control, the Malaysian air traffic controllers wished the staff goodnight, and the pilot, Zaharie Ahmad Shah, responded. However, that was the last communication anyone ever made with the plane as it soon went electronically dark and disappeared from all radars. Vietnam mentioned that they never got any notification of the aircraft entering its airspace, and flight MH370 was lost forever.
Since Fuad was the vice president of Malaysia Airlines at that time, he was under a massive amount of stress to get some answers. Not only was he answerable to his staff, but the relatives of the people on board demanded to know the truth. That was when airlines promoted him to the position of Crisis Director, and Fuad immediately sanctioned search and rescue operations in the supposed crash zone. Yet, no matter how long and hard people searched, the remnants of the plane were nowhere to be found.
Where Is Fuad Sharuji Now?
On July 17, 2014, a little more than two months after the MH370 disaster, a Malaysia Airlines flight numbered MH17 was flying from Amsterdam to Kuala Lumpur when it was shot down near the Ukraine-Russia border. The responsibility of the Crisis Director fell on Fuad once again, and he mentioned that he was in disbelief for quite some time. The airlines had not been related to such tragedies for quite some time, and he initially wondered if someone was targeting them to reduce their credibility. Although investigation soon revealed that a surface-to-air missile manned by Russian armed forces brought down flight MH17, Fuad never got to find out the truth about MH370. The truth is he was single-handedly responsible for launching two massive emergency operations that deployed over 1000 people spanning the two tragedies.
Fuad was associated with Malaysian Airlines for about 45 years, but he eventually moved into the construction business and currently serves as the General Manager of Impeccable Vintage Properties. Besides, even though he maintains a limited presence on social media, Fuad seems to reside in Nilai, Negri Sembilan, Malaysia and is happily married. On top of it, Fuad and his wife appear to be proud parents, and they have built up a wonderful life surrounded by their incredible family. It truly is lovely to witness Fuad's success, and we wish him the best for the years to come.
Read More: Mike Exner: Where is Aviation Expert Now? MH370 Update